Aloha from beautiful Maui, Hawaii!
We're back home after a wonderful trip to the Hawaiian island of Maui. It really is astonishing how quickly time flies when you're having fun!
Hopefully you had a chance to read our post about the Maui trip and you were able to follow the adventure on Twitter using the hashtag #seeMaui. In case you didn't, head over to our facebook page now and check out some of the fun photos we snapped along the way.
We joined a diverse group of travel bloggers and writers on a social media press trip hosted by the Maui Visitors & Convention Bureau. The other bloggers on the trip were Matt from Landlopers.com, Beth and Randy from BeersAndBeans.com, Jason from JasonsTravels.com, La Carmina from La Carmina.com and Alison Brick, a freelance travel writer.
We've got lots and lots of stories, photos and video to share with you, so make sure you check back with us over the coming weeks to watch a flying Randy, a volcano bike riding Beth, a sailing Jason, a terrified Matt, a brief encounter with a curious tiger shark and some outstanding aerial views of Molokai and West Maui from a helicopter!
In the meantime, here are a few photos from the trip…
Baby B and Keli'i Brown hanging out at the Wailea Beach Villas
Matt from Landlopers.com
Randy from BeersAndBeans.com enjoying a cold beer
Jason from JasonsTravels.com
The #seeMaui team getting a briefing about the fun that lies ahead
Our private chef prepares some tasty appetizers
Our private chef prepares a wonderful dinner for the hungry #seeMaui team
The #seeMaui team getting to know one another
Nicole and Baby B enjoying the oceanfront cabanas at Wailea Beach Villas
The welcoming pool at Wailea Beach Villas
Baby B making a splash in his new floating raft
Palm tree reflections in the pool, Pacific Ocean in the backdrop
Baby B playing in the grass
Inside the extravagant Wailea Beach Villas
Captain Sage guiding our traditional Hawaiian Sailing Canoe. Make sure you look him up if you find yourself in Wailea – good guy with lots of interesting stories!
Melissa and La Carmina aboard the Hawaiian Sailing Canoe
Look at the size of that cinnamon bun! It's a Maui favourite, served at Longhi's Restaurant
Wailea Beach
Baby B and Nicole at Wailea Beach Villas
Cold pint of deliciousness from Maui Brewing Company
Decadent evening at Ko Restaurant in the Fairmont Kea Lani
Tasty variety of appetizers at Ko Restaurant
One of several delicious desserts served at Ko Restaurant. Not to mention a very thoughtful birthday cake for Cameron – Thanks again Wendy! (unfortunately I forgot to take a photo)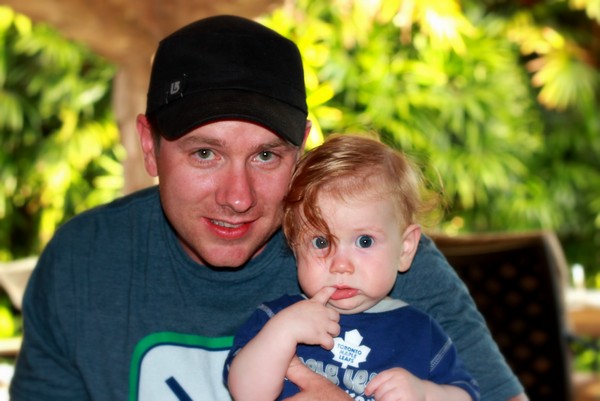 Cam and Baby B having some fun in the sun
Baby B sitting in front of shark infested waters
Kaanapali Beach, views taken from the Sheraton Maui
Private "Dinner Under the Stars" on Cameron's birthday – well timed!
Thoughtful birthday cake that was waiting for us upon arrival at the Sheraton Maui – lots of desserts and cakes were consumed on this trip!
Baby B playing on the king size bed at the Sheraton Maui
Palm trees, blue skies and sandy beach… and a hearse?!
Zip-lining with Beth and Randy – big thanks to Kent and David with Skyline Eco Adventures for a fun (and knowledgeable) tour through the forest!
Thrilling heli-tour of West Maui and Molokai with Blue Hawaiian Helicopters
Make sure you check back with us over the next couple weeks to read more about our Hawaiian adventures… Aloha!