25 Epic Adventures by Travel Bloggers in 2012
As we quickly approach the end of 2012, we reflect on the year that was. Over the past twelve months we've followed the travels of many travel bloggers, reading about their epic adventures and admiring their wonderful photos and videos.
Last year, we published an article titled 19 Epic Adventures by Travel Bloggers in 2011, highlighting a few of the awesome adventures by travel bloggers from that year. In an effort to make this an annual tradition, we've compiled our selections for this year's list of epic adventures (in no particular order).
Hopefully one of these adventures will inspire your travels in 2013!
1. Scuba diving with hammerhead sharks in Cocos Island National Park
Karen and Eric from Trans-America Journey had an adventure of a lifetime while on a live aboard diving boat that sailed through Cocos Island National Park in Costa Rica.
"We all scrambled to find a chunk of rock to hold on to so we could maintain our positions and not get swept away by the current… Then it happened. First one, then dozens of hammerheads emerged out of the deep blue. They were above us, below us and right in front of us".
Read more – Surrounded by Hammerheads in Cocos Island, Costa Rica
2. Hosting a tour group through India

Our friend Earl from Wandering Earl has been living the nomadic lifestyle for years, so it was cool to watch him transform his passion for travel by leading a group of adventure seekers through Northern India. Those who have had the opportunity to travel to India will understand that this is not an easy task! He's a brave man…
"It had always been my goal, ever since I started working on the itinerary several months ago, to offer the most diverse Indian experience possible in the time we had, an experience that would be ideal for first-time travelers to this immense country."
Read more – Three Weeks In India…A Recap Of My First Tour
3. Surviving the World's Most Deadliest Road in Bolivia

Gareth from Tourist to Townie tackled the world's most deadliest road in Bolivia and lives to share his daring tale. The above photo paints a pretty good picture… epic!
"Gut check time! The rain continued, the roads got narrower and brakes became the life support. Tight, blind turns along ridiculously narrow cliffs made you focus on your bike, the road and nothing else. Memorial crosses become a common sight as the journey elevated in danger."
Read more – Surviving the World's Most Deadliest Road
4. Conquering the Triple Crown and Fantastic Four
Kent and Caanan from No Vacation Required had a busy year, tackling steep mount summits, lazy beaches and congested Chinese cities. A clear highlight for this adventurous duo was reaching the peak of Akamina Ridge in Glacier National Park.
"We were on our hands and knees crawling up a rock wall (and then trying to keep from blowing off a ridge) at one point. Wall Lake made it worth it… at least that's what we're telling ourselves."
Read more – Triple Crown and Fantastic Four
5. Ice climbing in Patagonia
Dave Lee from GoBackpacking.com scales the blue ice glacial cliffs of Patagonia, fulfilling a childhood dream while inspiring others to do the same.
"Ice axes in hand, crampons attached, I'd scale vertical walls, just like in the movies… At one point, my arms burning from trying to hold on, the ice gave way under one of my axes, and I fell backwards."
Read more – Ice Climbing in Patagonia
6. Climbing Mount Fuji and following the Path of Pilgrims 

Dan and Audrey from Uncornered Market share their experience hiking the traditional pilgrimage route up Mount Fuji, passing shrines and beautiful landscapes along the way.
"Our climb of Mount Fuji is in fact one of our most joyous moments of many as a group. No drama, just fresh air, companionship, space, and time to think. With Japan and all its modernity, an escape valve in the form of nature is just what's needed."
Read more – Mount Fuji – Following the Path of Pilgrims
7. Paragliding in a school dress
Craig from yTravelBlog.com gets the award for most unexpected adventure of 2012. The plan was to raise funds for young school girls in Sierra Leone by paragliding in a school dress. Unfortunately, the weather didn't cooperate on the paragliding day, so instead he did a helicopter tour in a school dress over Bright, Victoria. Looking sexy Craig!
"I don't think there was a better way to see the Valley and the town of Bright then in a school dress in a helicopter. It was the first opportunity we had to see Mt Hotham, the famous Victorian skiing peak, stewing under a mass of angry clouds."
Read more – Help Craig paraglide in a school dress
8. Motorcycle ride from Guinea through the bush to Sierra Leone
Perhaps one of the most epic adventures of 2012 is one that will continue through most of 2013. Fellow Canadian travel blogger turned videographer Brendan van Son stepped up the epic in 2012 by creating ItsMyLife365.com, a video diary of his year long solo journey through West and South Africa.
He's had several epic adventures already but two that stand out are his motorcycle ride from Guinea through the bush to Sierra Leone and being a rare witness to the amazing stilt dancers of rural Cote d'Ivoire.
Read more – Incredible stilt dancers of Cote D'Ivoire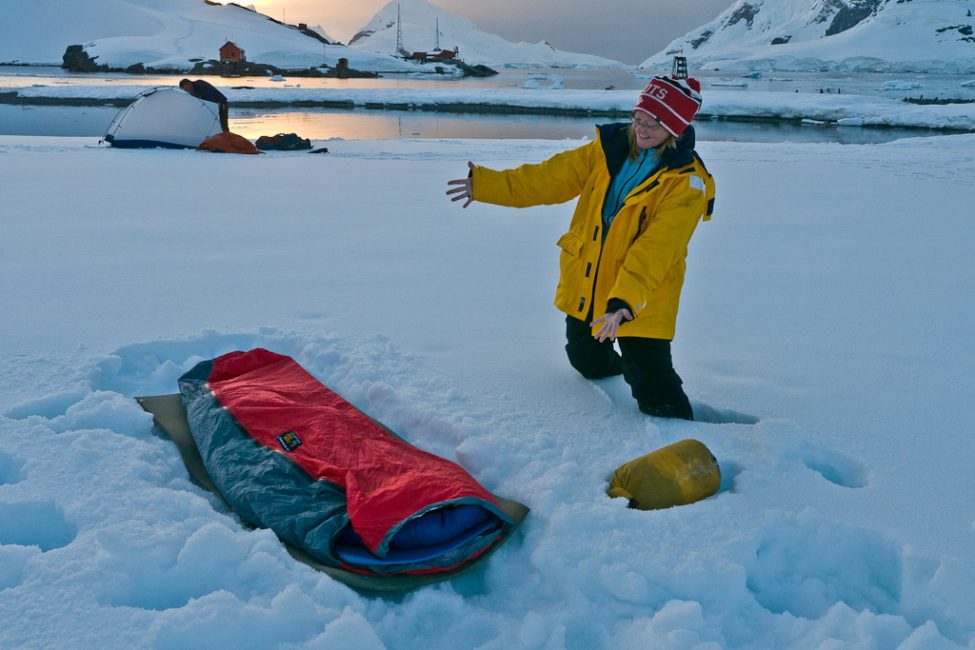 9. Adventures in Antarctica – Kayaking, Polar Plunge and Snow Camping
One of the busiest traveling couples in 2012 was Dave and Deb from The Planet D. It's difficult to pick just one adventure but a clear highlight was their incredible adventure to the world's most remote continent. How's this for a day of epic – kayaking amongst glaciers and penguins, followed by taking the polar plunge in freezing Antarctic water, followed by a night of camping in the snow. Hey, wait a second… where's your tent?!
"The glaciers felt  alive as they gave off deep rumbles when giant chunks of ice plunged towards the water. I was in heaven and knew what absolute bliss felt like."
Read more – A Perfect Day in Paradise Bay
10. Rat Hunting (and eating) in Indonesia
Raymond Walsh from Man on the Lam participated in one of this year's most unusual adventures – rat hunting that eventually lead to rat eating. In fact, he was the first foreigner to sign up for the odd adventure this year, and just the third foreigner to participate in the past two years. Now don't they look tasty?! (Nicole, the vegetarian, just gagged a little…)
"No matter what descriptor you attach to the lowly rat, one thing is pretty much universal — it's the critter everyone loves to hate. Except, that is, in Tomohon in North Sulawesi, Indonesia."
Read more – The Other Rat Race: Rat Hunting (and Rat Eating) in Indonesia
11. Trekking the Camino de Santiago across Spain via the Camino Frances
An ancient religious pilgrimage went modern when travel blogger Sherry Ott live blogged about her 441 mile solo walk across Northern Spain via social media and weekly blog posts. It took her 33 days (including 4 rest days) averaging about 14 miles a day to arrive in Santiago. Staying in a combination of albergues and pensions we learned of her battle with blisters, how to find lodging and food, and how to stay (somewhat) dry.
**Consider this one added to the ol' bucket list – well done Sherry!
"450 miles, 5 weeks, my work is complete. I realized that after 4 weeks of following yellow arrows across Spain that there was a massive similarity to the Wizard of Oz and the yellow brick road."
Read more – Hiking the Camino de Santiago 
12. Experiencing Thaipusam in Penang, Malaysia
While visiting Penang, Dani and Jess from Globetrotter Girls had the good fortune to witness Thaipusam, an eccentric Hindu festival celebrated by the Tamil community on the full moon in either January or February. Make sure you head over to their blog to see some of the incredible photos they took of the annual festival.
Yup, that's a bunch of giant needles and hooks… in their faces!
"The more pain endured by the devotee, the greater the merits bestowed upon them by the god of war Murugan."
Read more – Thaipusam 2012: Incredible Images of a painful Hindu tradition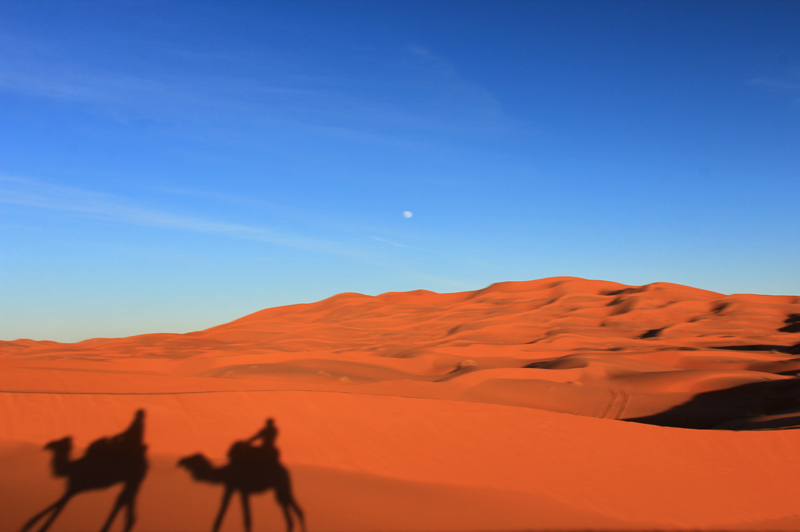 13. Camel Safari into the vast Sahara Desert
Pete and Dalene from Hecktic Travels experienced the magic of the Sahara as they explored the remarkable orange sand dunes on the back of a couple of interesting camels – Farty and Ranger.
"Pete and I both rode with large grins plastered on our faces, fawning over the camel's strength, height, and the unexpected smooth ride."
Read more – Into the Sahara Desert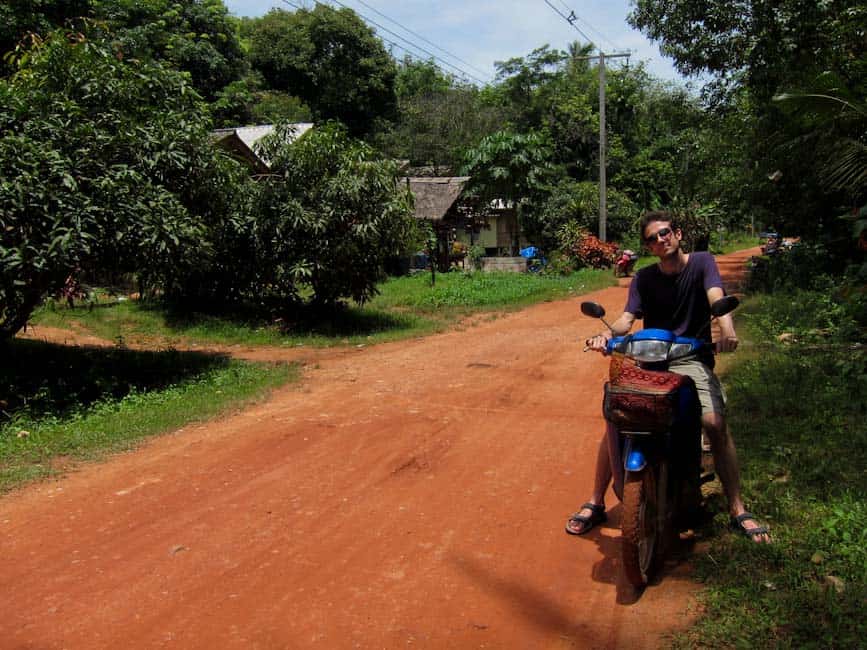 14. Motorbike Madness on Koh Jum, Thailand
Erin and Simon from Never Ending Voyage left the lazy beaches behind and jumped on the back of a dusty motorbike to explore the dirt roads, dense jungles and small villages of Koh Jum. From what we've read, it sounds like the perfect way to scratch beyond the surface and truly experience this lesser known island in southern Thailand.
"The going was slow. Weaving in and out of the pot holes and around the loose stones wasn't that much of a problem – it was the gaping canyons with their own delicate ecosystems that were tricky to avoid."
Read more – Motorbike Madness on Koh Jum
15. Traveling through Central Asia on the Mongol Rally
Although Pam from Spunky Girl Monoloques did not make it all the way to Mongolia while participating in the 2012 Mongol Rally, she did experience a variety of epic adventures along the way, traveling an astonishing 5,580 kms from Prague, Czech Republic to Ashgabat, Turkmenistan.
"I crossed the Caspian Sea, in a cargo ferry, and landed in Turkmenistan – I repeat this sentence to myself as I look in the mirror, my hair finally clean, the dirt gone from under my finger nails, and my clothes smelling clean and fresh. I didn't make it to Mongolia, but I did make it to Turkmenistan."
Read more – I Didn't Make It To Mongolia, But I Did Make It To Turkmenistan!
16. Girls Running with the Bulls in Pamplona, Spain
Jeannie from Nomadic Chick and Girls Running With Bulls pushed her comfort zone this year by participating in the annual "Running with the Bulls" in Pamplona, an intense event known to claim a few victims. Fortunately, Jeannie escapes unscathed and lives to tell her thrilling story. Well done Jeannie – Vancouver's proud of you!
"I look down and see a couple sprawled on the cobbles, but instead of tumbling with them, I run over them. This is where my nerve fails, at the corner of my eye I spot open barricades where I can dive, momentarily contemplating it. Too many people, too much risk of injury, but I don't. Adrenaline is my drug now and I cling to it's source like a strung out junkie."
Read more – The Day I Ran with the Bulls in Pamplona
17. Epic Road Trip around British Columbia

Fellow Canuck Rob from Stop Having a Boring Life participated in an awesome blogger trip sponsored by our friends at BC Tourism. We thoroughly enjoyed following Rob's adventures, along with teammate Brendan van Son, as they highlighted some of the best spots British Columbia has to offer.
"The most epic road trip I've ever been involved with, ever. The whole trip was cool but naturally, catching some big chinook salmon was tops for me, I got fishing action better than I ever dreamed of… and I'm a dreamer."
Read more – Epic #ExploreBC Road Trip Round Up!
18. Biking Bear Tooth Pass in the mountains of Montana
You won't often find Ayngelina from Bacon is Magic exploring steep mountain-scapes – she'll be the first to tell you that she's not big on long hikes or extreme sports. That's why we enjoyed seeing her push her personal boundaries by bike riding down a steep mountain pass in Montana. It looks like an epic experience, one that we hope to replicate!
"I wasn't sure what I was getting into and as the bus started the climb up to 10,000 feet with all the switchbacks, so did my anxiety…"
Read more – The scariest but most beautiful thing I have ever done
19. Trekking to the summit of Mount Kilimanjaro, Tanzania
Norbert from GloboTreks accomplished something we've wanted to do for many years – witness the morning sun rise from the peak of Africa!
"I watch the sunrise and tear up a bit.  My tears not only come from watching the sunrise, but also from the fact that I just made it to the top of Kilimanjaro!  It is the most beautiful sunrise I've ever seen."
Read more – Hiking Kilimanjaro: Reaching the Top of Africa
20. Driving a $500,000 car at the Lamborghini Academy in Italy
Michael from Time Travel Turtle discovers his need for speed at the Lamborghini Academy in Italy. When it comes to an epic travel experience, it's hard to beat test driving luxury sports cars worth hundreds of thousands of dollars!
"The Aventador had been sitting in the pit lane of Italy's famous Imola racetrack since I arrived, challenging and inviting me to feel its power… Round and round we go, the corners becoming more familiar and the straight increasingly tempting to accelerate along. We do a few laps and then rest before heading out for the next set, changing cars to try different models (and colours). Each time the speed increases."
Read more – The need for speed at the Lamborghini Academy
21. Great White Shark Diving in South Africa
Matt from Landlopers took to the frigid waters of South Africa and climbed into a submerged iron cage — complete with wet-suit and snorkel gear — to come face to face with one of the world's most feared predators. He shares some wonderful photos along with his new found appreciation for these often misunderstood creatures.
"There I was, in the freezing South Atlantic in waters teaming with Great White Sharks with nothing but some iron bars blocking the way. Every few seconds I'd take a gulp of air and submerge and glance around in amazement at the massive sharks."
Read more – Great White Shark Diving in South Africa
22. Up Helly Aa – the Viking Festival of Fire in Shetland, Scotland

Vikings, fire, excessive drinking, castles and the Scottish Highlands – all ingredients necessary for a travel tale of epic proportions! Kate from Adventurous Kate traveled to the remote Shetland Islands, located northeast of Scotland, to experience Up Helly Aa, the Viking Fire Festival held in Shetland every January.
"On paper, it sounds like just the kind of trip I'd avoid – freezing cold, windy, far northern Shetland, in January, of all months! But between the sheer amount of fun we had, the weirdness of Shetland and Up Helly Aa, and the stunning beauty of the landscapes surrounding us, I'm happy to say that I had the time of my life."
Read more – Up Helly Aa in Shetland — Possibly My Best Adventure Yet!
23. Surfing the South Pacific in Samoa 

Cole and Adela from Four Jandals had a number of epic adventures in 2012 but one that stood out was their surfing experience in beautiful island paradise that is Samoa.
"Bursting into the sunlight I ripped one last turn with a quick glance behind. A grin splitting my face as I realized I had done it. I had pushed my limits and succeeded. I was surfing in Samoa."
Read more – Surfing in Samoa – A Ride of a Lifetime
24. Hanging out with Deadly Dragons in Indonesia
Cailin from Travel Yourself got up close and personal with Komodo dragons while on a trip to Komodo Island, one of the over 17,000 islands that make up the Republic of Indonesia. Reading her story, we get the feeling that her encounter with the largest living species of lizard was something she won't soon forget!
"Two of the dragons show aggression towards each other and have a small fight, the bigger one bleeds a bit from his mouth with drool hanging down. He looks at you again. Thoughts race through your mind…"
Read more – Surviving a visit to Komodo National Park in Indonesia
25. Catching the Olympic Spirit at London 2012
Amanda from A Dangerous Business had the good fortune to be able to experience London on its best behaviour, as the host of the 2012 London Olympics! She also fulfilled a life dream by witnessing a gymnastics event live at the Summer Olympics. Having experienced the Vancouver 2010 Winter Olympics, we can say with conviction that attending an Olympics is filled with epic-ness!
"I felt like I was a part of something. Something big. And that's really the whole point of the Olympics, isn't it? To bring the world together for 16 days of friendly competition and good spirits."
Read more – London 2012: My Olympics Experience
~~~~~~~~
What was your most Epic Adventure of 2012?
Share your experience in the comments section below. Feel free to leave links, we'd love to read about your epic adventure!
Learn about our personal epic adventures from 2012 here.