Drinking Beer Around the World – The Canadian Edition
What kind of beer drinking, hockey loving, poutine eating Canadians would we be if we didn't dedicate at least one of our Beer Around the World posts to the motherland? As such, this next installment in our series showcases beer from our travels through Canada.
Being lovers of beer and travel, we try our best to capture a photo of the beer we sample while on the road, making for an awesome photo collection with over 500 different types and brands of beer.
Because tastes and preferences are so subjective, our goal for this series is not to find the "best beer in the world", but rather to reflect on memorable moments from our travels. Keep in mind, we don't consider ourselves professional beer connoisseurs and our beer reviews can easily be influenced by how many were consumed that day.
The beer-tastic series continues with its 16th edition, serving up 10 more tasty brews.
Cheers!
Pumpkin Ale by Granville Island Brewery – Whistler, BC
This seasonal ale was enjoyed by the warm fire in our favourite Canadian destination – Whistler. We don't often visit Whistler in the fall because there's not much happening as the mountain village prepares for the ski season, but we decided to have a weekend escape before Nicole returned to work after her maternity leave. Lucky for us, we were treated to a wonderful display of autumn colour. Check out the photos from that trip here.
The beer verdict – Medium body, subtle spices and pumpkin flavours. Think pumpkin pie meets amber ale. I will definitely purchase again next autumn. We give it 7.5 out of 10
~~~~~~~~
Sea Dog Amber Ale by Vancouver Island Brewery – Parksville, BC
A fitting selection for our trip to Parksville, this tasty amber was enjoyed on the private balcony of our oceanfront room at the Tigh Na Mara Seaside Resort. Vancouver Island continues to call us back with its misty temperate rainforests, fresh water lakes and endless stretches off unspoiled beaches. It's easy to lose hours gazing at the horizon, watching the sun set as bald eagles and sea lions search for an evening meal. It's one of the many reasons we love living in British Columbia.
The beer verdict – Medium-light body, toasty, malty with bittersweet finish. Not as flavourful as most amber ales but solid beer. We give it 7 out of 10
~~~~~~~~
Moosehead Lager – Toronto, Ontario
As the above photo illustrates, this Canadian classic was enjoyed on Toronto's Centre Island while soaking up the incredible evening views of the city skyline. It's amazing how much the Toronto skyline has changed over the past 10 years! This particular bottle was consumed at a social event we attended while at TBEX 2013, the largest annual gathering of travel bloggers. It was fun sharing a few beers and connecting with our digital friends in the real world.
The beer verdict – Skunky aroma, malty and grainy, light with smooth finish. Nothing special, but refreshing on a humid summer evening. We give it 6.5 out of 10
~~~~~~~~
The Griz Pale Ale by Fernie Brewing – Panorama, BC
Several beers were sampled on our road trip through the Canadian Rockies, but this moment stands out because a curious deer approached us while taking this photo. We tried to capture the deer and beer in the same photo but were unsuccessful – how fun would that have been?! This was our first visit to Panorama Mountain Village, a ski and golf resort in the Purcell Mountains of southeastern British Columbia, near Kootenay National Park and the Alberta border.
The beer verdict – Golden amber body, malty sweetness, hints of citrus with decent hoppy bitterness. Not bad, but I probably would not purchase again. We give it 5.5 out of 10
~~~~~~~~
Stock Ale by Mill Street Brewery – Gravenhurst, Ontario
Nothing says summer in Ontario like a cold beer on the lake! A couple months ago, we joined our good friends at their family cottage in Gravenhurst, Ontario. This photo was taken from their private dock. Although we love living on the West Coast, it's hard to beat campfires and BBQ's on the lakes of Ontario's cottage country. And if that wasn't enough, my best friend fell in the lake after having a few too many – classic!
The beer verdict – Light body, solid carbonation with clean, smooth finish. It's one of the better Toronto beers. We've already purchased again. We give it 7.5 out of 10
~~~~~~~~
Okanagan Springs Hefeweizen – Sun Peaks, BC
This beer drinking moment comes from the hills of Sun Peaks Resort in central British Columbia, just north of Kamloops. Surprisingly, we have yet to visit Sun Peaks Resort during the winter, but we did manage to spend some time there during the summer. It's quiet, peaceful and relaxing.
The beer verdict – Medium body, sweet, banana and citrus flavours, tasty finish. Much better than I had originally expected. We give it 8 out of 10
~~~~~~~~
Ginja Ninja Seasonal by Granville Island Brewery – Victoria, BC
With such a vibrant craft beer scene in Victoria, it might surprise some of you that I selected the Granville Island Brewing seasonal beer during our most recent visit to British Columbia's capital. But, with a name like "Ginja Ninja" how could I refuse?
The beer verdict – Not bad, but a little too strong on the ginger flavour for my liking. I doubt I will purchase again. We give it 5.5 out of 10
~~~~~~~~
Cameron's Cream Ale – Keswick, Ontario
While in Ontario earlier this summer, we visited with family in a town called Keswick, located about an hour north of Toronto, on Cook's Bay. Cameron's dad brought this 6-pack of craft beer to the family BBQ, appropriately named if I do say! You'd think I would have heard about a beer that shares my name, but this was my first time sampling a Cameron's Cream Ale.
The beer verdict – Medium body, balanced flavour, hints of vanilla, sweet and malty. Nice beer, I'd likely order again. We give it 7 out of 10
~~~~~~~~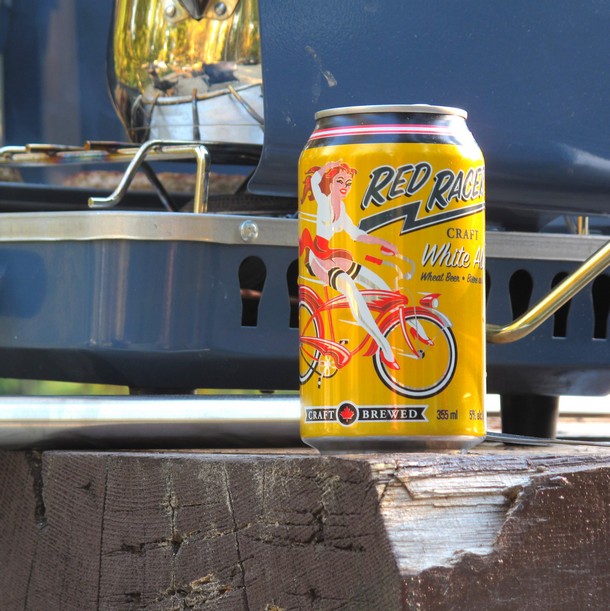 Red Racer White Ale – Banff, Alberta
We picked up a Red Racer sampler pack while getting supplies for our camping trip in Banff National Park. We scored a fantastic campground, surrounded by tall trees and a small river. If you look closely, you can kinda see the campground in the reflection of the shiny pot that's sitting on the propane grill. Nothing says "beer o'clock" like camping in Canada's great outdoors!
The beer verdict – I quite enjoyed this beer, it's like summer in a can. Big and flavourful, lots of citrus and spice. We give it 8.5 out of 10
~~~~~~~~
Steam Whistle Pilsner – Toronto, Ontario
The Steam Whistle Brewery is located directly across the street from the convention centre that hosted TBEX13. After 3 days of networking, learning and socializing, we decided to break free and check out the brewery. And, of course, sample its flagship pilsner. Unfortunately we visited right around Baby B's nap time, so he got pretty cranky before we could take the brewery tour. Nevertheless, we were able to sneak in an afternoon pint, officially completing our TBEX experience.
The beer verdict – Light and refreshing, mild hops, crisp finish. I'm not a big fan of Canadian pilsners but I enjoyed this one. We give it 7.5 out of 10
~~~~~~~~
Do you have a memorable beer moment that you'd like to share?
Share your experience in the comments section below!
Read more posts from the series – Memorable Moments Drinking Beer around the World