28 Epic Adventures by Travel Bloggers in 2013
Over the past twelve months, we've followed the travels of many travel bloggers, reading about their epic adventures and admiring their wonderful photos and videos. It's been another incredible year of adventures!
As we reflect on the year that was, we'd like to take a moment to highlight a few of these epic travel experiences. There are hundreds of awesome travel blogs out there, so we couldn't possibly include every one in this annual round-up. If you are a travel blogger that had a memorable adventure, share your experience in the comments section below – I'm sure others will want to read about it just as much as we do!
Perhaps one of these adventures will inspire your travels in 2014?!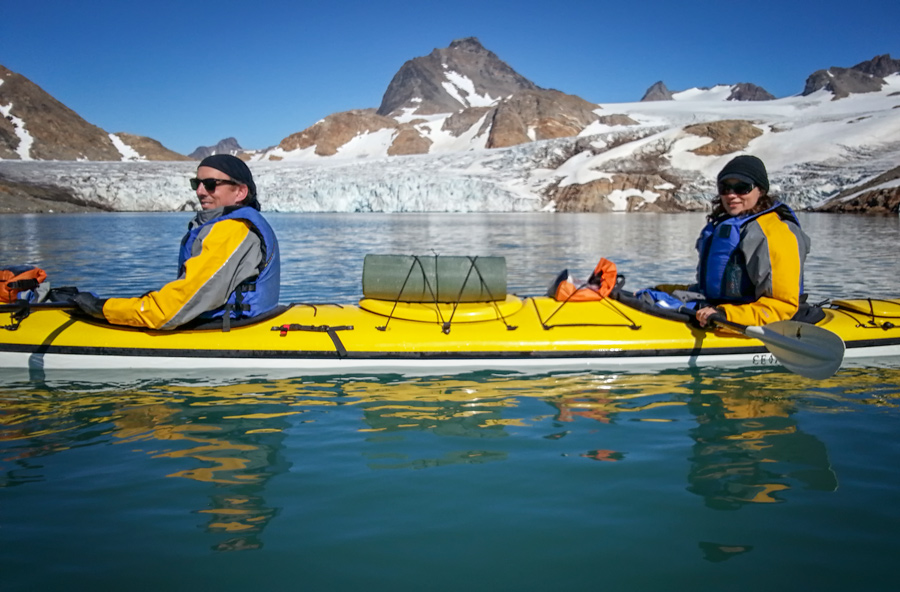 1. Paddling through icebergs and fjords in Greenland
Pete and Dalene Heck from Hecktic Travels fulfilled a dream of many, kayaking the frigid waters and raw wilderness of the Arctic. It doesn't get more isolated and remote than Greenland!
"Greenland is one of those places not often talked about or seen through the eyes of a tourist. It is as remote as remote can get – which is exactly why we wanted to go there. We paddled 96 kms via kayak up the east coast of Greenland. It was our most challenging excursion to date, especially when it came to battling the elements so close to the Arctic Circle. It was a helluva ride."
Read more – Back to the Wild in Greeland
2. Hitchhiking across the United States
Matthew Karsten from Expert Vagabond did the unthinkable – he traveled coast to coast across the United States by sticking out his thumb and coming up with creative hitchhiking signs. We tip our hat to Matt – one must be mentally strong to complete such an unpredictable challenge.
"Meeting so many friendly strangers and learning about their very different lives was fun; but scoring rides on a train, an airplane, a big-rig, a motorcycle, and a boat was pretty epic! It's something I've always wanted to do."
Read more – Hitchhiking across America, one ride at a time
3. Cycling Costa Rica, from coast to coast
Michael Hodson from Go, See, Write had admirable intentions for his epic cycling journey across Costa Rica, but sometimes things don't always go according to plan. Read on…
"Ironically, my most epic adventure of 2013 was an epic failure. I took a bicycle trip in April to Costa Rica. On day one of the biking, I stupidly decided to try to shoot video, while biking. And… crashed. Dumb, dumb, dumb, but thank goodness I've finally recovered fully after a few months."
Read more – My face plant in the name of blogging
4. Pushing Powder in the Colorado Rockies
Canadian travel blogger Matt Gibson was treated to an epic day on the slopes of Wolf Creek Ski Resort in Colorado, the morning after 48 inches of fresh snow had fallen. Yes please!
"It was a weekday, and there was barely anyone on the hill. A ski instructor, Steve Baird, showed me around the hill. It continued to snow for the next two days and he took me to all the craziest parts of the mountain. It was the most powder I've snowboarded in my life."
That's a bold statement for an adventurous Canadian boy that grew up in the Canadian Rockies!
Read more – Massive Powder Day at Wolf Creek
5. Cage Diving with Great White Sharks in South Africa
While in South Africa, Dave and Deb of The Planet D jumped into shark infested waters to get up close and personal with Great White Sharks. How perfect is that photo?
"Cage Diving with Great White Sharks in South Africa was possibly our most epic adventure to date. We've watched specials about sharks on TV and find ourselves glued to the Discovery Channel during Shark Week, but we never thought we would get the chance to climb into a cage ourselves. In our mind, this type of adventure was reserved for the National Geographic or TV Celebrity types. It was not only epic, it was the most fun we've ever had!"
And that's saying a lot, because Dave and Deb have experienced some fantastic adventures over the past few years (see what they did last year and the year before).
Read more – Cage Diving with Great White Sharks in South Africa
6. Luxury in the Maldives
Beth and Randy of Beers And Beans had us drooling with their photo collection from one of the most luxurious island destinations we've ever seen. Being Canadian, few destinations feel more remote and exotic than the Maldives.
"I could go through an entire thesaurus coming up with the perfect adjectives for this island paradise. Whether it's jungle canopied walkways, glistening palm trees or the perfect sunset blue skies, every corner you turn at Gili Lankanfushi is literally a perfect scene."
Read more – The Ultimate Maldives: Photos of Gili lankanfushi
7. Exploring Earth's southernmost continent – Antarctica
Matt Long, the man behind Landlopers, witnessed an environment unlike any other place on the planet – literally. Antarctica is a destination many people dream about, but few get to experience. Matt can now proudly boast that he is one of the few…
"Everything about traveling to Antarctica is epic, it exists on a scale unlike any other place in the world. From the trip down there to the experiences themselves, the entire trip is a thrilling, pinch-yourself adventure."
Read more – Antarctica in Photos
8. Kayaking the Archipelago Sea in Finland
Despite her lack of kayaking experience, Audrey Bergner of That Backpacker stepped outside her comfort zone and explored the cold waters of the Archipelago Sea, home to thousands of islands and small islets.
"I'm not going to lie, it was slightly nerve-wracking setting out over the dark waters which were also bone-chilling cold, but the journey showed me a side of Finland that I wouldn't have normally seen."
Read more – Kayaking the Archipelago Sea
9. Discovering Yemen and Socotra Island
Perhaps one of the most intriguing destinations visited in this round-up, our friend Earl from Wandering Earl ventured into a land few Westerners have visited (he's the first person we know to have traveled to the often misunderstood Arab nation). After reading his posts and seeing his photos, he has certainly peaked our curiousity…
"From the mesmerizing old city of Sana'a, to towns and villages such as Shibam, Kawkaban, Manakh, Mahweet, Al-Hajarah and Tawila, many of which are perched in the most improbable of locations and appear to have changed little in hundreds of years. There were the colorful canyons, the lush green valleys stretching as far as one can see and the Burra and Haraz mountain ranges, all of which offer landscapes that literally seem out-of-this-world."
Read more – Why I traveled to Yemen for my vacation
10. Climbing to the summit of Stromboli Volcano in Sicily
Don't you just love a reward at the end of a good hike? Erin and Simon of Never Ending Voyage witnessed an erupting volcano after climbing to the summit of Stromboli Volcano. Seriously, a volcano spitting up hot lava… how cool is that?
"Stromboli is Europe's only permanently active volcano and is located on a small island off Sicily. We hiked up the volcano in the late afternoon so we could watch the sunset as we waited for the smoking rumbling craters to erupt.
With 360 degree views of the sea turning pink, it was a magical experience even without the fireworks display we were treated to when it erupted. Sliding down the volcanic sand in the darkness on the descent only added to the adventure. It has become one of our top travel experiences."
Read more – Stromboli: Climbing the Volcano Island
11. Two month journey through Patagonia
Dani and Jess, the nomadic couple behind Globetrotter Girls, spent two months traveling overland through Patagonia, crisscrossing the Andes between Chile and Argentina.
"We traversed the southern part of the South American continent spotting everything from massive volcanoes to mighty white glaciers, prancing alpacas and dancing guanacos, penguin colonies, roaring elephant seals, crystal clear lakes, and going on some incredible hikes. We ended with an unexpected hitchhiking adventure to the southernmost city in the world, Ushuaia."
Read more – From Pucon to Ushuaia: Our route through Patagonia
12. Winter swimming in Finland
How many times have you voiced the words "I'm up for anything" when you're traveling? Well, would you jump in freezing cold water after roasting in a Finnish sauna? Not many people would, but Ayngelina of Bacon is Magic fought her anxiety and took the plunge – literally!
"As a Canadian, I usually travel to warm places in the winter. Running from a hot tub to a frozen lake was completely new for me. I knew I wouldn't die but I was still petrified."
Read more – Fire and Ice: Sauna and winter swimming in Finland
13. Trekking from Hsipaw to Shan State villages in Myanmar
Michael Turtle of Time Travel Turtle gets off the beaten path and treks through the remote mountains of Shan state, an untouched part of Myanmar that few Westerners have experienced.
"When it comes to travel in Asia, Myanmar is still very much off the beaten path. But if exploring it independently wasn't enough of a challenge, I decided to head away from the tourist spots to the remote mountains of Shan state.
To trek through this region for days, you need to rely on the kindness of the locals. Although you'll give them some money, you still need to find people who are willing to cook you food or offer you a bit of floorspace for the night. The landscapes are truly stunning and seeing some of this untouched part of the world was a highlight of my month in the country."
Read more – Trekking from Hsipaw, Myanmar
14. One year road trip around Australia
Caz and Craig Makepeace of y Travel Blog packed up their life and are taking their girls on an epic road trip around Australia. They will be circling their homeland for over a year, visiting its many pristine beaches, national parks and iconic landmarks. We hope to do a similar trip around North America in a couple years, so we've been taking notes and bookmarking posts.
"We are reclaiming our life and designing it to how we want it to look. As a result, we are experiencing our own unique, diverse and incredibly beautiful country and making amazing family memories."
Read more – Bucket list: Our 1 year road trip around Australia
15. Camping with Bedouins in the Wadi Rum
Samuel Jeffrey from Nomadic Samuel slept under the sparkling desert stars at a Bedouin camp in the Valley of the Moon, one of the most popular eco-adventure destinations in Jordan.
"While huddling around the campfire late at night, I reflected on the events that transpired earlier in the evening. Dinner was dug out of the earth – a generous feast of meat, potatoes and vegetables. My eardrums filled with music and my eyes marveled at the Bedouin men dancing around the campfire."
Read more – Exploring Wadi Rum
16. Rafting the Macocha Abyss in the Czech Republic
Mike and Luci of 1000 Places to Fight Before You Die descend 450 feet into the Macocha Abyss, an otherworldly cave system in the Moravian Karst located north of Brno, in the eastern part of the Czech Republic.
"You know that guy at the pub that is always trying to one up you? He didn't just go up the Amazon, he carved his own canoe and paddle? We have the perfect solution – the Macocha Abyss. Not only will you take in a massive karst cave system, but you will do it while white water rafting!"
Read more – Rafting the Macocha Abyss
17. Traveling solo through Kosovo
Kate McCulley of Adventurous Kate is currently on a round the world trip with her fiance, so it was difficult to narrow down her list of epic adventures. When we asked her to pick her favourite adventure of 2013, she shared her story of traveling solo in Kosovo…
"One of the biggest surprises of my year was how warmly I was welcomed as an American in Kosovo. The US played a major role in saving the ethnic Albanians of Kosovo from genocide at the hands of the Serbs during the 90s, and Bill Clinton is one of their heroes.
Every time a Kosovar found out I was American, they would bubble over with excitement and rave about how much they loved America, even if they couldn't speak English.
The biggest surprise? Men I met, from bus passengers to waiters, kept giving me their phone numbers — not to hit on me, but to have just in case I got into trouble and needed someone to call!"
Read more – Kosovo: A Warm Welcome from a Newborn Country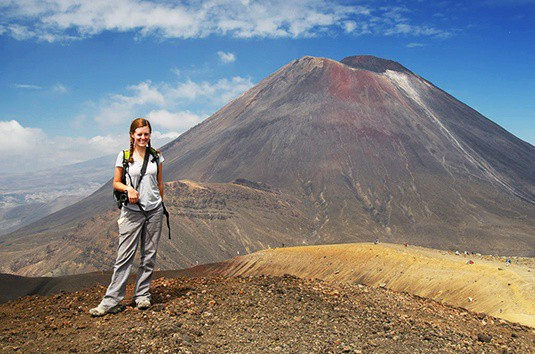 18. Hiking the Tongariro Crossing in New Zealand
Lauren of Never Ending Footsteps laces up her hiking boots and tackles the popular Tongariro Alpine Crossing in Tongariro National Park, New Zealand's oldest national park and a dual World Heritage Site.
"The Tongariro Crossing was the first hike of, well, my entire life. Before arriving in New Zealand, I'd never walked for more than around six kilometers at once, so at 25 kilometers, the Tongariro Crossing was one of the hardest physical challenges of my entire life. It was worth it, however, and was one of the proudest moments of my life. It also didn't hurt that the scenery was spectacular."
Read more – The Tongariro Crossing: The Hiking Saga Continues
19. Christmas in the Galapagos Islands
Laurence and Vera of Finding the Universe are currently on their most epic adventure of 2013 – spending the holidays exploring the legendary Galapagos Islands. Their trip is loaded with fun stuff, including snorkeling with sea lions, mountain biking across San Cristobal Island and hiking up the second largest crater in the world.
"We've been lucky enough to spend Christmas in some pretty funky places around the world, but the Galapagos tops the list as the most exciting destination to get our tinsel on. Even better – we're going to be hanging around over New Year to see how all that amazing wildlife celebrates New Year."
Read more – A Galapagos Christmas
20. Traveling the Pamir Highway from Kyrgyzstan to Tajikistan
Nick and Dariece of Goats on the Road spent several months traveling across Central Asia, from Mongolia to Iran. One of their highlights was a 2-hour helicopter tour over the Pamir Mountains, where they captured video footage of the stunning desert mountain-scapes.
"Driving over 4,000m high passes, sleeping in yurts, trekking to glacier lakes, seeing ancient forts, meeting wonderful people and enduring 5.0 earthquakes are just some of the amazing things we experienced in the Pamir Mountains. We were even lucky enough to see them from above in a private helicopter ride."
Read more – Helicopter ride over the Pamir Mountains
21. Hot air ballooning over Cappadocia, Turkey
Not only did Charles and Micki of The Barefoot Nomad get to witness the incredible landscapes of ancient Cappadocia, they did it with their children while floating in a hot air balloon. Being young parents with a toddler and infant, we find it very encouraging to see other families experiencing epic adventures with their little ones.
"As parents of two little kids, we still manage to have some great adventures with our little ones in tow. One of our favorites adventures in 2013 was soaring over the fairy chimneys of Goreme in a hot air balloon. Gliding silently through the still air as the sun rose over Cappadocia was a magical experience."
Read more – Hot air balloon over the ancient cave houses of Cappadocia
22. Chasing the Northern Lights in Churchill, Manitoba
Amanda Williams of A Dangerous Business ventures to the Great White North to experience the colorful aurora borealis, a dazzling natural light display in the Arctic sky.
"Chasing the Northern Lights in the Canadian sub-Arctic was the most adventurous and amazing thing I did in 2013. I spent days bundled up in Churchill, Manitoba, dog-sledding and snowshoeing during the day and searching for the Northern Lights at night. Finally seeing those Lights shimmer and dance in the sky… there really aren't words to describe how incredible it is."
Read more – A Dance of Lights: Awed by the Aurora Borealis
23. Trekking Ghorepani Poon Hill in Nepal
Mark Wiens of Migrationology fulfilled a lifelong dream by traveling to the mighty Himalayas and trekking the Ghorepani Poon Hill loop in the Annapurna Mountain Range.
"At 3,210 meters, the Poon Hill sunrise view of the snowy Annapurna range was worth every grueling step it took to get there. The trek is a great way to hike and be in the mountains while still being able to sleep securely and warmly and eat freshly cooked meals. We had an absolutely amazing time, and the views of the Himalayas are beyond spectacular."
Read more – Ghorepani Poon Hill Trek – The Ultimate Guide
24. Walking in the footsteps of Indiana Jones
Cailin O'Neil of Travel Yourself joined a tour with G Adventures and explored the Hashemite Kingdom of Jordan, visiting its iconic landmarks, vast desert landscapes and tasting its culinary delights.
"Since I was a little kid watching the Indiana Jones movies with my dad I had dreamed of seeing the treasury in the ancient city of Petra. Not only did I get to see Petra, I also got to float in the Dead Sea, sleep in a Bedouin camp in the middle of Wadi Rum, try falafels for the first time, eat the BEST hummus of my life. This trip to Jordan was the highlight of my year"
Read more – Jordan in a minute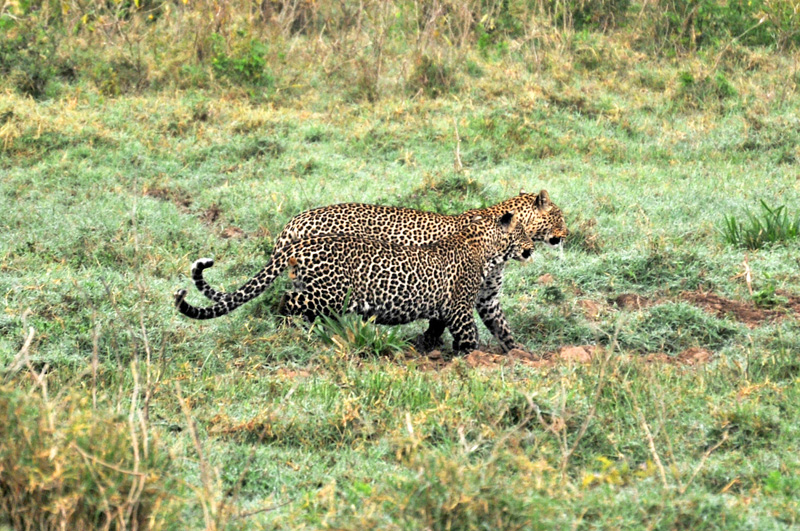 25. Capturing the Big Five in Kenya
Seattle Dredge of Seattle's Travels traveled to east Africa in search of Kenya's big five – the lion, leopard, elephant, rhino and buffalo. Not only did she accomplish her goal, she captured some wonderful animal photos (see for yourself here).
"In the same way that many have a travel bucket list, most people join a safari with a bucket list of animals that they want to see. I was fortunate enough to have seen a family of three leopards during a game drive in Lake Nakuru National Park. It was probably my favourite part of the entire trip."
Read more – The Big Five in Kenya
26. Trekking in the desert mountains of Oman
Sherri Ott of Ottworld hikes through breathtaking desert landscapes and dizzying mountain terrain on her trip to Oman. Head over to her blog and check out this post to see the photos she captured from this fascinating part of the Arabian Peninsula.
"For me, the Al Hajar range served as my playground for 4 days of my Oman mountain trekking tour, as well as a photographic muse. We hiked in the warm temperatures during the day around Jebel Akhdar and Jebel Shams, and then would set up camp and prepare for the temps to drop to freezing as the sun went down. Most of the hikes do require a guide and you will also need a 4×4 to get to many of these locations."
Read more – Trekking in the Oman Mountains
27. Riding a scooter from Bamako, Mali to Cape Town, South Africa
Canadian travel blogger Brendan van Son purchased a red scooter, named it Anne Murray, and began an epic journey down western Africa from Bamako to Cape Town, battling illness and loneliness while tackling some of the most challenging roads on the planet. It's an unusual adventure that few people would attempt, let alone complete – do you have it in you?
"This was as close to an epic as fivel going west. This wasn't an "epic night out" nor was it an "epic chocolate cake", this was epic in all proper senses of the word. Four times detained, three times chased by wildlife, two times with malaria, and a partridge in a pair tree!"
Read more – Cape Town, the End of an Epic
28. Finding Peace at Bhutan's Most Sacred Site
Keeping up with Nellie Huang of Wild Junket is no easy task. She's had an amazing year of travel, highlighted by a visit to Bhutan's most famous sacred site, Paro Taktsang or Tiger's Nest.
"The afternoon light pierces the window and lights up the otherwise dark room in a mystical glow. Sounds of monks chanting echo through the walls and the smell of incense fills the room. The air is so thick with atmosphere that it's easy to see why this is such a sacred spot for the Bhutanese.
They call Bhutan the last Shangri-La — as cliché as it may sound, I can't find a more fitting description for Bhutan."
Read more – Finding Peace at Bhutan's Most Sacred Site: The Tiger's Nest
~~~~~~~~
For more adventurous inspiration, take a peak at previous years…
Your turn! What was your most Epic Adventure of 2013?
Share your experience in the comments section below. Feel free to leave links, we'd love to read about your epic adventure!