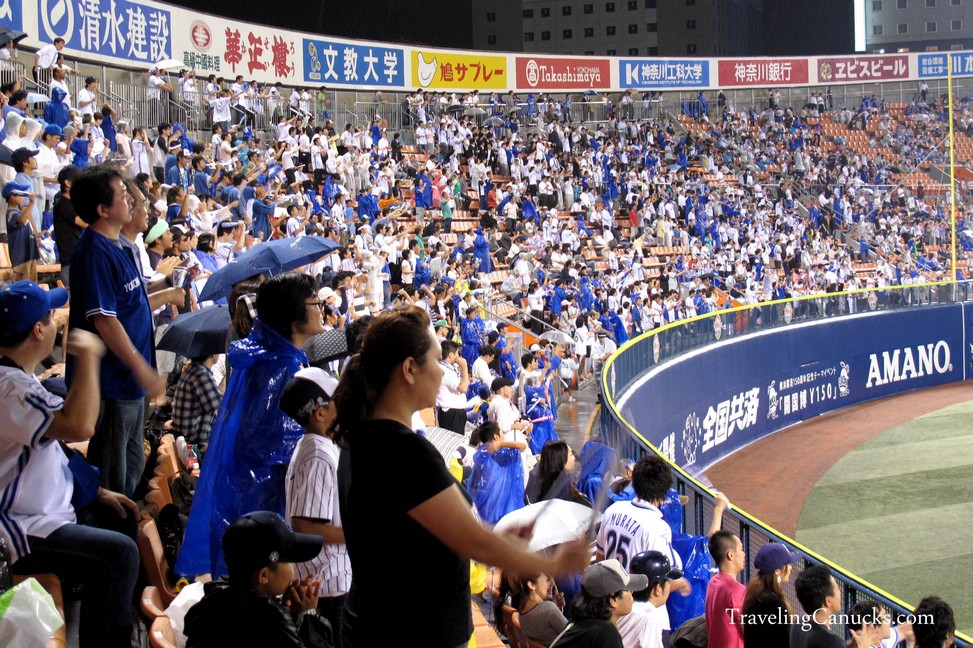 Yokohama Stadium, Japan
You can learn a lot about a city and its people by attending one of its professional sports games, which is why we always make it a point to find tickets to sports games when we travel.
On our last trip to Japan, we spent a few days in the city of Yokohama, located about 30 minutes south of Tokyo (by train). While there, the Yokohama BayStars had a few baseball games scheduled – which was very nice of them.
Unlike hockey games in Canada, most of the fans are separated, with the Yokohama BayStars fans in blue on one side of the stadium and the Hiroshima Carp fans in red on the opposite side.
Respectfully, fans only cheered when there team was up to bat – and they cheered loud and proud! They smacked noise makers together, beat on drums, jumped up and down and chanted familiar songs. It's such a fun atmosphere.
We found it more fun watching the enthusiastic fans than the actual game, partially because the Hiroshima Carp took a commanding lead right from the start, but mostly because the Japanese love their baseball. If you find yourself in Japan, even if you don't like baseball, try to attend a professional baseball game. You'll have a blast.
Check out these past weekly travel photos:

~~~~~~~~
Have you visited Japan? Did you catch a baseball game or visit Yokohama?
Share your experiences in the comments section below, we'd love to read about it!
See map below to find out where this photo taken.
[mappress mapid="32″]