This holiday travel post is sponsored by Tangerine. All views and opinions expressed are our own.
Holiday travel doesn't need to break the budget. Here are a few tips and tricks to make travel more cheerful this holiday season.
Now that Halloween is in the rear-view mirror, it's time to turn our attention to the fast approaching holiday season. Let's be real, holiday travel can feel overwhelming. The bottleneck of demand for flights and hotels drives up prices and reduces availability.
Planning for holiday travel can be stressful. You may even be questioning whether traveling over the holiday season is worth the additional stress. We feel the same way, at times.
However, we've come to realize that traveling over the holidays is worth the extra effort and expenses. Why? Because spending time with family and friends during the holidays matters.
It's really that simple.
As our boys grow, we can't help but think about the future. There will be a time when they're grown men and have lives of their own. The fact that our oldest boy is already 8 years old is mind blowing. How'd that happen?! Every one warned us that it goes by fast.
We're also getting older. Our parents are getting older. Our friends are getting older. So, when we have an opportunity to spend time together, with family and friends, it takes priority.
Once upon a time, before having kids, we would avoid holiday travel like the plague. Why pay more and travel with the masses when we can travel in the shoulder season, when prices are cheaper and it's less stressful?
However, now that we have a family, we often travel over the holidays and peak seasons. In fact, we look forward to it. It's become a big part of our strategy to get more vacation time. More on that here.
Here are a few tips to make your holiday travel more cheerful.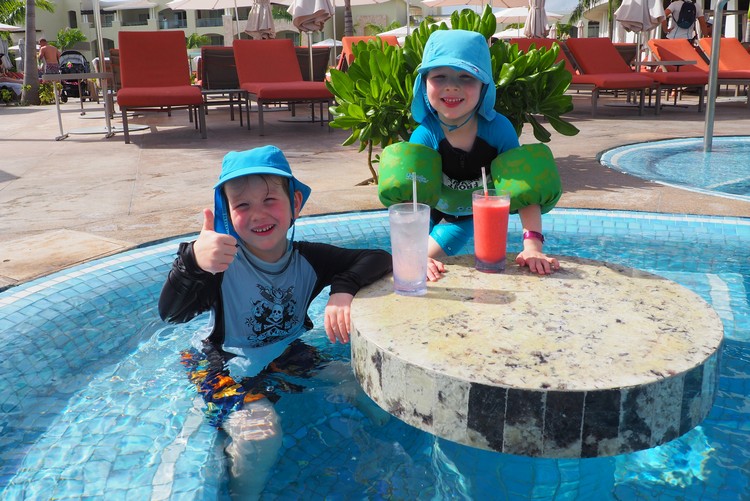 1. Don't wait. Book your holiday travel early.
What are you waiting for, really?
Prices will continue to rise as the holidays approach. It's a busy time of year, which means demand for flights and hotel rooms is high. Sure, you may get lucky with a last-minute travel deal, but it's unlikely to yield the kind of savings you were hoping for.
And, if you wait too long and miss your window, you might actually end up paying more.
In our experience, when flying domestic, we've found that 2 to 3 months before the departure date is the sweet spot. For international flights, we typically book 5 to 6 months before the departure date.
How do you know if you're getting a good deal if you don't know the regular price?
Once we've decided on the destination and dates, we set airfare alerts on travel sites like Skyscanner and Google Flights. We typically watch price activity for 2 to 3 weeks to get a baseline of standard pricing.
For hotel accommodations, we like to use Hotels.com because we get one free night after 10 hotel nights. We also like that Hotels.com has an option for free cancellation (note – you must select this option at the time of booking).
This gives us peace of mind when we are booking months in advance. If plans change, we can adapt without having to eat the cost.
2. Clear your cache or go Incognito when researching flights
When researching flights, one of the simplest ways to ensure you're getting a fair price is to clear your browser history or open a new incognito window.
Most airlines and travel booking engines track your activity and will sometimes raise the prices when they see you returning to the site.
The idea is that if you see the prices go up, you may be more likely to book right away, out of fear that the prices will keep rising. Remove your history before you begin your search.
3. Avoid the busiest travel days
While we highly encourage you to travel over the holidays, you should try to avoid traveling on the busiest days of the holidays. Before you book your travel, check the calendar to see what day Christmas and/or New Year's will fall on.
This year, both Christmas and New Year's happen on Wednesday.
The Friday and Saturday before each holiday will be the busiest days for air travel. Consider booking a flight on the Monday or Tuesday instead.
Or, consider flying on Christmas day. Most people want to stay at home on Christmas Day, so this is an ideal time to avoid the crowds.
For road travel, try to avoid high traffic areas during rush hour.
Consider departing early morning, before the rest of the world wakes up. Pack the car the night before and get a solid jump on the day. Or, alternatively, consider driving late at night, after the roads have cleared.
4. Fly direct to avoid connection delays
There's nothing worse than missing your connecting flight.
Canadian winters are unpredictable, so there's a chance your flight(s) may be delayed or even canceled due to bad weather. To avoid delays or cancellations, book direct flights to your final destination.
Of course, direct flights may not be possible, depending on your departure and arrival airports. However, if you have the option to fly directly to your destination, do it. Even if it costs more.
5. Use your points, miles and credits
We're big supporters of loyalty reward programs. We maximize every purchase by using multiple loyalty reward programs. Over time, we've been able to accumulate a lot of points, miles and credits.
While you may find it fun to collect points and watch your numbers grow, you have to use your points for them to have value.
Because holiday travel can be more expensive, this is the perfect time to use those points you've been saving.
For flights, it's best to book 4 to 6 months in advance, as availability can be an issue with airline loyalty programs. Once you know your travel dates, give yourself a few weeks (or months) to check availability.
Flight options will change, so you have to be persistent.
Play around with the dates and airports, sometimes you'll find an awesome deal by flying 2 or 3 days later/earlier than your original plan.
This year, we will be spending a portion of the Christmas holidays at Sasquatch Mountain Resort, a family friendly ski resort located about 2 hours east of Vancouver. To offset the cost of accommodations, we used most of the Airbnb credits that we've accumulated over the past year (get your $45 AirBnB credit here)
Why wait until next year? Use 'em if you got 'em!
6. Don't forget about your credit cards
Building on the point above, don't forget about the rewards you've earned with your credit cards.
Tangerine's Money-Back Credit Card, which has no annual fee, allows you to earn 2% Money-Back Rewards on purchases in two categories of your choice, including: Hotel-Motel, Restaurants, Entertainment, Gas and even Recurring Bill Payments. Plus, if you choose to deposit your cash back into your Tangerine Savings Account, you can get a third 2% Money-Back Category.
We put our cashback directly into our travel fund, making our spending work for us.
If you don't already have a cash back credit card, check out Tangerine's here. If you apply by January 31, 2020, you could earn 4% Money-Back Rewards in up to 3 Categories of your choice for the first 3 months.
7. Build a specific budget for your holiday trip
"If you fail to plan, you plan to fail".
Building a travel budget is the best way to ensure you don't return from the holidays with a nasty credit card bill. Sure, you can pull out the plastic and wing it, but we've found a little planning can have a big impact on our bank account.
Tangerine, Canada's leading digital bank, has created an innovative goal setting feature that allows you to establish one or multiple savings priorities and set-up regular contributions. It's appropriately named Goals.
Let's use our upcoming ski trip over the holidays as an example. You would set up a goal called "Ski Trip", map out the goal plan and set it to automatically transfer funds. Then, you track the progress of your goal and adjust accordingly. It's a simple and easy way to save.
While your bank account is gradually saving for your ski trip, the next step is to build a simple spreadsheet and add the expenses you expect to incur on this trip (i.e. hotel accommodations, lift passes, gas, food, booze, etc.).
By taking the time to actually write down your expenses, you will gain a much clearer picture of what this ski trip is going to cost. This will allow you to make better financial decisions.
8. Plan for the worst, hope for the best
Depending on where you live, or the destination you're visiting, there's a chance you may get hit with bad weather. Snowstorms can shutdown airports. Heavy winds can delay trains. Freezing rain can make roads too slippery to drive.
Do you have a Plan B if things go sideways? What would you do if you're flight is delayed by a day or two? What if there's a road closure?
If you can, try to return home a day before you have to go back to work or school. This will give you a buffer in the event that planes, trains or automobiles are delayed due to bad weather.
Give yourself plenty of time to get to the airport and clear security.
The rule of thumb is to arrive two hours before your departure time. During the holiday season, when congestion is expected, it's wise to give yourself some extra time.
Be prepared for unexpected delays.
Pack healthy snacks and water bottle(s)
Bring portable power chargers for your devices (make sure they're fully charged)
Bring cash with you (yes, actual currency!)
Pack an extra change of clothes
Pack a sweater and/or jacket
Pack a pillow case. You can stuff this with clothes to make a pillow
Bring a deck of cards and/or portable board games
Make sure you have enough medication
Download travel apps to stay informed
Check the weather forecast frequently
Visualize being stuck at the airport for 24 hours – what would you need?
Final thoughts
The holidays can be a stressful time. But, with some planning and budgeting, traveling doesn't have to contribute to that stress. For more travel tips and savings advice, visit Tangerine's Forward Thinking blog.
What are your holiday travel tips?
Share your tips and tricks in the comments below. Our readers thank you!