European River Cruise with Viking River Cruises
Discovering Europe on an intimate river cruise had been on our travel wish list for years, so we jumped at the opportunity to explore Portugal's celebrated Douro Valley with Viking River Cruises.
The tour we did is called Portugal's River of Gold. It's a 10 day itinerary that begins in Lisbon and ends in Porto (more about the itinerary here).
We have cruised on the big ocean ships in the Caribbean before (more about that here), so we knew this European river cruise would be a very different experience.
If you're thinking about taking a European river cruise for the first time, you likely have a lot of questions. We certainly did. What are the rooms like? How is the food? What is included? Not included?
This blog post will breakdown our Portugal river cruise aboard the Viking Osfrid.
We took this river cruise in May of 2018. We updated this blog post in May 2023.
The Viking Osfrid ship
European river cruise ships are quite different from the mega-ships that cruise the ocean. River ships are designed to fit inside river locks, so the ships are long, thin and typically only 3 stories tall.
We traveled on the Viking Osfrid, which was designed specifically for the Douro River. The locks on the Douro River are smaller than locks found on the bigger European rivers, like the Danube and Rhine, so Viking River Cruises had a small fleet of ships built specifically for these Portugal cruises.
The Viking Osfrid is only a few years old. It's well maintained and has a clean, modern decor. The ship, in our opinion, is comparable to a high end hotel.
The Osfrid is quite intimate, which was a highlight for us. It's easy to meet people yet spacious enough to have quiet time alone. We prefer this type of cruise ship over the big ocean ships. On a river cruise, you're not competing with hundreds of other passengers to eat, drink or find seating on the sundeck. We found it to be much more calm and civilized.
Having trouble viewing the video above? Watch directly on YouTube here.
Views of the Douro River from the covered sundeck. There are plenty of chairs and tables available.
The pool on the sundeck of the Viking Osfrid
Nobody used this pool during our trip. It was quite cool in the evenings and it was too windy when the ship was sailing in the afternoon. If the ship had a hot tub it may have had more visitors, but I'm not so sure.
You should still bring your bathing suits, just in case.
Plenty of tables and chairs on the sundeck. No need to get up early to save your chair.
Coffee station. Staterooms on the Osfrid do not have coffee machines inside the room. If you want coffee or tea, this is the place to get it. Throughout the day, this station is stocked with a variety of pastries, like cookies, croissants, muffins and coffee cake.
The ship has one elevator for those who have mobility issues. It also has a small gift shop.
The Viking Osfrid sailed through narrow and rocky sections of the Douro River.
The lobby lounge on the Viking Osfrid
Every evening, before dinner is served, an orientation about the next day's adventure is given by the Cruise Director in this lobby lounge.
On this particular evening, the bar staff prepared a variety of colourful cocktails for guests sample. If you look closely at the bar, you can see a number of drinks available on the table in front of the bar.
Wine and beer is included during lunch and dinner.
Cocktails and specialty drinks are NOT included (additional charge).
Hallway leading to our room. Our room was located on the 3rd floor (Upper Deck). There are 53 staterooms on the Viking Osfrid. The gangway, lobby lounge and reception are on the 3rd floor (this floor). The restaurant is on the 2nd floor (or Middle Deck).
Below is the deck plan for the Viking Osfrid.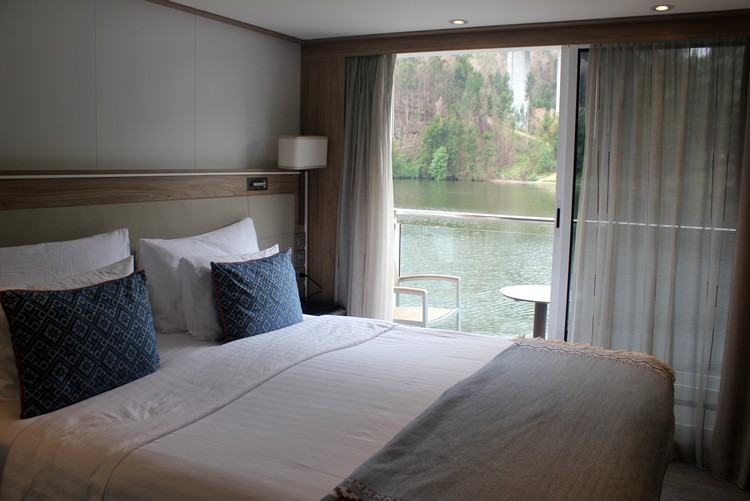 Our Stateroom on the Viking Osfrid
The rooms on a river cruise ship are compact but you have plenty of room for storage. We stayed in a Veranda Stateroom – Room 321 on the deck plan above. The room is 185 sq ft, with a hotel style bed (queen size) that can also be converted to two singles. It has a floor to ceiling sliding glass door that opens to a full size veranda that has two chairs and a table.
Here's a video we produced that shows you what the room looks like.
The private bathroom includes a rain shower with good water pressure. We always had hot water available, even during peak times. The room was updated daily with shampoo, conditioner, lotion and soap.
Inside the stateroom is a telephone, safe, hair dryer, mini-refrigerator and 40 inch flat screen TV featuring movies on demand plus the major TV networks like CNBC, CNN, National Geographic, etc.
We like that each room has climate control so you can adjust the room temperature. Voltage in the room is compatible with 220V and 110V along with a number of different charging outlets, including 4 x USB ports.
Wifi is free and readily available. Bottled water is replenished daily.
We LOVED watching the landscapes pass by from the comfort of our room.
When the ship was moving, we would open the blinds and door and let the world pass us by. The fresh breeze and sound of water splashing gently against the boat creates a magical atmosphere.
View from our room while inside a river lock. Look at how close the boat gets to the walls inside the river lock! You can literally touch the wall as the ship slowly rises up or down.
Do you need a balcony on a European River Cruise?
One of the advantages to river cruising is that most rooms on a river cruise ship come with a balcony.
River ships are not very big and they have width limits, so they can squeeze through those tight river locks. Because of this, balconies on river vessels are quite small. They are wide enough to fit one chair facing sideways (see photo above). It's a tight space.
We liked having a balcony. However, we actually did not use it very much.
When we were in our room we would open the door and let the breeze come through. This would have been sufficient. We did enjoy having a glass of wine on our balcony when the ship was moving in the afternoon. But the reality is that we only sat on the balcony a few times during the trip.
The sundeck is a short walk from your stateroom and there are always chairs and loungers available. We preferred to spend our time there. That way, we could walk from side to side and capture the moving landscapes.
Sometimes the attractions are on the opposite side of the ship, so you don't want to miss out and only see what's happening on your side of the river.
How is the food on a Viking River Cruise?
We really enjoyed the dining experience on the Viking Osfrid. Every day there was a new menu with a la carte options. Lunch and dinner are 3 course meals, with an appetizer, entree and dessert. There was always one local dish from Portugal. Every day was different, so there are plenty of options. Wine and beer are included at lunch and dinner.
There are a few items that remain standard every day, like hamburgers, hot dogs and sandwiches, in the event the daily menu does not have what you're looking for. There was typically a small buffet available at lunch and dinner. This buffet had salads, appetizers and desserts.
Breakfast was a typical European buffet spread. You could also order fresh items off the menu. Options included eggs Benedict, fried eggs, sausages, French toast, etc. There is also an omelette station.
Viking caters to guests with allergies and dietary requirements.
Below are a few photos of our meals. I don't remember what everything is, so I'll let the photos do the talking.
One evening was a buffet with a variety of Portuguese cuisine. See above.
Every menu had a seafood option. We enjoyed many delicious fish dishes on the cruise.
The dining room on the river cruise ship
The dining room on the river ship is not very big. Most of the tables are for 4 to 8 people. On the Viking Osfrid, there was only 3 tables that were set for 2 people.
Don't assume you will always dine on your own. You will likely be seated at a table with other guests.
Everyone dines at the same time. There are no assigned seats. It's not like an ocean cruise where you can go to the buffet when you are hungry. Dinner starts at 7:00 PM. If you miss dinner, there aren't a lot of options for you. Don't be later for dinner.
We didn't mind dining with others, but our preference was to dine alone. The purpose of this trip was to spend some quality time together, without kids. Fortunately, there was one table that became "our table". It's funny how people are programmed. Most guests dined at the same table, with the same people.
Sometimes the players would change, but generally the seating remained consistent.
Are alcoholic drinks included?
Yes, for the most part. Soda, wine and beer are available during lunch and dinner, and they are included in your cruise package. They also have champagne and orange juice to enjoy breakfast mimosas.
If you prefer to have to have unlimited specialty drinks, you can purchase an additional beverage package. It includes an upgraded wine list and all cocktails. Service is available most of the time.
You should know – if you purchase wine or alcohol during your excursions, you are allowed to bring it back on the ship and consume it on-board. This was a nice feature. We purchased wine from the vineyards and enjoyed it on the sundeck in the evenings.
How much time is spent cruising on the river?
This actually surprised us the most. Our cruise did not spend a lot of time actually sailing up and down the river. You can read our detailed itinerary here.
The ship acted more like a mobile hotel. It docked every evening, so there was no travel at night. Our first night on the ship was spent docked in Porto and we also spend two nights docked at Barca d'Alva. The longest amount of time spent sailing on the river was about 4 hours.
The reason for the limited sailing time is because the navigable part of the Douro River is not very long. It's less than 250 kilometers from Porto to Barca d'Alva.
Read about what we did on our Portugal river cruise here.
River Locks on the Douro River
The Viking Osfrid went up and down 5 different river locks while on our Portugal river cruise. This was the first time we passed through locks of this size. They are huge!
The lock at Carrapatelo Dam rises up 115 feet (35 meters) and the lock at Valeira Dam rises 109 feet (33 meters). We were told that these are some of the tallest river locks in Europe.
If you watch this video you can see a time lapse of us passing through one of these river lock. It's a very interesting experience. We made sure to be on the sundeck every time we passed though one of these impressive river locks on the Douro River.
Approaching the Valeira Dam
The river lock is located on the right side of Valeira Dam, in that big concrete box with the black door that resembles a garage door.
The ship approaches the lock and the door opens. It then enters the lock compartment and the doors close. The lock fills with water and this lifts the ship. Once it reaches the top, the opposite side door opens and the ship departs at the higher level (or lower lever if the ship is going down).
View of the Douro River from the top of Valeira Dam. It's a long way up (and down)!
How do River Cruise Ships dock?
If you've never been on a river cruise, or seen how they dock, it's actually quite interesting. The ships often dock right next to each other, essentially connecting to each other. You may need to walk through the lobby of one or more ships before getting to your ship (see photo below).
It's actually a fun way to check out the layout and design of the other river cruise ships.
We asked the crew how the order of docking was determined. We were told the order is based on what ship is departing first. That ship will park on the outside, or furthest from the dock.
At some point during your river cruise you will likely be docked next to another ship, which may limit your view or put the ship in a position where another window (from a different ship) is looking directly into your room. It's temporary, but worth mentioning. You should close your blinds when this happens.
Unlike the mega-ships that cruise the ocean, getting on and off the river cruise ship is very easy.
The Viking Osfrid docked every evening, so we were able to get off the ship in the evenings and wander around. Typically the big ocean vessels sail at night, so you don't have this option.
Viking asks that each time you get off the ship you take an information card with you. You get this card from reception when you depart the ship and return it to reception when you arrive on the ship. This helps the crew understand who is on (or off) the boat at all times.
Above – the Viking Osfrid is parked beside another ship. It's on the outside.
Will you get sea sick on a river cruise?
If you're prone to seasickness you will enjoy river cruising. The ships rarely rock back and forth. In fact, it was difficult to tell when the ship was moving.
This Portugal river cruise on the Douro River was not choppy at all. Quite the opposite. If you look at the above image, you can see how calm the water is. It's like glass. Because this river runs through a steep valley, it is mostly protected from the wind.
One night, when docked at Barca d'Alva, a thunderstorm passed through the region. Although we could see the lightning, and hear the thunder, our ship remained calm and we didn't feel any rocking.
Is there entertainment on a European river cruise?
Most European river cruises have entertainment in the evenings, just don't expect elaborate shows like the ones found on a big ocean cruise ship. The lobby lounge had a musician who performed at cocktail hour and after dinner.
During our Portugal river cruise, the entertainment options varied each day. We were able to learn about olive oil production and the production of cork, there was a live cooking demonstration about Pastel de Nata, and a presentation about Portugal's history and the Douro River and Region.
We spent most of our time either on an excursion, exploring the town where we were docked, or on the sundeck enjoying a glass of wine.
At cocktail hour, the Cruise Director spends 30-45 minutes talking about the next day's activity. We attended these presentations each evening, but that was really the only time we joined an on-board activity.
What is the demographic on a River Cruise?
Yes, it's true. Most passengers on European river cruises are in the 55+ year old demographic. This is not a young audience. We were definitely the youngest people on the cruise.
If you're thinking about a river cruise, and you're worried about the age demographic, don't be.
We did not feel out of place or uncomfortable. We had fun with the other guests on our excursions and enjoyed the conversations. The reality is that we spent most of our time doing our own thing, so it really didn't matter.
One evening, an older woman in her 70's approached us at cocktail hour. "I wanted to come and say hello because I'm worried about you".
"Why would you be worried about us?"
"Well, you're clearly hanging out with the old folks and I want to make sure you don't feel isolated or uncomfortable". It was a sweet gesture. She had seen us dining alone each evening – which was by choice – and thought we were not making friends. This worried her greatly. We got a chuckle out of that.
We noticed many of the guests were making friends on the ship. Social interactions are a big part of the cruising experience for this older demographic. We were on a completely different page. We enjoyed the brief interactions but our goal was to spend time together.
The point I'm making, is that the river cruise experience is built for everyone (except kids – leave the kids at home). It would be a big miss if you decided against a river cruise because the demographic tends to be older. We had a great time and we look forward to doing another European river cruise in the future.
Are excursions included on a Viking River Cruise?
Yes, daily excursions are included on the Portugal's River of Gold tour with Viking. Every evening, the Program Director goes over the next day's options for excursions. Guests are also provided the Viking Daily, a printed document that details the next day's itinerary.
Daily excursions are included with the cruise price. There are also optional excursions that have an additional cost. Guests will either join the included excursion, purchase an optional excursion, explore the town on your own, or spend the day aboard the ship.
We like that Viking uses local guides. The guides on our tours had extensive knowledge about the area and attractions. One guide is dedicated to each coach, so you'll get to know your guide well over the course of the cruise. Each coach had about 25-30 people.
Guests are provide a QuietVox audio system (watch this video to see what they look like – fast forward to 5:08). Each night, you are expected to charge your QuietVox audio system.
Read about what we did on our Portugal river cruise here.
Do you need to tip on a river cruise?
Yes, and No. Gratuities are not included in the cruise price.
Of course, tipping is very much appreciated by the staff (and expected). However, you do not need tip after every meal or excursion. You do not need to tip after every room cleaning, either.
You do not need to bring small cash with you. Instead, you simply add a daily rate to your room and pay with your credit card when you check out. These gratuities are distributed among the ship's staff, including the servers, kitchen, house-keeping and tour guides.
We gave the recommended tip, which was 15 Euros per guest, per day. We prefer to tip this way because it's easy and fair. The service was very good, so this daily rate was more than reasonable.
Are transfers included on Viking River Cruises?
Yes, all transfers are included. When we arrived at Lisbon airport it was easy to spot the Viking representative once we cleared Immigration. She held a red Viking sign and was wearing a red Vikings shirt. We were escorted to a driver who took us directly to our hotel, the Tivoli Avenida Liberdade Lisboa.
Guests are transported from Lisbon to Porto on a nice coach (see photo above). Our group was separated into 3 different coaches. We used similar coaches for the daily excursions.
At the end of the cruise, Viking provides transportation from the ship the Porto airport. We decided to stay an extra night in Porto and Viking helped organize the taxi to our hotel. We covered the cost of this.
Note – if you choose to stay an extra day in Porto, you will disembark the cruise ship no later than 10:00 AM. We arrived at our hotel early and the room was not ready. We expected this. Plan to leave your luggage at the hotel and keep yourself busy until at least 3:00 PM. It's easy to find things to do in Porto.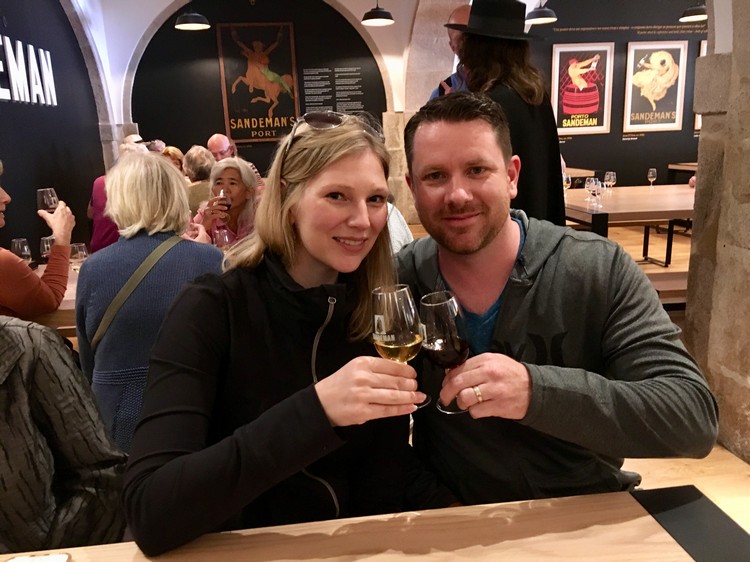 What did we think of this Portugal River Cruise?
We thoroughly enjoyed our Viking River Cruise. It exceeded our expectations. I believe everyone should experience the luxury and simplicity of a European river cruise, at least once in their life.
We look forward to discovering new destinations with Viking River Cruises. Their service and attention to detail is top notch. We would recommend the Portugal's River of Gold cruise.
With that said, we must disclose that we teamed up with Viking River Cruises in order to make this trip possible. Our cruise was complimentary. We agreed to share our honest, firsthand experience on this blog and social media channels. Read our disclaimer here.
Are you considering a European River Cruise?
Did you find this post helpful?
Leave us a comment if you have any questions about our European river cruise with Viking.