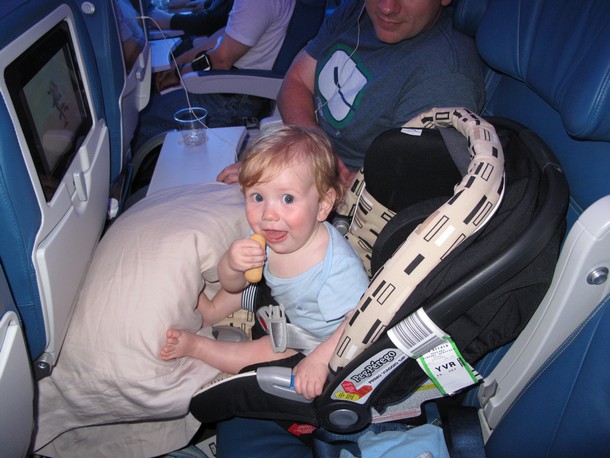 The flight from hell. Are we THOSE people?
It finally happened. Remember when we told you that Baby B was great on airplanes? That he barely made a fuss on a 10 hour flight from Vancouver to Frankfurt last summer (pictured above)? That he was a pleasure to fly with on the first 10 flights of his young life?
This was before he learned to walk and demanded his own space.
We learned this lesson the hard way on our flight from Vancouver to Toronto last month.
The primary purpose of visiting Toronto was to attend TBEX 2013 (Travel Blog Exchange), the world's largest gathering of travel bloggers and industry professionals. And yes, we even bring our baby boy to travel conferences – it's one of the ways we balance work, travel and family.
Normally when we book flights we select a window and an aisle seat.
When we arrive at the airport, we inform the airline agent that we are traveling with an infant and they typically try their best to block off the middle seat, provided the flight is not full.
This trick has worked many times in the past, meaning we've often had an empty seat for Baby B. That is, until we decided to take one of the most popular flights in Canada – Vancouver to Toronto.
Needless to say, we didn't get the middle seat blocked off for us. In fact, the airline had changed planes and reassigned seating. They made the assumption that we were traveling together (a fair assumption) and assigned us a middle and window seat. Not a good idea with a restless toddler.
Fortunately they were able to give us the middle and aisle seats, allowing Baby B to roam up and down the aisle.
When do you start buying a separate seat for your toddler?
That's the question we struggled with. Apparently we waited one flight too long.
Here's the thing. Baby B isn't a baby any more. He's a curious, not-so-little toddler that loves to run around and hates being confined to small spaces.
Picture this – cramped economy seating with a squirmy toddler sitting on our lap, his legs pressed against the tray table and his hands pushing the entertainment system. The poor woman sitting in front of us didn't have a chance.
He kicked.
He pushed.
He screamed.
He threw tantrums.
Yay, this is fun!
But we brought our trusty iPad, loaded with the Giggle Bellies app (his favourite at the time), so it distracted him for a little while.
However, in order for him to get optimal viewing pleasure, he kept pushing Cam out of his seat. He wanted space. He wanted the seat all to himself.
So, this meant that Cam had to stand in the aisle. Awesome.
Enter the turbulence.
About 30 minutes into the flight we experienced some minor turbulence. Nothing crazy, but the captain put the seat belt sign on, which meant Cam had to return to his seat. Not if Baby B has anything to say about it!
He freaked out. The kind of freak out that every parent dreads.
It finally happened – we became THOSE passengers.
Our temporary solution – Nicole crouched on the floor in the middle seat and gave Baby B the seat so he could continue playing with the iPad. Success!
That is, until the flight attendant busted us.
"I'm sorry mam, but you need to buckle up and hold your child", she said.
Doh! He wasn't having any of it. The turbulence continued for another 30 minutes. But even when it stopped, the pilot left the seat belt sign on. Why won't the pilot just turn off the damn seat belt sign?!
Baby B's crankiness continued. We managed to cool him down with snacks and books, but this only lasted about 30 minutes. We still had 2 hours to go!
Finally the captain turned off the seat belt sign, so Cam gave up his seat again and stood in the aisle. He remained in the aisle for over an hour! The flight attendants were not impressed and gave him the evil eye each time they had to maneuver around him.
It was uncomfortable.
We try to look on the bright side of things. Having the ability to travel is a gift, one that we are very thankful for. But sometimes it just sucks. This was one of those times.
When we arrived in Toronto we jumped online and booked a third seat for the flight home. We didn't want to experience that again. Surprisingly, the flight home was one of his best yet. He slept, he laughed, he snacked, he watched cartoons. It was the complete opposite. Turns out he just needed his own seat.
The lesson learned?
At 18 months old, it was time to purchase Baby B his own seat.
But we haven't learned our lesson. No, that would be too easy. We are traveling to Los Angeles in a couple days and had already purchased our seats before this experience, which means we will be attempting the two seat gamble one last time.
Wish us luck!
~~~~~~~~
Do you travel with your children?
Have you experienced the flight from hell?