Today's guest post was written by Derek, the man behind Floating Authority, a website dedicated to outdoor floating devices. He's an outdoor enthusiast who has been paddling Ontario's provincial parks since he was 7 years old. Find him on Facebook and Twitter.
The 5 Best Kayaking Trips in Canada
Canada is one of the best destinations in the world to experience pure natural beauty. With over 71,261 km of saltwater coastline around its mainland and 243,797 km when you include its surrounding islands, Canada is home to some of the best kayaking on the planet. It also features the largest number of freshwater lakes in the world with 9% of Canada's landmass being freshwater.
Simply put – Canada is a paddler's paradise.
Kayaking provides an array of physical and mental benefits such as an increase in strength, cardio and reduction in stress. It's also the best way to travel from point A to B without disturbing the ecosystem. I believe kayaking is the best way to experience Canada's endless outdoor treasures.
If you're looking for some paddle inspiration, check out these top kayaking trips in Canada.
Photo credit CanadianBucketlist.com
1. Newfoundland
Fancy yourself paddling amongst whales and icebergs? Kayaking in Newfoundland is your best bet to see it all. Sure you can hike or drive around Newfoundland, but there is no way that you will get as close to the marine life in Newfoundland as you would in a kayak.
Companies like Stan Cook Sea Kayak Adventures will take you on multi-day adventures that range from 2 to 5 days, depending on time of year. Single day tours are available that range from 2 hours to full day.
On multi-day tours you have a higher chance of seeing marine life because you're on the water for longer periods. Marine life found in these waters are humpback whales, fin whales, minke whales, grey seals, harp seals, hooded seals and harbour seals.
Newfoundland also has an abundance of sea birds, including gannets, puffins and razorbills. If you paddle near the cliffs where they nest you'll see plenty these beautiful sea birds.
Photo credit SeaKayakAdventures.com
2. Haida Gwaii, British Columbia
Haida Gwaii (formerly known as the Queen Charlotte Islands) is a destination that attracts people from all over the world. It's an archipelago located approximately 50 km (35 miles) off the coast of British Columbia. Sea kayaking around the islands of Haida Gwaii is an experience like no other. The seascapes, marine life and unique ecosystem are unlike anywhere else.
There are a variety of wilderness adventures that range from one day to multi-day trips. If you're not an expert, it's wise to take an organized tour.
Expeditions can range anywhere from 5-15 days. The later gives you a chance to see all of Haida Gwaii. Wildlife in the area includes humpback whales, minke whales, orcas, sperm whales and blue whales. On land you can encounter black bears, grizzlies, coastal wolves, deer, seals and sealions as well as a wide variety of sea birds.
Photo credit TraveManitoba.com
3. Churchill River, Manitoba
All the way up in northern Manitoba, Churchill gives you the unique opportunity to kayak (or paddle board) with beluga whales. Belugas are very social creatures, so it's not uncommon for these gentle whales to come right up to your kayak. If you're feeling extra adventurous, you can even snorkel with the belugas.
You also have the potential to see polar bears (from a safe distance), arctic foxes and a wide variety of seals, which are a big part of the polar bear's diet.
There are a variety of day tours available that range from 2 to 4 hours. After your kayaking adventure, get up close and personal with polar bears on an uplifted giant school bus. If you're lucky you might even catch the Northern Lights (aurora borealis) dancing in the sky.
Photo credit parksbloggerontario.com
4. Algonquin Provincial Park, Ontario
If you're well versed in multi-day kayaking and want to choose your own route, Algonquin Provincial Park in southeastern Ontario is the perfect place for you. Widely regarded as one of the best canoeing destinations in Canada, Algonquin has plenty for kayakers, too.
Algonquin is huge in size at over 7,653 km, so it is easy to get a bit overwhelmed when coming here. If you're looking for casual paddling routes, check out Canoe Lake, Misty Lake and the Ragged Lake Loop paddling trail.
If you're looking for paddling in white water conditions, check out the Petawawa River and the Meanest link which is 68 kilometers long. This location attracts a lot of white water kayaking pros.
Although kayaking and canoeing is the park's favorite activity, Algonquin also features world-class fishing, hiking and camping. Algonquin Provincial Park has over 1,500 lakes and 1,200 kilometres of streams. It's said to have over 50 different species of fish in these lakes and streams. It's not uncommon to see moose, beavers and black bears inside the park, so make sure you bring your camera.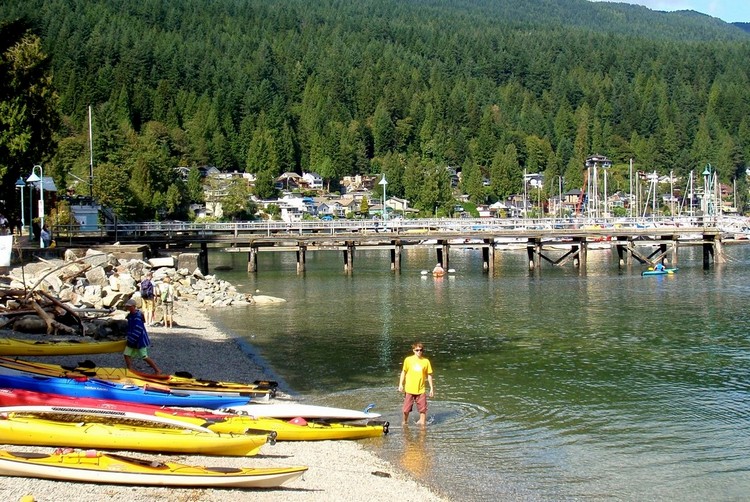 5. Deep Cove, British Columbia
If you're looking for a nice kayak trip that is within a reasonable distance of the city of Vancouver, Deep Cove is your best bet. It's located 30 minutes from Downtown Vancouver.
Deep Cove Kayak offers a variety of day tours that range from 2 hours to a full day. You can also organize overnight kayak trips in beautiful Say Nuth Khaw Yum Provincial Park (aka Indian Arm).
These are just a few of the countless kayaking trips in Canada.
Wherever you stay during your Canadian visit, you will likely be within an hour of a gorgeous spot for a paddle. This is why Canada is one of the best places to kayak in the world.
~~~~~~~~
Your turn! Where is your favourite place to kayak?
Leave us a comment below. Our readers are interested in your tips and recommendations.