Year in Review: 50 Photos from our 2018 travels
Every year we have good intentions to write our 'Year in Review' posts before the year is complete. And, every year, we fall short of this goal. This year was no different. We had a wonderful end to the year and have spent the past week catching up and getting our lives back on track.
2018 will go down as the milestone year.
We celebrated 10 years of marriage with a vow renewal ceremony on the beach in Mexico. We celebrated Cameron's 40th birthday on a luxurious Portugal river cruise. This little 'ol travel blog turned 10 years old in December 2018 (more on that soon) and we now have two boys in school, so we've officially graduated from the Day Care years. And, we also visited our 75th country. It was quite the year.
Today, we'd like to take a moment to reflect on our 2018 travels. These 50 photos do a great job telling our 2018 story.
Caribbean Cruise – Bahamas
The year started with a 3 night cruise to the Bahamas. The cruise itinerary was supposed to visit Nassau (pictured above) and Great Stirrup Cay, a private island owned by the cruise company. However, the ship was unable to tender at the private island because it was super windy and the waves were too strong.
The cruise ship continually rocked back and forth for most of the trip. It was dizzying. Let's just say I was very happy to step on solid ground when we arrived back in Miami.
We enjoyed wandering the streets of Nassau and admiring it's unique Caribbean architecture.
Riviera Maya, Mexico
Our tropical adventures continued with a return to Mexico to celebrate our 10 year wedding anniversary. We were married at the Iberostar Paraiso del Mar Resort, located in Mexico's Riviera Maya, and decided to renew our wedding vows on the beach with our boys.
This trip was a highlight from 2018.
Iberostar Del Mar, Rivera Maya, Mexico
We don't typically return to the same place twice, but this resort is an exception to the rule. This was our third time visiting the Iberostar Del Mar in Mexico (it's located about 30 minutes south of Cancun).
The first visit was when we were married in 2008. The second was to celebrate our 5 year wedding anniversary. At that time, Braydon was a tiny toddler during and Connor was still a thought. This third visit was special for us because we were able to show our boys where our family story began.
We hope to return a fourth time for our 15 year wedding anniversary.
Xcaret, Riviera Maya, Mexico
We decided to check out some of the family attractions in the Rivera Maya. Our first visit was to Xcaret, an eco-archaeological park with over 50 attractions. Visitors come to Xcaret to snorkel with fish, explore underground rivers and caves, learn about Mayan culture, see wildlife and enjoy its tropical surroundings.
Xel-Ha Park, Riviera Maya, Mexico
After visiting Xcaret we spent a day exploring Xel-Ha Park, an aquatic theme park where guests can snorkel, relax and enjoy the Caribbean waters in a safe, secluded inlet. This adventure park is located just north of Tulum, about a 1.5 hour drive south of Cancun.
We finally got back in the water for some snorkeling. It had been too long!
The Grand at Moon Palace, Cancun
After a week at that Iberostar Del Mar we relocated to the luxurious Grand at Moon Palace in Cancun. We spent four days at this resort and didn't feel the need to leave once.
The Grand has everything you need, including 9 pools, 16 restaurants, 9 bars, indoor bowling alley, awesome kid's arcades and an impressive outdoor water park.
The beach at the Grand at Moon Palace Cancun.
The food at the Grand at Moon Palace is amazing. Read our review here.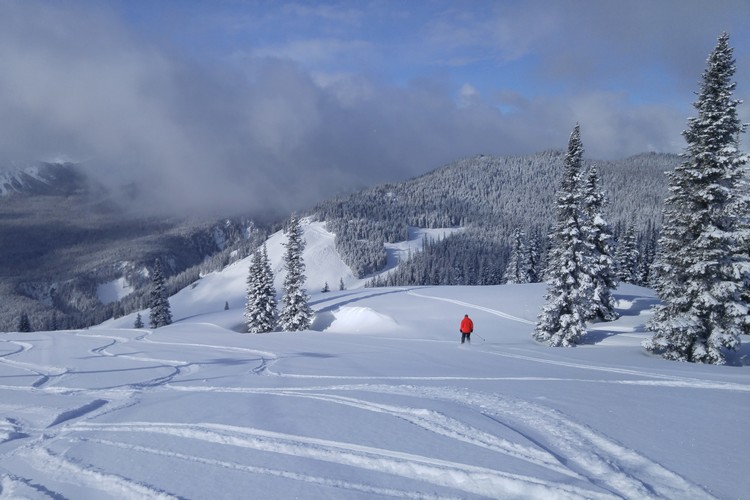 Ski trip to Manning Park Resort
Every year we like to visit a new ski resort in British Columbia. In 2018, we spent 4 nights at Manning Park Ski Resort, located in the heart of the Cascade Mountains (about 3.5 hours east of Vancouver).
The snow gods were generous during our visit. The mountain received 30+ cm's of fresh snow over a 24 hour period! Watch the video here. Skip to 1:33 for the good stuff.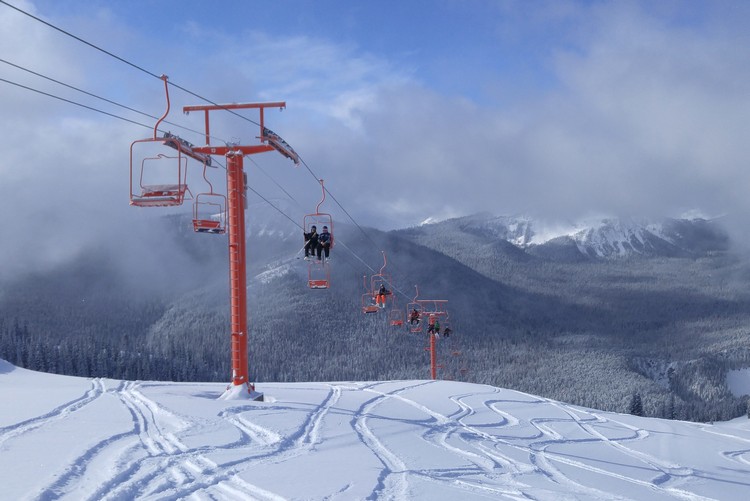 River Cruise in Portugal and Spain
Without question, a highlight from 2018 was our two week trip to Portugal and Spain WITHOUT our boys. This was our first trip overseas without our boys and the longest time we've spent away from them. It was so nice to have some adult time together, but we also missed having them around.
The river cruise we did is called Portugal's River of Gold. It's a 10 day itinerary that begins in Lisbon and ends in Porto (learn more here). Watch our video about the river cruise here.
We LOVED the city of Porto. Here are 30 photos that prove it should be on your travel list.
Above – exploring the ancient streets of Porto, Portugal.
Above – Mateus Palace in Vila Real, Portugal
Above – the beautiful Lamego Cathedral (Our Lady of the Assumption Cathedral).
Afternoon sparkling wine on the balcony of our Portugal River Cruise with Viking Cruises.
Selfie in front of the Sanctuary of Our Lady of Remedies in Lamego, Portugal
Learning about port wine production in Portugal's Douro Valley
We really enjoyed our time exploring the city of Salamanca, Spain.
Montérégie and Laval, Quebec
After our trip to Europe we spent a week exploring the Canadian province of Quebec. This was our first time visiting Quebec. During our trip, we floated in hot air balloon, went indoor skydiving and indoor surfing, slept in a Bora Bora hut, visited Fort Chambly, and ate sweet crepes and savoury poutine.
Road trip to Tofino and Ucluelet
As part of Cam's 40th birthday celebrations, his best friend visited from Ontario and they went on a 10 road trip. Read about their trip here.
They visited Victoria, Parksville, Ucluelet, Tofino and Whistler.
Lazy days at Chesterman Beach in Tofino.
Kayaking through Clayoquot Sound in Tofino.
Above – The iconic Fairmont Empress Hotel in Victoria's Inner Harbour.
Crossing the new suspension bridge on Whistler Peak.
Overnight hike to Elsay Lake
Cameron finally completed his long-time goal of doing an overnight hike in the mountains. He and a friend completed the Elsay Lake trail, a challenging 20 kilometer trail located in Mount Seymour Provincial Park.
Crossing snow fields on the Elsay Lake trail
Glamping and River Rafting
It wouldn't be summer without a visit to the Nahatlatch River for some glamping and river rafting with Reo River Rafting. This was the third straight year we visited this isolated riverside resort in central British Columbia, about 4 hours northeast of Vancouver.
Glamping tents on the Nahatlatch River
Cottage life at Kushog Lake in Ontario
In early August, we traveled across Canada to spend time with family at a private cottage on Kushog Lake in Ontario's infamous cottage country. It was so nice to hang out at the cottage for a week with family.
We put our phones away and enjoyed time kayaking, paddleboarding, swimming, BBQ'ing, boating, fishing, playing cards and roasting marhmallows by the campfire.
Braydon was determined to catch fish off the dock. He was successful.
Morning paddles around Kushog Lake.
Toronto, Ontario
After our time at the cottage we spend a few days in Toronto, where we visited the new Ripley's Aquarium of Canada and Scotiabank Arena, the hockey stadium where the Toronto Maple Leafs play (above photo).
Whistler, British Columbia
We visited Whistler four times this year, once in the spring, once in the summer and twice in the fall. We love Whistler and try to get up there are much as possible (it's only 1.5 hour drive from Vancouver).
Morning walk around Lost Lake in Whistler.
First dusting of snow on the mountains. This photo was taken in November.
Brothers hanging out by river in Whistler Village.
Fort Lauderdale, Florida
For the past five years I've visited Fort Lauderdale for an annual conference. This time I managed to sneak some beach and pool time between sessions. It's not a bad place to attend a conference!
Winnipeg, Manitoba
In October, Cameron went on an impromptu overnight trip to Winnipeg to watch the Toronto Maple Leafs play the Winnipeg Jets. It was a short but fun sports trip. And… the Leafs won!
Sunrise over the river in downtown Winnipeg.
Above – autumn walk around Capilano Reservoir in North Vancouver.
Above – raging waters at the Capilano Canyon in North Vancouver.
Sunset at the Lonsdale Quay Market in North Vancouver. Vancouver skyline in the distance.
Sea to Sky Gondola, Squamish
One of the things we love about living in Vancouver is that we can be deep in nature within a short drive. There are so many awesome day trips from Vancouver that it can be difficult to make a decision.
Our friends informed us that visiting the Sea to Sky Gondola during the winter was a fun experience. When we learned Santa Clause would be making an appearance, we thought it would be fun to take the boys up to the Summit Lodge and get their photo taken with Santa.
Views of Howe Sound from the Summit Lodge viewing deck.
Ski trip to Sasquatch Mountain Resort
We closed the year at Sasquatch Mountain Resort, located 3 hours from Vancouver (north of Chilliwack). This was our first time visiting this family friendly ski resort and it will certainly not be our last.
We had a great time skiing and snowboarding, snow tubing, hot tubing and watching fireworks on New Year's Eve. We'll be writing about this ski trip soon.
Father-son morning on the slopes at Sasquatch Mountain Resort.
Snow tubing at Sasquatch Mountain Resort.
We lucked out with some fresh snow during our visit to Sasquatch Mountain Resort.
And that's a wrap on 2018!
Okay, so I may have gone a little over 50 photos. But who's counting, right?!
We wish you much success and adventure in 2019!