Photos of Tokyo Disneyland, Japan
While in Japan attending the Rugby World Cup, we decided to take our boys to Tokyo Disneyland. This was our first Disneyland experience as a family, so one might say it was a milestone moment.
I'm not sure if we would have visited Tokyo Disneyland prior to having kids. We both visited a Disney Park when we were young, Nicole went to Disneyland in California and Cameron went to Disney World in Florida, but theme parks are not high on our travel list as adults.
We actually weren't sure if our boys would be excited about going to Tokyo Disneyland. I can't remember a time when Disneyland came up in conversation. However, when we dropped the idea of visiting Tokyo Disneyland during our trip to Japan, their little eyes lit up and they were all in.
Leading up to our departure to Tokyo, all they talked about was Disneyland and the Pokemon Center. They really didn't know what to expect, but they did know that Disneyland is a magical place. And they were eager to have their very own Disney experience.
As I started organizing our Tokyo Disneyland photos, I realized we have way more than a few to share. So, why not go big and make it one hundred photos?
Read more posts from Japan:
Here are 100 photos from Tokyo Disneyland.
Watch our Instagram stories from Disneyland here.
The entrance to Tokyo Disneyland – let the games begin!
Big moment – this was the first time witnessing Disney Castle inside Disneyland.
We visited a few weeks before Halloween. Many of the attractions had spooky or festive decorations.
The iconic Disney Castle inside Tokyo Disneyland.
Our first ride of the day was Star Tours, which is a 3D virtual Star Wars experience.
Star Tours is a popular ride, so we decided to do it first. It was the right call. There was no line when we entered shortly after 9:00 AM. However, when we returned later in the day, it had about a 50 minute wait.
Family selfie before the Star Tours experience begins.
Some guests like to dress up in costumes. These guys took it to the next level!
This section of the park is Tomorrowland. It's where the space themed rides are located.
If you're interested in the park layout, here's a map of Tokyo Disneyland.
This is Space Mountain in the Tomorrowland section of Tokyo Disneyland.
You can avoid the long wait times by using the FastPass system. More on that here.
It's a smart system that allows guests to skip the line on a few of their favourite rides.
Monsters, Inc. Ride & Go Seek! in Tomorrowland
We used a FastPass for this ride and only waited 5 minutes.
This is one of Connor's favourite attractions at Tokyo Disneyland.
This is a good ride for younger kids. It's not fast or scary.
The exit to the Snow White's Adventures ride in Fantasyland.
The entrance to the It's a Small World attraction in Fantasyland.
Inside the "It's a Small World" attraction. This is where the ride begins and ends.

It's said to be the "happiest cruise that ever sailed."
Dumbo The Flying Elephant ride in Fantasyland.
Roger Rabbit's Car Toon ride in Toontown.
I'm still not entirely sure what this is. I believe it's a stick of deep fried shrimp wrapped in a soft sweet bread, served with processed cheese, cabbage and mayo-style sauce. It was not very good.
Good Time Cafe in Toontown at Tokyo Disneyland.
We enjoyed the architecture in the old Westernland section of Tokyo Disney Resort.
We visited in October, so many buildings in Westernland were decorated for Halloween.
Above is the impressive Mark Twain Riverboat in Westernland.
This bright red steam train takes guests around Westernland and Adventureland.
Big Thunder Mountain in Westernland
Big Thunder was one of our favourite attractions at Tokyo Disney Resort. It's a roller coaster that whizzes around and through the artificial red-rock mountain. It's not too steep or too fast, so it was the perfect ride for our 8 and 6 year old boys.
We used a Fast Pass for this ride and only waited about 10 minutes, while other guests who did not use a Fast Pass waited between 45-60 minutes.
Entrance to the Big Thunder Mountain roller coast. This ride is a must.
Big Thunder Mountain is a popular attraction, so it's wise to use your Fast Pass for this one. Otherwise, you can expect to wait in long lines.
We ate lunch at Hungry Bear Restaurant.
All of the Tokyo Disneyland travel blogs we read said it's wise to eat before or after standard lunch times, between 12:00 PM and 2:00 PM.
We ate lunch at 11:00 AM and did not have to contend with any lines. It was a good move.
Japanese girls dressed in identical Disney inspired outfits.
Splash Mountain in Critter Country.
We did not get to ride Splash Mountain because we used our Fast Pass for Big Thunder Mountain. By the time we made it to Splash Mountain, the wait time was over 60 minutes.
It didn't make sense to spend over and hour in one line.
The steam train passes over the Splash Mountain river below.
Cinderella Castle is located in the center of the park. It serves as a useful compass.
Outdoor restaurants near the World Bazaar at Tokyo Disney Resort.
Nicole making sure these tasty frozen treats are dairy free. If you have a child with allergies, you know the feeling. Fortunately, Disneyland resorts offer dairy free options.
Enjoying a frozen treat shaped like Mickey Mouse. It was a HOT day when we visited.
Pirates of the Caribbean in Tokyo Disneyland
We all agreed that the Pirates of the Caribbean ride was one of our favourite attractions at Tokyo Disneyland. From the outside, it doesn't look like much. But, once the boat departs the loading station, it's quite amazing how big this attraction is. We highly recommend this ride!
We didn't get any photos from inside the Pirates of the Caribbean ride because it's dark and the boat is constantly in motion. You're also not allowed to take photos because the brightness on your phone screen or camera is distracting to other guests. And, I'm assuming, Disney doesn't want you to ruin the surprise!
Another group of Japanese girls dressed up as Disney characters.
I'm calling this photo "Digital Disney Princess"
I feel it's important to note that these girls were NOT employees of Tokyo Disneyland. They are guests dressed up as Cinderella and Snow White.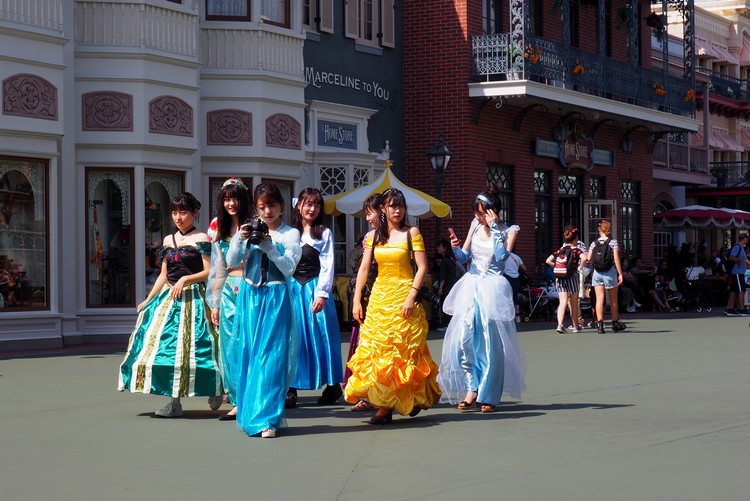 Would you dress up in costume at Disneyland?
Leave us a comment below. What character would you choose to be for a day?
Who has the best hat?
This was a funny moment. Our boys wanted to try on the hats in this Disney store. Shortly after I took a photo of them wearing the goofy hats, an employee approached us. Initially I thought she was going to tell us to take off the hats or stop taking photos inside the store.
I was wrong. She actually handed us more hats to try on and even offered to take a family photo for us. We don't often get photos with the four of us, so it was a nice gesture.
Inside the World Bazaar in Tokyo Disneyland
The World Bazaar with Disney castle in the distance.
Inside one of the many Disney Stores located at Tokyo Disney Resort.
Views of The Enchanted Tiki Room from the Swiss Family Treehouse.
Inside the Swiss Family Treehouse in Adventureland.
Tokyo Disneyland Parade
There are a few Tokyo Disneyland parade times each day. See the schedule here.
We caught some of the afternoon parade. It was really hot during our visit and there wasn't much shade where we were standing, so we left early to escape the sun. We didn't see the whole parade but, from what we did see, it's quite the production. The floats are incredible.
Surprisingly, this was the only time we saw Mickey Mouse, Minnie Mouse, Goofy and the other popular Disney characters during our time at the Tokyo Disney Resort.
Crowds gathering in front of the castle to watch a late afternoon parade with Disney characters.
One last photo before we called it a day. We could have returned later to watch the Disneyland fireworks, but we were pretty tired after spending 7 hours inside the park.
The Disney train circles Tokyo Disneyland and Tokyo DisneySea.
Making memories at the Happiest Place on Earth.
Read more posts from Japan:
Have you visited Tokyo Disneyland?
What is your favourite Disney Resort or Disney attraction?
Share your tips and recommendations by leaving a comment below.