Mosel Valley in Germany
A tired old tractor spits out a cloud of smoke as it passes by, slowly rolling down the single lane road. The streets are empty as the village is slowly wakes up.
The rising sun creeps over the valley and makes its daily appearance, taking a bite out of the damp morning air. The air is clean and fresh. It's filled with the scent of harvested vineyards and fermenting grapes.
Freshly baked bread, buttery cheese and cured meats are delivered to our table, accompanied by a single soft boiled egg and a variety of homemade jams.
Coffee tastes better in this part of the world. Not because the beans are any better over here. It's because the peaceful atmosphere forces us to slow down and enjoy every sip.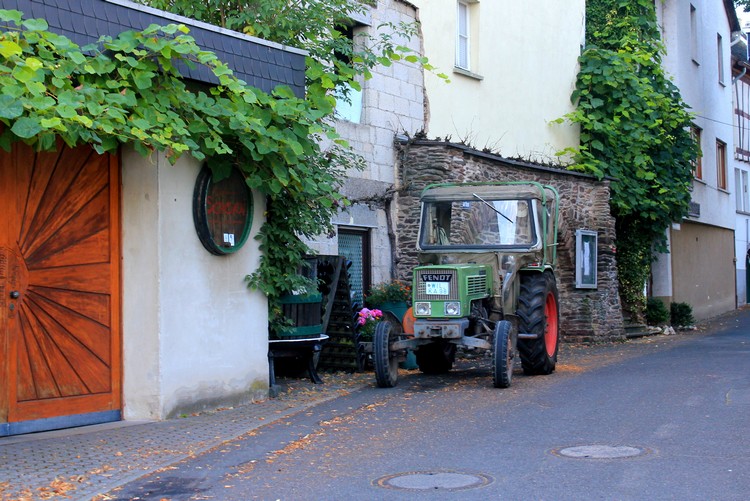 We're in wine country, in a cute German village named Reil.
To our left, a centuries old guesthouse covered with green leafy grape vines. To our right, a dusty wine barrel sits beside the entrance to a winemakers home.
We love it here. But we are conflicted.
Like a surfer protecting his secret surf spot, we want to keep the Mosel Valley all to ourselves. But the travel blogger in us feels obligated to share one of our favourite travel destinations in Europe.
With that in mind, this blog post will share some of the reasons why we love it here. We think you should consider visiting the Mosel Valley on your next trip to Europe, but we're a little biased.
Medieval Villages
The Mosel Valley, located near Germany's western border, is home to several quaint villages that line the shores of the windy Mosel River. The most popular villages in the Mosel Valley are Bernkastel-Kues, Traben-Trarbach, Zell, Hatzenport and Cochem.
The Mosel Valley is bursting with history and medieval architecture. If you're up for it, spend time bouncing from one cobblestone village to the next. Many of the old timber houses in these villages were constructed over 400 years ago.
While you're in the region, a visit to Trier is a must.
Located near the Luxembourg border, this historical city is Germany's oldest city. Trier is home to an impressive nine UNESCO World Heritage Sites, including Porta Nigra, Basilica of Constantine, Cathedral of St. Peter and Church of Our Lady in Trier.
Beautiful timber-framed buildings in medieval Bernkastel-Kues, Germany.
Fairy Tale Castles
The Mosel Valley is home to several castles and old fortress ruins, but the most popular are Reichsburg Cochem (pictured above) and Burg Eltz.
Reichsburg Cochem, or Cochem Castle, was built in the 12th century. It was purchased by a wealthy businessman who reconstructed it into the Gothic Revival style you see today. It's a beautiful castle that sits on a hilltop overlooking the medieval town of Cochem.
Burg Eltz, or Eltz Castle, is one of the most beautiful castles in Germany. It's a picture-perfect medieval castle nestled in the hills above the Mosel River, located about 30 minutes by car from Cochem. Fun fact – it is one of only three castles on the left bank of the Rhine that was never destroyed.
Other popular castles in the Mosel Valley are Ehrenburg, Pyrmont Castle, Metternich Castle (also known as Beilstein Castle), Grevenberg Castle Ruins in Traben-Trarbach, Thurant Castle and Burg Arras (pictured below).
Nicole and baby Braydon in front of Burg Arras.
Beautiful vineyard vistas
As the photos clearly illustrate, the scenic views along the Mosel River are incredible. The area is known for its steep, terraced vineyards that stretch for miles on both sides of the windy river.
It's easy to appreciate why many label the Mosel Valley as one of Germany's most romantic regions. There are plenty of trails and quiet roads that lead to fantastic lookout points.
The above photo is located near the town of Punderich.
Summer harvest festivals
Germans are known for throwing kick-ass street parties and festivals.
In late summer, many of the villages in the Mosel Valley celebrate the summer harvest by hosting street festivals. Local winemakers convert their homes into makeshift restaurants, proudly serving a variety of their homemade wines and signature family dishes.
It's a fun way to sample a variety of regional wines and sample authentic homemade German cuisine.
Grilling local sausages and chops at the Reil street festival.
Summer Wine Festival in Reil, Germany
We have extended family that lives in Reil. They have a guesthouse and sell a variety of handcrafted wines – visit their website here.
Every year, on the first weekend in September, the village hosts its annual wine festival. The festival runs from Friday evening to Sunday afternoon. It typically has 10-15 participants, each serving a variety of wines and traditional food. Each venue seats between 50-100 people and there's lots of standing area.
It's Reil's biggest event of the year, attracting over 2,500 visitors.
Visiting a wine festival is a must for anyone visiting the Mosel Valley!
Guests sampling my uncle's wine at our family's garage-turned-temporary-bar.
There's plenty of live music, singing and dancing at the annual street festival in Reil.
The perfect German meal – Bratwurst with sauerkraut, mustard, rye bread and a glass of Riesling.
Hiking and biking trails
The Mosel River snakes through the hills, creating an outdoor playground for hikers, runners and walkers. There are hundreds of trails that suit all skill levels.
You can walk along the rivers edge or through the endless rows of terraced vineyards. The vineyards are steep in some sections. Hardcore hikers will find plenty of challenging trails throughout the region.
The Mosel Bike Path is a popular destination for cyclists who want to stay in a different village each night. An added bonus is that most guesthouses produce their own wine, so you can add wine tasting to your stay.
The most popular Mosel Valley bike route is from Trier to Koblenz.
The route is about about 130 km in distance. It's recommended to take 3 to 5 days to complete this bike route, depending on your skill level and pace. Take your time and visit the small villages.
Read about the Mosel Cycle Path here.
Mosel River Cruise
River cruises are a big deal in Europe. The nearby Rhine River gets most of the attention, and for good reason. However, the Mosel River is another beautiful region in Germany worth exploring by river boat.
The Mosel River is a left tributary of the Rhine, flowing from France (where it's called the Moselle River) and joining the Rhine River at Koblenz.
There are several river locks on the Mosel River, which is fun experience for first timers. It's amazing how tight the river cruise ships get to the sides of the locks. Some ships come within 2 or 3 inches of the walls.
Many of the Mosel River Valley boat tours can be done in one afternoon. The most popular starting and ending points for day trips are in Koblenz, Cochem and Trier. Check out this 1 hour sightseeing cruise to experience the picturesque Moselle landscape around Cochem.
We did a 4 hour tour that departed from Cochem. You can book a Mosel River cruise in advance or visit one of the info booths selling tickets for day trips. Sailing times will vary depending on where you want to go.
Scenic views from the observation deck of the Mosel River Cruise ship. Cochem Castle in the distance.
Delicious white wine
Wine making is the heart and soul of the Mosel Valley. It's said to be Germany's most famous and oldest wine growing region.
Generations of Weingüter (wine makers) have been producing the region's famous white wines for centuries. This is where you will find some of the world's best Rieslings.
The steep river bank slopes are said to be some of the most labour intensive vineyards in the world. The steep incline allows for direct sunlight to hit the vines. Because most of the soil is covered by slate stone, the heat is reflected and retained. This creates a unique growing environment for the grapes.
You don't have to like wine to enjoy the region's wine culture. It's fun bouncing from one village to the next in search of wine tasting opportunities.
Many of the wine cellars are located in people's homes. Half the fun is knocking on random doors and seeing where the moment takes you.
Resident winemakers are very proud of their wine and love interacting with visitors. If you're lucky, you might get a tour of the wine making facilities. Some of the smaller winemakers have been using the same equipment and techniques for decades.
Flavorful German beer
Ah yes, the beer. We can't forget about the beer!
If you're a beer drinker, there's a good chance you've heard of Bitburger. It's ranked 3rd among Germany's top selling breweries. Bitburger beer is produced in the city of Bitburg, located a few kilometres west of the Mosel River. You will find this popular beer at most establishments. Just look for signs that say "Bitte ein Bit."
And, because the Mosel Valley is close to the city of Cologne, beer lovers will also find a variety of Kölsch. We enjoyed the Früh, Gaffel and Reissdorf Kölsch.
Spaghettieis (Spaghetti Ice)
When I first heard the words, Sspaghetti ice, I thought it was shaved ice with some kind of sugary syrup. Little did I know, this decadent dessert is actually ice cream pressed to look like a bowl of spaghetti. It's then topped with strawberry or chocolate sauce, whipped cream and shaved white chocolate made to represent grated cheese. See the photo above as evidence.
"Spaghettieis" is to the Germans what Gelato is to the Italians.
Every village or town in the Mosel has at least one ice cream parlor or cafe that serves Spaghettieis. If you've got a sweet tooth, this dish has your name written all over it.
Location, Location, Location
The Mosel is easy to reach and easy to navigate. The closest major airport is Frankfurt, which is about 1.5 hours from the the city of Koblenz. Other nearby cities are Cologne, Bonn and Luxembourg City.
Like most regions in Western Europe, the Mosel Valley is well connected by train. We used a Rail Europe train pass and arrived via Strasbourg, France. On our departure, we took the train from Bullay to Paris via Luxembourg City, passing dozens of cute villages and picturesque countryside.
Another option is to board a river boat and pass from village to village. Start in Koblenz and head south to Trier, or vice versa.
The DB train that connects Bullay to Trier via the Mosel River Valley.
Good ol'fashioned hospitality
Life moves slower in the German countryside. Most accommodations will be at boutique hotels, guest houses and Bed & Breakfasts.
When searching for accommodations in small German towns and villages, look for signs that say "Zimmer", which means "room" in English. Often times the guesthouses look unassuming and nothing like a hotel or hostel, so don't be alarmed if you don't see big signs that scream "Hotel".
We have always felt welcome in the Mosel. Particularly in the smaller and less touristy villages, like Reil and Zell. Most Germans speak a little bit of English, enough for basic communication, and are always happy to help.
Your turn. Do you have a favourite spot in Europe?
Share your favorite destination below and tell us why you like it.
Read more posts from Europe: