Things to do in North Vancouver
Most visitors to Vancouver will end up spending time in North Vancouver at some point during their trip. It's where the city meets the mountains, rainforest and Pacific Ocean. There are so many fun things to do in North Vancouver for visitors and residents of the Lower Mainland.
North Vancouver is actually a separate city, not just a direction from downtown Vancouver.
We've lived in North Vancouver for several years, so we know a thing or two about how to enjoy this little slice of paradise. Over the years, we've explored North Vancouver's mountains and hiking trails, walked along its beaches and waterfront parks, and enjoyed at its many restaurants, cafes and breweries.
In this post, we share our favourite things to do in North Vancouver.
Whether you're visiting North Vancouver for the first time, or you're a resident looking for weekend inspiration, this post was written with you in mind.
A few things to note before we get started. The focus of these activities and recommendations is for the City of North Vancouver and District of North Vancouver (here's a map). Technically they are two separate municipalities. However, for the purpose of this post, we're blending the two regions together. Most visitors don't know (or care) about the boundary lines between the two.
We also did not include West Vancouver in this post. It is also a different city, not just a direction from Vancouver. Collectively, these 3 municipalities are often referenced as 'The North Shore'.
This is a long and detailed post. Skip ahead using the Table of Contents below.
Things to do in North Vancouver
1. Lonsdale Quay Market
We begin the journey in Lower Lonsdale, the heart of North Vancouver. You can't miss this iconic North Vancouver landmark; just look for the giant spinning Q on the waterfront.
Lonsdale Quay Market has long been one of North Vancouver's top tourist attractions. Although the shops and merchants inside the public market have changed over the years, the incredible views of Vancouver's skyline continue to attract visitors year round.
The SeaBus ferry terminal is conveniently located beside the Lonsdale Quay Market, offering quick and easy access from downtown Vancouver. And vice versa. If you're staying in Vancouver, a visit to the Lonsdale Quay Market is the perfect start to your North Vancouver adventures.
2. The Shipyards District
Located directly beside Lonsdale Quay Market is The Shipyards District. Over the past decade, this waterfront space has transformed into one of North Vancouver's premier destinations.
The Shipyards has several restaurants, cafes and shops to explore. Grab a fresh coffee and pastry at Cafe Artigiano and find a seat on the pier to soak up the fantastic views of Vancouver and Burrard Inlet.
You can't go wrong with any of the restaurants here. However, our favourite is Pier 7 Restaurant + Bar. We love seafood, so we come here for fresh oysters, fish tacos and craft beer. It has two levels of patio space that offers unobstructed views of the Vancouver skyline.
Many festivals, concerts and community events are hosted here. If you're visiting The Shipyards on a weekend, you might be treated to live performances.
The Shipyards is a great spot for families any time of the year.
In the winter, The Shipyards offers the largest outdoor skating rink in the region (see photo below). In the summer, the same space is converted into a splash park for kids.
And… it's home to Welcome Parlour Ice Cream Shop. Everything is better with ice cream, right?
Fresh oysters, fried calamari and fish tacos at Pier & restaurant at The Shipyards.
Outdoor skating rink in the winter. It's covered, so even if it's raining (which tends to happen in North Vancouver), you're protected from the elements.
Don't have equipment? No problem. You can rent skates and helmets here.
Outdoor patio at Tap and Barrel Shipyards restaurant, another local favourite.
The Burrard Dry Dock Pier at The Shipyards
The North Vancouver waterfront is arguably the best place in Vancouver to watch the sunset.
3. Grouse Mountain
One of the most popular tourist attractions in Vancouver is Grouse Mountain. The self-described Peak of Vancouver attracts more than 1.3 million visitors each year, so it's kind of a big deal in these parts.
Grouse Mountain offers year-round operations, so there are plenty of things to do regardless when you visit.
There are multiple restaurants and cafes inside Peak Chalet, including Altitudes Bistro and The Observatory. Both restaurants offer incredible views of Vancouver, Pacific Ocean and the Gulf Islands.
Summer activities on Grouse Mountain include hiking the infamous Grouse Grind (aka Mother Nature's Stair Climber), hiking trails, chairlift rides, mountain ropes adventure and zip lines course, kids tree canopy adventure, wild life refuge with grizzly bears, lumberjack show, and self guided eco walks.
Winter activities on Grouse Mountain include skiing and snowboarding (33 ski and snowboard runs, 15 night runs, 4 chairlifts, 6 terrain parks), snowshoe trails (9 km of trails), mountaintop ice skating, snow sliding zone, and the magical Light Walk.
The Grouse Mountain Skyride is an attraction all on its own. It's North America's largest aerial tramway system, transporting guests from base to summit in less than 15 minutes.
You can book a tour that includes Grouse Mountain and Capilano Suspension Bridge (see below) and round-trip transportation from your hotel.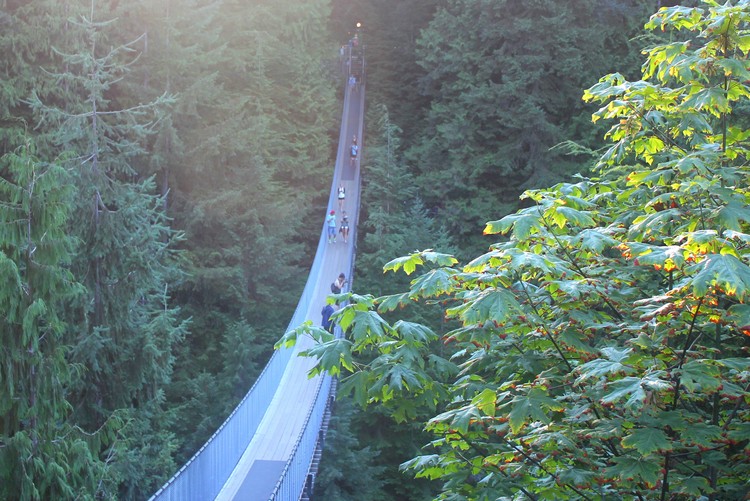 4. Capilano Suspension Bridge Park
The Capilano Suspension Bridge is arguably the most popular attraction in North Vancouver. Although it's become quite touristy over the past decade, it delivers a truly unique West Coast experience unlike anywhere else.
The star attraction is the wobbly suspension bridge. It stretches 450 feet from end-to-end and 230 feet above the Capilano River.
However, there's much more to this North Vancouver icon. In recent years, Capilano Suspension Bridge Park has expanded attractions with the Cliffwalk and Treetop Adventures, along with Raptors Ridge, Kai'Palano education centre, informative forest trails and Story Centre exhibit.
If you're short on time and need help deciding what to do in North Vancouver, we recommend you visit both Grouse Mountain and Capilano Suspension Bridge. It will be a full day, but you'll experience the two best North Vancouver tourist attractions.
Book your tickets to Capilano Suspension Bridge Park here.
During the pandemic, guests were required to walk across the bridge in one direction only.
I'm not sure if park organizers will continue with this one-way approach, but we prefer this system. It does create wait times to cross the bridge, but the one-way crossing limits congestion on the bridge and allows for better photo opportunities.
We've visited Capilano Suspension Bridge several times over the years. The above photo is the first, and only, time we've witnessed the bridge completely empty. Not one person walking across it!
This was during a global pandemic on a rainy Sunday, which is a highly unique circumstance.
Do NOT expect to have the bridge all to yourself. This park gets busy. But, if you're patient, you might capture that perfect Instagram photo.
Cliffwalk adventure at Capilano Suspension Bridge Park
Cliffwalk is the newest activity at Capilano Suspension Bridge Park. The cliffside walk takes guests through a series of suspended walkways that extend out from the granite cliff. It's an adrenaline pumping walk, especially if you don't like heights.
Arial views of the Cliffwalk bridge stretching over the Capilano River below.
Treetops Adventure at Capilano Suspension Bridge Park
Treetops Adventure is the first venue of its kind in North America. It's a series of seven suspension bridges, attached to viewing platforms connected to 250+ year old Douglas-firs. This unique canopy walk guides you through the temperate rainforest with a squirrels-eye view.
Capilano Suspension Bridge Park also has several totem poles and the Kia'palano educational centre. The word Kia'palano means "beautiful river" in the Skwxwú7mesh language.
Canyon Lights runs during the winter months, from November to January. The suspension bridge is lit from end to end with multi-colour changing lights. The Cliffwalk and Treetops Adventure bridges are also lit up with sparkling lights, creating a magical rainforest experience.
Book tickets to Capilano Suspension Bridge Park here.
5. Walk across Cleveland Dam
Built in 1954, the Cleveland Dam holds back the man-made Capilano Lake, also known as the Capilano Reservoir. It supplies fresh drinking water to the residents of the Lower Mainland.
The 300 foot concrete dam is a part of the Capilano River Regional Park. It's free to walk across the dam and access the surrounding forest trails.
You may recognize the iconic green floating boathouse in these photos. It's one of the most photographed locations on the North Shore. The mountain in the backdrop above is Grouse Mountain.
The floating green house on Capilano Lake. This photo was captured in late Spring.
Capilano Lake and the little green hut covered under a blanket of snow.
Cleveland Dam in the winter with only a trickle of water being released into the Capilano River. Can you spot the heart shaped pool of water?
Different scene in the spring! The Cleveland Dam releases more water in the spring because of the snow melt from the mountains. The water was raging that morning!
6. Explore Capilano Canyon
There are several hiking trails inside Capilano River Regional Park. You can start from the top of Cleveland Dam and walk down towards the river, or vice versa. We often hike these trails with our young boys and they are fine with the terrain. The trails are wide and well-marked.
Can you see Cleveland Dam in the backdrop of the above photo?
The Capilano Salmon Hatchery is another popular free attraction inside Capilano Regional Park. The hatchery is open year round, but late August through to November is a good time to view salmon swimming up the river.
It's a short walk from the Cleveland Dam to the Salmon Hatchery. Or you can enter from Capilano Road. It's easy to miss the entrance, so drive slow. There's parking at the Cleveland Dam on Capilano Road.
You can also take public transit from the Lonsdale Quay Market. More transit info here.
Hiking around Capilano Canyon is one of our favourite things to do in North Vancouver.
Views of the Capilano River. You'll notice a small dam in the backdrop – that's the Capilano Salmon Hatchery.

7. Lynn Canyon Suspension Bridge
Not to be confused with Capilano Suspension Bridge mentioned above, the Lynn Canyon Suspension Bridge is another popular North Vancouver attraction. The park and suspension bridge are free to enter and explore.
This 160 feet long (50 m) narrow pedestrian bridge can get bouncy when you reach the middle, which adds to the experience. The views of the canyon from the suspension bridge are spectacular.
While the actual bridge is not as impressive as Capilano Suspension Bridge, the surrounding hiking trails, forest and swimming holes make this park worth a visit. If you're looking for more nature, this bridge is a better option than Capilano.
Check out The Lynn Canyon Ecology Centre, open most days between 10:00 AM to 4:00 PM.
Connor is not a fan of the bouncy Lynn Canyon Suspension Bridge. It can be intimidating for little ones because the bridge is quite high from the steep canyon below.
8. Lynn Canyon Park
While the main attraction at Lynn Canyon Park is the suspension bridge, this expansive park has several hiking trails through the temperate rainforest that surrounds the canyon. The park has over 600 acres of rainforest and trails to explore.
The Baden Powell Trail splits through Lynn Canyon Park, passing across Twin Falls Bridge, which is located at south of Lynn Canyon Suspension Bridge. More info about this trail here.
North of the suspension bridge, the trail leads down to the river (Lynn Creek) and natural swimming pools (30 foot pool). This is a popular spot in hot summer months.
Lynn Canyon trails are well maintained with wooden stairs, boardwalks and bridges.
Swimming at Lynn Canyon Park
When it's hot outside, we like to spent time in the shade along the river. The water is fairly shallow in most areas, so it's nice to soak in the natural pools that form along the rocky shore.
We prefer swimming in fresh water rivers, instead of the salty ocean.
It's not usually this busy. In fact, it's rarely this busy. We captured this photo at the 30 Foot Pool during a heat dome last summer (July 2021), when temperatures exceeded 41 degrees Celsius.
9. Lower Seymour Conservation Reserve
Looking to get outdoors and enjoy North Vancouver's easy access to nature and wilderness? We recommend you visit the Lower Seymour Conservation Area. We can easily dedicate an entire blog post about the best hiking trails in North Vancouver.
Here's a great resource that highlights the best trails in Lower Seymour Conservation Reserve for an adventurous hike or a family trip.
The Seymour Valley Trailway is a 10 km paved path through the forest. It features several picnic sites with outhouses. Here's a map of the trail.
Here is an overview (directions and map) of how to get to Lower Seymour Conservation Reserve. Parking is free (at the time of publishing) and there are washrooms.
Hiking the lush trails in Lower Seymour Conservation Area.
10. Fishing at Rice Lake
Are you an angler looking for a quiet place to cast your line? If so, Rice Lake is where you want to be.
Located within Lower Seymour Conservation Reserve, Rice Lake is stocked annually with rainbow trout. It's a calm lake with several spots to cast from, including a floating bridge (pictured below).
To reach the lake, drive to the Lower Seymour Conservation Area parking lot. It's about a 1 km forest walk from the parking lot to the lake. The Rice Lake path is well-marked and mostly flat.
Reminder, provincial fresh water fishing regulations apply here.

11. Mount Seymour – skiing, snowboarding, tubing, snowshoeing
Mount Seymour is a popular winter destination located in Mount Seymour Provincial Park. The Mount Seymour ski area has four lifts, 40 ski/snowboard runs, 4 terrain parks, 330 meters of vertical drop, and 200+ acres of skiable terrain. Here's a trail map of Mount Seymour.
Mount Seymour has several snowshoe trails with varying difficulty. Here's the snowshoe trail map. Snowshoes are required on the Discovery Snowshoe Trails and can be rented at the lodge.
Tubing and tobogganing are also available at Mount Seymore. More info here.
12. Mountain biking in North Vancouver
The North Shore mountains offer world-class mountain bike trials for all skill levels. It has everything from easy cross-country trails to advanced technical trails with obstacles like bridges, ladders, and teeter-totters.
Mount Seymour has the most extensive network of trails in North Vancouver. One of the most popular mountain biking trails is the CBC trail. This 2 km trail begins at the top of Seymour Parkway and concludes at the parking lot at the base of the mountain, near Northlands Golf Course.
Don't have a mountain bike? Rent one at Lynn Valley Bikes or Endless Biking.
13. Deep Cove
Deep Cove a small community in the easternmost part of North Vancouver. It's a cute village with a restaurants, shops and the popular Honey's Doughnuts. Be careful – these donuts are highly addictive.
The Cove is known for its picturesque marina, kayaking and standup paddle boarding, hiking and beach park. The popular Quarry Rock hike is a relatively easy hike that takes about 1.5 hours round trip (at a moderate pace). The views from the top of Quarry Rock are fantastic.
If you don't have your own equipment, you can rent kayaks, stand-up paddleboards and surf-skis from Deep Cove Kayak. Or, you can join a Deep Cove Kayaking and Hiking Tour.
The rental shop gets very busy in the summer, especially on weekends. It's wise to make a reservation ahead of time, just in case. We've made the mistake of assuming we could just walk up and rent a kayak, only to be disappointed because all of the kayaks were in use.
Another unique North Vancouver adventure is boating the ancient glacial fjord of Indian Arm on a private boat tour that departs from Deep Cove.
Parking at Deep Cove is challenging. It's best to arrive early (before 8:30 AM), otherwise you might have to park a few km's away and walk into the village. You can also take public transit from Lonsdale Quay Market to Deep Cove.
14. Cates Park
Looking to spend the day at the beach? We recommend you spend time at Cates Park. This seaside park has washroom facilities, kids' playground, easy forest walking trails, picnic areas and boat launch.
In the summer months, from May to September, you can rent kayaks, surfskis and stand-up paddleboards from Cates Park Paddling Centre. It's recommended to make reservations for equipment rentals. Here's a map with paddling locations to explore.
Access to the park is off Dollarton Highway, the same road that leads to Deep Cove. Cates Park is only 5 minutes from Deep Cove.
We spotted these purple starfish on the beach at Cates Park during low tide.
Pier, dock and boat launch at Cates Park in North Vancouver.
15. Lynn Headwaters Regional Park
Lynn Headwaters Regional Park is located close to Lower Seymour Conservation Reserve and Lynn Canyon Suspension Bridge. If you've got the time, you can visit all of these parks in the same day.
Lynn Headwaters Park is is the largest of twenty-two regional parks in Metro Vancouver. It has over 9,216 acres of forest and offers a variety of hiking trails that range in difficulty. Trails are colour-coded and range from 3 km (2 miles) to 21 km (13 miles).
Popular hiking trails include the Varley Trail, Lynn Loop Trail, Cedars Mill and Lynn Headwaters Trail Loop, Lynn Lake trail, Coliseum Mountain Trail and the challenging Lynn Peak Trail (9 km to the summit).
Lynn Headwaters Park is known for it's giant boulders that line the river, creating several natural pools for soaking your feet or taking a refreshing dip.
16. Waterfront Park
Waterfront Park is located west of Lonsdale Quay Market. It's only a 5 minute walk from the market and SeaBus terminal. The Spirit Trail pathway crosses through this green space. You can grab food and drinks from the nearby market and enjoy a waterfront picnic with outstanding views of the city.
As you can see below, Waterfront Park is one of the best spots to watch Vancouver sunsets.
17. North Shore Spirit Trail
After you've spent some time at the Lonsdale Quay and/or Shipyards District, take a walk along the North Shore Spirit Trail. This is a long city trail that passes along the North Shore waterfront.
You can go east or west from the Lonsdale Quay. It's an easy paved pathway, so you can do this trail with a stroller, bike or scooter.
If you go west, you will pass Waterfront Park before reaching Mosquito Creek Marina, where you'll see the floating homes pictured above. Continue walking west and you'll come to Kings Mill Walk Park, a waterfront beach park with views of downtown Vancouver.
See North Shore Spirit Trail map here.
Colourful floating homes at Mosquito Creek Marina, views from Spirit Trail pathway.
Kings Mill Walk Park
If you continue walking west along the Spirit Trail, from Lonsdale Quay Market, you'll reach Kings Mill Park. This park has a sandy stretch of beach at low tide.
It's a nice spot to enjoy the city views and watch the sunset, as you can see in the above photo.
Moodyville Park
Located on the Spirit Trial, east of Lonsdale Quay Market, is the newly updated Moodyville Park. This is a fun park for kids because it has a pump track, zipline, playground, picnic area and forest trails with a suspension bridge (above).
18. Brewery District – North Shore Ale Trail
The North Shore Ale Trail is relatively new to North Vancouver. Over the past few years, several craft micro-breweries have popped up in the Lower Lonsdale Shipyards area.
Also known as The Brewery District, this is THE place to grab a craft beer sampler of North Vancouver's finest. The first micro-brewery to open in the Lower Lonsdale area is Green Leaf Brewing, located inside the Lonsdale Quay Market.
Within a 3 blocks of Lonsdale Quay Market, you can visit 7 breweries, a cidery, a distillery and multiple brewpubs. And, there are more coming!
List of breweries in North Vancouver's Brewery District
Green Leaf Brewing – Lonsdale Quay Market
North Point Brewing – located on 1st Street, between St George and St Andrew Ave
Streetcar Brewing – entrance in the alley between Esplanade and 1st Street, east of Lonsdale Ave
La Cerveceria Astilleros – located on Esplanade and St George Ave
Beere Brewing – located on Esplande and St Andrew Ave
House of Funk Brewing – located on Esplanade, a few steps east of Beere Brewing
Shaketown Brewing – the newest brewery to open on Esplanade Ave
Copperpenny Distilling (Gin Distilery with cocktails) – located beside Shaketown on Esplanade
Windfall Cider & Co. (Cidery) – located on Esplanade, beside La Cerveceria
More things to do in North Vancouver
If you made it this far, congratulations! That was a LOT if information. However, there are still MORE things to do in North Vancouver that didn't make this post.
The Polygon Gallery – Art Museum at Lonsdale Quay (picture above)
Museum of North Vancouver – located near Lonsdale Quay
Northlands Golf Course – near Mount Seymour
King Pins Bowling Alley – central Lonsdale Avenue
InterRiver Park – near Lynn Canyon Park
Park and Tilford Gardens
We will update this post in the future with more detail about each of these spots.
Our favourite restaurants in North Vancouver
There are so many great restaurants in North Vancouver, so it's hard to narrow the list to just a few.
Restaurants in Lower Lonsdale within walking distance to Lonsdale Quay Market:
Pier 7 Restaurant and Bar – fresh seafood with waterfront patio
Nook – Italian cuisine with outdoor seating
Joeys Shipyards – waterfront bistro, see menu here.
Fishworks – sustainably sourced seafood with British Columbia wine selections
Jamjar Canteen – Lebanese food. Get take-out order and eat outdoors on the pier or Shipyards
Farina a Legna – Italian restaurant serving pasta and neapolitan pizza
Anatoli Souvlaki – Greek cuisine with Happy Hour menu
Other North Vancouver restaurants on our rotation:
Cazba Restaurant – Persian cuisine, located 16th Street West and Lonsdale
Sushi Umi Japanese Restaurant – located Lonsdale and 19th Street
Smoke and Bones – Southern Style Barbecue, located on Marine Drive
Tequila Cocina Lonsdale – Mexican cuisine, located Lonsdale and 20th Street
Palki Restaurant – arguably the best Indian restaurant in North Vancouver
Kinton Ramen – small ramen joint located on Lonsdale and 13th street
Where to stay in North Vancouver
It's best to stay in the Lower Lonsdale area because this is where the action is. Many of the attractions and restaurants mentioned here are within walking distance to the Lonsdale Quay Market.
The best hotels in North Vancouver are:
Another good option is the Holiday Inn Hotel. It's located just of the highway, so it's an ideal hotel if you're taking a British Columbia road trip from Vancouver.
Read more posts about British Columbia:
Have you visited any of these North Vancouver attractions?
Share you tips and recommendations in the comments below. Our readers thank you!