The Grand at Moon Palace in Cancun
The Grand at Moon Palace is the newest addition to the luxurious Moon Palace Resort in Cancun, Mexico. At the time of our visit in February 2018, this all-inclusive resort had been open less than one year.
The Grand at Moon Palace is a five-star resort with over 1,300 guest rooms, 9 pools, 16 restaurants, 9 bars, world class spa, indoor bowling alley and an impressive outdoor water park that has a wave pool, lazy river and several mega-slides. And that's just The Grand property.
Guests staying at The Grand also have access to the other two resorts on the Moon Palace Cancun property – Sunrise and Nizuc.
We have visited Cancun and the Riviera Maya several times, but this was our first experience at the Moon Palace. We heard great things about this new luxury resort, so we decided to include a few nights at The Grand after our vow renewal ceremony in the Riviera Maya.
Because The Grand is so new (at the time of publishing this blog post), we had a hard time finding information about the resort (besides the company website). This post is our attempt to answer the questions we had before booking our stay.
Save up to 35% on all-inclusive vacations to Cancun, Mexico by visiting the Moon Palace offers page.
Skip ahead using the Table of Contents
If you have questions about this beach resort, leave us a comment below and we'll do our best to answer. This post was originally published in 2018 and updated in June 2023.
Main lobby of the Grand is quite Grand!
The elegant Lobby Bar chandelier is a work of art.
The Grand has a clean, modern décor that feels more like an upscale Las Vegas hotel than a typical Mexican all inclusive. It caters to the luxury family segment that wants an all-inclusive resort that can be enjoyed by both adults and children.
Get your Resort Credit at The Grand at Moon Palace here.
Pools at the Grand at Moon Palace
There are 9 pools at The Grand, so you will not have trouble finding available loungers by the pool.
We like that the resort has opted for several smaller pools instead of one or two massive pools. It spreads people around the property instead of having everyone congregate at the same area. We found that each pool offers a different vibe, so you're bound to find one that works for you.
Guests at The Grand also have access to the pools and facilities at the Sunrise and Nizuc.
We spent most of our time at this pool, which is located near the beach.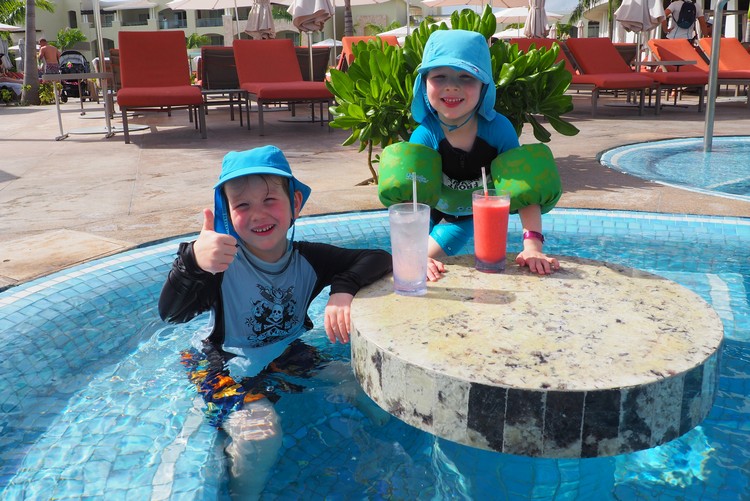 Being able to have cold drinks in the pool is a big hit with our boys. They love these seats.
You can see the proximity of the pool to the sea.
We spent time at most pools and did not have trouble finding loungers.
This is the adult only pool at the Grand at Moon Palace.
Adult pool at The Grand
We did not spend time at the adult pool (because we had our boys with us). It looks like a very relaxing place to spend the day(s).
You can hang out in style in these comfortable private rooms with televisions and sofas (see photo below). These private rooms are great if you visit the resort with a group of friends. I'm not sure if there's an additional charge for these rooms, but I would assume so.
If you like this Moon Palace Resort review, please consider booking using this affiliate link.
You pay the same price, but we get a small commission for every booking. We thank you for your support.
This is the Diamond Elite Pool. Every pool is full service and there's usually a bar nearby.
How cool is this poolside table?
Towels are complimentary. Each pool has a towel hut.
The best part is that you don't need to keep track of your towels. There are no annoying towel cards required. You just take as many towels as you need.
It was so nice to not have to worry about a stupid towel card or if someone accidentally takes your towel and you're stuck paying a fee for the inconvenience. All beach resorts should follow this example!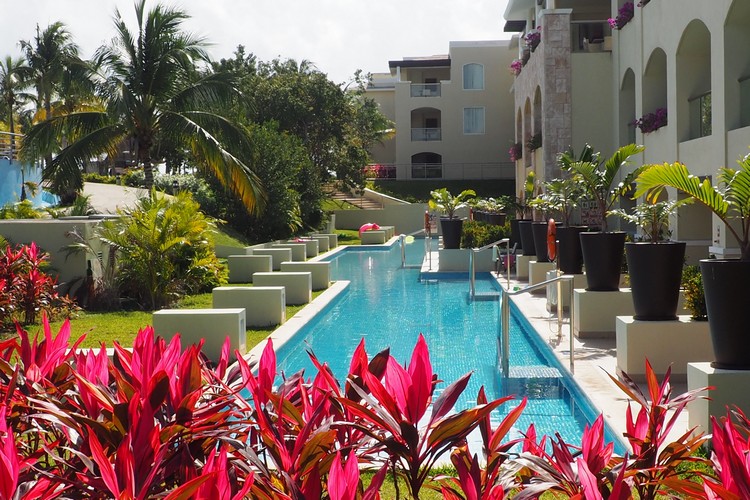 Some of the hotel rooms have a pool directly in front of the patio. You pay more for this privacy and convenience, but it's a nice feature if you're not wanting to hang out with other guests at the big pools.
How is the Beach at The Grand at Moon Palace?
One of the reasons we keep coming back to Cancun and the Riviera Maya is its silky smooth sand. Seriously, it's some of the nicest sand you will ever sink your toes into.
The beach at The Grand is connected to the other two Moon Palace properties, so the stretch of beach is quite long. If you like long walks on the beach, this beach has you covered.
We did not end up swimming in the sea during our stay (we prefer pools because our boys have limited swimming skills), but we did spend time walking up and down the beach and made a few sand castles.
The beach does not have a reef, so if you want to go snorkeling you're best to join a tour and head to some of the nearby dive spots. No need to bring your snorkel gear unless you plan to leave the resort.
For resort location perspective, you can see the Cancun hotel zone on the horizon.
There are plenty of chairs, umbrellas, couches and loungers at the beach.
Is the Grand at Moon Palace Family Friendly?
Yes! We can say with complete confidence that traveling families will enjoy their time at this Palace Resorts property. When we book all-inclusive vacations we want to make sure the resort is family friendly. This goes beyond having a kids pool and chicken nuggets at the buffet.
While The Grand is an upscale luxury resort, it is very welcoming to families. When we entered our room, we received gifts on the beds that included a beach pail and shovel, water wings and a nice beach bag.
Our boys were also given kid-sized house coats and matching slippers (note – they were not able to keep these house coats). The shower in our room even had kids shampoo. Those little details matter, and they are much appreciated.
The resort has plenty of fun kids activities.
Water Park at The Grand at Moon Palace
The water park at The Grand is amazing! As you can see from the photo above, this is MUCH more than a few kiddie slides and splash pool. It's a legit Water Park!
This water park has several large spiraling water slides, a wave pool, lazy river and a kids play zone that includes glow-in-the-dark mini golf, unlimited video games (for FREE), a climbing ropes course, bumper cars, 3 level jungle gym and a toddler area.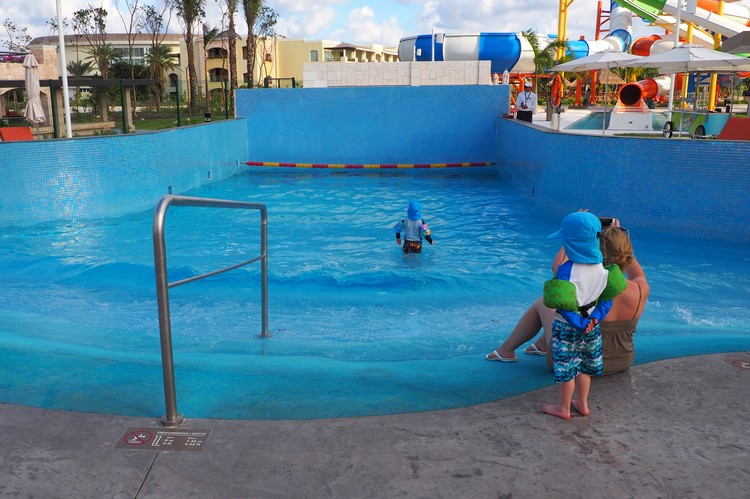 Wave pool at the Water Park.
Learning to float in the wave pool. The resort provides free water wings.
Floating down the Lazy River at the Water Park at Moon Palace Cancun.
Connor had fun floating down the lazy river with his Mama. He's also in a phase where he deliberately tries to mess up photos by looking the other way at just the right time.
This was the only decent photo of him after 10+ attempts on the lazy river. Little bugger!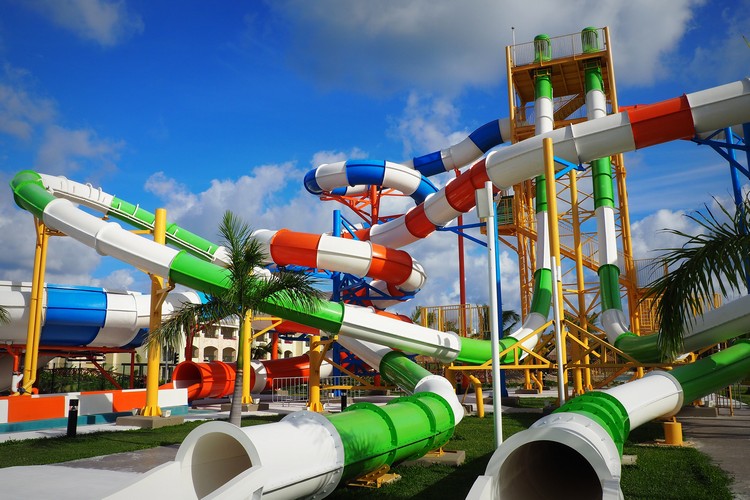 Jungle Gym at the Playroom
This 3-level jungle gym was such a big hit with our boys. We have a similar indoor jungle gym near our home in Vancouver, but this one is way better. It's also brand new.
Our youngest boy, Connor, absolutely LOVED this place. It's a kid's paradise!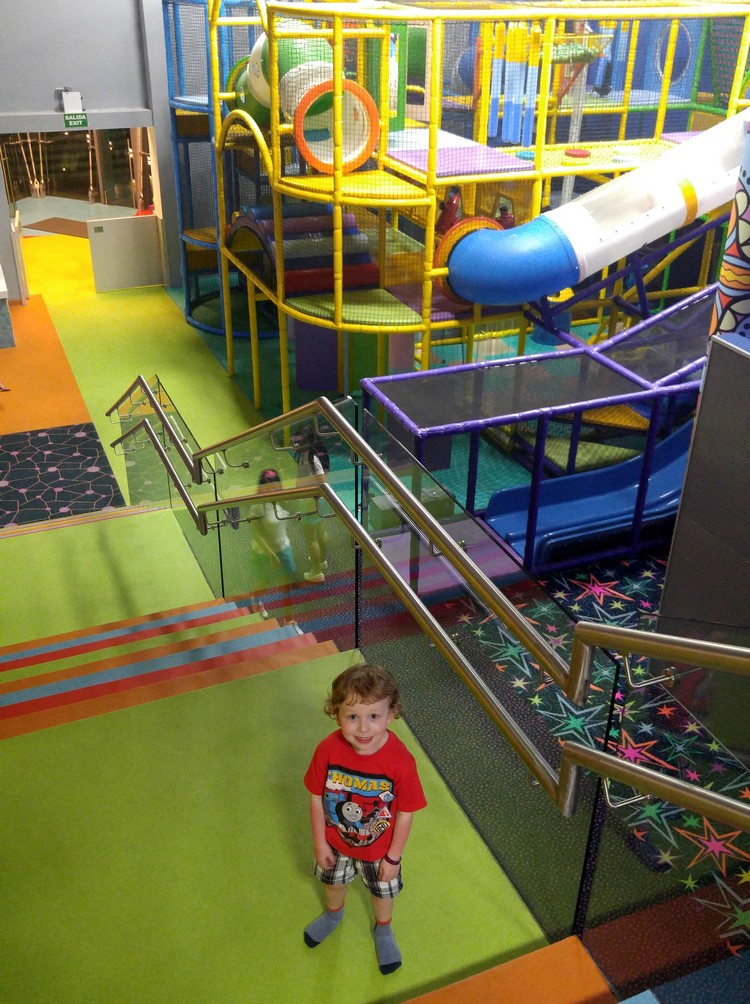 "Daddy, take my picture in front of the fun place so I can look at it later", says Connor. So cute.
Arcade and Games at The Grand at Moon Palace
There are two different games rooms that offer various activities. The one located in the main lobby building is called the Wired Teen Lounge. The other one is called the Playroom. This is the mega-playroom that is located at the Water Park.
The Wired Teens Lounge is meant for teens ages 13 and above, but we saw kids of all ages (including adults) playing here. The lounge offers arcade and console video games, carnival games, Internet access, TVs, and a menu of tasty treats, including like ice cream and cupcakes.
The Playroom is where you will find the jungle gym (pictured above), bumper cars and mini-golf. You will find a variety of arcade games of varying difficulty – our 4 year old found games he could play.
The best part – EVERYTHING is included! FREE games all day long.
The interactive games are very cool. See photo above as evidence. Connor is playing a game by running around matching colours. This is one of many games that get kids moving.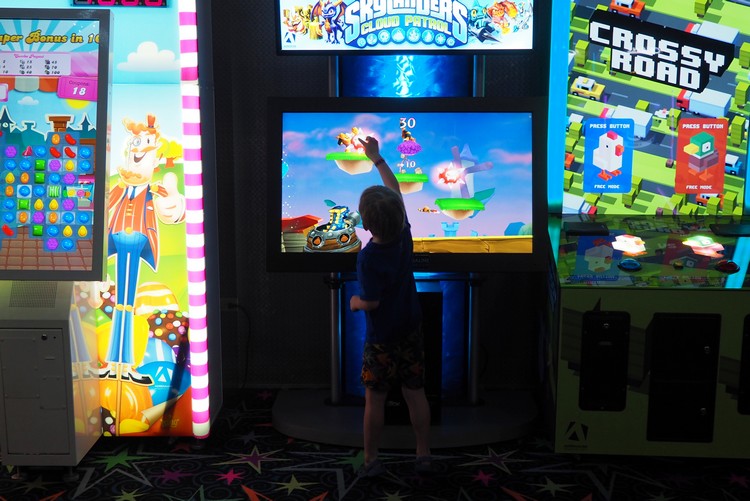 Bike riding at the Water Park
Just behind the kids water playground, underneath the giant water slides, is a bike riding course.
Bikes and scooters of all sizes are available to use at no extra charge. Helmets are also provided.
Kids Club at the Playroom
On the second floor of the Playroom is a Kids Club where younger kids can be left so the parents can have some free time. Parents can also stay and let their younger ones play. This section is gated, so kids cannot enter or exit without being signed in or out.
Our boys had a lot of fun in here, especially Connor. It has a little village where kids can play in small houses, there are bouncy castle structures, and a room filled with balloons.
It's a really fun space for toddlers and young kids.
If you like this Moon Palace Resort review, please consider checking prices through this affiliate link.
You pay the same price, but we get a small commission for every booking. We thank you for your support!
Indoor Bowling Alley at The Grand at Moon Palace
Yes, you read that correctly. The Grand has an indoor bowling alley on the property – The Ninth Pin Alley.
It's located in the main lobby building. You can order drinks and food while you enjoy a few rounds of bowling. It's open from 10:00 am to 10:00 pm. This is one of the only areas we found that is not all-inclusive.
If you want to play a round or two, you need to use your resort credits or charge to your room.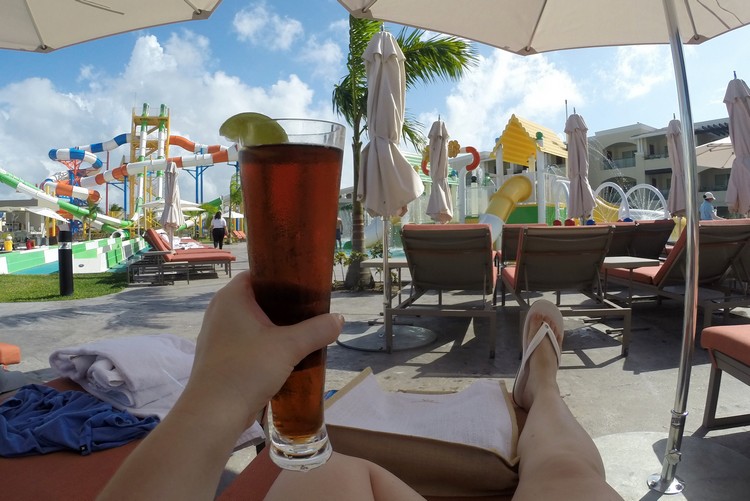 The drinks are high quality (and plentiful)
Most vacationers choose the all-inclusive option because alcoholic drinks are included. It's one of the reasons we like them, too! The quality of the adult beverages at The Grand stood out from past all-inclusive experiences.
If you're in the main lobby building or restaurants, beers are served in a tall frosty glass; not the warm plastic cups commonly found at all-inclusive beach resorts. Even at the pools, the beers are served in tall non-breakable glasses.
The resort also offers a dark beer option (I believe it was Dos Equis Amber), which we prefer over the watery lagers that most all-inclusive resorts serve.
The restaurants offer a variety of wines from around the world. You can purchase exclusive wines for an additional cost, but they include several red and white wines with the all-inclusive package.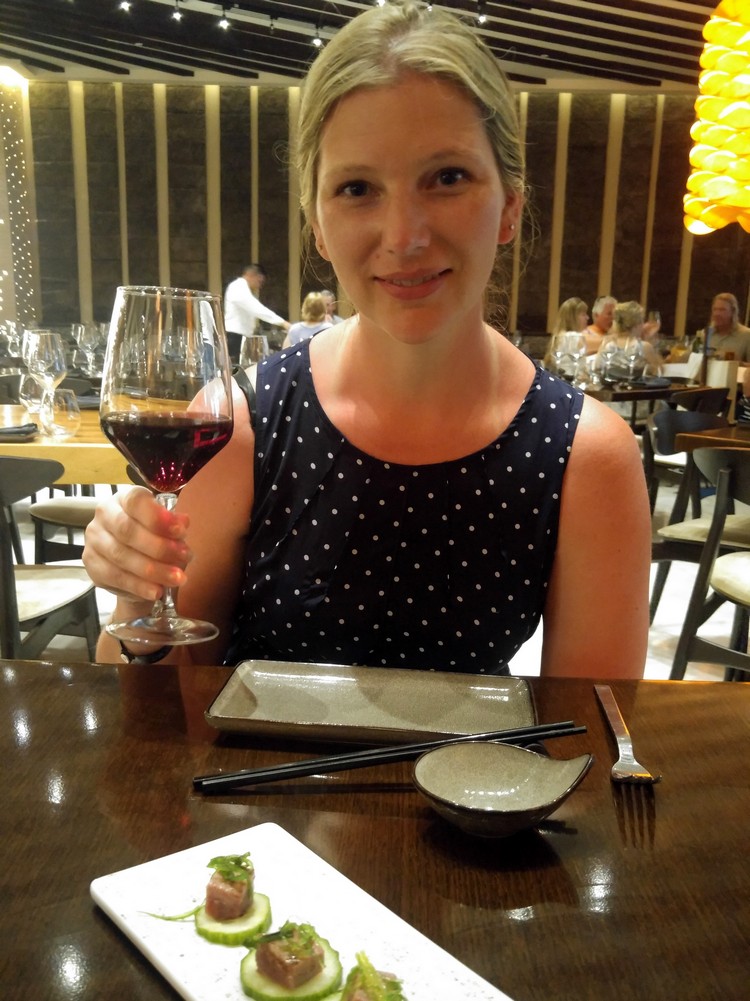 How is the Food at Grand at Moon Palace?
The food at The Grand was a pleasant surprise. We were very impressed by the quality and options.
Only a couple of the restaurants required reservations. We just walked up to the restaurants and were seated instantly. Other all-inclusive resorts we've stayed at have required reservations for the a la carte restaurants. It can be annoying because plans may change during your visit, so you may have to cancel your reservation or go to the restaurant when you are not actually hungry.
We like that we didn't have to make formal plans on this vacation.
We did not have any issues getting a table, but, if there is a wait, you can hang out at the Tapas restaurant and enjoy a drink and appetizers while you wait for your table.
There are 9 restaurants to choose from – NOT including the buffets.
Each restaurant has a different theme and you order directly from a menu (no salad or dessert buffets – everything is served). The best part – you can order whatever you want!
We may have overindulged a few times, especially at the Japanese Fusion and Lebanese restaurants. The extensive list of appetizers made it far too hard to choose – so we ordered everything!
It was nice that we didn't have to make any tough decisions.
Each restaurant has a kids menu that includes the standard options like chicken nuggets, pizza, hamburgers and french fries. Or you could order from the main menu. Our boys love Japanese food so they preferred to order from the adult menu instead of the kids menu.
Grand Buffet at The Grand at Moon Palace
When we first arrived at the resort, our room wasn't ready so we decided to kill some time by eating at The Grand buffet. We were very impressed by the spread. There are so many options to choose from, including salads, seafood, sushi, Mexican dishes and a wide selection of decadent desserts.
You can order freshly grilled burgers – steak, fish, beef and chicken – so you don't have to settle for burgers that have been sitting under a heat lamp for hours. The pasta bar and tepanyaki bar are also 'made to order' by a chef. The food is fresh and high quality.
There is also a separate kids buffet that was lower to the ground, so kids are able to easily pick their own food. They thought was really cool.
Fresh fish at the main buffet in the Lobby building.
Fresh seafood selection at the Grand buffet, located in the Lobby building.
That's a lot of squid! Yum. I may have come back to this plate a few times.
Variety of sushi rolls at the lunch buffet.
We're glad they actually use fresh salmon and tuna for their sushi rolls. Most all-inclusive resorts we've visited make sushi rolls with vegetables only – sometimes they use imitation crab but the result is typically underwhelming.
The sushi at the Grand Buffet is legit. We may have eaten half of that wooden boat of salmon and avocado rolls.
Variety of hot Mexican cuisine at the Grand Buffet.
Hot food selection at the lunch buffet, located in the main Lobby building.
Lunch buffet for kids. The table is even lower to the ground so kids can serve themselves.
Lunch buffet offerings near the pool.
Seafood options at the poolside buffet. Not a bad spread!
Grand Desserts that are a work of art!
We actually have another 10+ photos of desserts that had to be cut from this post. The desserts at the buffets are incredible. Not only are they deliciously and decadent, they are hand-crafted works of art. If you have a sweet tooth, the desserts at The Grand will blow your mind.
For the record, we did NOT sample all of these desserts. That would be too dangerous.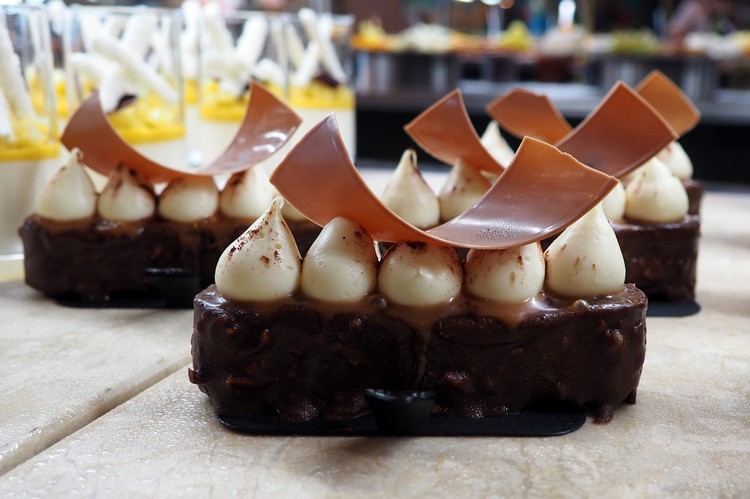 Dessert buffet makes this boy very happy. Where to begin?!
Open-faced small bites at the Tapas & Vino wine bar.
Jade Restaurant at The Grand at Moon Palace
Our favorite restaurant at The Grand at Moon Palace is Jade – we dined there twice during our 4-night visit.
Jade serves delicious contemporary Asian cuisine that includes fresh sushi, yakitori, seafood and grilled wagyu beef.
Below are a few of the dishes we sampled at Jade Restaurant.
Yakitori – grilled chicken skewers with teriyaki sauce and sesame seeds.
Fresh tuna appetizer with seaweed salad.
Tuna poke served in a coconut bowl. This was Nicole's favourite dish from our visit.
Assortment of fresh nigiri sushi.
Appetizer seared tuna on cucumber with seaweed garnish.
Wagyu beef – this was Cam's favourite dish. The raw beef is thinly sliced and served with a very hot grilling stone. You place the beef on the the hot plate and cook to your liking.
Then you dip the meat in one of three sauces.
So good (and fun!).
For dessert – ice cream balls covered in Japanese rice dough.
Tavola Restaurant at The Grand at Moon Palace
The fresh pasta we ate at Tavola was fantastic. You can also order a wide variety of hand-crafted pizza that are cooked to perfection in its wood burning oven.
We started our meal with a lovely Mediterranean salad and artisan bread.
Our boys enjoyed the simple penne pasta with butter.
This is the seafood fettuccine with black ink pasta. I (Cam) foolishly wore a white T-shirt that is now no longer with us. I accidentally dropped one of those fat garlic butter prawns on my plate and it splashed the black ink from the pasta all over my white shirt. Doh!
It was totally worth it though.
Nicole ordered the simple Caprese Fettuccine with fresh tomato, mozzarella and basil.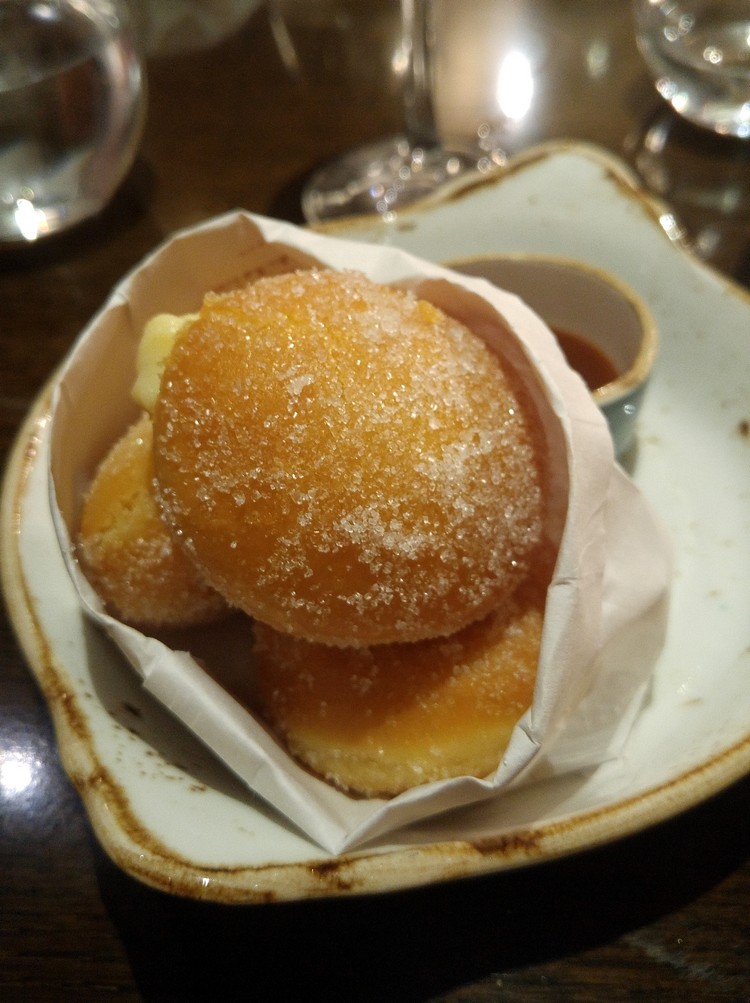 These soft, sugary stuffed pastries were melt-in-your-mouth amazing.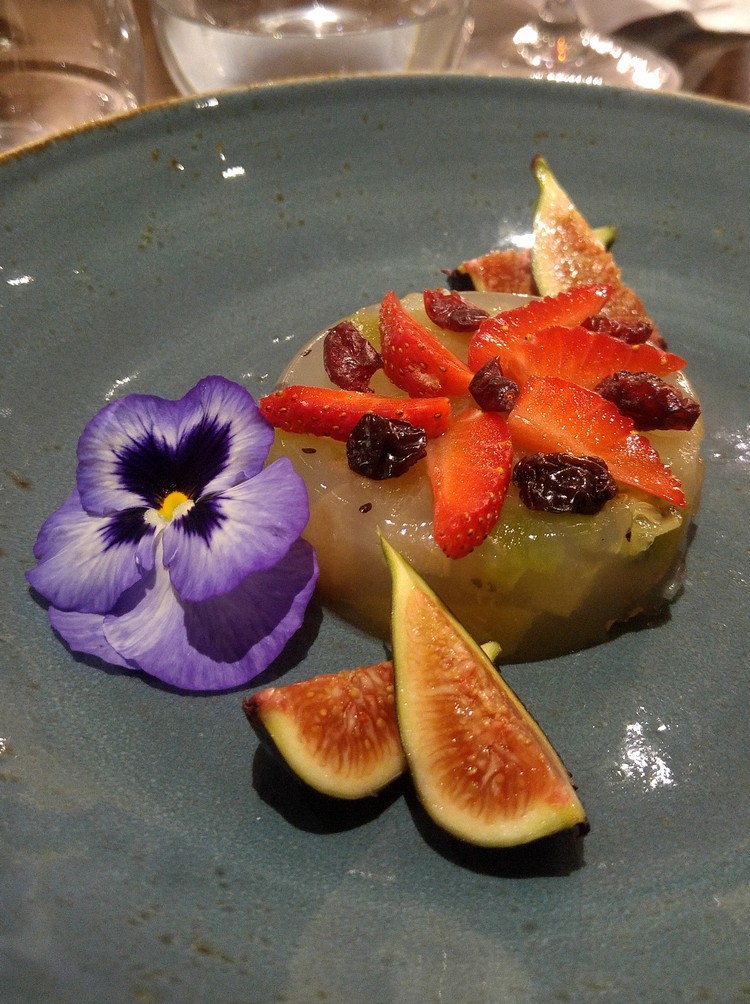 The chef prepared this dairy free dessert for Connor, who has a dairy allergy. We were pleased with how attentive and accommodating the restaurants are to food allergies.
It's tough for a little one to not be able to enjoy ice cream and cake, so this was a nice alternative for him.
Cusco Restaurant at The Grand at Moon Palace
Cusco Restaurant is located near the beach, which is quite far from the Lobby building. Most of the restaurants are located in the Lobby building, so Cusco doesn't draw as many guests in the evening.
Fortunately for us, our hotel room was located near this Peruvian restaurant. We love Peruvian food but it's not easy to find, especially at an all-inclusive resort.
Below are a few photos from our dinner at Cusco.
This may have been one of our favourite bowls of ceviche – ever!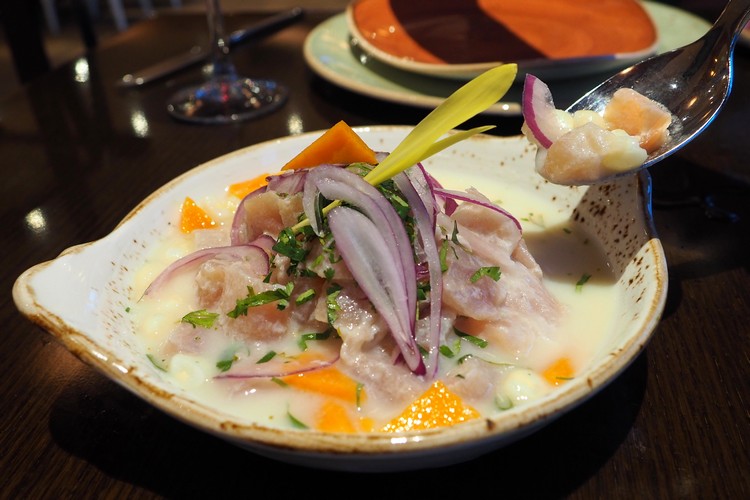 Cusco offers a variety of ceviche dishes. We ordered two as our appetizers.
I forget what this dish is called. Let's call it pretty potatoes.
Succulent roasted duck served on a root vegetable mash. The meat literally fell of my fork.
I also forget the name of this dessert. It tasted like a rich, creamy pumpkin pie mouse. Delicious.
Habibi Restaurant at The Grand at Moon Palace
We ate lunch at Habibi Lebanase Restaurant on our second day. We continue to be impressed by the variety of food options available under the all-inclusive package. Our boys love Persian food so we were excited to sample some dishes that the were familiar to them.
Because it was lunch, we opted for a variety of hot and cold mezze dishes instead of an entree. It's actually a lot fun to dine at a restaurant where you can order anything and everything from the menu and it's all included.
We didn't hold back. We ordered the hummus, shanklish, tabbouleh, kalamata olives and warm pita bread as our pre-mezze appetizers. It was another memorable meal.
Dolma appetizer – meat and rice wrapped in grape leaves.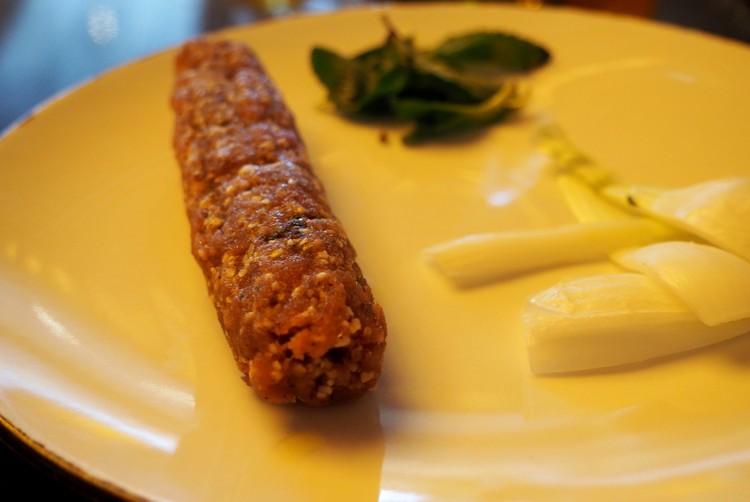 Tuna Kibbeh Niyeh – Lebanese tuna tartar with bulgar wheat, served with peppermint and onion.
I believe these are the Lebanese Falafels, but I'm not sure.
Hummus, kalamata olives and warm pita bread. We could eat this all day long.
Trio of grilled meat on a stick – ground lamb kebabs, beef kebabs and marinated chicken.
This boy loves meat on a stick. He also enjoyed the lentil soup.
The poolside service was very nice, too. These seafood mini-tacos were incredible.
Los Tacos Restaurant
This is Los Tacos restaurant. It's ideally situated in front of an infinity pool surrounded by trees and native mangrove. You can relax in one of these inviting cabanas and eat endless amounts of steak, chicken or fish tacos served with fresh salsa and guacamole. Perfect location for a late lunch.
Fresh ice cream on a hot day at the pool.
The Grand is food allergy friendly
Our youngest boy, Connor, is allergic to raw forms of dairy and eggs. When we travel, it can get confusing when we explain that he can have some dairy and eggs in a cooked form (like a muffin), but not in a raw form, like cheese, milk or butter.
Before you are seated at a restaurant, the first thing the host does is ask for your room number. Then they ask if anyone has a food allergy. The servers make note of it and the kitchen is informed of the allergy.
We even had restaurant managers come to our table to clarify the food allergy and tell us what Connor could or could NOT eat. Being parents of a boy with allergies, this made us feel very good.
We felt confident that our boy was looked after and cared for.
One night, Connor wanted chicken nuggets. Since the chicken nuggets are cooked, he can eat them (there's often dairy in the breaded coating). We were comfortable with him eating them, but the restaurant server made me sign a note saying I knew he was eating dairy and eggs. It was to ensure that if something went wrong, I was responsible. It was nice seeing a formal system around food allergies.
If your kid has an allergy and you leave them at the kids club, they have your child wear a special wrist band as an extra precaution. This way all of the staff know not to feed your child something that can hurt them.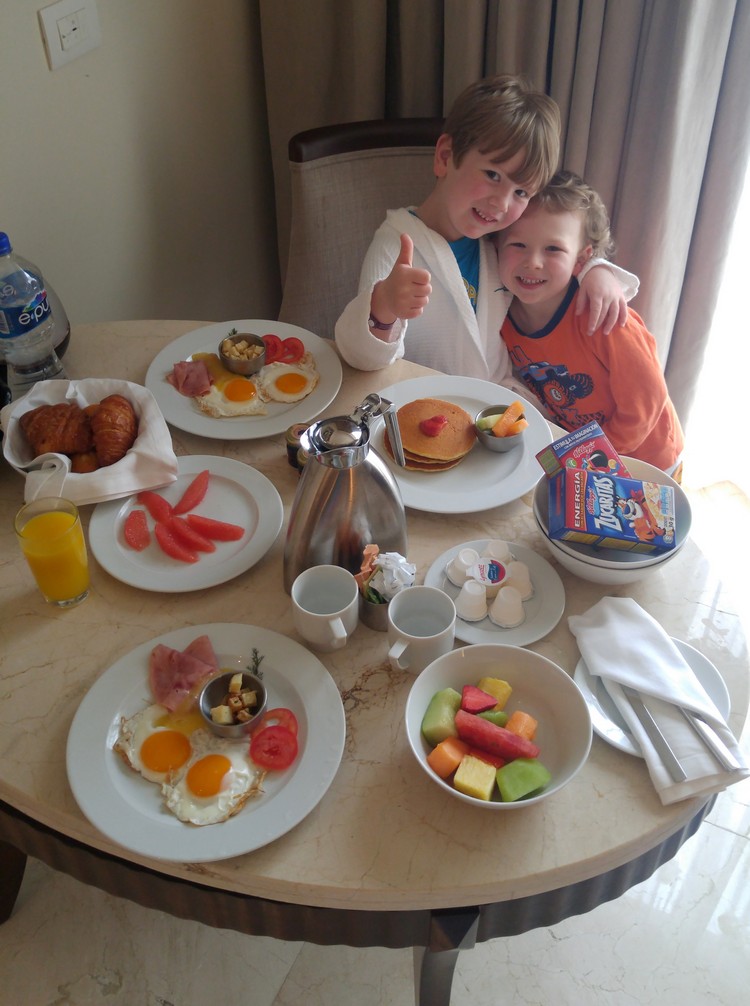 Room Service at The Grand at Moon Palace
When room service is included you have to order breakfast in bed, right?
Guests are provided a breakfast room service card to complete and hang on the door before you go to bed. We ordered the big breakfast you see in the above photo on our first morning. It was a lot of food!
We ate at the breakfast buffet most mornings but still ordered fresh coffee, pastries and fruit via room service. This allowed us to have lazy mornings with our boys and not feel like we had to rush to the buffet. It was a great way to start the day.
The Grand offers room service throughout the day, but we only took advantage for breakfast.
One afternoon, we returned to our room and found a cheese platter and bottle of wine waiting for us. We love this! The little unexpected details do matter.
What's in your closet? This is what's in the closet at The Grand – unlimited alcohol.
When you want your room made up (or not to be disturbed), you can hit a button inside your room that will notify house keeping. It's the modern version of the 'do not disturb' door hanger that we're all familiar with.
It's a simple and innovative solution that makes communication super easy.
Hotel Rooms at the Grand at Moon Palace
We stayed in a Garden View Suite on the 3rd Floor. It's a spacious room with two double beds and a huge jacuzzi. The bathroom is quite big and it has a large shower with a bench. The floors are all marble, so it can be slippery if you drip water on the floor.
Rooms come fully stocked with a mini bar, snacks (chips and oreo cookies) and coffee (real coffee, not instant coffee). The beds, pillow and linen are very comfortable. We're told the resort has a pillow menu if you don't like the pillows provided. We slept well during our stay.
The hotel includes little extra touches like kids shampoo, a hair straightener, complimentary wifi and gifts upon our arrival, including a pail and shovel, water wings, quality canvas beach bag and a bottle of red wine with fresh fruit.
Braydon LOVES the giant jacuzzi. He had a soak every morning while watching cartoons.
One of the buildings illuminated at night. This property is HUGE.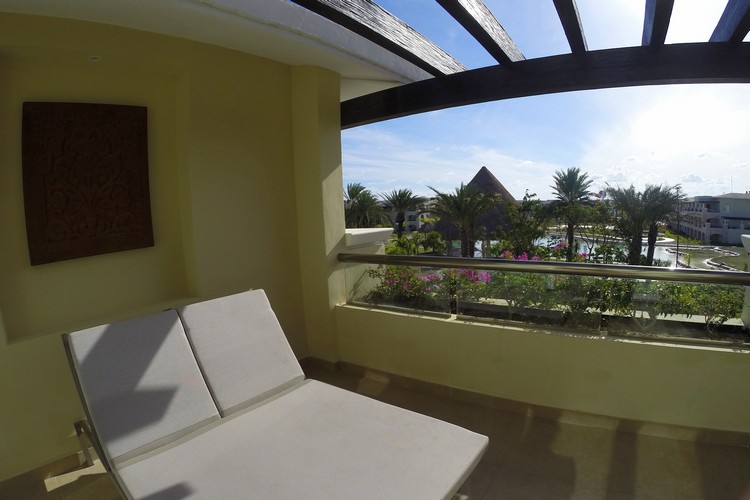 Comfy two person lounger on our private balcony.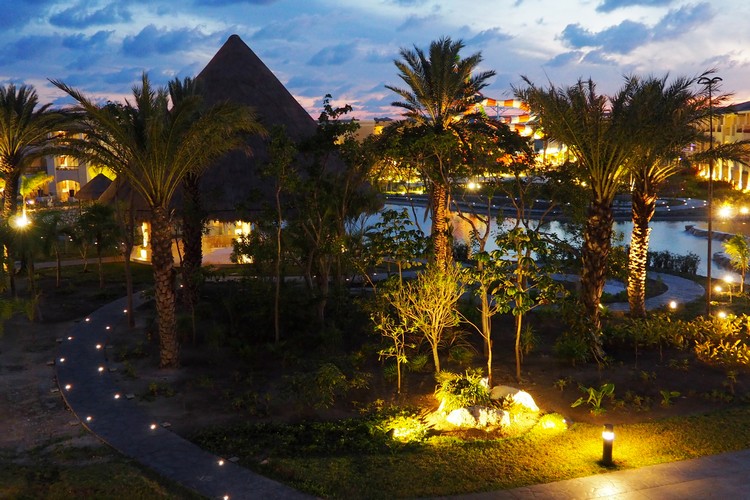 View from our 3rd floor balcony. The landscaping is still quite new. This area will be thick and lush in a few years. You can see the top of the water slides in the distance.
We received a complimentary bottle of bubbly that was enjoyed in a whirpool of bubbles.
Views of the courtyard inside our building. There are several buildings on the property.
Guests at The Grand have access to 3 resorts
An added bonus is that you get access to The Grand's sister resorts – Sunrise and Nizuc.
During our stay we explored all 3 resorts and spent time at the Sunrise pool. This is where the Flowrider is located (pictured above). Our oldest son, Braydon, gave it a try and had a blast.
Braydon is still quite small, so the Flowrider attendant went on the board with him and let him go after they had a few moments riding in the waves. As soon as the attendant let go, Braydon went flying back to the top. We're so proud of him for giving it a try!
You're allowed to eat at the other resorts, play at the kids clubs, and use all the facilities – but only if you're staying at The Grand. It doesn't work the same if you are staying at the other resorts.
This is the kids pool at the Sunrise Moon Palace.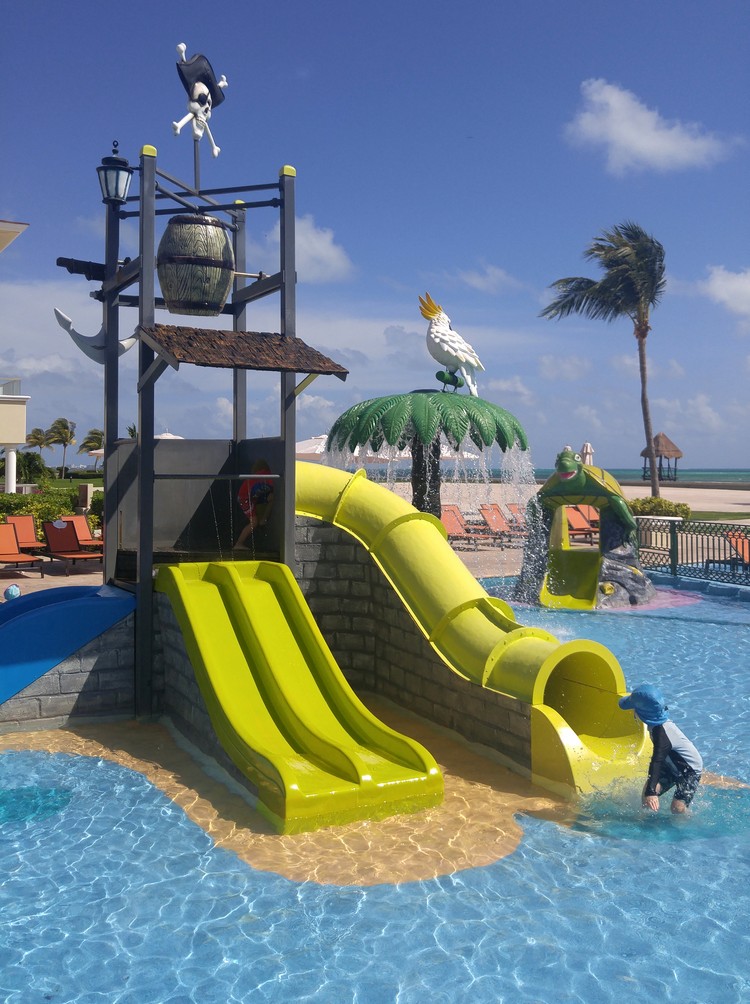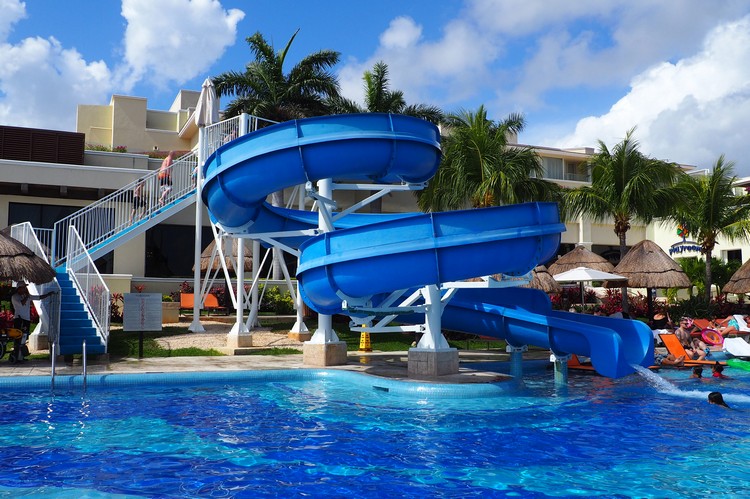 Water slide at the Sunrise resort. Not as big as the Water Park at The Grand, but still pretty cool.
Awe-Spa at The Grand at Moon Palace
We didn't visit the Awe-Spa during our visit but we think it's worth mentioning. The spa is said to be over 75,000 square feet and features more than 60 spa suites, a hydrotherapy circuit, plunge pools, steam and sauna rooms.
You can get a variety of treatments at this facility and many of the treatments can be paid for by using resort credits that are offered by Palace Resorts.
Entertainment at The Grand
The entertainment at The Grand is more professional than we've seen at other all-inclusive resorts. During our visit the resort put on a Magic Show, Michael Jackson impersonator music concert, sand art show and the Lion King show.
We watched to the magic show and the magician was really good. Our boys were mesmerized. They are still asking us how the white doves came out of his hand.
"It's Magic!"
Final Thoughts
The Grand offers so much that you might not want to leave the resort. Our days were full bouncing from pool to game room to restaurant. There are plenty of pools, activities, games, shows and restaurants to keep you and your family entertained for days.
Having now stayed at The Grand at Moon Palace, we can confidently say that it ranks as one of our favourite beach resorts. It's not cheap, but you get a lot for your money.
If you plan to take a day trip, consider visiting at Xel-Ha. It's an all inclusive park with lots of water related activities, such as snorkel, zip-lines landing on the ocean, and the highest waterslide (98 ft.) in the Rivera Maya.
Have you been to The Grand at Moon Palace?
Share your feedback in the comments section below. Our readers thank you!
Read more posts about Mexico:
If you like this Moon Palace Resort review, please consider booking using this affiliate link or check out booking.com. You pay the same price, but we get a small commission for every booking. We thank you for your support.