Things to do in Whistler this Summer
We love Whistler. It's our favourite weekend getaway and/or day trip from Vancouver. Therefore, we thought it's about time that we published a detailed guide about all the wonderful things to do in Whistler this summer.
We like to visit at least 4-5 times per year, ideally once per season. It's an easy 1.5 hour drive from Vancouver to Whistler, which makes it our go-to option for a weekend getaway. There are so many fun outdoor adventures in Whistler that this post could easily have 50+ items.
And that's just for the summer season!
Here are a few of the top Whistler summer activities:
Peak to Peak 360 Experience – ride the longest continuous lift system in the world!
High Alpine Hiking trails – marvel at Black Tusk and Glaciers
Whistler Downhill Mountain Bike Park
Lost Lake hiking and biking trails
Bike ride the many Whistler Valley Trails
See colourful abandoned trains at the Whistler train wreck hike
Visit the spectacular Brandywine Falls
Golf at world class golf courses surrounded by mountains
Zipline down the longest zipline in North America
Hike to Garibaldi Lake in Garibaldi Provincial Park
River rafting excursions down Green River or Elaho and Squamish Rivers
Aerial Obstacle Course and Whistler Bungee jumping
See wild bears in their natural habitat on a bear viewing tour
Get off road on an ATV, 4×4 buggy or Jeep tour with Canadian Wilderness
Take a relaxing Spa day at the Scandinave Spa
Experience the Vallea Lumina Multimedia Night Walk
Take a scenic flight or heli-tour over the Coast Mountains
Stand-up paddleboard, kayak and/or canoe glacier fed lakes
Shopping on the famous Whistle Village Stroll
Enjoy food and drinks on a lively patio in Whistler Village
Skip ahead using the Table of Contents
1. Peak to Peak Gondola – 360 Experience
Whistler's Peak to Peak Gondola is a must for first time visitors. This impressive tricable gondola transports guests from the top of Whistler Mountain to the top of Blackcomb Mountain in only 11 minutes.
At the time of completion in December 2008, the Peak to Peak Gondola broke three world records:
It's the longest continuous lift system in the world, when connected with Whistler Gondola and Blackcomb Gondola.
It's the highest life of its kind, reaching heights of 436 metres (1,430 feet) above the valley.
It held the record for being the longest free span between ropeway towers at 3.03 kilometres (1.88 miles) until 2017.
Guests are transported up Whistler mountain via the Whistler Village Gondola, disembarking at the Roundhouse Lodge. From here, you hike 10 minutes to the Peak Express Chair and catch a lift up to Whistler Peak. The panoramic views from the top of Whistler Mountain are outstanding. Snow capped peaks and glaciers in every direction.
You can either hike down from Whistler Peak to the Roundhouse Lodge or take the chair lift down. But be forewarned; riding down the mountain on this steep chair lift is a heart-pumping experience that will surely awaken your stomach butterflies.
Peak to Peak Gondola hours and pricing here.
After exploring Whistler Mountain and its endless hiking trails, take the Peak to Peak Gondola across the valley to the Rendezvous Lodge on Blackcomb Mountain.
If you're lucky, you might catch a ride in the special glass-bottom gondola (it's the silver one pictured above). There's a separate line for this glass-bottom gondola, and there's only a few of them, so you might have to wait a long time.
From Rendezvous Lodge you take the new Blackcomb Gondola down to Upper Village, completing the full circuit. You can also do the circuit the opposite way, starting at Blackcomb Gondola in Upper Village and finishing on the Whistler Gondola in Whistler Village.
Inside the Peak to Peak Gondola crossing the valley from Whistler Mountain to Blackcomb Mountain.
Cloudraker Skybridge on Whistler Peak
Watch this video to learn more. The Cloudraker Skybridge spans 425 feet (130 metres) from Whistler Peak to the West Ridge, crossing high above the Whistler Bowl below. It's an exhilarating experience when you reach the middle of the bridge!
To access the Cloudraker Skybridge, you must ride up the Peak Express chairlift. This is an open chair lift, so keep this in mind when making preparations. Bring a jacket and sweater, even in the summer.
To ride the Peak Express, guests must be 3.3 feet (1 metre) or taller. Children must be taller than 3.3 feet. To ride alone, they must be 12 years or older.
2. Alpine hiking trails
Whistler boasts some of the best alpine hiking in Canada. You can access over 50 km's of mountain trails via the Whistler Gondola and/or Blackcomb Gondola. We recommend you take the Whistler Peak chair lift to the Top of the World Summit (pictured below, with the Inuksuk).
There are easy hikes for the novice and challenging full day hikes for the more adventurous.
The most popular Whistler Mountain alpine hikes:
Whistler Summit Interpretive Walk
Length: 1.6 km (1 mile); 60 minutes
Elevation Change: 30 meters (98 feet)
Mathews' Traverse Road
Length: 0.9 km (0.6 mile); 45 minutes
Elevation Change: 82 meters (269 feet)
Depending on time of year and snow pack, you may walk between giant snow walls while overlooking Harmony Bowl. Stick to the trail and do not walk on the glacier areas.
Harmony Lake Loop
Length: 1.9 km (1.2 miles); 90 minutes
Elevation Change: 120 meters (394 feet)
High Note Trail
Length: 9.4 km (5.8 miles); 4 hours
Elevation Change: 420 meters (1378 feet)
Considered by many to be the best hike on Whistler Mountain, with stunning views of Black Tusk, Garibaldi Provincial Park and Cheakamus Lake.
View the Whistler lift and trail status here.
Download the Whistler Alpine hiking trail map here.
The iconic Inuksuk at Top of the World Summit on the peak of Whistler Mountain.
3. Whistler Mountain Bike Park
Whistler mountain has some of the best downhill mountain biking trails in Canada. Some argue the Whistler Mountain Bike Park is the best in the world. We'll let you be the judge.
The Whistler bike park has 70 bike trails that cover 80 kilometres and 4,900 vertical feet. Let that sink in for a moment. It's huge.
Whistler Mountain Bike Park is grouped into four zones: Fitzsimmons Zone (the original bike park zone, this section is the best place for beginners to learn with the most green trails), Garbanzo Zone (more challenging, with more technical features), Peak Zone (challenging and very long trail, not for beginners), and Creek Zone, the newest zone in Whistler Mountain Bike Park.
You will need a proper downhill mountain bike to ride in the Whistler Mountain Bike Park. If you don't have a good bike with you, not to worry. There are several Whistler mountain bike rentals available in Whistler Village.
If you're new to the sport, consider taking a few Whistler mountain bike lessons. You can get a package deal that includes bike lift ticket, bike and equipment rental, and lesson with a guide.
4. Lost Lake hiking trails
One of our favourite things to do in Whistler in the summer is to hike the Lost Lake nature trail.
It's an easy forest trail with well marked paths, which is ideal for our young boys. Depending on where you start, the trail is about 5 km's round trip (assuming you start from Whistler Village) and it has a limited elevation gain. There are multiple entry points to Lost Lake Park, including the paved trail that passes alongside the Fairmont Chateau Golf Course.
We like this trail because it leads to Lost Lake beach park (pictured below). This lake beach park has a large grass area with picnic tables and washroom facilities.
If you prefer to skip the hike and relax at Lost Lake Beach, there is a parking lot with limited parking. This parking lot is strictly enforced, so make sure you purchase a ticket and only park in designated spaces. Every time we visit Lost Lake Beach we see parking enforcement writing parking tickets.
Getting our toes wet at Lost Lake Beach Park in Whistler. Lost Lake is also a fun spot for paddleboarding. Here's a list of the best places to paddleboard in Whistler.
Above is a wooden bridge on one of the many Lost Lake hiking trails.
Views of Lost Lake from the hiking trail that loops around the lake.
5. Lost Lake Mountain Biking trails
If the Whistler Mountain Bike Park is not your thing but you want to ride some mountain terrain, check out the Lost Lake bike trails. This park has a variety of well marked trails, most are easy beginner or intermediate, so this is a great entry point for aspiring downhill mountain bikers.
The trails are not super steep but you will work up a sweat as you make your way up to the viewpoints. There are several bike trails at Lost Lake so you can easily connect to different sections, which will keep you busy for hours. Some trails have wooden bridges and small jumps, so it's a fun place to work on your mountain biking skills.
The best part – the Lost Lake bike park is FREE.
And, after you've worked up a sweat, cool off with a refreshing swim at Lost Lake beach.
If you don't have a bike with you, bike rentals are available at Lost Lake PassivHaus, pictured below. This facility is conveniently located right at the entrance to Lost Lake park.
More info on Whistler Lost Lake bike rentals here.
Above is a trail marker in the Lost Lake bike trails.
6. Bike ride Whistler's Valley Trail
Whistler's Valley Trail is a paved network of car-free trails that connect Whistler's many neighbourhoods, fresh water lakes, forest parks and lookout points.
Park your car and explore over 40 km's of trails that surround Whistler, from Function Junction to Green Lake, and everything in between. We recommend you ride from Whistler Village to Rainbow Park on Alta Lake.
To test your bike skills, check out the Whistler Fitzsimmons Bike Park in Whistler Village (pictured below). It's a free bike park with technical and freeride features, including a jump track, pump track and beginner skills area.
View the Whistler Valley Trail Map here.
Braydon testing his skills at the FREE Whistler Fitzsimmons Bike Park at Whistler Village.
During out stay at the Hilton Whistler Resort & Spa, we were provided one hour of free bike rentals for the family. If you don't have a bike with you, this is a great way to explore the outskirts of Whistler Village.
Views of Whistler Mountain and Lost Lake in the summer.

7. Whistler Train Wreck hike
Tucked away in an old-growth forest, hidden between train tracks and the Cheakamus River, the Whistler Train Wreck site has quietly become a popular Whistler tourist attraction.
The Whistler Train Wreck is home to several decaying box cars that were abandoned after a crash that occurred in 1956. Now, covered with layers of bright graffiti, these rusty old box cars have transformed into a unique outdoor art gallery.
To access the Whistler Train Wreck site, you will cross the newly built Cheakamus River Suspension Bridge, also known as the Train Wreck Bridge.
Prior to this bridge being built, access to the Train Wreck was along the train tracks, which is dangerous and illegal. Because the crash site has gained popularity in recent years, the suspension bridge was built to connect the Sea to Sky Trail with the Train Wreck site.
View the Train Wreck and Suspension Bridge map here.
The Cheakamus River Suspension Bridge, also known as the Train Wreck Bridge.

8. Brandywine Falls
This spectacular 70 metre waterfall (picture above) is best viewed from the Brandywine Falls Viewpoint, which is an easy 15 minute walk from the parking lot on a well marked trail.
Brandywine Falls is one of the most photographed waterfalls in British Columbia.
The photo above is easy to capture, however, many photographers prefer to capture the waterfalls from the bottom. There's an unofficial trail that leads to the base of Brandywine Falls, but you're technically not supposed to use this trail and you could be fined if you do (you must cross a fence with sign that says "Area Closed; No Access". That's why there's limited information about how to get to the base of Brandywine Falls.
There are a few hiking trails inside the provincial park, including the Lava Lake Trail and sections of the Sea to Sky Trail. You can also access the iconic Whistler Bungee Bridge from the hiking trails inside Brandywine Falls Provincial Park.
To get to Brandywine Falls Provincial Park, drive the scenic Sea to Sky highway about 15 minutes south of Whistler Village. Free parking and washroom facilities are available inside the park.
View the Brandywine Falls Park Trail Map here.
9. Whistler Golf Courses
Whistler is a golfer's dream come true. It's home to four pristine golf courses (if you include Big Sky Golf Club in Pemberton), so one can literally spend days golfing without visiting the same hole twice.
Whistler's fun and challenging golf courses are surrounded by snow capped peaks and lush temperate rain forest, creating a spectacular backdrop for an epic day on the links.
Golf courses in Whistler:
Fairmont Chateau Whistler Golf Club – rated #1 Golf Resort of the year, North America – IAGTO Awards, 2018
Nicklaus North Golf Course (designed by Jack Nicklaus)
Whistler Golf Club (designed by Arnold Palmer)
Big Sky Golf Club (located in Pemberton – 30 minutes from Whistler Village)
Search for Whistler golf packages and deals here.
Wildflowers in bloom at the Fairmont Chateau Whistler Golf course.
10. Whistler Zipline
Given that Whistler is surrounded by mountains, steep valleys and massive old growth trees, it's no surprise that Whistler has some of the best zipline courses in North America.
There are two Whistler zipline companies, Superfly Ziplines and Ziptrek Ecotours, each with their own courses and treetop viewing platforms.
Ziptrek is the original Whistler zipline adventure. It's main course starts in Whistler Village. You take the Whistler Gondola to access the zipline course. Ziptrek has a total of 11 ziplines, 9 bridges, 10 treetop viewing platforms, and an extensive network of trails and boardwalks.
Ziptrek Ecotours has the longest zipline in North America. The Sasquatch is over 2 km in length!
11. Hiking in Garibaldi Provincial Park
Garibaldi Provincial Park is a massive wilderness park located between Squamish and Whistler. This beautiful park is best visited during the summer months, when you can hike the popular Garibaldi Lake trail, the trailhead is located 20 km south of Whistler Village.
The provincial park covers an area of over 1,950 square kilometers (753 sq mi) and is home to some of British Columbia's best hiking trails. There are five entrance points located along the Sea to Sky Highway. There are also several campsites that are first come, first served.
The most popular trails in Garibaldi Provincial Park are Diamond Head, Black Tusk, Garibaldi Lake and Panorama Ridge, Wedgemount Lake, Cheakamus Lake and Singing Pass.
If you're looking for a full day leg burner, the Garibaldi Lake hike will do the trick.
12. Whistler River Rafting
Another fun summer adventure in Whistler is river rafting through spectacular landscapes surrounded by snow capped mountains and thick Pacific Northwest forest.
Whistler river rafting tours range from 2.5 hours to full day whitewater rafting excursions.
The Green River Rafting Tour is ideal for family river rafting and/or first timers. The river is located a few minutes north of Whistler Village, so it's a convenient option. This river typically experiences Class 2 and 3 rapids, which are fun bouncy rapids that are not too intense.
More experienced river rafters will want to tackle the mighty Elaho and Squamish Rivers. These Class 3 and 4 rapids are more challenging and pass through beautiful landscapes that can only be accessed by the river.
Learn about Whistler river rafting tours here.
13. Aerial Obstacle Course
Sticking with the adventure theme, the Whistler Aerial Obstacle Course is fun activity for the whole family. This unique aerial tree course takes guests through a network of bridges, boardwalks and platforms suspended in the trees.
This promo video does a good job showcasing the different courses.
The Aerial Obstacle Kids Course is designed for kids aged 7 to 13 years old. It's a beginner course with a climbing wall, fisherman's net and suspension bridge. More info here.
The Aerial Obstacle Full Course features 70 different obstacles that include tightropes, planks, swinging logs, ziplines, cargo nets, rope swings and balance beams that are suspended 60 feet above ground. More info here.
14. Whistler Jeep Tour, ATV and 4×4 Buggy
For a different Whistler experience, jump on a ATV or 4×4 buggy and drive through rugged off-road track terrain. Witness the spectacular landscapes of Callaghan Valley as you cross rivers and streams and visit multiple viewpoints.
Whistler ATV tours are typically 3 hours and cover about 4 km (2.5 miles). A valid driving license is required for this activity and it's only suitable for single riders. Tours are run by Canadian Wilderness Adventures.
Learn more about Whistler ATV tours here.
Whistler Jeep Tours – Blackcomb Glacier Safari
We joined Canadian Wilderness Adventures on its popular Blackcomb Glacier Safari Jeep Tour. This 2 hour Jeep 4×4 adventure is a great option for families with young children.
The Whistler Jeep Tour starts in Whistler Village and takes guests straight up the side of Blackcomb Mountain to view the impressive Horstman Glacier.
We've spent many days snowboarding Blackcomb Mountain but this was the first time experiencing the amazing panoramic views in the summer.
Watch a short video from our Whistler Jeep Safari here.

Horstman Glacier on Blackcomb Mountain. See more photos from Whistler Jeep Tour.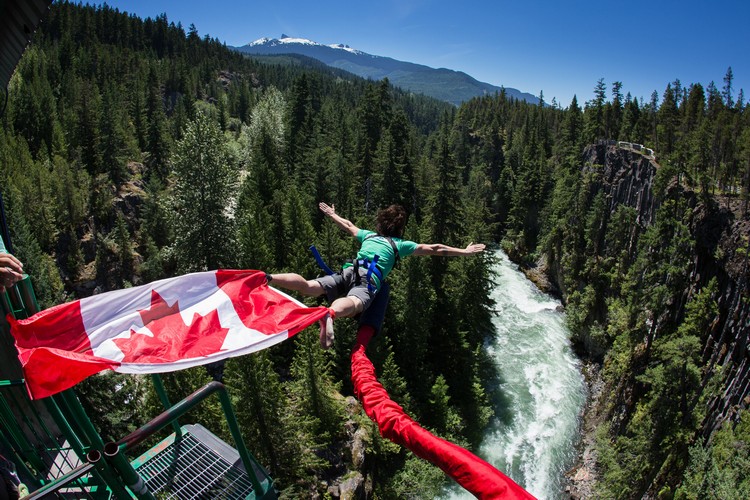 15. Whistler Bungee jumping
This one's for the ultimate adrenaline junkie. Frequently voted as the most extreme activity in Whistler, Whistler Bungee offers thrill seekers the opportunity to throw themselves off a bridge that's located 160 ft (50 meters) above the Cheakamus River.
The Whistler Bungee bridge is located in an old growth forest surrounded by basalt column cliffs and views of the iconic Black Tusk peak in the distance.
Whistler Bungee is proclaimed to be one of the most scenic bungee jumping sites in the world.
16. Bear Viewing Tours
Whistler bear watching tours are a safe and fun way to witness black bears in their natural environment. Whistler is home to many black bears, so you're almost guaranteed a bear sighting during the summer months.
Guests travel in style in a 4×4 vehicle to the Callaghan Valley and Whistler Olympic Park, located about 15 minutes from Whistler Village. Whistler bear viewing tours include experienced guides who educate guests and show them bear feeding areas and dens.
Tours are typically 2.5 hours and depart at either dawn or dusk, when bears are most active.
Fun fact – many black bears in northwestern North America are cinnamon, blonde or light brown in color and, therefore, are sometimes mistaken for grizzly bears.
17. Vallea Lumina – Multimedia Night Walk
Vallea Lumina is an immersive family activity that begins as the sun goes down. It's a multimedia night walk with lights, videos, sounds and holograms that guide visitors through a journey up Cougar Mountain where guest try to solve a mystery.
Watch the Vallea Lumina Night Walk video here.
You walk at your own pace, but due to stairs and uneven paths, this experience is not recommended for anyone with mobility issues. The entire journey takes an hour to complete. The total walking distance is 1.5 kilometres. Park rangers are situated on the trail to guide you as some parts can be quite dark.
There are several exhibits along the walk, each with its own story, music and light effects.
Thousands of lights glitter on the tree branches, creating a fairy tale atmosphere.
The brilliant light show dances to the music and the forest comes alive at night.
Family portrait at the end of the trail inside Vallea Lumina Whistler.
18. Scandinave Spa
If ever there was a time to treat yourself to a moment of relaxation, now is the perfect time.
Scandinave Spa Whistler offers guests a traditional Scandinavian baths experience in a peaceful, natural environment. With only 4 locations in Canada, it's a unique adult experience (guests must be 19 years or older). With no wifi and the expectation to remain silent, it's an excellent opportunity to disconnect.
The facilities offer a 3 stage Scandinavian bath experience that includes steam baths, saunas and hot baths. Next, you move to the cold installations like the Nordic waterfall and cold plunge baths. Finally, it's recommended to visit one of the relaxation stations where you can kick back and rest in the hammock haven.
Of course, you can also choose one of the many massage experiences to accompany the Scandinavian bath experience.
Scandinave Spa Whistler is located a 5 minute drive away from Whistler Village. If you wish to experience just the baths a reservation isn't required. If you wish to get a massage, a reservation is required.
19. Scenic Float Plane or Glacier Heli Tour
Take to the skies and enjoy the spectacular panoramic views of Whistler's rugged mountain landscapes, glaciers, lakes and temperate rainforest. This is the best way to experience the magnitude and beauty of British Columbia's Coast Mountains.
There are several helicopter tour tours to choose from, depending on how much time you want to spend in the sky and want you want to see. Most heli tours will fly over Whistler and Blackcomb Mountains, the Cheakamus Glacier, Garibaldi Provincial Park and the volcanic Black Tusk mountain.
Book your Whistler Helicopter Tour here.
You can also enjoy a 30 or 40 minute glacier sightseeing experience by floatplane from Whistler. The float plane takes off on Green Lake and flies high over the region's glaciers, snow-capped mountain peaks, lakes and dense forests.
In the summer months, you can also take a float plane from Whistler to Vancouver, which is a great way to turn your transportation into an epic sightseeing excursion.
Book your Glacier Sightseeing Tour Whistler here.
20. Whistler Village Stroll
Even though there are endless things to do in Whistler this summer, the thing we like to do most is wander the Whistler Village Stroll, a pedestrian-only retail path located in the heart of Whistler Village.
The Village has a fun European alpine vibe, with lots of outdoor patios, cafes, restaurants and retail shops selling everything from bikes to sports equipment to artwork.
We like to spend time at Whistler Olympic Plaza (pictured above and below). Our boys love the playground at Olympic Plaza and we like to indulge in fresh coffee and baked pastries from Pure Bread, a local Whistler favourite.
View the Whistler Village map here.
The iconic Olympic Rings in Whistler Village.
Where to Eat in Whistler
There are no shortage of restaurants and summer patios in Whistler. Given the new physical distancing requirements in British Columbia, many popular Whistler restaurants fill up quickly. Some establishments are not taking reservations at this time, so it's best to call head to confirm availability.
We prefer to wander around Whistler Village and let the mood dictate where to eat. That said, we do have a few favourites that we'll share with you here.
Our favourite Whistler brunch restaurants:
Elements Whistler – the smoked salmon eggs benedict is delicious. Also, the French Toast with real Canadian maple syrup is outstanding.
La Brasserie Restaurant – french bistro-style food located in the heart of Whistler Village.
Earl's Whistler – classic brunch menu, including eggs benedict, fluffy waffles & steak and eggs on garlic bread.
Our favourite Whistler patios:
Our favourite Whistler pubs and social houses:
The Brewhouse (High Mountain Brewing Co) – not to be confused with Whistler Brewing Co. Located at Whistler Olympic Plaza (see photo below).
Amsterdam Cafe Pub – fun spot for a beer and burger. Nice patio in the Village.
Dubh Linn Gate – traditional Irish pub located at the base of Blackcomb and Whistler Mountain in Whistler Village.
Our favourite Whistler restaurants for casual dining:
For more foodie inspiration, check out this Whistler Dining and Restaurant Guide.
You can also pick up groceries and bring back to your Whistler hotel room. There's a grocery store directly in Whistler Village, appropriate named The Whistler Grocery Store, and a Liquor Store is located right beside the grocery store.
The Brewhouse at Whistler Olympic Plaza.
Where to Stay in Whistler
There several Whistler hotels to choose from. Location does matter, depending on what you plan to on your Whistler holiday. We typically stay at hotels in Whistler Village and Whistler Upper Village because everything is walkable from there.
Given that British Columbia is currently closed for international travel, many hotels in Whistler are offering British Columbia residents special deals and incentives. We took advantage of a promotion for the Hilton Whistler Resort & Spa in Whistler Village.
The pool you see pictured above is from Embarc Whistler, located in Whistler Upper Village. This is a great property for families because it has two pools, waterside, hot tubs, game rooms and the family suites are large and spacious.
Search for Whistler hotel deals here.
Hilton Whistler Resort & Spa
We stayed at the Hilton Whistler Resort & Spa on our most recent trip to Whistler. We like the Hilton Whistler's CleanStay program and commitment to guest health and safety. This property is located in the heart of Whistler Village, so it's close to everything.
Some of the Hilton Whistler Resort amenities include:
Outdoor pool and two hot tubs (during the pandemic, guests reserve 2 hour time slots).
Free 1 hour bike rentals are offered during the summer.
Tennis courts, basketball net, table tennis and full gym facility.
Cinnamon Bear Bar offers poolside service. It's one of the few hotels in Whistler that offer a full menu and drinks selection on the outdoor pool deck.
Outdoor patio with full restaurant service (and blankets for when the sun goes down).
Taman Sari Royal Heritage Spa offering authentic Javanese treatments.
Check hotel room availability and pricing here.
Read more posts from British Columbia:
We hope you enjoy this list of things to do in Whistler this summer
Have you been to Whistler in the summer? What did we miss?
Share your best Whistler travel tips in the comments below. Our readers thank you!