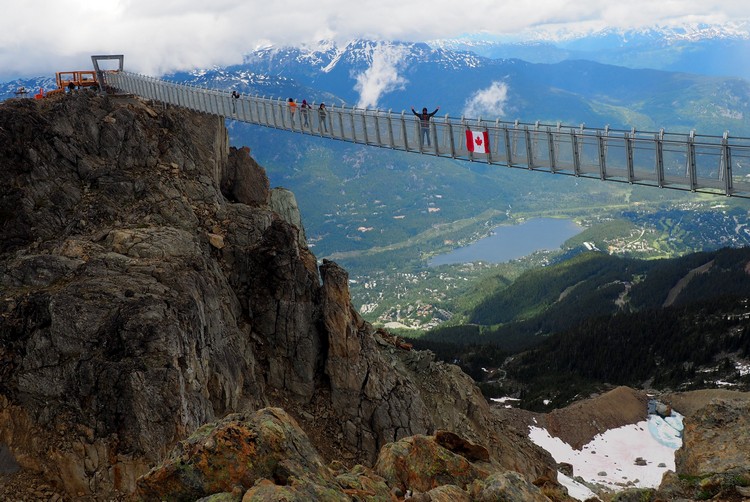 Vancouver Road Trip itinerary
As residents of Vancouver, we're often asked about the best things to do in Vancouver. The next most common question is – what is the best road trip from Vancouver for first time visitors?
It's a great question. You have plenty of options in British Columbia. Do you go east to the Okanagan or west to Vancouver Island or north to Whistler and Pemberton?
In our opinion, British Columbia is the best place in the world to visit (and live). It's a bold statement – I know. However, if you ask anyone who's visited British Columbia, you'll likely hear glowing reviews about it's easy access to nature and endless outdoor adventure.
Today, we share what we believe is the best road trip from Vancouver for first time visitors. This 10 day road trip itinerary starts and finishes in Vancouver, with 1 day to explore the city of Vancouver. That said, we would encourage you to spend at least 2 or 3 days in Vancouver.
Before we get started, there are a few things to note:
This Vancouver road trip is based on 10 days (add or subtract days based on your time)
The road trip can be done in any season, but it's best during the summer months
This itinerary is designed for car driving with hotel accommodations, not camping. However, there are many campgrounds along this road trip route, if that's your preference. Make campground reservations in the summer!
If you only have a few days in Vancouver, check out these 25 day trips from Vancouver.
Best Road Trip from Vancouver, Canada
Skip ahead using the Table of Contents.
Day 1 & 2 – Explore Vancouver
Depending on when you arrive in Vancouver, you'll want to spend your first two days exploring the city. There's so much to see and do in Vancouver that two days is likely not enough time, but we want to stay within this 10 day itinerary. Add a few extras days at the end of the road trip if you have more time.
What makes Vancouver special is that it's a vibrant cosmopolitan city surrounded by mountains AND ocean, which means there's literally something for everyone.
In one day, you can hike in the mountains, relax on the beach, catch a show or professional sports game, dine at a variety of upscale restaurants and finish the night at Granville's legendary entertainment district.
Here are the top things to do in Vancouver: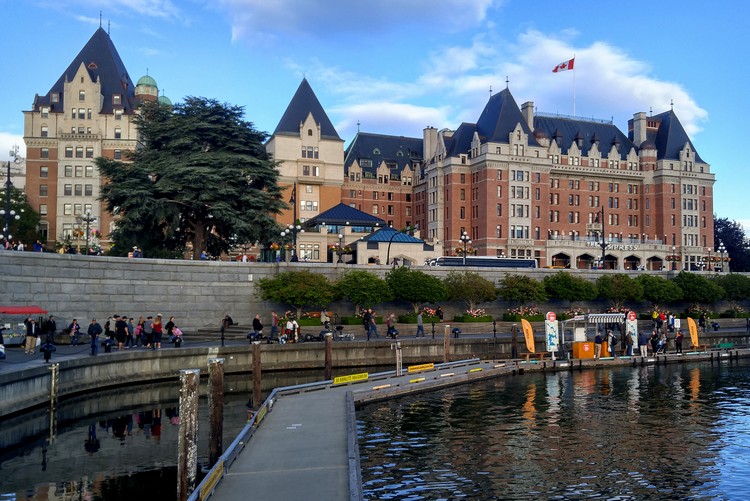 Day 3 – Take the ferry to Victoria
The road trip begins on Day 3, when you catch a morning ferry from the Tsawwassen Ferry Terminal (Vancouver) to Swartz Bay Ferry Terminal (Victoria). Check the BC ferry schedule here.
Plan to arrive at the ferry terminal at least one hour before your departure time. It's wise to book a reservation ahead of time, especially if you're traveling over a holiday weekend.
The ferry takes about 1.5 hours. The drive from Swartz Bay to downtown Victoria is about 30 minutes.
Once you've settled into your hotel, head to Victoria's picturesque Inner Harbour (see photo below). There are plenty of Victoria restaurants and cafes located here. The downtown area is very walkable.
Plan to spend your evening wandering around the Inner Harbour and charming downtown area.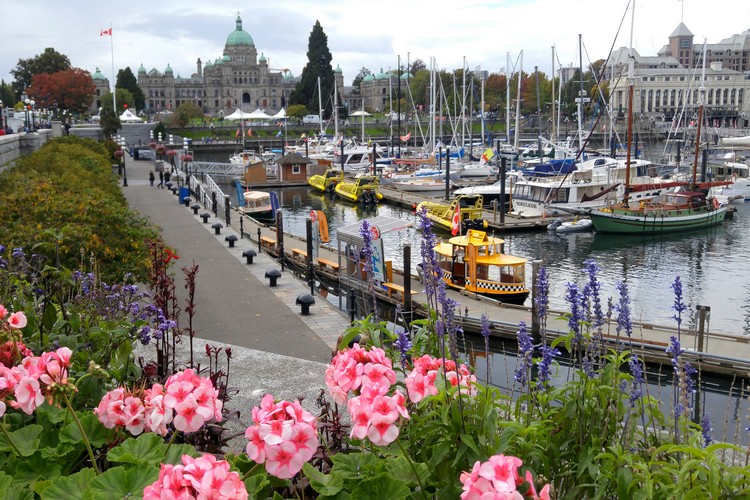 Day 4 – Enjoy a full day in Victoria
There are a few places in this world that we will revisit again and again. Victoria is one of them. We love the city's old town character and laid back vibe. Victoria is a relatively big city, but it doesn't feel or act that way.
Things to do in Victoria:

Where to stay in Victoria?
We've stayed at the Magnolia Hotel, Victoria Ocean Pointe Resort and Best Western Carlton Plaza and we would recommend them. They are centrally located and family friendly.
Search for more Victoria hotels here.
Where to eat in Victoria?
You will not go hungry in Victoria. There are endless options for every type of cuisine. Being on the west coast, we'd recommend you dine at a seafood restaurant. The west coast is also known for quality sushi and Japanese cuisine.
Day 5 – Drive from Victoria to Parksville
Take it easy and enjoy a late breakfast in Victoria before driving north to Parksville, a popular beach town located on the east coast of Vancouver Island. Parksville is famous for its long, sandy beaches that recede over one kilometer at low tide.
The drive from Victoria to Parksville is only 2 hours. However, there are plenty of fun road trip stops that you should check out.
Hatley Castle at Royal Roads University (30-60 minutes)
Take a hike in Goldstream Provincial Park (45-90 minutes)
Split Rock Lookout on the Malahat Highway (10 minutes)
See the world's largest hockey stick and puck in Duncan (10 minutes)
Check out the Murals of Chemainus (45-90 minutes)
Optional – visit the Harbourfront Walkway in Nanaimo (60-90 minutes)
Where to stay in Parksville?
Parksville is a tourist driven town, so you have plenty of options for accommodations.
If you're looking for an upscale experience, check out the Tigh Na Mara Seaside Resort (we wrote a review about this resort here). You can stay in a private cabin or ocean view suite.
For budget accommodations, check out the Travelodge by Wyndham Parksville. This is where we stayed this past summer. It's good value. The rooms are clean and updated, it has a pool and hot tub, and breakfast is included.
We've also stayed at the Ocean Sands Resort and would recommend it. It's less expensive than Tigh Na Mara and it has similar ocean front views.
Fun Fact – Vancouver Island is the largest Pacific island east of New Zealand.
Low tide at Rathtrevor Beach Provincial Park in Parksville
Hatley Castle at Royal Roads University. This castle is featured in the X-men and Deadpool movies.
Split Rock Lookout on the Malahat Highway
The world's largest hockey stick in Duncan, British Columbia.
The Murals of Chemainus on Vancouver Island
Day 5 – Drive from Parksville to Ucluelet
Before you hit the road, make sure you spend some time walking along the beach in Parksville. You can either visit Rathtrevor Beach Provincial Park or the beach at Parksville Community Park (pictured above).
The drive from Parksville to Ucluelet takes about 2.5 hours, but you'll want to make a few stops along the way.
The first stop you'll want to visit is the Coombs Old Country Market, famous for its Goats on the Roof. The market is located about 15 minutes west of Parksville, so it's an ideal location for coffee or an early lunch (depending on when you leave Parksville). See photos below.
After Coombs, continue west towards Little Qualicum Falls Provincial Park. This is a nice place for an easy forest hike to see waterfalls. There are 6 km of walking trails throughout the park.
Next on the road trip is a visit to MacMillan Provincial Park, home to the ancient Douglas fir in Cathedral Grove. The highway splits the park, so you will drive right through it.
There is limited parking at Cathedral Grove and it can get quite busy, but don't give up! This place is definitely worth visiting. Some of the trees are more than 800 years old and 9 metres in circumference.
Plan to spend about 45 minutes here.
After witnessing the incredible trees in Cathedral Grove, continue driving west to Port Alberni. This is an ideal spot to grab a quick lunch, fuel up your vehicle and restock your supplies.
The drive from Port Alberni to Ucluelet is about 1.5 hours. This stretch of highway is stunning, so make sure you have your camera handy.
You should arrive in Ucluelet by late afternoon.
After you check-in to your accommodations, head to the ocean to watch the sunset from either Big Beach or the Wild Pacific Trail. See photo below as evidence.
Fiery sunset views from Big Beach in Ucluelet.
Goats on the Roof at Coombs Market in the town of Coombs.
Day 6 & 7 – Ucluelet and Tofino
The towns of Tofino and Ucluelet are located on the northern and southern points of a peninsula that stretches along the west coast of Vancouver Island. This is where you will find Pacific Rim National Park, one of Canada's greatest natural treasures.
I'm grouping these two towns together because you should visit both, but you don't need to switch accommodations. Pick a spot and stay there for 3 nights, which will give you two FULL days in Tofino and/or Ucluelet.
It's about a 40 minute drive from Tofino to Ucluelet, and vice versa.
Things to do in Tofino and Ucluelet:
The beaches on the coast are home to the best surfing in Canada
Sea kayaking through the pristine waters of Clayoquot and Barkley Sound
Cultural canoe tours and Bear watching tours
See orcas and gray whales on a whale watching tour (March to October)
Guided fishing excursions in the ocean or freshwater lakes
Endless hiking trails in Pacific Rim National Park and Wild Pacific Trail
Storm watching during winter months
Visit the Ucluelet Aquarium and the Amphitrite Point Lighthouse
Scenic flight tour in a sea plane or helicopter
Watch the sunset from the shores of Chesterman Spit
Where to Stay in Ucluelet
We stayed at the Big Beach BÄRN in Ucluelet and would highly recommend it. The views from the balcony are outstanding. Tell the host, Pete Raab, the Traveling Canucks sent you.
Where to Stay in Tofino
There are several beach resorts in Tofino. Over the years, we've stayed at a number of these beach resorts and would recommend the following:
Where to eat in Tofino and Ucluelet
Calm waters at the rugged Big Beach in Ucluelet
Big skies over the beach in Pacific Rim National Park in Tofino.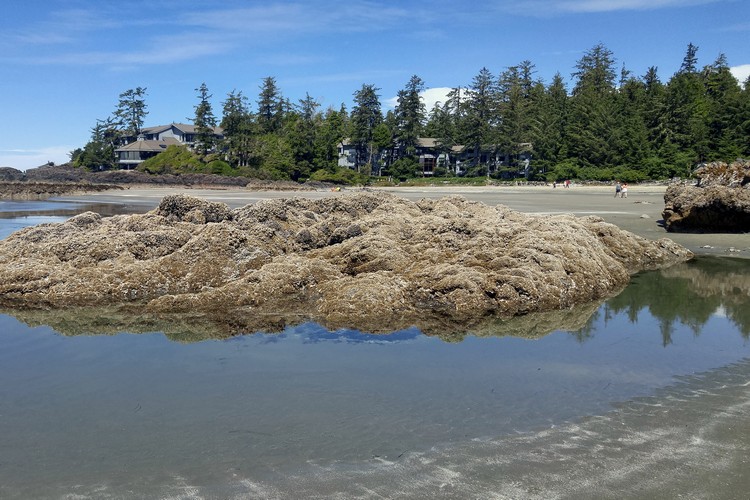 The above photo is low tide at South Chesterman Beach in Tofino.
Tofino Sea kayaking tour around Clayoquot Sound.
Harbour views from the town of Tofino.
Surfing at Wickaninnish Beach in Pacific Rim National Park.
Day 8 – Travel from Tofino to Whistler
Your time on the coast has come to an end. It's time to trade the sandy surf for snow-capped peaks. You'll want to get a good start to the day and be on the road by 10:00 AM. This is the longest travel day on this 10 day road trip from Vancouver.
Drive from Tofino to Nanaimo and take the ferry back to the Mainland, where you will continue to Whistler.
The drive from Tofino to Nanaimo ferry terminal takes about 3 hours. There's typically a 3:00 PM ferry that you will want to catch from Departure Bay. It's smart to make a reservation for the ferry crossing ahead of time. Arrive at the ferry terminal at least one hour early.
Check the BC ferry schedule here.
The ferry from Departure Bay (Nanaimo) to Horseshoe Bay (Vancouver) takes about 1.5 hours. When you disembark the ferry, drive on the highway until you see a turnoff that says 'BC Ferries' or 'Horseshoe Bay'. It will be about 5-7 minutes before you see the signs.
You need to turnaround and head back towards the ferry terminal where you just came from. It's a weird system. You will turn off the highway, take a left and cross the bridge across the highway, then left again so you can get back on the highway – this time you will be driving west/north, towards Whistler.
Use your GPS, just in case. You don't want to actually return to the Horseshoe Bay ferry terminal – you want to follow the road signs for Squamish and Whistler.
If you're hungry, stop in the town of Squamish for dinner. There are several restaurants and fast food joints just off the highway. The total drive time from Horseshoe Bay to Whistler is about 1.5 hours.
You should arrive in Whistler around 7:00 PM.
The sundeck of the BC Ferries. That's the Coastal Mountain Range in the distance.
Day 9 – Explore Whistler
Whistler is our happy place. We try to visit this alpine village every few months. It's a four season resort, so there's always something to do, regardless of the month or season.
You can easily spend a week in Whistler, so you'll have to be selective with your full day. Do you want to hike in the mountains? Kayak on a freshwater lake? Indulge in a spa day or sit on a patio and relax?
Our recommendation would be to do the Peak 2 Peak 360 Experience (gondola up the mountain, alpine hiking, suspension bridge, etc), have lunch at Christine's On Blackcomb, then back to your Whistler hotel for soak in the hot tub or pool, then head to Whistler Village and find a patio for dinner.
Things to do in Whistler:
Take the Peak 2 Peak 360 Experience – read more here. Give yourself 3 to 4 hours for this experience.
Rejuvenate and relax at the traditional Scandinave Spa
Golf at 3 different courses, including the impressive Nicklaus North Golf Course
SUP or kayaking at Lost Lake, Alta Lake or Green Lake
Downhill mountain biking and/or cross-country trail riding
Zipline course, ATV in the mountains, white water rafting or bungee jumping
Helicopter excursion or float plane sightseeing tour
Bear viewing tour and/or nature safari
Hike to stunning alpine lakes at either Garibali Lake, Joffre Lakes Provincial Park, Chekamus Lake, Elfin Lakes or Wedgemount Lake
Here are a few more ideas for Whistler summer activities

Where to Stay in Whistler:
Where to Eat in Whistler:
Popular patios in Whistler Village are Garibaldi Lift Co or Longhorn Saloon & Grill
For delicious brunch, check out Stonesedge Kitchen, Elements or Brickworks
Looking something a little different, check out Sushi Village or Mongolie Grill
For casual brewpub experience, check out Merlin's Bar & Grill, Amsterdam Pub, Dubh Linn Gate Irish Pub or Whistler Brewhouse
Walking across the new suspension bridge at Whistler Mountain.
The above photo is Joffre Lakes Provincial Park, located an hour north of Whistler.
Day 10 – Whistler to Vancouver
After one final soak in the hot tub and a delicious brunch in the Village, pack up your car and drive south to Vancouver. This is the final day of your epic British Columbia road trip. If you are flying home this day, plan for delays on the drive to the airport as Vancouver traffic can be quite heavy.
The drive time from Whistler to Vancouver is about 2 hours, but you'll want to make a few stops along the way.
About 15 minutes south of Whistler is Brandywine Falls Provincial Park. See photo below. Keep an eye out for the signs, you might miss the turnoff if you're not paying attention.
To see the waterfall, you will walk through a nice forest trail for about 15 minutes. Plan to spend about 45 minutes here.
Brandywine Falls, located about 15 minutes south of Whistler.
The next stop is Shannon Falls Provincial Park (pictured above) and Sea to Sky Gondola in Squamish.
If you've got time, we recommend taking the gondola to the Sea to Sky Summit lodge. There are lots of hiking trails and viewpoints at the top of the gondola. You can also enjoy lunch on the patio at the lodge. The views from here are amazing.
If you're tight on time, skip the gondola and visit Shannon Falls instead. The falls are only a 5 minute walk from the parking lot, so you'll only need about 30 minutes here.
Road trip from Squamish to Vancouver
If you'd like to do a few more stops, consider the Britannia Mine Museum in the town of Britannia Beach or walk on the old pier at Porteau Cove Provincial Park. Both stops are located just off the highway.
If the weather is nice, make sure you pull over at Tantalus lookout point to see the massive glacier on the Tantalus Range. The lookout is between Whistler and Squamish. Here's the location.
Check out the Squamish Adventure Centre for things to do in Squamish.
Mountain views from the top of the Sea to Sky Gondola.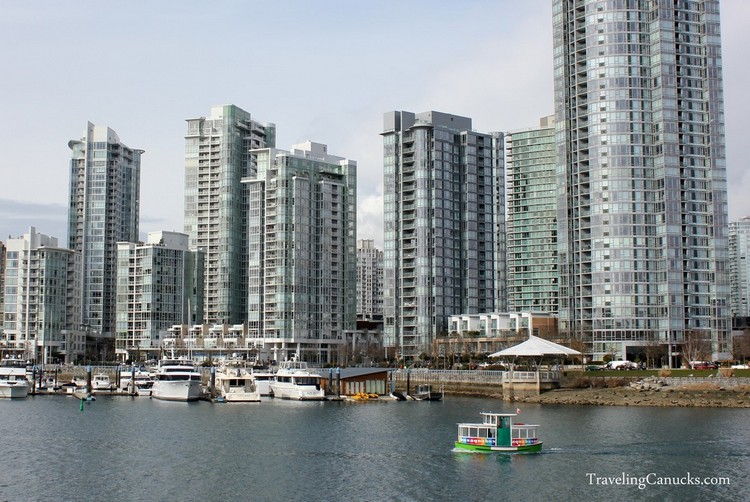 Where to stay in Vancouver
There are plenty of hotels in Vancouver to choose from, ranging from upscale five star hotels to backpacker hostels and everything in between.
Search for Vancouver hotels here.
Most of the popular Vancouver tourist attractions are located in the downtown area. Consider this when selecting where to stay in Vancouver.
Downtown hotels often require additional fees for overnight parking – sometimes as high as $40 per night. Consider this when booking hotels and car rentals.
If you prefer to stay closer to the mountains, consider staying at the Lonsdale Quay Hotel or the Holiday Inn North Vancouver.
British Columbia Travel tips and things to know:
Pick up and return your vehicle rental at the Vancouver airport. Save up to 30% on car rentals here.
If you visit during the winter, make sure you have snow tires for the drive to Whistler.
Search for Vancouver hotel accommodations here. Most of the popular attractions are located in the downtown area. You may need to pay extra for parking – sometimes as high as $40 per night.
Vancouver is Wifi friendly with over 550 locations. Look for a Free Wifi location.
It's wise to book reservations for the ferry to and from Vancouver Island, especially if you're visiting over a holiday weekend. Here's the list of holidays in BC. Check ferry schedule here.
To rent surfboards in Ucluelet/Tofino, check out Relic Surf Shop & Surf School.
For sea kayaking or whale watching tours in Tofino, check out Jamie's Whaling Station.
Looking for more Canada road trips inspiration? Check out Road Trip Alberta and Road Trip Manitoba.
Have you taken a road trip from Vancouver?
What did we miss? What would you add to this itinerary?
Leave us a comment below. Our readers thank you!
Read more blog posts from Canada: