Whale Watching in Victoria, British Columbia
After our unsuccessful search for whale sharks in Belize a couple months ago, we were thrilled to be invited by Tourism Victoria to go on a whale watching tour with Prince of Whales. Located in the heart of Victoria's beautiful Inner Harbour, Prince of Whales is the largest year-round whale watching and eco-adventure company in Victoria, British Columbia.
Last summer we did a similar trip from Vancouver and spotted a small pod of orca whales (here is a photo from that trip), so we had high hopes of repeating the incredible experience. The best place to spot the whales is around the San Juan Islands in Washington State, about 45 minutes southeast of Victoria, British Columbia.
Our sweet ride for the whale watching trip – Ocean Magic II
Not only is the Ocean Magic II super fast and quiet, it's also whale friendly and considered to be the premiere whale watching experience in Victoria. With Nicole being pregnant, it was really nice to have the extra space and the ability to roam around freely.
The added bonus of having open air decks allowed us to easily take pictures of the whales, which was needed with all of the action we saw that afternoon.
We couldn't have asked for better weather conditions that day. The sun was shining, the sky was clear and blue without a cloud in sight, and, most importantly, the water was calm and flat. It actually looked more like a lake than the Juan de Fuca Straight.
We would have been happy with one or two whale sightings – we ended up seeing over 25 whales!
In fact, we had perfect timing and were in the waters with a Super-pod! What's a super-pod you ask? Well, we're no experts but our guides explained it like this:
A pod is a cohesive group of related whales, formed when a female whale gives birth. The oldest female is typically the leader of the pod because all the other members are her children and her children's children. Whereas a Super-pod is a large group of pods that can include upwards of 100 killer whales. The pods within the super-pod spread out and swim at a steady pace, staying together to protect the young and help with hunting and feeding.
According to our guide's estimates, there were up to 88 orcas in the waters that afternoon. We caught a glimpse of the baby orca whale that was born a few weeks earlier as well as the oldest orca whale on record. This meant that we saw both the youngest and oldest killer whales in one tour – that's pretty cool!
The photo of the day! A killer whale perfectly framed with Mount Baker in the backdrop
Pod of killer whales in front of the majestic Mount Baker. Look at how calm the water is!
Cameron snapping photos of a killer whale at the back of the boat
Beautiful orca whale spraying from its blowhole
Viewing whales from the open-aired deck
HUGE whale heading directly for our boat!
Killer whale surfacing in the calm Juan de Fuca Straight, with Washington State in the background
Killer whale making a big splash after a partial breach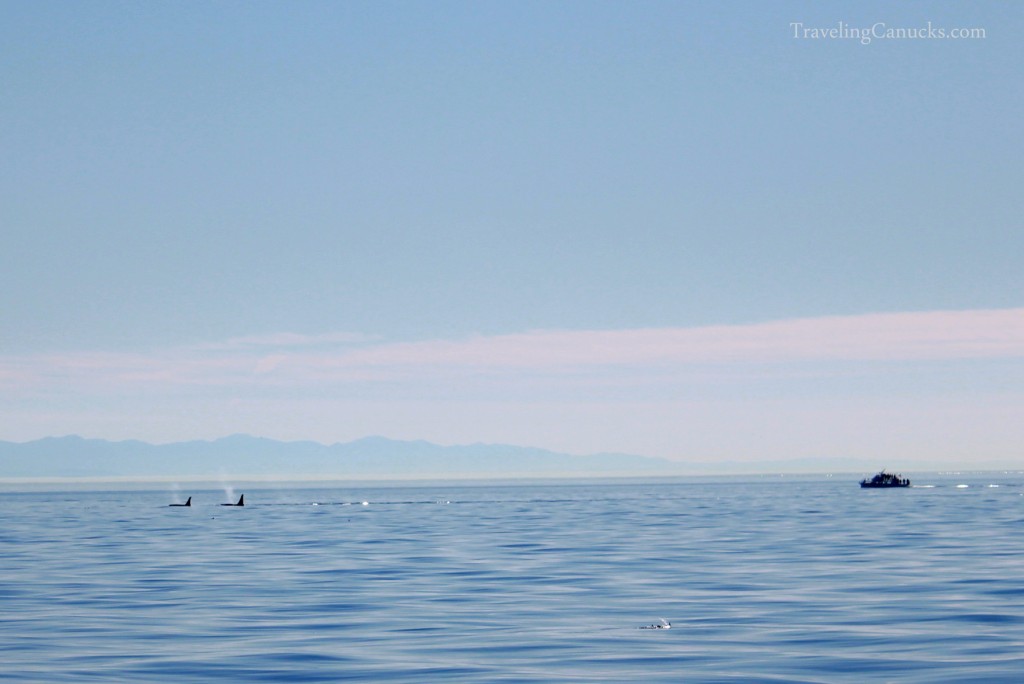 Another whale watching tour boat following a pod of killer whales
Heading home after an incredible afternoon on the water.
We couldn't have scripted a better whale watching adventure. At one point, the captain cut the engines and let the boat just float on the calm Juan de Fuca Straight. Our group stood quietly on the rooftop deck and listened intently for the sounds of whales spitting out water from their blowholes.
We couldn't believe it – we were surrounded by killer whales! It was almost overwhelming. We didn't know where to point the camera. There were whales in every direction, surfacing every few moments and letting out a loud blast from its blowhole. It was as if the sound of spraying blowholes was in stereo.
We were like kids on Christmas morning!
When is the best time of year for watching whales in Victoria BC?
Prince of Whales has a 95% success rate during peak season, which is in the summer months from May to October. In the winter period from November to May, there is about a 50-75% success rate. Our trip at the end of August was a huge success, with over 25 whales spotted within an hour.
So if you want our advice, go whale watching in Victoria during the summer and you're almost guaranteed to see a whale (a humpback whale was even spotted the day after our tour).
~~~~~~~~
Have you ever seen whales in their natural habitat?
Share your experience in the comments section below!
~~~~~~~~
Editor's Note: Our whale watching tour with Prince of Whales was complimentary, however the thoughts and opinions shared in this post are entirely our own