What we learned on our trip to French Polynesia
As we reflect our our first trip to French Polynesia, we want to share some of the things we learned on this family vacation to the South Pacific. The idyllic island of Bora Bora is the star attraction in the Society Islands archipelago, so the focus of this post is Bora Bora travel tips.
However, given that most visitors to French Polynesia will arrive via Tahiti, we'll also share some general travel tips for exploring the islands.
We spent a total of 14 nights in French Polynesia:
We were only supposed to stay 1 night at Te Moana Tahiti Resort on the back end, before flying home. However, our return flight on Air Tahiti Nui was cancelled. It was stressful sorting out the new flights, but also nice to spend one more night in paradise.
Read about what happened here (scroll to the bottom of the post).
What you need to know before going to Bora Bora
There are several Bora Bora travel tips that we learned on this trip to French Polynesia.
First, Bora Bora is a very expensive travel destination. The rumors are true. We'll share a few thoughts on the average cost of a trip to Bora Bora below.
Second, all international flights arrive via Tahiti International Airport (Faa'a International Airport in Papeete). This means you will need to organize a connecting Bora Bora flight from Tahiti. More on that below.
Third, the languages spoken in Bora Bora are Tahitian and French. However, due to tourism, English is widely spoken and understood. We did not have any trouble communicating.
Fourth, there are no all-inclusive resorts in Bora Bora. Some Bora Bora vacation packages include flights, hotel, transfers and breakfast, but all meals and drinks are NOT included.
The currency of Bora Bora is the French Pacific Franc (XPF and CFP Franc). Although exchange rates will vary, it's approx. 100 XPF to $1 USD. You will need cash, but credit cards are accepted at most hotels and restaurants. More on that below.
The main island only has one true public beach. If you're staying on the main island, consider a hotel that's located close to Matira Beach (pictured above). This is arguably the nicest beach in Bora Bora.
Finally, all visitors who arrive at Bora Bora Airport will need to take a ferry. The luxurious resorts have private boats that depart from the airport. However, if you're staying on the main island, you will take the free public ferry from Bora Bora Airport to Vaitape, the largest city of Bora Bora.
Above is a photo of Bora Bora Airport. It's a small airport that's accessed by ferry or private boat transfer.
The big Bora Bora luxury resorts provide private transfers for guests. When you arrive at Bora Bora airport, you check-in at the booths pictured above.
The top luxury resorts in Bora Bora are:
The Air Tahiti ferry from Bora Bora Airport to Vaitape is pictured above (left). The ride takes 15 minutes. You will take this ferry if you fly to Bora Bora on Air Tahiti.
View of the airport from the outdoor upper deck of the ferry.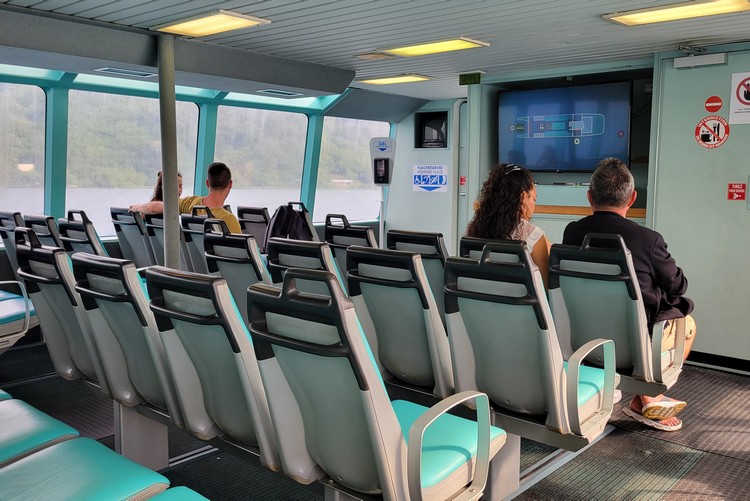 Seats inside the Bora Bora ferry to the airport. It's a comfortable air-conditioned cabin with an outdoor viewing deck.
Bora Bora ferry approaching Vaitape. We then caught a transfer from the ferry terminal to our hotel, the Hotel Royal Bora Bora. This was an additional charge (not included with hotel price).
What is the best month to go to Bora Bora?
This is arguably the most common question – when is the best time to visit Bora Bora and the islands in French Polynesia?
There are conflicting answers. And, the answer depends on your travel style and budget.
If you're looking for deals, avoid the peak season, which is considered May to October. This is the 'dry season'. Peak season means peak prices and peak volume of visitors. This also means less availability for flights, hotels and activities.
To avoid the crowds and save money, consider the low season, which is from November to April.
So, if the question is actually what is the cheapest month to visit Bora Bora, then the answer would be November and April. These are the shoulder season months.
Or, if the question is what is the best time to travel to Bora Bora for perfect weather conditions, the answer would be May to October. This would coincide with North America's summer months.
We visited in April. It did rain during our visit. At least once or twice per day, but the rain only lasts for 15-30 minutes. Then the sun comes back out and it's hot again.
Is there ever a bad time to visit Bora Bora? I don't think so.
How many days is enough in Bora Bora?
This is probably the second most commonly asked question. There is no right or wrong answer. However, it's important to note that Bora Bora is the most expensive island of French Polynesia.
We spent 6 nights on Bora Bora's main island. It's more budget friendly to stay on the main island, when compared to the fancy 5 star resorts on the outer islands.
Is 4 days in Bora Bora enough?
Yes, 4 days is enough time to experience Bora Bora. This will give you time to enjoy the resort and do a few excursions, like snorkeling, scuba diving, kayaking and/or exploring the island by jeep.
Generally speaking, most people spend 3-4 nights in Bora Bora. When you include an overnight in Tahiti upon arrival, plus one more night in Tahiti before departing home, plus the flight time – this would be a typical one week vacation.
What are the best all-inclusive resorts in Bora Bora?
This one is a bit confusing because Bora Bora's most popular resorts are NOT all-inclusive.
If you search for Bora Bora All Inclusive Vacation Packages or Top All-inclusive Resorts in Bora Bora, you will get results that show all-inclusive options.
This is misleading because none of the Bora Bora hotels include all meals and unlimited drinks.
You will find resorts that do include food. For example, the Four Seasons Resort has the option to include breakfast (additional fee) and hotel transfers. And Intercontinental Resorts can include breakfast and dinner (for additional fee, not including alcohol).
However, not all food and drinks are included. You will pay extra for lunch, dinner and drinks. And these menus are not cheap.
You will need to carefully select what you want included with your Bora Bora hotel. Some Bora Bora vacation packages will include the inter-island flights plus hotel, breakfast and transfers. And many of these resorts will include activities and equipment, like kayaks, snorkel equipment and paddleboards.
BUT – is it really all-inclusive if the all the food and drinks are not included? We don't think so.
This is the same in Tahiti, where many of the Tahiti resorts advertise as being all-inclusive, but do not actually include all food and drinks.
How much does it really cost to go to Bora Bora?
This is another tough question to answer.
Generally speaking, a trip to Bora Bora will cost between $5,000 to $15,000+.
It depends on where you stay (budget vs luxury), how long you stay (3 nights vs 6 nights), and what you want to do on your Bora Bora vacation (cost per activity).
How much is a 7 day vacation to Bora Bora?
Let's put flights to Bora Bora on the side for a moment, because the price for airline tickets will impact the total cost of your Bora Bora trip. Not surprising, many visitors to French Polynesia travel from France, which is much more expensive than traveling from New Zealand or Australia.
Although the overwater bungalows are bucket-list worthy, the price is typically $1,000+ per night.
You can save money by staying in a garden suite or the main building at the resort. Rates for these rooms range from $300-$1,000 per night, depending on the resort and time of visit.
Even if your Bora Bora resort includes breakfast, you will still need to pay for lunch and dinner. I would estimate at least $250-$500 CAD per day for food and drinks. More if you like to drink a lot and/or you have expensive taste. For example, a pint of beer inside a resort is $15-$20 CAD.
Other items to include in your budget are the costs for daily excursions. This expense is highly variable, depending on what you choose to do. Budget $500-$1,500 for activities.
Families of Four (or more) might need TWO hotel rooms!
You read that correctly. Most hotels in Bora Bora have a 3 guest maximum rule. Even if the 4th person is a child under the age of 10 years old.
We spent hours and hours researching Bora Bora hotel prices and availability. For us, it's important that the hotel has a pool, because our boys love swimming on vacation. Adding the pool requirement reduces the number of available options, including vacation apartment rentals.
We searched the main online booking engines, like Hotels.com, Booking.com and Expedia.com. We had very few options to book 1 room with 4 people. And the few we found were over $2000 per night. Initially, we thought it was a glitch with the booking engines.
So, we reached out to the hotels directly. The hotels we contacted confirmed that their rooms have a 3 person maximum.
This meant we had to pay for 2 rooms (each night) to find a more affordable rate.
Fortunately, we found a good deal at Hotel Royal Bora Bora. We spent approx. $250 per night x 2 rooms = $500 per night total. We will write a full review about our experience this hotel soon. Spoiler – it's good value and we enjoyed our stay.
Our hotel includes a breakfast buffet, which helps save a lot of money. We would go for breakfast later in the morning, around 9:00 am. Then we would skip lunch and have an early dinner. This saved us at least $150 per day.
Do you have to stay in an overwater bungalow in Bora Bora?
Building on the above, you do NOT have to stay in an overwater bungalow.
Yes – these bungalows are dreamy and fancy. And, yes, they are a bucket list experience. BUT, if you don't have the budget to splurge on an expensive overwater bungalow, don't let that stop you from visiting Bora Bora.
There are budget-friendly hotels in Bora Bora and the other French Polynesia islands.
However, you might need to shift your definition of budget-friendly when you visit French Polynesia. It's still going to be expensive, but less expensive.
Consider staying at Hotel Maitai Polynesia Bora Bora which does offer cheaper overwater bungalow options (they were sold out when we went) or Hotel Royal Bora Bora. Both are located on the main island.
Or, consider a vacation rental (like this one) located on Matira Beach.
Do you need cash in Bora Bora and Tahiti?
Yes, you will need some local currency for your Bora Bora vacation.
Most taxis require cash (there is no Uber) and many of the food trucks and small vendors prefer cash.
The French Polynesia currency is the CFP Franc (XPF). The CFP Franc is used in Tahiti and other French Polynesian islands, including Bora Bora and Moorea.
The exchange rate is fixed at 1 Euro = 119.33 XPF. At the time of writing, $1 US = 108 XPF and $1 CAD = 82 XPF. Check your currency conversation here.
If you're an organized planner, consider purchasing XPF at home before you depart for Tahiti. Otherwise, use the ATM when you arrive at Tahiti International Airport.
Bora Bora travel tips – Visa, Mastercard and AMEX are accepted at most hotels, restaurants and shops in French Polynesia.
How Much to Tip in Bora Bora?
The short answer – it depends.
Tipping is not a customary or expected in French Polynesia. Gratuity is appreciated, but not required.
Many hotels and restaurants include a service charge. Check your bill before adding gratuity.
As for how much to tip in Bora Bora – that's a personal choice. There is no standard tip amount in Bora Bora. You can tip whatever you feel is appropriate based on the service you receive, similar to how it works in Europe.
How to save money on food in French Polynesia
Food is very expensive in French Polynesia. Many items have to be shipped, so this increases prices.
The easiest way to save money is to purchase food at the small grocery stores. However, if you're staying at one of the luxury resorts on the private islands, you don't have a lot of options besides the hotel restaurants.
Tiare Market (pictured below) is located between Hotel Maitai Polynesia and Hotel Royal Bora Bora. It's a 5 minute walk from these hotels.
Every day, Tiare Market offers fresh pastries, bread and baked goods. And they sell prepacked meals and sandwiches, along with snacks, cold drinks and alcohol. If you like to drink beer and wine, you will save a lot of money by purchasing these items from the market instead of the hotel restaurant bar.
Another option is eating at food trucks, called roulettes. These vendors are popular with local residents. They give large portions and are typically cheaper than restaurants. We often shared meals with our kids because the portions are large.
Also – consider booking a hotel that includes breakfast. Our hotel did include a nice breakfast buffet, which saved us a lot of money. We would grab a few croissants and apples for the road.
What is the best way to visit different French Polynesia islands?
There are two airlines that offer flights to the different islands: Air Moana and Air Tahiti.
Air Tahiti is the more established brand, because it's been around for many years.
Air Moana is a new airline that started in 2023. They have newer planes but are still getting their operations going.
We used both Air Tahiti and Air Moana. Both are good airlines.
For direct flights from Tahiti to Bora Bora, Air Moana is a bit cheaper than Air Tahiti.
It is important to book your flights once you know your schedule. Flights do sell out. Once you've confirmed your trip, it's wise to book your inter-island flights ASAP in order to get the days and times you want. Don't put this off until later, otherwise you might be disappointed.
Bora Bora travel tips – when flying from Bora Bora to Tahiti, get the window seat on the RIGHT side of the plane. Here's why!
Above – Air Moana plane at Bora Bora airport.
Below – Air Tahiti plane at Moorea airport. Here's a video from our flight.
Consider purchasing the Air Tahiti Multi-islands Pass
Air Tahiti offers an Air Tahiti Multi-islands pass. It's a better deal than buying individual flights separately. This is the way to go if you plan to visit multiple islands in French Polynesia.
Learn about the flight passes here.
The most popular option is the Bora Bora Pass.
Read the rules carefully as the Air Tahiti Multi-Island Pass does come with a few restrictions and rules.
It's possible Air Moana might offer a similar pass in the future. However, we did not find this option available at the time of writing this post.
Can you take a ferry to Bora Bora?
Yes, there is a ferry that travels from Tahiti to Bora Bora and the other islands.
We took a ferry from Tahiti to Moorea. It was the 45 minute fast ferry. The swells made our kids feel sea sick. We've read comments about the Tahiti ferry experience. Many people shared similar stories of big swells and sea sickness.
There are ferry options that take you to different islands in French Polynesia. They are cheaper than flying. However, the ferries don't run every day, unless it's a popular route like Tahiti to Moorea.
If you're tight on time, it's best to fly from Tahiti to Bora Bora.
Terevau is a fast ferry that goes from Tahiti to Moorea multiple times a day. View the schedule here.
Aremiti runs two ships (Aremiti 2 and Aremiti 6) from Tahiti to Moorea multiple times a day. View schedule here.
Apetahi Express offers ferries between Tahiti, Huahine, Raiatea, Taha'a and Bora Bora. The ferry takes approx. 7 hours from Tahiti to Bora Bora. Check the timetable here.
The ferry price depends on the time of year and departure time. Average price for walk-on passengers for a round-trip from Tahiti to Bora Bora is $155 CAD ($117 USD / $106 EUR).
Maupiti Express II has service to Bora Bora, Taha'a and Raiatea. More information here.
Don't trust the Tahiti weather apps
Prior to booking our trip to Tahiti, we read that it's a good idea to look at the weather apps. Given that we visited in April, at the tail end of the 'wet season', we were concerned that our beach vacation would be impacted by the rain.
We opened the weather app while sitting in the airport before our flight from Seattle to Tahiti. It showed thunderstorms and rain EVERY day, for the entire 2 weeks of our vacation.
Not a good start. We started to second guess our timing.
However, when we arrived in Tahiti, we realized that the weather apps were not accurate.
Yes, it would rain, but only for 15-30 minutes. Then it would be all sunshine and hot temperatures. Watch this short video from our trip.
The lesson – don't get too worried if you see rain or thundershowers on the weather apps, regardless if you are visiting in the dry season or rainy season. The timing of the showers might impact an excursion or delay a tour, but don't let that rattle you. The rain will pass soon enough.
Should you fly Air Tahiti Nui to Tahiti?
We flew Air Tahiti Nui from Seattle to Tahiti. It's a non-stop direct flight that takes about 9.5 hours. Read about our experience here.
At the time of publishing this post, there are no direct French Polynesia flights from Canada. Air Tahiti Nui offers weekly direct flights from Seattle to Tahiti, Papeete.
However, if you're flying through Los Angeles or San Francisco, there are more flight options on other airlines, including French Bee, Air France or United.
A downside to flying with Air Tahiti Nui is that it has a small fleet of planes. Therefore, if there's a delay or mechanical issue with one of its aircraft, this will have a significant ripple effect. It happened to us.
Bora Bora travel tips – Air Tahiti and Air Tahiti Nui are two separate airlines. It's unnecessarily confusing.
Arriving at Tahiti International Airport
Another one of our Bora Bora travel tips is to pack an easily accessible change of clothes in your carry-on bag. Before you disembark the airplane, change into lighter clothes – shirt, shorts, etc.
The line for immigration moves slow, and it's very humid and muggy in the line. There is no air conditioning in this area of the airport, so you will get sweaty.
Is it safe to walk around Bora Bora?
In short – yes. It is safe for tourists to walk around Bora Bora. It's actually one of the safest holiday destinations in the world. Being only 12 square miles in size, and with a population of about 11,000 people, Bora Bora has very low crime levels.
Can you drink tap water in Bora Bora?
You can drink tap water in Tahiti, Moorea and Bora Bora and at most international resorts. It is usually fine in family hotels but it's recommended to you ask your hosts for confirmation.
What to pack for Bora Bora vacation
One the best Bora Bora travel tips is to pack light. You will not need as much stuff as you think. You don't need multiple jackets, sweaters and jeans/pants.
It's very hot and humid in Tahiti, so you really don't need a lot of clothes. Even if you're staying at one of the fancy resorts, you'll likely be in a bathing suit most of the time.
Below are a few essential items for your Bora Bora packing list:
Reef shoes – protect your feet and the coral reef. Also note that stonefish (highly venomous fish) are found here. Wearing reef shoes will help in the event that you accidently step on one.
Snorkel set (full face or regular) – you're likely to be in the water a lot. It's nice to have your own snorkeling equipment so you can go in the water whenever you like. Plus, who wants to use a community mouth piece?
Reef safe sunblock – some hotels provide reef safe sunblock for free, but you will want your own for excursions. Help protect the ocean by using reef-safe sunblock.
After sun – The sun is hot in Tahiti. It's best to have something to put on for accidental sunburns
Bug spray – went visited in April and got bitten by mosquitos.
Sun shirts / swimming shirts – the sun is very hot so you will want a water shirt for snorkeling.
Multiple sun glasses and hats – in case you loose a hat or break your sun glasses.
Multiple bathing suits – you will need a few.
Underwater camera – to capture reef sharks and the amazing underwater world.
Universal adapter with multiple USB ports – most hotels have few outlets and some require European plugs. We use this one and it works great.
Towel – most hotels provide towels, but we do like to bring this light weight towel for excursions.
Did you find these Bora Bora travel tips helpful?
Leave us a comment below if you have questions about these Bora Bora travel tips.