Manava Beach Resort Moorea
Are you planning a vacation to French Polynesia and in search of a great luxury resort? Fortunately, you have plenty of options. During our time on the lovely island of Moorea, we spent four nights at the Manava Beach Resort Moorea.
After researching the best overwater bungalows in Moorea, we narrowed the list to Sofitel Moorea Kia Ora, Hilton Moorea and Manava Beach Resort Moorea. Note – the InterContinental Moorea is now permanently closed.
Of course, the luxurious overwater bungalows are the star attraction at this resort. However, after evaluating price vs value, we decided the private garden pool bungalow is a better fit for our family of four.
Watch this short video from our time at this Moorea beachfront resort.
In this blog post, we share our experience at Manava Beach Resort Moorea.
Before we get started, we feel it's important to inform you that we did NOT receive any compensation, discounts or perks to stay at this Moorea beach resort.
This Moorea luxury resort is surrounded by lush volcanic mountains. It truly is a postcard-perfect landscape.
The above photo was captured from the boardwalk of the overwater bungalows. Apparently, this is the largest infinity pool on the island.
See Moorea Manava resort price and availability here.
Manava Beach Resort overwater bungalows
Manava Beach Resort Moorea offers a range of accommodations, but the overwater bungalows are what make it one of the best resorts in Moorea. Each bungalow has a comfortable private deck with a ladder, so you can go for a swim directly from your suite.
The resort has 28 Overwater Bungalows, 8 Beach Bungalows, 28 Garden Bungalows and 30 Garden Rooms and Family Rooms (check the room photos here).
View the Manava beach resort map here.
Photos of Manava Beach Resort Moorea overwater bungalows.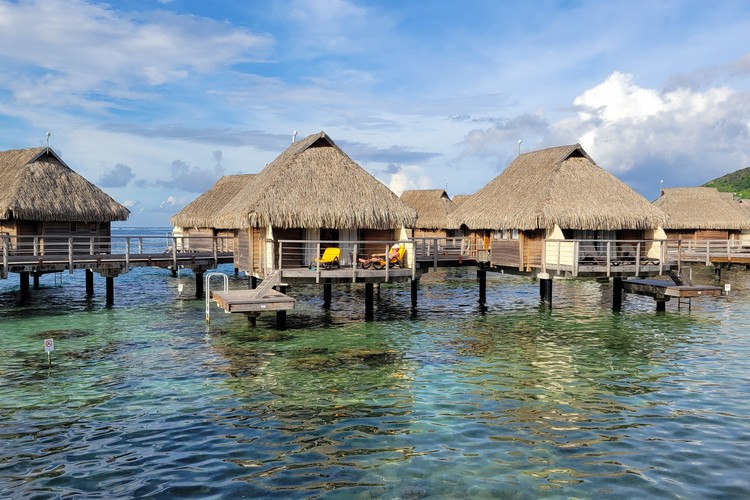 Check prices for Manava Moorea overwater bungalows here.
Some of the reef under the overwater bungalows is artificial. The resort teamed up with the To'A Nui association to replant broken coral cuttings. This allows the coral to grow and replenish the reef environment, which attracts fish and marine life.
Watch this short video of the infinity pool and overwater bungalows at sunset.
Manava Moorea provides kayaks, paddleboards and snorkeling equipment to guests, including life jackets.
Not surprising, Manava Beach Resort is a top Moorea Honeymoon Resort. In fact, most of the quests staying at the beach resort are couples.
We're told that it's also a popular Moorea wedding destination. We can see why. It certainly has everything you'd look for in a romantic location.
Check prices for overwater bungalows here.
It's nice to have a private beach at your hotel. You can go snorkeling directly from the beach pictured above. There's lots of coral, reef and fish underneath the overwater bungalows.
Garden Pool Bungalow at Manava Beach Resort
We opted for a Garden Pool Bungalow because we like the private soaker pool and tropical garden. It's also less expensive than the overwater bungalows, which did factor into our decision.
There are different Manava Beach Resort accommodation options. You don't have to splurge on the expensive overwater bungalow to have a luxurious experience at this Moorea beach resort.
View room prices for Manava resort accommodations here.
Here's the view inside the garden pool bungalow. King size bed plus two twin-sized beds for our boys.
The coach converts into one twin bed. We left this as a bed the whole time.
The other twin bed is a roll-away (see photo below, near the door to the terrace).
Some hotels in French Polynesia have a policy for a max 3 person capacity per room. This was our experience in Bora Bora – we actually had to get two separate rooms because the hotel we stayed at would not allow 4 people in one room.
The view of the private garden pool and terrace. This pool is what sold us on the garden bungalow option.
We spent our evenings soaking in this pool. It was a highlight from our time at Manava.
Morning coffee on the terrace. The perfect way to start the day.
We purchased Nescafe packages from the nearby grocery store. The rooms come with a kettle.
Guests can also get coffee from the breakfast buffet (even if you're not doing the buffet).
Beach bungalow at Manava Moorea resort
The beach bungalows are a nice option in between the garden pool bungalow and overwater bungalow. You get unobstructed waterfront views with easy access to the sandy beach right from your deck.
The beach at the resort is a protected lagoon, so the water is calm. It's a good beach for young kids, too.
View Beach Bungalow prices at Manava resort here.
Is this not the perfect Moorea Island getaway setting?
Infinity pool at Manava Moorea Resort
When researching the best Moorea resorts, it was important to us that the resort has a pool. Our boys love swimming and prefer to lounge by the pool vs beach.
The large infinity pool at Manava beach resort is very nice. It's said to be the largest infinity pool on Moorea island.
The temperature is warm and refreshing. It cools you down from the tropical heat, yet not too cold that you want to get out quickly. We spent hours in this pool each day.
Views of the overwater bungalows from the infinity pool at Manava Moorea resort.
We did not have trouble finding loungers by the pool. The resort is big, but it's not a huge all-inclusive resort with hundreds of rooms. Because of this, it doesn't feel crowded at the pool or restaurants.
You can order drinks and food to your pool lounger, which is a nice feature.
This separate pool looks like a hot tub, but it's not. The water is similar to the main pool.
Moorea Beach Resort infinity pool with view of its iconic overwater bungalows.
The lights in the pool create a superb tropical atmosphere in the evenings.
Restaurants and Dining at Manava Moorea resort
Manava Beach Resort Moorea has a few restaurants on the property. This is not an all-inclusive resort. In fact, most resorts in Moorea, Bora Bora and Tahiti are not all-inclusive. Some hotels will include breakfast and transfers, but it's rare to find a resort that includes all food and drinks.
The main restaurant, Autera'a, serves a mix of Polynesian and international cuisine. The other restaurant, Mahana'i restaurant, serves guests at the beach and/or pool. These two restaurants are basically connected, so I don't think it really matters.
Manava Moorea breakfast buffet is great for the hungry morning person. It's extensive, but not cheap. We decided to skip the breakfast buffet during our visit. Instead, we visited the nearby grocery store and purchased bread, pastries and beverages, and enjoyed our mornings on our garden terrace.
You can purchase a Manava Moorea resort dinner package or order a la carte from the menu.
Room service is available. And, for the overwater bungalow guests who want to splurge, check out the Canoe Breakfast. Your breakfast is delivered to your bungalow by a traditional Polynesian canoe. It's a very Instagram-able moment.
View Manava Moorea restaurant menus and hours here.
Manava Resort travel tip for families
Children ages 0-12 years old eat free from the kids menu. And, children 3-12 years receive a 50% discount off the regular menu, when dining with their parents.
We did not know about this great deal until our final night. But we wish we had!
As you can imagine, dining at restaurants in Moorea is expensive.
The kids menu is XPF 1900 ($24 CAD). It includes one entrée (pizza, cheeseburger, grilled fish or spaghetti bolognaise), one desert (fruit or ice cream), and one beverage.
Therefore, the savings is $24 per child! Obviously, had we known about this great deal, we would have dined at the hotel restaurant more often.
Above is the famous Poisson cru à la tahitienne (Tahitian style raw fish). If you like sushi and/or raw tuna, this dish is for you. It's made with coconut milk, lime and fresh vegetables.
We enjoyed a similar dish while on a Moorea snorkeling trip.
Above is a variety of raw tuna dishes served at Mahana'i restaurant. The fresh seafood, particularly the tuna, is so delicious in French Polynesia.
Manuia Grill on Moorea island
Located directly across the street from Manava Moorea hotel is Manuia Grill (see above photo). It's a good option for dinner if you're wanting to leave the resort property.
The menu is pretty standard for Moorea, with a selection of grilled meats and seafood.
We found the food in Moorea to be good, but not great. That said, the fresh tuna dishes are fantastic.
The best restaurants on Moorea are typically found in the large resorts. The Moorea Beach Cafe is another popular restaurant. We visited this restaurant one evening. The food is good and the waterfront views are fantastic. However, we found it to be very overpriced ($45 CAD for a margarita pizza). See menu here.
We also ate at Caraméline cafe. It serves delicious coffee and breakfast bagels.
Above is Supermarché Maharepa. It's a 10 minute walk from the hotel to this grocery store. It has mostly everything you need, including snacks, drinks, beer and wine, fresh bread and pastries, per-made meals and fresh produce.
Activities at Manava Beach Resort
Most of the activities are centered around the beach and ocean. The resort's private lagoon and beach allows guests to get in the water without leaving the property.
Guest are provided kayaks and paddleboards with life jackets. Snorkeling equipment is also available free of charge.
The Manava Beach Resort Spa offers a variety of treatments. Reservations are recommended.
The resort also hosts a traditional Polynesian dance show on set evenings (not every night).
Stand-up paddleboards and kayaks are available at the lagoon beach near the infinity pool.
Snorkeling is the best free things to do in Moorea. Bring your own equipment and wear water shoes to protect yourself from stepping on stonefish or sharp coral.
Manava Moorea is an Eco-friendly Resort. Quests are provided free reef-friendly sunblock.
Things to do on Moorea Island
For those seeking adventure beyond the resort, you can explore the island on an ATV tour or 4×4 Jeep tour. Other popular Moorea activities is whale watching and snorkeling with reef sharks and sting rays.
The island also has several hiking options, including 'Afareaitu Waterfall, Belvedere Lookout (multiple trailheads here), and Magic Mountain (arguably the most popular hike in Moorea).
Watch this short video to see what Moorea looks like from the water.
Popular Moorea excursions are:
Note – Moorea is a port destination for French Polynesia cruise ships. Because of this, when a cruise ship arrives there is high demand for Moorea tours and day trips. It's best to book your tours and excursions prior to arrival.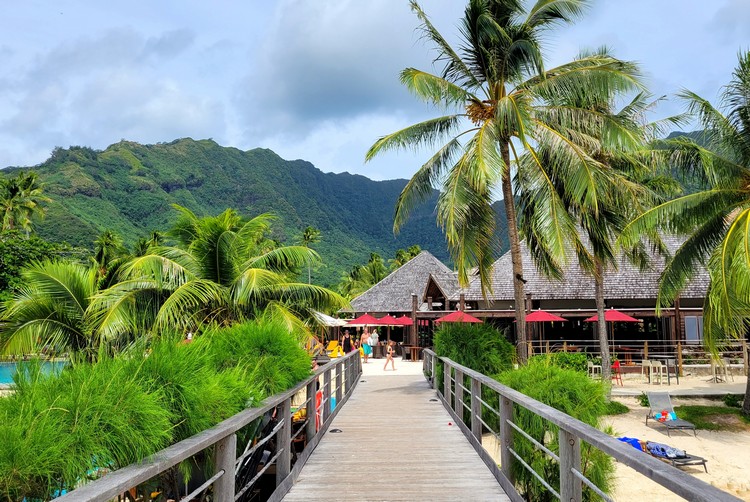 How to get to Manava Beach Resort
You will arrive to the island by either plane or boat.
Moorea Airport (Aéroport de Moorea Temae) is only 6 km from the resort. You can grab a taxi at the airport or organize transportation ahead of time. There are only a few flights per day, so most hotels will know when flights are coming and going.
We took the fast ferry from Tahiti to Moorea.
The ferry is only 45 minutes, so many visitors will choose this option. The Tahiti to Moorea ferry is also much cheaper than flying.
You can purchase a Moorea ferry ticket online or in person at the Papeete ferry station. It is recommended to make reservations, especially during busy travel times. If you have a vehicle with you, make sure you book a ferry that transports vehicles.
The Moorea ferry terminal is located in the village of Vai'are (eastern side of the island). It's about 10 km from the Moorea ferry terminal to Manava Beach Resort. We found a taxi at the terminal. I believe we paid XPF 2500 (approx. $31 CAD).
Learn more about the Moorea ferry option here.
Note – taxis are hard to find on the island, especially when cruise ships are in port. You cannot flag down a taxi on the road. We tried this and were advised that is not the way things are done on the island. Instead, have someone at your hotel or restaurant call a taxi for you.
Rental cars are available at the Moorea ferry terminal, including Europcar and Avis Pacificar Moorea. You can also rent scooters, bikes and e-bikes here.
Manava Beach Resort location address is Moorea Pearl Resort And Spa, Moorea-Maiao 98728, French Polynesia.
Should you stay at Manava Beach Resort Moorea?
We enjoyed our time at Manava and would recommend it. While we would have liked to stay in one of its fancy overwater bungalows, we are happy with the garden pool bungalow.
The large infinity pool and private lagoon beach are just as advertised. We like that kayaks and paddleboards are included.
Moorea is a dream destination. The four nights we spent on the island is the perfect amount of time. We highly recommend you visit Moorea if you have the opportunity.
Read more blog posts from French Polynesia:
Do you have questions about Manava Beach Resort Moorea?
Leave us a comment below. We'll do our best to answer.
Have you visited Moorea? Share your experience and Moorea travel tips in the comments below.