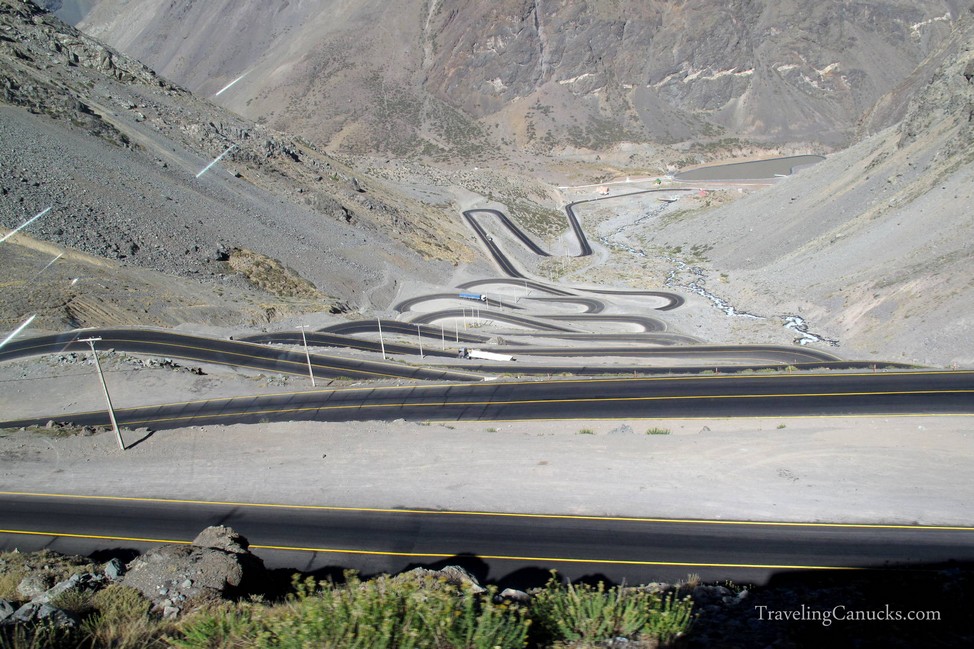 Mountain Pass from Argentina to Chile in the Andes
Our map and guidebook showed that the road from Mendoza, Argentina to Santiago, Chile had to pass through the rocky Andes Mountains, the world's longest continental mountain range and second highest mountain range next to the Himalayas.
We scored front row seats on the upper-deck of the tourist-style bus, giving us incredible unobstructed views of the dry, desert-like landscapes.
A few minutes after our passports were stamped at the Argentina-Chile border crossing, our bus turned the corner and presented THIS insane view.
We couldn't believe our eyes! The mountain landscapes are simply incredible.
Mountain Pass from Argentina to Chile
The road is well paved and the bus took the tight hairpins at a slow pace. However, that did not stop us from getting butterflies in our stomachs. We were, after all, on the upper deck of the bus. These seats gave us the sinking feeling that the bus could flip over at any moment.
There were a few nauseating moments when we wished we had caught the short international flights instead. But this was one of those rare bus trips that acted more like a tour than international transportation.
Can you imagine driving this switchback in the middle of winter?
What is the most insane mountain pass you've crossed?
Share your story in the comments section below.
Read next – The Abandoned Hotel Contadora Resort in Panama