Mai Tai's and Pig Cooked in a Pit: Our first Hawaiian Luau
No trip to Hawaii is complete without experiencing a traditional Luau. Our trip to Maui was no exception.
We attended the Kaanapali Sunset Luau that is hosted on the perfectly manicured grounds of the Sheraton Maui in Lahaina. We couldn't have asked for a better venue. The stage is positioned at the foot of Ka'anapali's iconic Black Rock point, famous for it's evening cliff diving ceremony.
Although this was our first Hawaiian luau, we had a pretty good idea of what to expect. A quick dictionary search online states that a luau is "a feast of Hawaiian food, usually held outdoors and usually accompanied by Hawaiian entertainment". Sure, we assumed that a luau is an outdoor party that includes lots of food, booze and hula dancing, but we were curious to see why everyone that visits Hawaii raves about attending one.
But first things first – let's get a Mai Tai!
Let's be clear – I'm not a sweet drink kinda guy. I rarely order a beverage that has flowers or twirly umbrellas, but this Luau was only serving Bud or Bud Light and I certainly didn't travel all the way to Hawaii to drink Bud Light. Surprisingly, I really enjoyed the Mai Tai and went back for another. Okay – it was a couple more, but who's counting?!
What's in a Mai Tai? 40ml (8 parts) white rum, 20ml (4 parts) dark rum, 15ml (3 parts) orange curaçao, 15ml (3 parts) Orgeat syrup, 10ml (2 parts) fresh lime juice, served on the rocks (according to the International Bartenders Association)
Baby B and Dad enjoying the moment
Baby B loved rolling around the perfectly groomed grass, comparable to a golf course
Nicole sporting her fresh flower lei as Baby B looks at the cameraman with confusion
The conch shell is blown to notify guests that the Kālua pig is ready to be unearthed – a defining moment at any Hawaiian luau. The word Kālua literally means "to cook in an underground oven".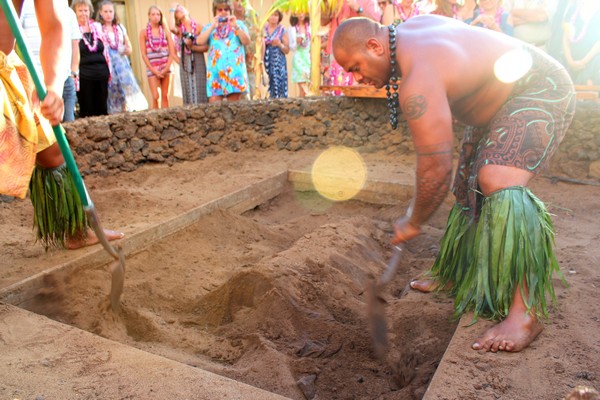 The seasoned pig is covered in banana leaves, buried underground and covered with hot rocks to retain the heat. It's quite the process, and clearly a highlight for snap-happy tourists like us. Guests gather around as the traditionally dressed men dig into the dirt pit to reveal the night's feast.
Being a vegetarian, Nicole looks at this image with complete disgust. While I on the other hand, see nothing but sweet, delicious, juicy pork goodness!
Bring on the meat! A chef serves up grilled Teriyaki steaks
The all-you-can-eat buffet feast included grilled Teriyaki steaks, Kālua pork, sauteed Mahi Mahi with macadamia nuts & capers, steamed sweet potatoes, poi (Polynesian dish that resembles pudding – not my favourite dish but apparently people like it), Kula greens with cucumber & tomato Salad, potato macaroni salad and fried rice.
Without question, the Kālua pork was the fan favourite. It was very flavourful and succulent – well worth the cost of admission (provided it's accompanied by a couple Mai Tai's!).
And of course, no feast is complete without a dessert table!
The luau location at the Sheraton Maui
As night begins to fall, guests are treated to live music and dancing. The host of the evening was quite comical. I don't think he intended to be funny, he just reminded me of that typical cheesy 1970's game show host. Think Ron Burgundy meets Robert Goulet. It was hard to take him seriously, but it was all in good fun.
The Polynesian dancing was quite entertaining (it's impressive how agile some of these big men are!). Baby B was hypnotized by the hula dancers and couldn't take his eyes of the stage, although he seemed frightened by the loud beat of the drum. Guests were treated to a variety of cultural dances from the South Pacific, including the warrior dances of Fiji and the mesmerizing fireknife dance of Samoa.
 Colourful sunset at Pu'u Keka'a, the famous cliff diving point (also known as Black Rock)
Thinking about attending a Luau in Maui?
While we don't have much to compare the Kaanapali Sunset Luau at the Sheraton Maui to, we did enjoy ourselves and would recommend it to friends and family. Another Canadian travel blogger, Seattle Dredge, attended the Old Lahaina Luau and had positive things to say – you can see her photos here.
At the time this post was published (October 2012), the Kaanapali Sunset Luau was offered Mondays and Wednesdays from 5:30 PM to 8:30 PM. Tickets are $99.00 for adults and $52.00 for children 6-12 and children 5 and under are free.
Visit www.SheratonMauiLuau.com for more information or reservations.
Read more posts from our trip to Maui:
Have you attended a traditional Hawaiian Luau? What did you think?
Share your experience in the comments section below!
~~~~~~~~
Disclosure: Thank you to the Maui Visitors & Convention Bureau and the Shearton Maui. We were provided complimentary tickets to the sunset luau, however expressed opinions are our own. We were never asked to write a favourable review.