This post is for newbie parents and/or soon-to-be parents that are planning their first trip with their little one(s). We realize that some of our readers do not have kids and don't care about family travel tips, so if you fall into that category, may we suggest '28 Epic Adventures by Travel Bloggers' or take a look at these pretty photos from our travels to Northern India.
Do you need to bring your car seat when you travel?
There are so many things to consider when taking your first family trip with your infant or toddler. One of the big questions is whether to bring your clunky car seat or rent one at the destination.
Who knew you'd get to a place in life where a car seat has become an important decision?!
On the one hand, bringing your car seat means you don't have to worry about a taxi providing a car seat (which is not often available, especially in third world countries). On the other hand, traveling with a car seat sucks. They're big, awkward, heavy and annoying.
Most destinations require that children use a car seat during transportation, at least in North America and Europe. So, unless you plan to only travel by bus, you will need a car seat for taxis and/or car rentals.
We always bring a car seat.
For us, the main reason we bring our car seat is safety and fit. We learned fairly quickly (when Braydon was 5 months old) that bringing a car seat was an essential travel item.
On a trip to Ontario last year, we arrived but our stroller and car seat did not. It was a pretty big problem. We needed a taxi to get to our hotel from the airport, but no taxi had a car seat available. We talked with every car rental agency at the airport to see if we could borrow a seat, but none of them had the proper size or fit for Braydon (he was still quite small and needed a rear facing car seat).
In the end, Cameron had to take a taxi to a department store and buy a car seat. The airline refunded us the cost, but it was still a huge headache and took a couple hours to get sorted – not ideal after 8 hours of travel with an infant.
In this case, the airline was at fault, but we learned an important lesson: do not rely on car rental companies for proper car seats.
Currently, our infant is still in an infant car seat. We use the Peg Perego Primo Viaggio. We like it because it can be used without the base, making it easy for travel.
Our toddler uses the Foonf car seat, made by Clek (pictured below). It's super easy to install (ideal for getting in and out of taxis) and it's one of the safest on the market. Read reviews here.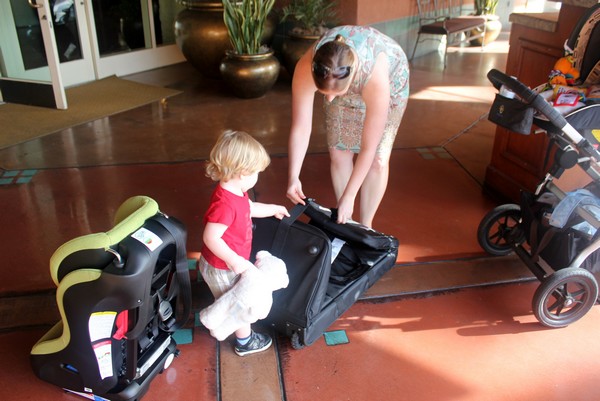 Renting vs bringing your own car seat is a personal decision, with advantages for both options. Below are some of the reasons for each option, based on our personal experiences.
Reasons to bring your car seat from home
History – you know your car seat. You know its history. Car seats become compromised if they've been in an accident. If you use a rented car seat you don't know its history and whether its been compromised. Personally, I do not trust car rental companies to follow these rules.
Cleanliness – when it's yours, you know it's clean (at least I hope you do). When renting, it's highly likely that other children have left their mark. I'll let your imagination paint the picture. How often do you think these car seats are really cleaned?
Safety – we chose our car seats because of their safety features. When traveling to foreign countries, or in vehicles with unknown drivers, it gives us comfort knowing our car seat is top quality. Plus, all car seats have an expiry date and I don't like the hassle of checking dates to ensure the rented car seat is still valid.
Extra baggage space – we travel with the Weelee by Clek, a universal car seat travel bag (check it out here, it's pretty sweet). It fits our Foonf car seat perfectly but we also love the extra space it provides. It can fit small travel beds, extra diapers, and last minute items like shoes and coats, which saves on extra baggage costs. Most airlines, at least in Canada, allow car seats to be checked at no additional charge.
Airplane approved – the FAA recommends that the safest place for an infant on a plane is in a car seat. If you wish to bring a car seat on a plane, you do need to purchase a separate ticket/seat for your child. But you also need to ensure your car seat is airplane approved (look for a sticker on the back of the car seat). The Foonf and our infant car seat are airline approved.
Reliability – it does happen, you're promised a car seat and it doesn't arrive. Or, it isn't the proper size for your child. You will be stuck buying a new car seat or faced with potentially significant delays. I can think of better ways to start a vacation.
Cost savings – bringing your own seat will save you money. On average, car rental companies charge $15 a day for renting a seat. That adds up if you're on an extended holiday.
Reason to rent a car seat
Less luggage – it's one less piece of luggage/equipment to worry about. But, think about how you plan to get to and from your home airport.
Heavy and awkward –  if you don't have a travel bag like the Weelee (pictured above), carrying a car seat is very annoying, especially if you're traveling solo with your kids.
Convenience – one of the big drawbacks to bringing your car seat is storage. On our recent trip to Arizona we made a visit to the Phoenix Zoo. In order to get to the zoo, we took a taxi that required our car seat. Once we arrived, we had to check our car seat at customer service, otherwise we would have to carry it with us all day (not fun). Fortunately the Phoenix Zoo was accommodating, but that's not always the case, especially if your daily activity is sightseeing.
Cost savings – in the event that you are charged extra baggage fees to check your car seat, it might make sense to rent. However, you will need to factor in the rental cost. We've never been charged to check our car seat, but check with your airline first because policies vary around the world.
Travel tip – when you arrive at your destination, look for your car seat at the over-sized luggage pick-up area. They normally do not arrive on the belt with regular luggage.
~~~~~~~~
Do you travel with young children?
What are your thoughts on car seats?
Share your feedback in the comments section below, we're always looking for advice from other traveling families.