Today we are sharing the story of fellow traveling Canuck Dariece, one half of the travel blogging couple behind the website Goats on the Road. Iran is a fascinating country often misunderstood by North Americans. Dariece and her husband Nick traveled to Iran earlier this year so we asked them to share their experience with you today. If you have any questions about travel to Iran, please leave a comment below and she will happily respond. 
Should you travel to Iran?
When planning our trip through Central Asia and Iran, we received mixed reviews from friends and family back in Canada. Our conversations went a little something like this:
"We're going to Iran and we're so excited!"
"What?! Iran is full of Taliban terrorists, why would you want to go there?"
"No, you're thinking of Iraq, Pakistan and Afghanistan."
"You can't go to Iran, it's too dangerous, I don't want you to go."
"Dad, I hate to break it to you, but where we were in Africa last year was FAR more dangerous."
There are many misconceptions surrounding the ancient land of Persia, and why wouldn't there be with warnings like these ones:
The Canadian Government Travel Advisory states, IRAN – AVOID ALL TRAVEL.
While the World Travel Map of Dangerous Countries (yes, this is an actual thing) lists Iran as one of the most dangerous countries in the world, along with a few more including Somalia and the Central African Republic. In our opinion, to place Iran in the same travel category as these African nations is ludicrous.
We wanted to travel to Iran to break down these misconceptions and see for ourselves. What were the people like? Were Iranians Islamic fanatics? Do all women dress in black? Is it a safe country to travel to?
After 32 days of travelling and enjoying this friendly and fascinating country, we can honestly say that Iran's is portrayal in Western media is highly inaccurate.
The Iranian People
In our opinion, Iranians are the most hospitable people in the world. We couldn't walk down the street without being invited over to share food and tea. On more than one occasion we were asked to stay in the homes of complete strangers. We stayed with a young couple for 6 nights in Esfahan and had a wonderful experience.
Iranians are very interested in foreigners and will bombard you with questions about your job, income, family and religion. But the main thing people want to talk about is your feelings about Iran. What do people in your country think of Iranians? What do you think of them? Why did you decide to come here? Do you like our country?
Iranians want the world to understand that they are not the terrorists that western media portrays them to be.
Religion and Dress
Iran is predominantly Muslim and it's currently mandatory for all women (no matter their religion) to wear a headscarf and cover their arms and legs completely when in public.
Even though this is the law in Iran, it doesn't mean that everyone agrees with it. We met people who were Muslim, who were Jewish, who were of the Zoroastrian and Bahá'í faiths and some who weren't religious at all. All of those people didn't agree with the mandatory headscarf law. On the flip side, many people are quite comfortable with this dress code and respect the long standing traditions.
Hiking the mountains surrounding Garmeh village.
Things to see and do in Iran
Persepolis: Iran is one of the oldest civilizations in the world! It has been home to settlements since 4000BC. The ancient city of Persepolis was built in 520B.C., the remains of which are still standing. It is now listed as a UNESCO World Heritage Site.
Garmeh: A very small village in the desert with a higher population of goats than people. The beautiful oasis of Garmeh is surrounded by towering mountains, date palms and sand dunes. Don't miss this off-the-beaten path desert town.
Mashhad: The Imam Reza Shrine in the city of Mashhad is the largest mosque in the world by dimension and the second largest by capacity! Within the complex, you'll find mosques, libraries, tombs, shrines a museum and more.
Esfahan: The city of Esfahan (Isfahan) is filled with mosques, squares and markets. Don't miss the Naqsh-e Jahan Square, its covered market, the Armenian quarter, Vank Cathedral and the Khaju Bridge. This is a city where you'll want to stay a while.
Shiraz: Known for being the poetic, creative, artsy city in Iran, Shiraz is dubbed "the city of poets, literature, wine and flowers". The famous poets Hafiz and Saadi are from Shiraz and you can find their tombs here.
Shiraz has large Christian and Jewish communities and many people secretly brew their own Shiraz wine. Although alcohol is illegal in Iran, how can you come to the famous viticulture capital of Shiraz and not sample it's wine? The is a city filled with gardens, covered markets, mosques and old fortresses. In our opinion, it's the most liberal feeling city in Iran.
Singing poetry in the park in Shiraz, totally illegal, but these young people don't care.
Yazd: This mud-brick town with a labyrinth of alleyways and scenic rooftops is a definite highlight of any trip to Iran. Wander the narrow back streets, hike up nearby mountains for views of the city and sit on the roofs of any of the tall buildings for beautiful sunsets. Make sure to see the Masjid-e Jame Mosque, badgir, and the many markets. A day trip from Yazd to see the villages of Karnaq and Meybod is a must.
Tabriz: Located far in the northern reaches of Iran, near to the border with Azerbaijan, Tabriz is a contrasting city in comparison to its desert counterparts. With snow-capped mountains just a quick drive away and the largest covered bazaar in the world, Tabriz is quite an interesting place. Make sure to see the Blue Mosque and go on a day trip to the nearby troglodyte village of Kandovan.
Kerman: Not many people have Kerman on their Iran itinerary, but they should. This city has many beautiful mosques (Malek Mosque and Friday Mosque), Zoroastrian temples, squares and bazaars. Just outside of Kerman, in the desert, are the famous Kaluts, which are towering sandcastle-like formations. Seeing this sight at sunset is highly recommended. Also make sure to visit the nearby town of Mahan.
The amazing kaluts at sunset
Tehran: The bustling, chaotic, polluted capital city of Tehran is quite interesting. You'll probably find yourself either flying in or out of this city. Check out the massive covered market, explore any and all neighbourhoods and see the anti-American graffiti painted on the former US Embassy. Great ski hills are nearby, the shopping is fantastic and the underground metro system is quite modern.
For more information on travel to Iran, check out the Ultimate Guide to Backpacking Iran
The Food
Iranian cuisine isn't exactly mainstream. Before visiting, we had never sampled any food from Iran. We were pleasantly surprised when our very first meal in the country arrived at our table: a thick chicken stew made with pomegranate syrup and walnuts, served over a bed of rice.
The flavours and spices are quite unique. Fresh herbs, fruits (pomegranate, raisins, prunes, apricots and plums), meat and vegetables are all mixed together to create savoury, sweet and tart meals. Stews, grilled meats, rice dishes, thick soups and sweet pastries are just some of the foods you'll find in Iran.
Delicious Ghormeh sabzi. This particular dish was prepared with camel meat.
Make sure to sample fesenjān, Ghormeh sabzi and Tah-Chin and, for dessert, date cookies with a date milkshake.
Is Iran Safe To Travel?
Yes! It is safe to travel to Iran.
We met so many other foreigners during our travels in neighbouring countries who said, "you MUST go to Iran". They raved about the hospitable people and told stories about vast deserts, historical cities and stunning architecture. Visiting Iran was an incredible experience. Not once did we feel threatened or worried about our safety. We are so glad we didn't listen to the media.
To travel is to embrace new cultures and new ways of life. It's about meeting new people and discovering the story behind each city and country. Yes, Iran is filled with historical sites and attractions that will blow your mind, but what makes this country so special are the friendly people who will welcome you with open arms.
Iran is a safe country to travel to. Go, see for yourself.
~~~~~~~~
Author Bio: Nick and Dariece are the couple behind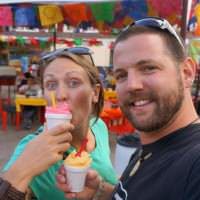 Goats On The Road, a website designed to inspire others to live a financially sustainable, location independent lifestyle. Masters at making money abroad and turning their travels into a way of life, they've been on the road since 2008 and have explored some of the least visited places on earth, finding adventure wherever they go. You can follow their journey on Twitter, Facebook & Google+.