Quick guide to Sayulita Mexico
Located about 30 miles northwest of Puerto Vallarta and the Bay of Banderas, on Mexico's Pacific coast, the once quaint fishing village of Sayulita has transformed into a travel hotspot for surfers, expats and foreigners looking for oceanview vacation property.
And, in recent years, Sayulita has become a hub for travel bloggers and online entrepreneurs seeking a low cost lifestyle combined with lazy days on the beach. Ironically, we first learned about this slow-paced coastal town because a few of our travel blogger friends have spent extended periods of time here.
There was a time, not so long ago, when Sayulita was considered an off-the-beaten-path destination. In fact, many residents still feel it should be labeled as such. I'm not so sure.
Why travel to Sayulita?
The appeal of Sayulita is that, unlike other Mexican resort towns, tourists can actually mingle with locals and eat and shop where they do. Mexican families live, work and socialize here, which creates an interesting atmosphere, especially at the sidewalk cafes and beach bars.
Yes, you will see a lot of foreigners roaming the streets, but what we like about Sayulita is that although it is touristy, it's not a tourist trap. You can eat real tacos at streetside restaurants and pay the same price as the locals (well, most of the time). You can surf all day and party all night or simply read a book by the pool.
Sayulita doesn't have an agenda – and we dig that.
Things to do in Sayulita
Like most coastal towns, Sayulita has a lot to offer beach lovers and water sport enthusiasts. Surfing is the big attraction but there's plenty of water activities to keep you busy, including stand-up paddle boarding, sport fishing, sailing, scuba diving and snorkeling.
It is a great beach to learn to surf, with consistent waves and the break located on the main stretch of beach in front of the town center. For the more advanced surfer, the Riviera Nayarit coast is dotted with beaches and secret surf spots, so you can organize day trips to get away from the crowds.
You can rent boards and equipment directly on the main beach.
Get your Guide to Sayulita here.
We didn't end up surfing on our trip to Sayulita.
If you visit during the winter months, from November to March, you may get lucky and spot humpback whales breaching from Sayulita's shore. Or, you can join a whale watching tour and get up close to these gentle giants in their natural habitat.
Popular land activities include horseback riding on the beach, canopy and ATV tours, jungle hikes, yoga retreats, day spas and golfing at the nearby courses. Keep in mind, Puerto Vallarta is less than an hour away, so you can access most activities that cater to the Puerto Vallarta visitor.
There is a shopping area in the center of town with over 45 locally-owned shops offering a variety of merchandise. There are a few boutique stores and art galleries around town, most located within 4 blocks of each other. On Sundays, Sayulita hosts a small street fair that offers local handicrafts, clothing and homecooked food.
Prices are not expensive but don't expect to find super cheap prices or excessive haggling like you'd find in Central America and Southeast Asia.
There are several ATM's in town that dispense both US dollars and Mexican pesos. However, these ATM's commonly run out of cash, so it's best to bring some extra cash with you.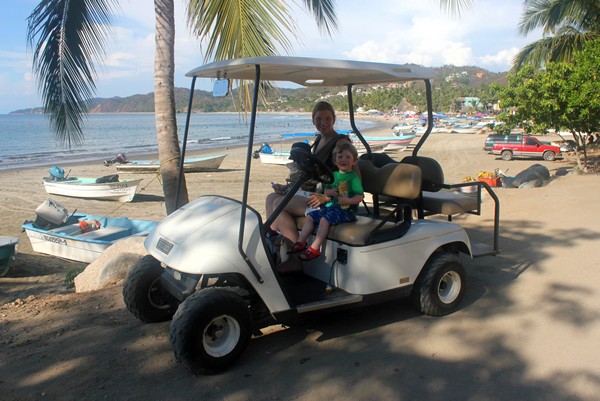 Another fun thing to do is rent a golf cart or ATV and explore the town and its surrounding area. There are some great lookout spots and quiet beaches just outside the town that are too far to reach by walking, so renting a golf cart is a fairly cheap (and fun) way to experience these spots.
Like most tourist destinations, there are some companies that will overcharge tourists for tours, activities and equipment rentals. Opportunistic people live everywhere, so it's wise to do your homework and ask for referrals.
The majority of companies in town are reputable, but you may want to ask for a receipt when shopping at the stores. We were overcharged 3 times at one of the stores that looks similar to a 7/11 – I can't remember the name of the store. It wasn't a big deal, in the range of 20-30 pesos, but it still pissed me off.
How's the beach in Sayulita?
Surprisingly, we weren't that impressed with the main stretch of beach. We found the sand to be quite dirty and dusty. In some sections, it didn't feel like sand at all. Every time we left the beach we felt dirty from head to toe.
On numerous occasions, at different sections on the main beach, our boys dug up dog pooh with their little shovels and stepped on broken glass (fortunately they wore sandals). There was a strong smell of dog urine and sewage floating in the air, which was not very pleasant.
Update January 2018- we've been told that the sewage situation in Sayulita has gotten pretty bad. You may want to investigate further before booking your trip. We have not returned to Sayulita since our trip in 2015, so our info is now dated.
That said, the bright pink and yellow sunsets are outstanding!
The beach has a fun vibe in the evenings, so I can see why it's popular with younger crowds (and why we kept finding beer bottles in the sand). And, as you can see in the above photo, it's pretty easy on the eyes at pink hour.
We didn't end up swimming in the ocean because our boys are still too small and we worried about the waves and strong undertow. We enjoyed the convenience of having a pool at our apartment rental, so we reserved our swimming time for the pool instead of the ocean.
Is Sayulita safe?
Mexico has a love-hate relationship with the media. On the one hand, Mexico has some of the best beaches and archaeological sites in the Americas. On the other hand, there's no shortage of bad press coming out of Mexico, with cases of kidnapping, robbery and homicide often making the headlines.
The reality is that the majority of these incidents are related to organized crime and gang violence, and most occur far from tourist zones. But they still make tourists nervous.
Yes. Sayulita is safe and friendly.
Tourism drives the local economy, so residents are very welcoming and English is widely understood. The town has a few streets that look intimidating at night, but most people roaming the streets at that hour are fellow tourists getting their drink on. Still, common sense and basic safety measures should be practiced (ie. – don't get shit-faced drunk and flash your cash everywhere).
Note – there are a lot of stray dogs roaming the streets and beach. Most are friendly, but some bite. We met a guy who was bitten in the hand by an aggressive dog, so use caution when approaching dogs.
Get your Guide to Sayulita here.
What about the food in Sayulita?
The food scene in Sayulita is fantastic. I think the restaurant and cafe culture left the biggest impression on us. We were pleasantly surprised at how many good food options are available for such a small town.
Every day we would eat at least two meals at a restaurant. Because we visited in the shoulder season (late May to early June), a few of the top recommended restaurants had closed down for the summer.
Nevertheless, most restaurants remained open and we were treated to some tasty meals.
We loved that many of the taco joints provided a variety of hot sauces, fresh herbs, pickled onions, grilled jalapeno peppers, re-fried beans and tortilla chips.
Our favorite restaurants are (in no particular order):
El Itacate – outstanding tacos. Lots of variety, including Mahi Mahi, pork and steak. It's not really a restaurant though, you eat on the street. Great spot for lunch.
Sayulita Cafe – good choice for dinner. Tasty Mexican cuisine. Friendly service. Yummy Chile Rellenos. Not cheap, but this is the place for a nice diner.
ChocoBanana – fresh coffee, smoothies and excellent breakfast (french toast bread pudding is heavenly). Sidewalk tables that face the main square. Fun atmosphere, lots of expats frequent this spot.
Tacos on the Street – cheap and delicious tacos. Small, open-aired restaurant. Nice spot for young kids to play.
Burrito Revolution – delicious and filling burritos. Great spot for lunch. Get 'em spicy!
Panino's – good place for breakfast. Fresh baked pastries and bread. Slow service, be prepared to wait.
Don Pedro's Restaurant – best restaurant views in town, located right on the beach. Seafood and Mexican cuisine. On the higher price scale, but good value.
The Real Fish Taco – yummy fish tacos. Located in the heart of town, near the beach.
Medusa – fun atmosphere, kid friendly. It was the closest restaurant to our apartment, so we visited multiple times. Food is good, but not great.
La Terrazola – you dine at this restaurant for its great location directly on the beach. The grilled fish was great but the traditional Mexican cuisine was average.
Salad Niçoise with seared peppercorn ahi tuna at Don Pedro's Restaurant.
Where to stay in Sayulita?
Sayulita has plenty of accommodations available that fit any lifestyle, budget and timeline. Thanks to foreign investment, hundreds of beautiful vacation properties have been built over the past ten years. Most of these are available for rent on websites like VRBO and VacationRentals.com.
We rented a spacious 2 bedroom apartment that was located about a 10 minute walk from the town center. The beach was only 5 minutes away. It wasn't cheap, but we wanted a nice place with a pool. The photo above was taken from our 2nd floor balcony.
Here's the link to the apartment – http://www.vrbo.com/314868
There are lots of cheap apartment rentals and hotels in the town center. Search for hotel deals here.
When is the best time to visit Sayulita?
The most popular time to visit is during the winter, from November to April. Sayulita gets very busy during this time, so accommodation prices are higher and availability is limited.
We visited at the end of May, which is just outside the busy season, but still not too hot. The hot and rainy months are from June to August. Prices are cheaper but many shops and restaurants close for the off season. Another good time is October, before the busy season starts.
But let's get serious, there's never a bad time to visit!
How to get to Sayulita?
Conveniently located less than an hour drive from the busy Puerto Vallarta Airport, there are plenty of international flights coming and going each day.
The most convenient way to get to Sayulita is to take a taxi or hire a private car. The town is 30 miles from the Puerto Vallarta Airport, which takes about 35-45 minutes by car. We're told that it shouldn't cost more than $50 USD for a taxi, but make sure you agree on the fare before you leave the airport.
You can also take a bus from the airport, which is the cheapest and most adventurous option. It costs about $2 and takes 2-3 times as long, but it's fairly straightforward. You might still need to take a taxi to your hotel/apartment if it's located outside the town center. Sayulita is quite hilly, so you may not want to be walking uphill in the hot sun with your luggage.
We hired a private car service, which is very convenient. After a long 5.5 hour flight with two boys under 3 years old, we wanted simplicity and comfort. The driver was waiting for us as we walked out of the airport. The vehicle was a large air-conditioned SUV that was stocked with cold beer (nice touch!). We stopped at the large Mega grocery store on the way to Sayulita, allowing us to stock up on staples like bottled water, coffee, beer and food.
The company we used was Sayulita Suburban Service. We paid $130 US round trip, which we felt was reasonable when compared to the taxi option.

Should you visit Sayulita Mexico?
Sayulita has an interesting vibe. It's a dusty beach town that allows visitors to mingle with the locals and escape the big all-inclusive resorts of nearby Puerto Vallarta.
But don't be mistaken – the secret is out on Sayulita. This is not the Sayulita from the 1980's. The Sayulita of today is open for business.
While it's still a sleepy surf town, the oceanfront campgrounds and budget accommodations are gradually being phased out for large vacation properties and foreign investment. With this new development comes much improved infrastructure, better accessibility and, ideally, more money for its residents. Some say this will destroy the very thing that makes Sayulita special. Others welcome the progress and change.
What we like about Sayulita is that it's safe, friendly and intimate. It's the perfect destination for visitors that want to connect with Mexico on a deeper level. The roads are beat up, the tacos are cheap, the surf is legit and the sun is always shining.
Have you visited Sayulita Mexico?
How was your experience?
Share your feedback and travel tips in the comments section below!