Quick travel guide to San Juan, Puerto Rico
Located on the north-eastern coast of Puerto Rico, San Juan is the capital and largest city on this fascinating Caribbean island. Given it's prime location in the heart of the Caribbean Sea, it's no surprise that Puerto Rico is one of the most popular vacation destinations in the Caribbean. 
Aside from its many sandy beaches, San Juan is a city rich with history and culture. It's a Latin American city with Spanish-based culture mixed with African traditions and Taíno culture. It's the second oldest European-established capital city in the Americas and the oldest under United States jurisdiction.
We did a little research about San Juan prior to visiting, but our research did nothing to prepare us for how much we would fall in love with the walled city of Old San Juan.
Most of our research highlighted San Juan's former defensive forts, Fort San Felipe del Morro and Fort San Cristóbal, as the prime tourist attractions in San Juan. However, the clear highlight from our time in Puerto Rico was wandering the cobblestone streets of Old San Juan, admiring its colourful buildings and remarkable European-influenced architecture. It's a photographer's dream!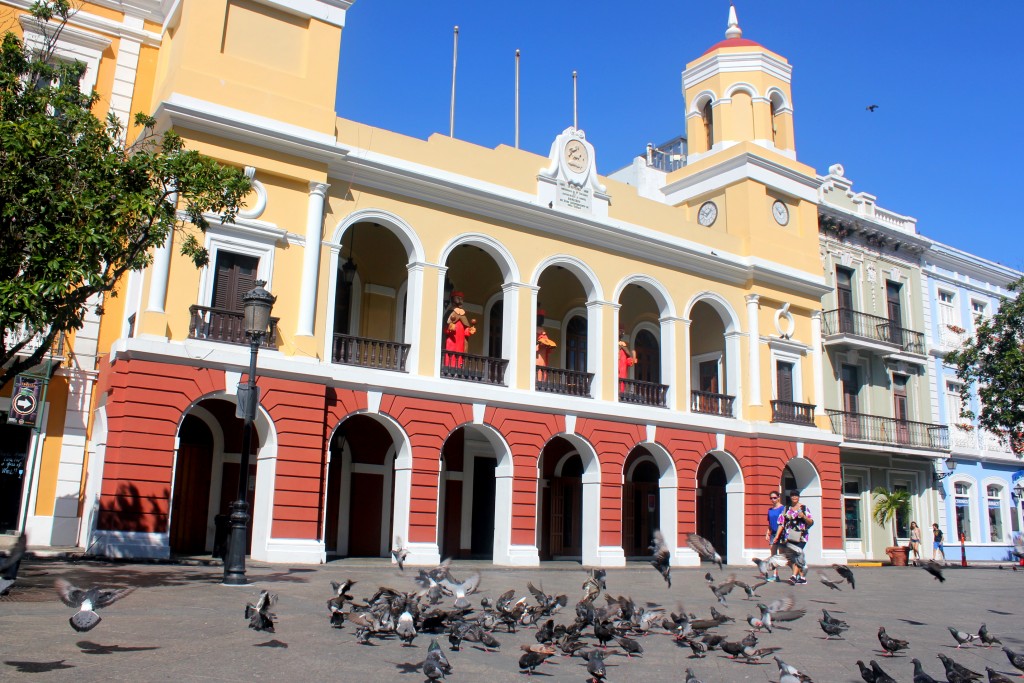 Should you travel to San Juan?
If you haven't visited San Juan (or seen photos of the city) you'll likely be surprised by the size of it. This is not a quaint Caribbean town on a laid-back tropical island. It's a metropolis with tall skyscrapers, highways and all of the American brands you'd expect to see in a major US city.
I mention this not to sway you from visiting, but to set proper expectations.
We were quite surprised when we looked out the window of the airplane and saw the size of the city as we approached the airport. We expected to see a small town with a few low rise buildings and tall palm trees, not giant condominiums and bright neon advertisements.
The city is divided into old and new.
The new part of the city includes the business district, thriving seaport, residential neighborhoods and popular beach strips like Isla Verde and El Condado.
The old part of town, founded by Spanish colonists in 1521, is where most tourists will spend their time. The old walled city is filled with cobblestone streets, brightly painted colonial buildings and fortifications that have been designated a UNESCO World Heritage Site.
While Old San Juan is a monument to the past, new San Juan is a vibrant city that captivates residents and visitors alike with its beaches, nightclubs, casinos, museums and restaurants.
It's not a cheap destination though, especially if your home currency is not $US, so you'll need to adjust your expectations if you think Puerto Rico is a cheap destination like Mexico. It's more comparable to Miami or Honolulu.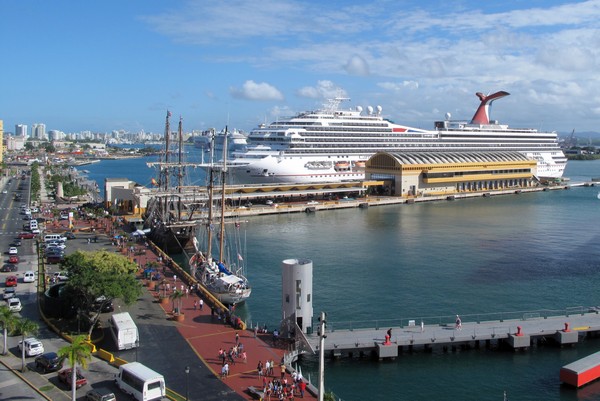 San Juan Cruise Port
The Caribbean is the most popular cruising destination in the world and San Juan has one of the busiest cruise ports in the Caribbean. In fact, the San Juan Cruise Port is said to host an estimated 500 cruise ships (approximately 18 different cruise lines), resulting in over 2 million cruise ship passengers per year. That's a lot of cruisers!
Because San Juan is the anchor for most Eastern and Southern Caribbean cruises, and it's a turnaround port for many cruise ships, most cruisers will end up in San Juan at some point in their Caribbean travels.
Read next: Taking a Caribbean Cruise? Here's what you need to know
Don't make the common mistake of only giving yourself a day before and after your cruise ship experience. There's so much to see and do in San Juan that you'll want to allow yourself at least 3-4 days.
We spent 3 days in San Juan prior to our cruise departure and 5 days afterwards, which gave us plenty of time to fully experience the city and spend a few days lounging on the beach.
The most popular areas for tourists stay are Old San Juan, Ocean Park, Isla Verde and Condado. We stayed in both Old San Juan (3 days at the Sheraton Old San Juan) and Isla Verde (5 days at an apartment rental on the beach).
Things to do in San Juan, Puerto Rico
Like most coastal cities, San Juan has a lot to offer beach lovers and water sport enthusiasts. The most popular beaches in San Juan are Condado, Playa Escambron, Ocean Park and Isla Verde (Carolina). 
These beaches sit on the northern coast of Puerto Rico and can get quite windy at times, which makes ideal conditions for kite-surfing, wind surfing, body boarding and surfing (you'll need to ask the locals about where the best surf spots are – surfing just ain't my thing).
You can rent personal watercrafts (sea doo or jet ski) at most of the city beaches. There were a few different vendors near our apartment on Playa de Isla Verde. The going rate was approx US$80 for 30 minutes. It's not cheap, especially with the way the $CDN is valued these days, but they looked like powerful machines.
You can also book snorkeling, scuba diving, deep sea fishing, whale watching and catamaran tours from most tour operators and hotels. Basically, whatever you want to do, San Juan has you covered.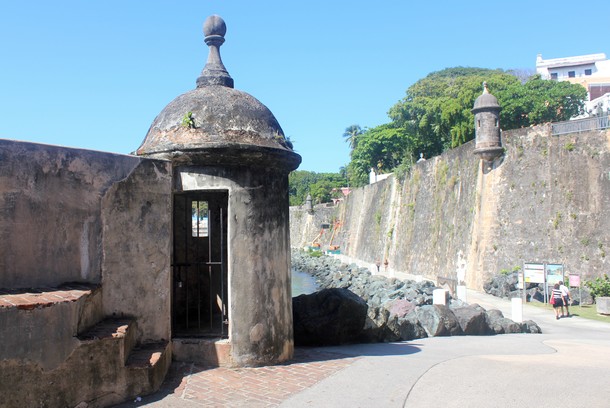 Sightseeing in Old San Juan
If you're on a cruise and you only have a few hours in San Juan, sightseeing in Old San Juan should be at the top of your list. The old city is a relatively small area so it's easy to do a self guided tour. Put away the map and let your curiousity take over. Wandering the streets and getting lost is the best way to discover its hidden alleyways and authentic restaurants and shops.
Note: It's quite hilly in some areas and the roads are mostly cobblestone, so it's not the best terrain for a baby stroller. You can take a free trolley service – see below for details.
The must visit attractions in San Juan are the fortification of La Fortaleza and the San Juan National Historic Site, which includes the three forts of San Felipe del Morro, San Cristóbal and San Juan de la Cruz and a large portion of the City Wall. These historical sights are designated as a UNESCO World Heritage Site.
Other points of interest in Old San Juan:
Plaza de Armas – one of the main squares in San Juan
Cathedral of San Juan Bautista (pictured above)

Parque de las Palomas

Puerta de San Juan or San Juan Gate

Fortaleza Street – shopping and restaurants
Plaza de Ballaja (also referred as Ballajá Barracks)
Plaza San Juan Bautista

Museums – Casa de la Familia and 

Museo de la Farmacia
If you have time, check out Paseo de la Princesa, a 19th-century esplanade that wraps around the ancient city walls. The walkway ends at the stunning Raíces Fountain, which symbolizes the island's cultural roots (pictured above). We began our walking tour here and it was nice that is has plenty of shade to escape the hot mid-day sun.
Free Trolley transportation around Old San Juan
There are 4 routes to choose from with 26 marked stops throughout Old San Juan (similar to a bus stop). There are two types of trolleys – an open-aired trolley that looks like a train of over-sized golf carts and another trolley that looks like a small bus.
The longest route takes about 30 minutes to complete. The circuit passes most of the popular attractions on the way, so you can hop on and off as you please. It's not a tour and there are no tour guides giving you information, but it's a great way to see the sights, especially when you're traveling with two little ones.
Bioluminescent Kayak Tour in Fajardo
There are plenty of things to do in Puerto Rico but there is one adventure that stands out from the rest – night kayaking to Laguna Grande to witness the amazing bioluminescent phenomenon.
There are only a few places in the world that offer such an opportunity, so we made it a priority to include this kayaking adventure during our visit to San Juan.
Read about our tour here: Bioluminescent Kayak Tour in Fajardo
Explore a real Pirate Ship in the Caribbean
Docked beside the cruise ship port on Calle Marina, across the street from the Sheraton Old San Juan hotel, is a beautiful wood pirate ship. Okay, so it's not actually a real pirate ship, but it's a pretty awesome replica, and your kids won't know the difference! Our boys saw it and immediately wanted to check it out.
We're not sure how often the boat is docked there, but if you see it there, it's worth checking out. It cost $10 per adult and $5 per child over 5 years old. You only need 15-30 minutes to see it all, so it's a fun activity for younger children.
Bacardi Rum Distillery Tour
If you love rum, a visit to the largest premium rum distillery in the world is a must. You can book a tour or catch the ferry from Old San Juan to the Bacardi Distillery. The ferry is only $0.50 per person. When you arrive in Catano, take a short taxi to the factory for approx $3.00 per person.
More details on its website – http://www.visitcasabacardi.com/
El Yunque Rain Forest 
El Yunque National Forest, formerly known as the Luquillo National Forest, is the only tropical rain forest in the United States National Forest system. It's one of the most biologically diverse national forests in the US, hosting hundreds of animal and plant species, some of which are endemic to Puerto Rico.
Start your visit at the El Portal Rain Forest Center to get familiar with the park. You don't need a guided tour but there are many available. Highlights of the park are its many hiking trails, the Yokahu Observation Tower, Coca Falls and La Mina Falls.
Rent a car and explore surrounding areas
Another fun thing to do is rent a car and explore San Juan and its surrounding area. There are some great lookout spots and quiet beaches just outside the city that are too far to reach by transit, so renting a car is a fairly cheap way to experience these spots. Driving is similar to what you would expect in Canada or the US.
Don't make the mistake of thinking San Juan is a cheaper destination, like Cuba or the Domincan Republic. Prices are similar to the United States, if not a little more pricey given that it's a touristy destination. There are large banks and ATM's around town that dispense US dollars.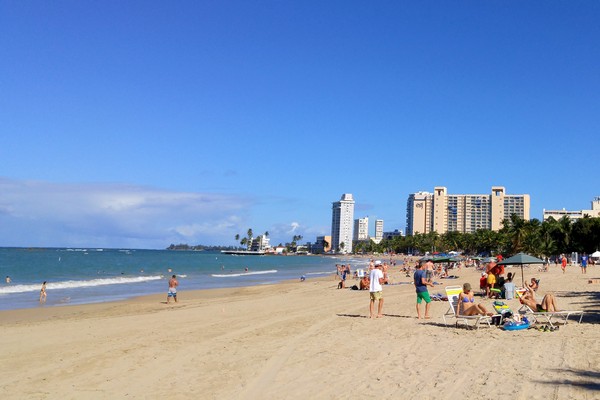 How's the beach in San Juan?
The beaches in San Juan were quite nice. We found the sand to be silky, soft and (mostly) clean. The beaches play a big role in San Juan's culture, so they can get quite busy during the day. We spent most of our time at Playa Isla Verde, which tends to see a mixed blend of locals, expats and tourists.  
There are plenty of palm trees on the beach so we always had shade available, which is essential with little ones. You can also rent beach chairs and umbrellas directly on the beach. The going rate was about $20 for a chair and umbrella for the day.
Some hotels include beach equipment for its guests. Our apartment rental came with fold up beach chairs that we brought down to the beach.
We purchased some cheap shovels and pails for the kids at the Walgreens store that is located across the street from our apartment rental, so our boys were able to play in the sand for hours.
We didn't end up swimming in the ocean because our boys are still too small and we worried about the waves and strong undertow. But, we did play in the waves that crashed on the shore.
Is San Juan safe?
Yes, San Juan is safe and friendly. The tourist zones in Puerto Rico are safe and a police presence is visible, particularly in Old San Juan and in the resort areas of Isla Verde and Condado.
Of course, common sense and basic safety measures should always be practiced. Don't get stupid drunk and flash your cash, don't wander the dark streets or beaches alone at night, don't get into stranger's cars, etc. You get the idea. 
It's a big city, so it has all of the typical big city problems, like opportunistic crimes, drugs, gangs, etc.
I found this quote on TripAdvisor: "The realistic tourist should know that San Juan's crime rate is comprable to New Orleans and Detroit, a little more than 9 times that of New York City and 7 times the rate in Los Angeles. Caution is important, but paranoia is overdoing it. Old San Juan, Isla Verde and Condado are generally considered to be almost crime-free."[source]
Tourism drives the local economy, so residents are very welcoming and English is widely spoken understood. 
What about the food in San Juan?
The food scene in San Juan is great, especially in the tourist areas. Like the people of Puerto Rico, the food is quite diverse and influenced by generations past. We love that many of the restaurants have an outdoor space, either along a sidewalk or on a patio.
We even found a few restaurants right on the beach, so we were able put our toes in the sand while eating lunch. This is a huge win when dining out with little ones. We enjoyed a couple of cold cervezas while our boys ran around in the sand – everybody wins!
Here are a few recommendations for restaurants in San Juan:
Palio

 – Located in the Sheraton Old San Juan. It has the best patio for happy hour beers. The view is outstanding and the beers are served in a frosty cold cup. 

The Boutique Cafe & Lounge

– Best for tapas and small plates. Located in the Condado area, it is best to go for brunch. 

José Enrique

– Serves up Latin American & Puerto Rican cuisine. Try the traditional PR dishes, they are excellent. 

Casita Miramar

– Great spot for authentic Puerto Rican food. During the week they are mainly only open for dinner, but have longer hours on the weekend. 

Punto de Vista Restaurant

– Located in Old San Juan. They serve up delicious Puerto Rican and Latin American food. It's good for both lunch and dinner. 

Verde Mesa

– Go for the Caribbean, Vegan and Vegetarian options. Located in Old San Juan, it's great for dinner. 

El Jibarito

– Serving up Latin American and Puerto Rican, it's great for lunch or dinner. You must try the mofongo, it is so good! 

Molinis Cafe and Restaurant

– Located in Condado, it serves Latin American food. The menu changes daily based on the availability of local ingredients. It's great for both lunch or dinner. 

Ropa Vieja Grill

 – Located in the Condado area, it serves up Cuban and Latin American cuisine. The black bean risotto and the canoas is the recommended dish. It's best to go here for dinner.

St Germain Bistro and Cafe

– Get the basil mojito. Here you'll find salads and sandwiches. It's best for lunch. 

Intercontinental in Isla Verde

– The restaurant on the beach was a great place for beers, views and pub style food. The portions were huge. 
Note: San Juan has all of the typical American food brands available, including Chillis, McDonalds, Taco Bell, Subway, Senor Frogs, etc. If you're not feeling adventurous you can always default to a familiar dining experience. 
Where to stay in San Juan?
Puerto Rico has plenty of accommodation options that fit every lifestyle, budget and timeline. Thanks to foreign investment, hundreds of beautiful vacation properties have been built over the past ten years. Most of these are available for rent on websites like VRBO, AirBnB (save $27 here) and VacationRentals.
We spent 3 days in Old San Juan and 5 days at Playa Isla Verde. 
We stayed at at the Sheraton Old San Juan Hotel (pictured above) for two nights before our Caribbean cruise. The hotel was in the perfect location for cruise ship travelers. It's conveniently located directly across the street from the cruise ship terminal and it's within walking distance to all of the Old San Juan tourist attractions.
The rooms are a good size and we had no problem getting a standard crib for Connor. The hotel has a rooftop pool that offers outstanding views of San Juan Bay. 
Rainbow views from our apartment balcony.
For the second part of our stay, we rented a spacious 2 bedroom apartment located in the Isla Verde area (pictured above). It was directly on the beach and had a nice pool.
There are several restaurants within walking distance, both on the beach and on the main road. There are also a few big casinos in the neighborhood.
It's a nice area to spend a few days lounging on the beach, which is precisely what we were looking for.
We spent an afternoon on the beach in front of the nearby InterContinental San Juan Hotel. We checked out the pool area and captured the above photo. Not a bad place to spend the day!
When is the best time to visit San Juan?
The most popular time to visit is during the winter and cruise ship season, from November to April. San Juan has a tropical monsoon climate and enjoys an average temperature of 81.0 °F (27.2 °C) year round.
In the winter, temperatures can drop to around 60 °F (16 °C). In the summer, temperatures can climb to 90 °F (32 °C) or higher. We visited at the beginning of January, in peak season, and it was warm. Some days got to over 30 degree Celsius. 
San Juan gets very busy during winter, so accommodation prices are higher and availability is limited. We noticed a big jump in prices starting January 1st vs earlier in December.
But let's get serious, there's never a bad time to visit Puerto Rico!
How to get to San Juan?
The tourist areas are conveniently located close to San Juan Luis Muñoz Marín International Airport. Puerto Rico is an unincorporated territory of the United States, which makes it very easy for Americans to visit. Flights departing from the United States and arriving in San Juan are not treated any differently than domestic flights for US citizens. This means that Americans don't need to have a passport in order to visit this Caribbean island.
Note: some United States airlines/airports may classify San Juan, Puerto Rico as a domestic flight, while others will classify it as an international flight. Make sure you confirm your departure terminal ahead of time – don't make assumptions. 
We booked our flights online and used our Aeroplan miles, which helped make this trip more affordable. In the past we had to book using a computer internet browser, however Aeroplan recently announced that members can now use the new Aeroplan app to book flights. Flight Reward bookings can be made for both roundtrip and one-way flight rewards. 
The most convenient way to get around San Juan is to take a taxi or rent a car. It shouldn't cost more than $40 USD for a taxi (on the high end) from the airport to Old Town, Condado, or Isla Verde, but make sure you confirm with the taxi stand before you leave. Most taxis charge extra per bag.
We took a taxi from the airport to the Sheraton Old San Juan hotel and it cost US$30 for a private 7-passenger van that was able to take all of us (4 adults, 2 kids) and our luggage. These large 7-person taxi vans are common place in San Juan, which made traveling with a large group very easy and stress free.
Should you add San Juan to your travel list?
San Juan is an interesting and diverse city that has a lot to offer its visitors. It deserves to be a stand alone destination, not just a travel hub for cruise ship passengers.
Sure, it has fantastic white sandy beaches and tall palm trees, but you'd expect that from a Caribbean island. It also has lush rain forests, rugged mountain peaks and exotic coastlines. Again, that's what we would expect from a Caribbean island.
But what really makes this city special is its fusion of past and present. 
From the European-influenced colonial buildings and cobblestone streets of Old San Juan to the lavish resorts, stylish restaurants and trendy nightclubs on Playa Isla Verde, San Juan has all the ingredients for a perfect vacation. It's safe, friendly and accessible, and it's oozing with culture, creativity and Caribbean sizzle.
Yes, you should definitely add San Juan to your travel wish list – but only if you like visiting awesome places.
~~~~~~~~
Have you visited San Juan? What did you think? 
Share your feedback and travel tips in the comments section below!