The Colourful Streets of Old San Juan
One of the best surprises from our trip to the Caribbean was discovering Old San Juan, the oldest settlement in Puerto Rico. This historical colonial section of San Juan, it's capital city, is a must visit for all first time visitors to Puerto Rico.
WOW – what an incredible place!
Our research on Puerto Rico did nothing to prepare us for how much we would fall for Old San Juan. Most of our research highlighted San Juan's former defensive forts, Fort San Felipe del Morro and Fort San Cristobal, as the prime tourist attractions in San Juan.
While these historical forts are definitely worth a visit, the clear highlight from our time in Puerto Rico was wandering its cobblestone streets and admiring the colourful buildings and European-influenced architecture.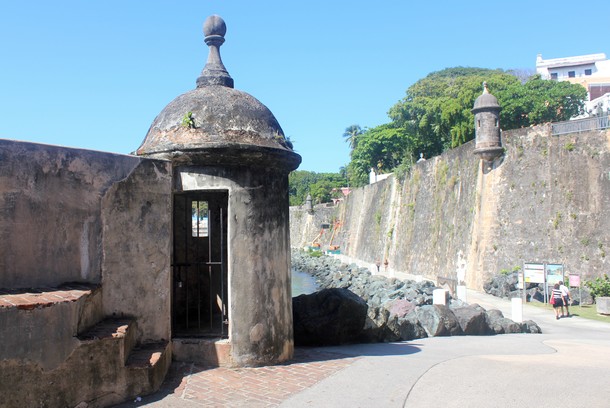 Many people are surprised to learn that San Juan is the second most populous metropolitan area in the Caribbean (following Santo Domingo in the Dominican Republic). It certainly took us by surprise. We couldn't believe our eyes when we looked out the airplane window as we approached the city. It's huge!
Don't make the mistake of assuming that San Juan is a quaint Caribbean town sheltered by palm trees. It's a full blown city that's more comparable to Miami or Panama City.
San Juan is also the second oldest European-established capital city in the Americas, founded by Spanish colonists in 1521. The city's rich history is on display as you walk up and down its historical streets.
In 1983 the old fortified city was declared a UNESCO World Heritage Site, a well deserved designation.
The beautiful Plaza de Armas in the San Juan Historic District. It dates back to Spanish colonial times when it was designed as the city's main town square.
Free Trolley Service in San Juan
On our first day in the city, the plan was to first visit Fort San Felipe del Morro, also known as Castillo San Felipe del Morro or Morro Castle (see above photo).
This 16th century citadel, along with the fortified walls and gates that surround the old city, have been declared a San Juan National Historic Site, so it's often the first stop on most first time visitor's sightseeing list.
We stayed at the Sheraton located on the waterfront near the cruise ship port. We planned to walk from the Sheraton to the entrance of the castle grounds because our map showed that if was fairly close. Hotel concierge informed us that, while the distance from the hotel to the fort is not far, it's mostly uphill.
She recommended that we hop on the free trolley service instead of walking uphill in the blistering heat. Conveniently, there's a trolley stop in front of the Sheraton and cruise ship terminal.
Free trolley service? That's a nice surprise.
There are 4 routes to choose from with 26 marked stops throughout Old San Juan (similar to a bus stop). There are two types of trolleys – an open-aired trolley that looks like a train of over-sized golf carts and another trolley that looks like a small bus.
The longest route takes about 30 minutes to complete. The circuit passes most of the popular attractions on the way, so you can hop on and off as you please.
It's not a tour and there are no tour guides giving you information, but it's a great way to see the sights, especially when you're traveling with two little ones and their grandparents.
Have you ever seen such a good looking Subway restaurant?
Not your average looking Walgreen's pharmacy either!
Every corner reveals more colourful architecture and street art.
The tile on the facade of this building reminds me of the tile in Porto Portugal.
I love this long row of tall palm trees.
Views of the Caribbean from Fort San Felipe del Morro.
Cathedral of San Juan Bautista is one of the oldest buildings in San Juan and the second oldest cathedral in the Americas.
Plaza de Armas in San Juan's historical Old Quarter.
Most roads are one way traffic, which controls the amount of vehicles in the old quarters. The sidewalks are wide and it's a pedestrian friendly area, but you still need to pay attention to passing vehicles.
Where to stay in Old San Juan
We stayed at the newly-renovated Sheraton (more photos here). It's located directly on the waterfront promenade, across the street from the cruise ship port. The hotel is within walking distance to the San Juan National Historic Site.
The free shuttle we mentioned earlier is located right in front of the hotel, which is perfect for sightseeing.
There are plenty of restaurants and shops within a 5 minute walk of the hotel. However, we recommend the hotel patio restaurant at the Sheraton. It overlooks San Juan Bay and offers happy hour specials. We enjoyed many Medalla beers on that patio – here's evidence.
Do you follow us on Pinterest? If not, join us HERE.
Have you visited San Juan, Puerto Rico?
Share your experiences in the comments section below. Our readers thank you!

Read more travel blogs from Puerto Rico here.