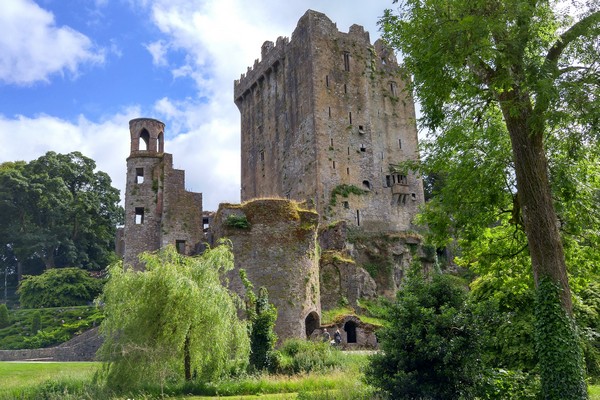 The Blarney Castle, County Cork, Ireland
First time visitors to Ireland have decisions to make. While small in size, this island nation is loaded with incredible things to do.
Once we decided to visit Ireland, we jumped online and began researching things to do on our two week road trip. We quickly learned that we'd never be able to see everything on this trip. There's just too many things to see and do in Ireland.
We had a general idea of what we wanted to see – old castles, colourful pubs, Cliffs of Moher, Giant's Causeway, the Wild Atlantic Way – but trying to narrow down the list was no easy task.
Now, keep in mind, we only had 10 days to circle the entire island, including Northern Ireland, because we spent the first 3 days exploring Dublin. So, before we decided on the road trip route, we had to first decide what attractions we wanted to include on this trip.
One of Ireland's most popular tourist attractions is the Blarney Castle, a medieval stronghold in Blarney.
Visitors from all over the world come to this old castle to climb to the top and kiss its famous Blarney Stone. The reason people kiss the stone is to 'gain the gift of eloquence', though I'm still not entirely sure how kissing a stone can make someone eloquent.
With so many castles and attractions in Ireland, we questioned whether the Blarney Castle was worth a visit. Does it live up to the hype? Is there a better castle option?
We received mixed reviews about visiting the Blarney Castle.
Some people said it was a highlight of their trip. Others said the castle was not safe for toddlers and young children. We assumed reality was somewhere in the middle.
I suppose the real question is whether you want to add Cork to your itinerary. It's a big city and many of the recommended road trip routes suggested we bypass Cork and opt for the smaller towns instead.
After spending a few days in Dublin we agreed that spending a few nights in the countryside was the best option. We decided to stay at the Blarney Golf Resort because it had a swimming pool and was located fairly close to the castle.
Staying at the golf course for two nights also allowed us to visit the nearby town of Cobh (more on this cute seaside town in a future post).
Our visit to the Blarney Castle began like most activities on our road trip – with lots of rain.
As soon as we entered the gates the rain began to fall. This was a common trend during our time in Ireland. We live in Vancouver, so we're used to the rain. We didn't let it stop us from visiting this famous attraction.
The good thing about Irish rain is that it doesn't last very long.
We hid under a big tree and waited for the rain to let up. That's where we captured the above photo. Braydon kept running into the field to see if the rain had stopped, which it did after about 10 minutes.
The gardens in the Blarney Castle complex are equally impressive.
There are over 60 acres of gardens, avenues, arboretums and waterways. And with all that rain, the flowers and plants are quite lush and colourful.
Get a $45 credit for AirBnB accommodations here.
Inside the Blarney Castle
A few people told us the inside of the castle was not a great place for young children. While we did keep a tight grip on Connor's hand, we didn't find the castle to be too dangerous.
There are a lot of stones on the ground, and the stairs and walkways are uneven (this is a 600 year old castle after all), so it's best to take it slow and watch your step.
It's hard to imagine that these hallways faced many battles over the years.
The stairs in the castle are steep, windy and narrow.
Some sections have a rope that you can grab, but most do not. You need to be patient in the stairwells because you can only have one adult use the stairs at a time. It was a little sketchy in some sections, so we made sure that each boy had an adult hand to hold onto.
That said, the boys had a lot of fun exploring the different rooms and tunnels inside the castle. It's not every day they get to play in a real live castle!
The views from the top of the castle are quite impressive and well worth the climb up the narrow stairs. I'm not great with heights, so the drop on either side of the outside walkway made me quite nervous.
The ground is uneven and there are a lot of edges that you can trip on. And it's a long way down.
As you can see in the image below, there are railings around the inner ledge for safety purposes. We still kept a very tight grip on our boys' hands. I'm sure it's safe. But I wasn't taking any risks.
You may have noticed something different about these outdoor images – they have sunshine! By the time we had climbed to the top of the caste the skies had cleared and the sun made an appearance.
Irish weather is so fickle.
Kissing the Blarney Stone
Nicole kissed the Blarney Stone. I did not. I have no interest in putting my mouth on a surface that has seen millions of mouths. Nicole, on the other hand, didn't think twice. Apparently she now has the gift of eloquence.
To kiss the Blarney Stone, you actually have to lean backwards and grab the iron railing. There is a man there to hold you and keep the line moving. There are also railings under the stone for an additional layer of safety.
Even with these precautions, it's still feels unnecessarily sketchy.
Surprisingly, before these iron railings were attached, visitors were held by their ankles and slowly lowered head first to kiss the stone. Is it just me, or does that sound insanely dangerous?
Adding the rails was a good idea.
This is the Murder Hole.
Yes, you read that correctly. During battle, if the enemy made it through the main gate they would have to walk under this hole to enter the castle. Guards would drop boiling hot oil and stones through this hole, easily killing the unsuspecting intruders.
It's brutal, but effective.
Is it worth visiting the Blarney Castle?
Back to the question at hand. Should you add the Blarney Castle to your Ireland vacation?
In our opinion, yes. We enjoyed our time at the Blarney Castle and would recommend you add it to your Ireland itinerary. It's quite impressive.
There's more to this attraction than the castle. Our boys loved running around the lush gardens and exploring the forest that surrounds the castle. It's a fun place to spend a few hours.
Things to know before you go
The Blarney Castle is situated in Blarney Village, which is 8 km northwest from Cork city in the south of Ireland. From Dublin, it will take about 3 hours if you take the main highway.
You will find plenty of nearby hotel options on Booking.com Ireland.
A family pass (2 adults & 2 children) costs 32 Euros. Purchase tickets at the gate entrance or online.
The Castle and Gardens are open all year round. Closing times change throughout the year but it's generally 6:00 PM.
It's best to arrive early or late in the afternoon. This is one of Ireland's most famous attractions, which means lots of tourist buses and big crowds. If you arrive mid-day, you will have long lines inside the castle and at the Blarney Stone. We arrived at 3:00 PM on a Wednesday in late June. As you can see from our photos, we lucked out with no crowds. This is NOT the norm, so keep that in mind.
Plan to spend at least 2 hours exploring the castle and grounds. There is a tunnel cave under the castle and several unique gardens and trails, including the Poison Garden and Bog Garden.
Bring a rain jacket because, well, it is Ireland. And make sure you have proper footwear. There are a lot of stones inside the castle and the stairs can be slippery. We use lightweight rain proof jackets made by Columbia. Even if the sun is shining, bring a lightweight jacket, just in case.
We rented our car from Sixt Rent a Car. Click here for 25% Discount in the UK.
We purchase additional travel insurance when we travel overseas. Find a plan that works for you here.
For more info, visit the Blarney Castle website.
Have you visited the Blarney Castle?
Share you experience in the comments below. Our readers thank you!