De Palm Island in Aruba
For such a tiny island nation, Aruba is quite diverse and loaded with things to do. We came for its silky white beaches and warm turquoise water, but we also wanted to drip in some family fun. A highly recommended Aruba tourist attraction is De Palm Island.
De Palm Island is an all-inclusive beach resort that caters to both families and adults. You can choose to sit on the beach and sip frozen cocktails or get active and snorkel right off the island. The choice is yours.
Our boys are at a fun age right now. They are becoming more adventurous and are open to trying new things. That said, they're not quite ready for full-day scuba diving excursions or high speed jet skis. We still have to sacrifice some of the things we like to do, but it won't be long before their ready to jump into the deep end with us.
Reader's note – this post was originally published in March 2017. We recently updated given that it's now winter vacation planning season.
What we like about De Palm Island is that it's built for families.
The island has a fun water park for the kids, zip lining and Snuba for older kids, private beaches with snorkeling right off the shore, multiple all inclusive restaurants and, of course, endless adult beverages.
As soon as we stepped on the dock of De Palm Island we felt a sense of calm wash over us. Everything and nothing was on the agenda.
The above photo is the water taxi to De Palm Island.
How to get to De Palm Island
De Palm Island is located on the southwest side of Aruba, about 5 km south of Oranjestad. Here's a link to its location on Google maps.
De Palm Island is an actual island, so you need to catch a small ferry that transports passengers to and from the island. The ferry takes about 5-10 minutes from dock to dock.
If you have a vehicle, you can drive right to the Port De Palm ferry terminal and park your vehicle there. If you do not have a vehicle, you can join a tour that includes pick-up from your hotel. We did not have a vehicle, so we joined a morning tour that picked us up at 8:30 AM. The bus made a few additional stops to pick up other guests and we arrived at the ferry terminal about 30 minutes later.
During our visit, the island was not very busy. BUT, we've heard that if cruise ships are in port the island can get quite busy. Keep this in mind if you are driving to the ferry terminal and are not on an organized tour.
Before you board the ferry you are given a wristband. Like most all inclusive venues, you need to wear these wristbands the whole time you are on the property.
There are no De Palm Island hotels, so you are not able to stay overnight.
Read more travel blogs from Aruba here.
Private beaches on De Palm Island
The island has multiple pocket beaches that are protected by man-made barriers. This keeps the water quite calm and gave us peace of mind when our boys were swimming in the shallow waters.
There are plenty of chairs and palapas scattered around the island so you didn't have to worry about not finding a seat. In fact, we moved to a different spot several times throughout the day.
De Palm Island Restaurants
We arrived on the island at about 10:00 AM. The first thing we did was eat breakfast at the buffet. The spread was pretty good. The buffet had a variety of fresh fruit, cereal, pastries, eggs, sausage, french toast, cold cuts, breads and condiments.
It had everything you'd expect and the quality of the food was good.
After playing in the water and relaxing on the beach, we decided it was time for lunch (and frozen cocktails!). Connor enjoyed his first virgin strawberry daiquiris. He approves.
Of course, we had to indulge in a few adult beverages. The bar is open from 9:00 AM to 4:00 PM and it serves beer, cocktails and spirits. It's nice to not have to pay for drinks during our time on the island. De Palm Island is an all-inclusive beach resort.
We were quite shocked at how expensive alcohol is on Aruba. We spent about US$5-$6 per 250 cl beer (the little bottle that makes your hands look huge). It takes 2 of these little bottles to equal one pint of beer, so we were spending about US$10-$12 per pint of beer. That's approx $15 CDN per pint!
Needless to say, we enjoyed ourselves and took advantage of the all inclusive beverages.
There are a couple of options for lunch on De Palm Island.
The grill serves hamburgers, hot dogs and french fries. It's located near the bar.
On the other end of the island, there's a buffet lunch at a restaurant that serves up incredible ocean views. Grab a table by the water and watch the pelicans diving for fish (see photo below).
Waterpark at De Palm Island
The colourful water structure is actually what sold us on De Palm Island. There's no pool on the island, but the water around the play structure is just over a foot deep, which is actually perfect for young children.
It's a fun park. There are several slides for all sizes. Our oldest boy, Braydon, loved splashing in the water park but some of the big slides were too big for him. He's five years old.
Our youngest, Connor, was a little freaked out by the slides but loved splashing in the shallow waters and climbing up and down the structure.
Behind the play structure is a zip line. The tower is 28 feet high and 446 feet long. The zip line is included in your admission. Children must be 6 years old to ride, so both our boys were too young to give it a try. Although, I highly doubt either would be up for the task even if they were allowed to.
Snorkeling at De Palm Island
It's been a while since we've been able to go snorkeling. Before having kids, we would go snorkeling and scuba diving whenever we visited a tropical island. But it can be quite challenging to get in the water when you have kids. We have to take turns going in the water, so boat trips are not ideal.
There's a reef just off the shores of the island, making it an ideal spot for short snorkeling sessions. It's a great set-up that is super convenient. We brought our own goggles and snorkel with us, but all snorkel equipment is included (fins, goggles, snorkel tube).
Everyone that snorkels must wear a lightweight personal flotation device (life vest) that is provided by the staff. There are life guards at the facility.
Above is the snorkeling facility on De Palm Island. Once you get your snorkel gear, you can enter the water directly from here.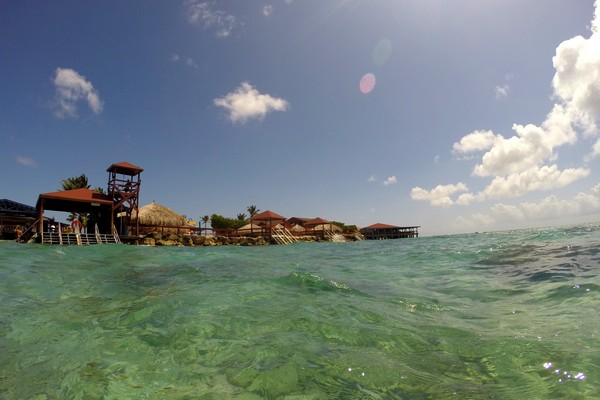 The snorkel area is roped off so you don't drift too far. The water depth is quite shallow, so you don't need to dive deep to see the reef. The water was quite choppy due to the high winds, but the water was quite warm and the visibility was very good.
Under the water, we saw a number of blue parrot fish that are endemic to Aruba. The reef was not in great shape, which not usual for reefs that are subject to daily human interaction.
It's fun to swim in the ocean and chase fish, but don't expect to see an abundance of underwater wildlife here. You'll need to take a snorkeling or scuba diving tour to see the better reefs in Aruba.
Before we knew it, our time on De Palm Island was over and we were boarding the water taxi back to the main island.
We stayed the full day, from 10:00 AM to 4:30 PM. We had a great time on the island and would recommend it. Even if you don't have kids, it's nice to turn off your brain and not have to pull out the wallet for anything.
Is De Palm Island worth it?
Yes. We feel like De Palm Island is worth visiting, especially if you have young kids.
The water park is a big hit and it's nice to have all-inclusive food and drinks. That said, it also depends on your Aruba hotel or apartment. If your hotel does not have beach access, a visit to De Palm Island is a good idea.
Things to know before you go:
Prices for the full day are US$104 for adults and US$79 for children between ages 4-12 years old (at the time of publishing this post). Children 3 and under are free. Price include food and drinks.
There are addition costs for some activities, including Snuba, Sea Trek and Power Snorkel.
Unlike many Caribbean islands that work on island time, the bus transportation is punctual. Plan to be ready a few minutes before your pick-up time.
Towels are not included. Bring your own. We brought the pool towels from our hotel. Just make sure you don't forget your towels there!
Don't forget your sunblock, hats, sunglasses, swim wear and a change of clothes.
There are lockers and change rooms on the island.
If you have flexibility with your schedule, try to visit on a day where there are no cruise ships in port. You'll have less crowds.