Glamping in Kelowna
One of the highlights from our time in Kelowna was glamping with Unique Canvas Luxury Camping. We've been glamping before, but this was the first time sharing the experience as a family of four.
Coincidentally, the weekend prior was also the first time we went camping together as a family. Experiencing both camping styles within one week gave us an interesting perspective.
Without question, we prefer the glamping experience.
It's not that we don't enjoy camping in a large campground, we do, but the glamping experience is so much more comfortable and convenient. Not only are you equipped with all of the comforts of home, you avoid the headache of having to pack the car with a seemingly endless amount of camping equipment.
In this post, we revisit our Kelowna glamping experience with Unique Canvas Luxury Camping. We spent 3 nights in a luxury tent that was customized for our family of four.
What is Glamping, anyways?
Let's take a moment to first explain what glamping is all about, for those of you who are scratching your heads or think we've misspelled the word camping.
According to the internet, Glamping is defined as a form of camping involving accommodation and facilities more luxurious than those associated with traditional camping. The word is a blend of glamorous and camping.
The example used in the definition gave me a chuckle – 'glamping is likely to satisfy any city slicker seeking a little refuge in nature—without foregoing any of life's luxuries'.
Touché, internet.
Simply put, glamping is luxury camping.
You arrive to a beautiful luxury camping tent that is equipped with all of the necessary luxury camping gear to make your camping experience comfortable, convenient and enjoyable. It's like bringing the comforts of a hotel room to the Great Outdoors. What's not to love about that?
To learn about the different types of glamping – like yurts, tree houses, safari tents, tipis and campervans – check out Glamping Hub here.
Unique Canvas Luxury Camping
Unique Canvas Luxury Camping is a family run business located 20 minutes east of downtown Kelowna in central British Columbia. The property is secluded and far from the noise of the city.
The luxury bell tents sit on top of a valley that overlooks mountains, forest and, with clear skies, you can see the iconic Okanagan Lake in the distance.
At the time of our visit, in August 2019, the campground had 3 luxury tents available for guests. The grounds appear to have room for 3 or 4 more tents to be set-up in the future.
Our hosts, Aimee and Allana, customized the tent to meet our family needs. They provided two single beds, one for each boy, along with some personal touches, like a Spiderman Frisbee and night light for each boy.
As you can see in the photos, the luxury tent is quite spacious and comfortable.
Aimee and Allana, sisters and business partners, created Unique Canvas Luxury Camping to address their own desire to add some luxury to the camping experience.
"We grew up camping. We loved the closeness that camping with family brought", says Allana. "But, as we got older, the half inflated air mattress and dewy tents got old. That's when we decided that people should be able to camp luxuriously."
Braydon was happy to show off his personal bed in the glamping tent.
Above is Connor's bed. He didn't want to smile for the camera.
Luxury Camping Tents at Unique Canvas
Each tent can be customized to meet the needs of the guest(s). We were the first people to arrive at the luxury tent campground, so we poked our heads into the other tents and took a few photos.
The design and detail in each luxury tent is exceptional. The owners have clearly invested a lot of time, money and love into making these tents unique and memorable.
The photo below shows the set-up for a romantic getaway in Kelowna.
See the AirBnB Luxury Glamping Retreat listing here.
Above is the inside of a different luxury tent on the campground.
Is there a shower and bathroom when Glamping?
Yes, this property is equipped with a shower and toilet. However, they are a shared resource for all guests staying in the luxury tents.
Keep in mind, glamping is still camping. Just more glamorous.
The tents do NOT have running water, so there are no toilets, sinks or showers inside the tents.
The showers DO have hot water. In the above photo, you will see a white box on the left side of the shower. That's the water heater. It's connected to a propane tank. To activate the shower, you simply turn on the water source (similar to an outdoor hose), turn on the propane, turn the dial to your desired temperature, then flip the switch on the shower head. Voila, you've got a hot outdoor shower.
We enjoyed taking hot shower outdoors. It's actually quite liberating. As you shower, you have views of the mountain valley in the distance. It's certainly a memorable experience!
At the time of our visit, the toilet was a traditional portable toilet. Similar to the ones you'd find at an outdoor festival or concert. The owners intend to build a permanent toilet in the near future.
Nicole enjoying a hot shower while soaking up the mountain views.
What to bring when Glamping in Kelowna?
The best part about glamping, aside from the big comfy beds, is that you don't need to bring any camping supplies. Everything you need is provided for you, so you don't have to spend hours packing and unpacking your vehicle with cumbersome camping equipment.
The owners at Unique Canvas Luxury Camping have thought of everything.
What is provided when Glamping?
Each tent comes equipped with all of the cooking utensils you will need (see above image), including cups, plates, bowls, pot, pan, salt and pepper, dish soap, cutting board and stovetop coffee percolator (although we brought our own french press).
Guests are provided a portable outdoor stove with propane. We were supplied two small cans of propane, though we only ended up using one.
Tents also include the use of a big cooler, dish bin, portable water jug, and large bottles of fresh water. The water source is located beside the shower, which is about 50 feet from the tents.
In the above photo, you will see a plastic container with a red cap. That's the portable water jug.
We would fill that up with water each morning and use it for cleaning dishes throughout the day.
Guests are provided soft towels for the shower (not to be taken off the property), comfy blankets for sitting by the campfire, and multiple bottles of water to stay hydrated.
Campfires and S'mores
Each tent comes with a portable propane fire pit and multiple cans of propane, so you can enjoy a safe campfire all night without accidentally causing a forest fire.
Along with big comfy Adirondack chairs, guests are given a S'mores kit that includes marshmallows, Hershey's chocolate, graham crackers and long metal forks with wooden handles for roasting marshmallows.
The owners really do think of everything!
Where to get groceries and alcohol?
The only thing not included when glamping at Unique Canvas Luxury Camping is food and drinks (bottled water IS provided, but it's limited to a few bottles).
The campground is located about 10 minutes from a large Save On Foods grocery store. Here's the directions. It's located at 301 Highway 33 W #10, Kelowna. You will find everything you need at this grocery store.
Across the street from the Save On Foods grocery store is Berezan Liquor Store (located at 101-115 Roxby Rd, Kelowna). You can grab bags of ice while you're there. I believe you get a free bag of ice when you spend over $25 on booze.
We recommend you visit a local Kelowna winery (or 3) and pick up a few bottles of wine to enjoy by the campfire.
There's also a gas station about 5 minutes from the campground (by car) for quick supplies like bags of ice, chips, soda, water, canned goods, etc.
Travel tip – limit the amount of fresh food you bring.
You have limited space in your cooler and the tents can get quite warm during the day. To prevent spoilage and waste, plan your meals in advance and keep it simple. This is not the time to test your gourmet cooking skills.
Why Glamping in Kelowna?
Kelowna, and the Okanagan Valley, is a wonderful place for a family vacation, especially in the summer. Because of it's popularity, Kelowna can get quite busy during the summer months.
The Provincial campgrounds in Kelowna, like Bear Creek Provincial Park and Okanagan Lake Provincial Park, are great spots for family camping, but, like most campgrounds in British Columbia, Okanagan campgrounds fill up quickly. It's almost impossible to find an available campground without reservations.
Kelowna Glamping is a fantastic alternative to traditional 'car camping'. The luxury tents are fully equipped so you don't have to spend hours setting up your camp and packing it up when it's time to leave.
This means more time to relax and enjoy your time in Kelowna!
Thing to do in Kelowna with kids
There are endless things to do in Kelowna, so we will focus on family friendly activities.
We spent 3 nights glamping in Kelowna, which gave us 2.5 days to explore Kelowna (we arrived in the evening on Day 1 and started the drive home mid-day on Day 4).
Below are a few recommendations for things to do in Kelowna with kids.
We visited Kelowna attractions that are relatively close to the glamping campground at Unique Canvas Luxury Camping, which is located 20 minutes east of downtown Kelowna on Highway 33.
Get on the water – Rent a boat
Summer in the Okanagan is all about lake life. If you like spending time on the water, this is the place to be.
Okanagan Lake is the biggest and most popular lake in Kelowna (and home to the mythical Ogopogo). It spans 135 km (84 miles) from north (Vernon) to the south (Penticton), with Kelowna in the middle. However, the region is home to several other fresh water lakes that are equally awesome, including Wood Lake, Kalamalka Lake, Ellison Lake, Beaver Lake and Swan Lake.
We visited Wood Lake during our trip to Kelowna. It's located in Lake Country, which is a part of the Central Okanagan Regional District. It's a 30 minute drive from the Unique Canvas glamping campground to Wood Lake.
Prices vary depending on the boat and length of time on the water. Check boat rental rates here.
We spent 2 hours on the water, which was the perfect amount of time. Our boys enjoyed fishing off the side of the boat (we brought our own fishing poles and tackle) and jumping off the boat into the refreshing lake. The boat rental included a giant inner tube and rope, but we did not use it because we're not comfortable with our boys swimming skills at this moment in time.
Before we went on the water, we enjoyed lunch at Turtle Bay Pub. It has a big lakefront patio and the food is good. The boat rental shop are located on the dock directly in front of the pub.
Kelowna Kangaroo Farm
Did you know you can see kangaroos in British Columbia?
The Kangaroo Creek Farm is located in Lake Country, just north of Kelowna. When we first learned of the Kanagaroo Farm, we thought it would only have a few kangaroos in a big cage. We were very wrong. The farm is home to several kangaroos, we spotted at least 30, and they roam around a huge open field.
The farm is also home to several other animals, including goats, pot-bellied pig, emu, peacocks, sugar glider, capybara and Patagonian Cavies. See the full list of animals here.
The Kangaroo Farm is located at 3193 Hill Road in Lake Country.
It's open seven days a week, from 10:00 AM to 3:00 PM, rain or shine. Note – it's only open in the summer and closes end of September. It re-opens around Spring Break.
Price of admission is Adults $10, Youth (under 19) $5, and Children under 5 free.
Note – admission is CASH ONLY. The farm does not accept debit or credit cards.
I believe these guys are actually called Wallaroos.
The kangaroos, wallaroos and wallabies are free to roam this huge open field. The area is gated and fenced, so guests enter and exit at the same point to keep the animals safe.
The Kangaroo Farm has a large petting zoo so kids can get close to the animals.
Can you guess what this animal is? Hint – it's the largest living rodent in the world.
Spend the afternoon on a lake beach
The Okanagan is home to over 30 lake beaches, so you have lots of options. Many of the beaches are equipped with playgrounds, concessions, and bathrooms.
The most popular beaches in Kelowna are:
We spent a few hours at Boyce-Gyro Beach in the late morning / early afternoon on a holiday weekend. It was packed. We lucked out with street parking, but the parking lots were a complete gong show. This is to be expected on a holiday weekend in the summer when everyone wants to enjoy a little beach time.
Get there early if you want to grab a good spot.
After some time at the lake, you may get hungry. We recommend you drive up Lakeshore Road about 10 minutes from Boyce-Gyro Beach (follow the signs for Summerhill Winery) and eat at DunnEnzies Pizza. It's a great family friendly restaurant with lots of options for everyone. We love that DunnEnzies Pizza has dairy free pizza on the menu. This was the first time that Connor was able to eat pizza with us at a restaurant.
WildPlay Element Parks
WildPlay Element Park is an adventure park with a variety of obstacle courses that include log ladders, ziplines, cargo nets, rope swings, tightropes, swinging logs and suspension bridges. Basically, it's a playground for adrenaline seekers.
The Kelowna park is located on 5983 Highway 33, which is only 5 minutes from Unique Canvas Luxury Camping. We did not visit during our visit because undergoing significant site improvements during the time of our visit.
Visit WildPlay Kelowna for hours of operation, rates and more info on the adventure courses.
Scandia Golf and Games
Scandia Golf and Games is Okanagan's favourite family fun center.
The huge facility has Outdoor Mini Golf, Indoor Jungle Mini Golf, Go-Karts, Batting Cages, Shooting Gallery and over 100 Arcade games.
It's located at 2898 Highway 97 North Kelowna, which is only 15 minutes from the Unique Canvas Glamping campground. Here are the directions.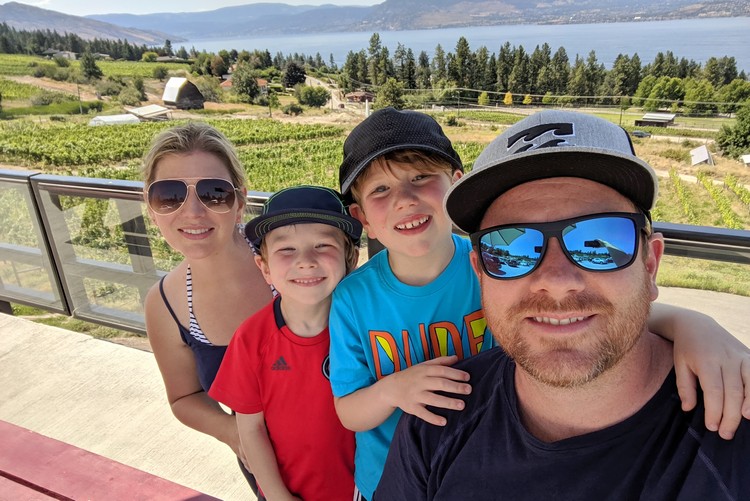 More things to do in Kelowna with kids
The above recommendations are located close to the Kelowna campground at Unique Canvas Luxury Camping, which is located 20 minutes east of downtown Kelowna.
Kelowna wine tasting
The Okanagan is famous for its wine production and Kelowna is widely known as the birthplace of winemaking in British Columbia. There are over 40 Kelowna wineries within a 20 minute drive!
Now, you may be asking yourself, how is wine tasting a kid friendly activity?
Well, the short answer is that it's not, really. Yes, some of the wineries are kid friendly, but, let's be honest, your kids don't care about wine tasting. HOWEVER, because there are so many vineyards in Kelowna, you can easily do a wine tasting between kid friendly activities. That counts, right?
Kelowna has five unique Wine Trails:
We did not follow a specific Kelowna wine trail, but we did visit 4 wineries during our trip to Kelowna – The Vibrant Vine (this was our favourite), Summerhill Pyramid Winery, Indigenous World Winery and Gray Monk Estate Winery.
Wineries located near the Glamping Campground
The most popular Kelowna Wineries
If you want to visit a lot of wineries and vineyards in short period of time, we recommend you join a Kelowna wine tour. There are dozens of wine tour operators in Kelowna, so you've got plenty of options.
Many of the Kelowna wineries with restaurants book up in the summer, so it's best to join a wine tour that includes dining at a winery restaurant (the views are spectacular).
Reminder – Stay safe, don't drink and drive.
How to get to Unique Canvas Luxury Camping
The glamping campground is located at 4631 BC-33, which is about a 20 minute drive east of downtown Kelowna.
The glamping tents are connected to MacDonald Acres RV Park. See map below.
When you approach the RV Park, the signage will read 'MacDonald Acres RV Park'. The driveway is on the right hand side of the road.
Arriving from Kelowna International Airport
If you are taking a flight to Kelowna International Airport, it will take about 20 minutes to drive from the airport to Unique Canvas Luxury Campground.
See image below for general directions.
Drive from Vancouver to Kelowna
The drive from Vancouver to Kelowna takes about 5.5 hours with one stop.
We prefer to drive Highway 5 and take a break in the town of Merritt, which is about the 2/3 of the way to Kelowna from Vancouver. We typically stop at the Dairy Queen in Merritt because it has a kids play area. Our boys like to run around and get some exercise before the final push from Merritt to Kelowna.
You will want to avoid the stretch of highway from Vancouver to Langley between 3:00 PM and 6:00 PM – it's a parking lot during these hours. If you have an open scheduled, we recommend you depart around 10:00 AM to avoid traffic congestion.
If you are driving from Vancouver to Kelowna in the winter or shoulder season, plan for snow on the Coquihalla Pass. You should have proper winter chains for your vehicle. Check Coquihalla weather conditions here.
Kelowna Weather
The Okanagan is known for it's sunshine. In fact, Kelowna is one of the sunniest cities in Canada, boasting over 304 days of sunshine on average per year.
For reference, on August 1, the hottest day of the year, temperatures in Kelowna typically range from 20°C to 30°C, while on December 31, the coldest day of the year, they range from -5°C to 1°C. The probability of rain in August is less than 15%.
During our visit in early August 2019, temperatures climbed to 34°C.
How to book your Kelowna Glamping experience?
If you have questions about Glamping in Kelowna at Unique Canvas Luxury Camping, you can connect with Aimee and/or Allana directly via their website, Facebook and Instagram.
Nightly rates are dynamic, so it's best to check the below listings for the current pricing.
Additional options, like fire pits and propane, can be arranged through the host.
Check out the AirBnB Glamping listing here.
Check out the Glamping Hub listing here.
Read more blog posts from British Columbia:
Would you like to try Glamping in Kelowna?
Do you have questions? Leave us a comment below.