Marriott Ko Olina Beach Club in Oahu, Hawaii
On our last trip to Oahu, we spent 4 nights at the luxurious Marriott Ko Olina Beach Club. This popular Oahu beach resort is located in the Ko Olina neighbourhood, about 30 minutes west of Honolulu. In this blog post, we share our photos and experience from our stay at Marriott Ko Olina Beach Club.
When we posted on social media asking where to stay in Oahu, several people recommended we look at Ko Olina beach resorts, rather than the bustling Waikiki Beach. We did further research and agreed that Ko Olina was a good fit for us. So, we decided to do both!
Ko Olina is located on the leeward side of Oahu. It's said to be drier and sunnier here, when compared to other parts of the Island. There are four separate beach lagoons along the coast Ko Olina, with rock barriers in place to protect the beaches from big waves and strong currents.
It's home to the world-class Ko Olina golf course and several mega-resorts, including the famous Disney Aulani Resort and Four Seasons Resort Oahu.
We chose the Marriott Ko Olina Beach Club because it has multiple outdoor pools and hot tubs, lots of outdoor space and, of course, prime beachfront access. It was priced well, too. When compared to the other the Ko Olina hotels.
Get hotel pricing for Marriott Ko Olina Beach Club here.
Before we get started, we feel it's important to inform you that we did NOT receive any compensation, discounts or perks to stay at this Hawaii beach resort.
We chose this resort because we found a good deal. We paid 100% of the bill.
Our room at Marriott Ko Olina Resort
The above photo is the view from our balcony suite. We stayed in a bachelor suite with 1 x queen bed and 1 x double pullout couch. Our suite was on the 10 floor, so we had great views of the ocean. We spotted humpback whales from our balcony multiple times during our stay.
It's a smaller room with a kitchenette and large bathroom. It was fine for our needs, but it did feel a little crowded at times. We spent most of our time at the pool anyways.
The Marriott Ko Olina Beach Club has several suites and villas to choose from. It's a huge property, with 560 vacation apartments. Some of the villas are close to 1,300 square feet and sleep 6 people.
See the different room sizes and availability here.
Our boys slept on the pullout couch. They said it was comfortable, although they prefer to sleep in separate beds. It's easy to convert the couch into a bed.
Unfortunately, we didn't take photos of the bathroom or kitchenette. We did a video tour on our Instagram stories when we arrived but forgot to take photos afterwards.
See photos of the rooms and layout on it's website here.
We stayed in the Hale Moana Tower. It's the high-rise tower that is furthest away from the beach.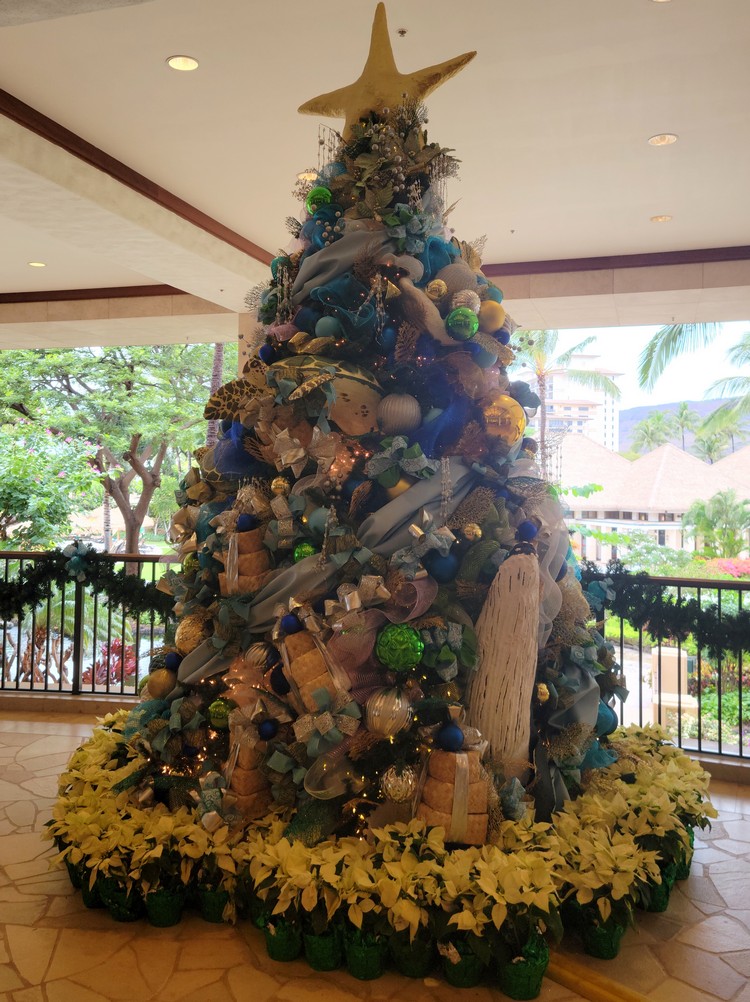 This might be the most unique Christmas tree I've ever seen. Look closely. It has a humpback whale, sea turtle, coral, fish and a starfish on top. Full points for creativity.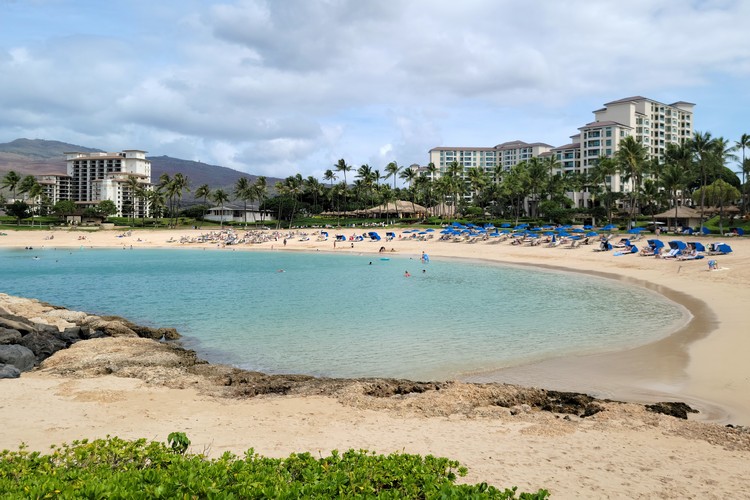 The beach at Marriott Ko Olina Beach Club
The beach is actually a protected lagoon called Nai'a Lagoon. Developers built a rock wall in front of the beach, with a small opening to the ocean. This helps keeps the water calm for swimmers.
It's an idyllic beach setting, even though it's clearly man-made.
During our stay, there was a box jellyfish warning. Apparently the movement of box jellyfish is predictable, here's a Hawaii Jellyfish Calendar. We brought our snorkeling gear specifically for this beach, however, once our boys saw the box jellyfish warning they didn't want to go swimming in the ocean.
View of the beach and hotel from the shoreline rocks.
The calm and colourful waters of Nai'a Lagoon. It's a beautiful place to spend the day(s).
The cabanas and umbrellas are not included with your stay. Even if you are a guest at the Marriott resort, there is an additional charge for an umbrella and/or cabana.
The property has lots of green space for kids to run around.
These are the best seats in the house to enjoy sunset beside the outdoor fire place.
Outdoor pools at Marriott Ko Olina Beach Club
The hotel has 3 outdoor pools and 6 hot tubs. Although, it feels like the property has 6 outdoor pools because of the way they are spread out. And, wait for it, the pools are heated! We've stayed at many tropical destinations where the outdoor pools are not heated, so it was nice to have heated pools here.
The above photo is the Reflection Quiet Pool. We did not spend time here because our boys want to splash and play in the water. However, if we were not traveling with our kids, this looks like perfect place to read a book and sip on a frozen Mai Tai.
If you look at the photo below, you get a view of the pool layout. The section on the bottom of the photo, with the palapa umbrellas, is the Lagoon Pool. It's designed with young children in mind. The water is very shallow and it leads to a sand beach, so families get the best of both worlds. We would have loved this pool when our boys were toddlers.
Sticking with the photo above, the upper part of the pool is designed for pool activities. It has a volleyball net and basketball net, so it's ideal pool for older kids/teens to play water sports.
Above – Braydon is sitting beside the water volleyball net at the Lagoon Pool.
The Reflection Quiet Pool. It's basically the adult pool, but not formally.
Braydon enjoyed the whirlpool spa that's located near the Reflection Pool. You must be 10 years old to enter, so he felt like a big boy soaking in this hot tub (he just turned 10 years old).
We spent most of our time at the Nai'a Pool
This pool has multiple layers, so it actually feels like 3 or 4 pools. The upper section, pictured below, has waterfalls and a grotto cave. The water is only 3-4 feet deep here, so our boys enjoyed this part of the pool. They tossed around the football and swam for hours.
The Nai'a pool also has a cool waterslide that flows through the 'volcanic rock'. It's dark and tight, so consider yourself warned if you or your kids are claustrophobic.
In the above photo, the waterfall on the top right is actually the entrance to the grotto cave. This is a fun part of the pool. We enjoyed getting an outdoor shower while walking under the waterfall.
This is also the closest pool to the beach and offers poolside food and beverage service.
Marriott Ko Olina Restaurants
The hotel has 2 restaurants and a marketplace coffee shop. If we had one complaint about this Hawaii beach resort, it would be the limited restaurant and food options on the property.
Longhi's Restaurant serves Italian and seafood. It's open for brunch, lunch and dinner. We did not eat at this restaurant because we found it over-priced. Entrees are $40+ for pasta dishes. Here's the brunch menu, dinner menu and kids menu (let us know if these links break).
To be fair, we decided to eat breakfast at our hotel room to save money. Hawaii is crazy expensive (especially with the Canadian dollar) and you're likely spending at least $100 per meal for a family of four.
Longboards Bar & Grill serves standard American fare, including burgers, sandwiches, quesadillas, tacos, chicken wings, salads, etc. It has patio seating with views of the beach and ocean. We ate here a few times during our stay. The food is average and the service was slow, but we weren't in a hurry.
Above is the entrance to Longboard's Bar and Grill.
Longboard's specialty drink – the frozen Mai Tai. Not a bad view either.
Guests can order poolside service from at the Nai'a Pool Bar, pictured above. The food is prepared at Longboard's bar and grill, so it's a similar menu.
Because we spent most of our time at the pool, we ordered lunch service and ate on our lounger chairs beside the pool. Our boys enjoyed the chicken tenders and fries. It did the trick. The portions are quite big, so one order was enough to fill both boys.
We shared an order of quesadillas and it was more than enough for both of us.
Ko Olina Restaurants
Given the limited options at the Marriott, we walked along the beach path to the Ko Olina retail plaza for more food options. Here you will find Monkeypod Kitchen, Tropic Poke, Island Village Coffee, Eggs n'n Things Ko Olina, Pizza Corner and Mekiko Cantina.
The Monkeypod Kitchen came highly recommended, so we ate there for dinner one evening. Here's the Ko Olina Monkeypod dinner menu. Nicole and Braydon ordered the pizza (it was very tasty) and Cameron ordered the Saimin, pictured below. It's similar to ramen, but with different noodles and flavours.
While here, there is a small grocery called Island Country Markets. It offers a lot of quick food to go, like sandwiches, salads, fried chicken, pizza, fresh fruit, pastries, etc. It also has beer, wine and snacks for sale. We stocked up on our first day, which was a good move. This allowed us to enjoy evening drinks and snacks on our balcony. It's an easy way to save money.
One afternoon, we ventured into Disney Aulani Resort (pictured above) for a late lunch at one of its restaurants. We had to check-in at the front desk to get a wrist band in order to dine on the property. This is to confirm vaccination status – I'm not sure if this is a non-pandemic requirement.
I believe we at the Ama Ama Restaurant, but I'm not sure. We sat outdoors near the pool. We shared an order of Poke Nachos, pictured below. It's an interesting dish that's uniquely Hawaiian.
We don't normally drink sugary cocktails, but when in Hawaii… you Mai Tai!
Ko Olina beaches face west, so you're treated to fantastic sunsets.
We enjoyed this soft pastel sunset at the Marriott Ko Olina beach.
Our boys love running on the beach at sunset. Surprisingly, the beach is virtually empty at sunset.
Ko Olina Beach Park Walking Trail
When staying at Ko Olina, its recommended to walk along the Ko Olina Beach Park walking trail. It connects all of the beach lagoons and hotels with the Ko Olina Marina.
This smooth concrete path is lined with swaying palm trees and soft green grass. It's well maintained. I spent every morning walking up and down this beach path. It's a popular walk for guests staying at the beach resorts.
If you're not staying at one of the Ko Olina hotels or Ko Olina Villa rentals, you can still enjoy these beaches by parking at the Ko Olina Beach Park, located beside the marina.
I took the above photo on my arrival flight to Oahu. As I looked out the window, I thought to myself, "that looks like Ko Olina?"
You can see the Marriott Ko Olina beside the bottom beach lagoon. Disney Aulani and the Four Seasons Resort surround the top beach lagoon. This view gives perspective on the size of these huge Ko Olina beach resorts. It also shows where the next resort developments will likely be.
View of the Marriott Ko Olina Beach Club property from Ko Olina Beach Park.
Above is the Kohola Lagoon and Four Seasons Resort Oahu.
On the south side of Kohola Lagoon is the iconic Disney Aulani Resort, pictured above.
This Ko Olina beach path connects the Ko Olina Resort and Aulani Disney Resort.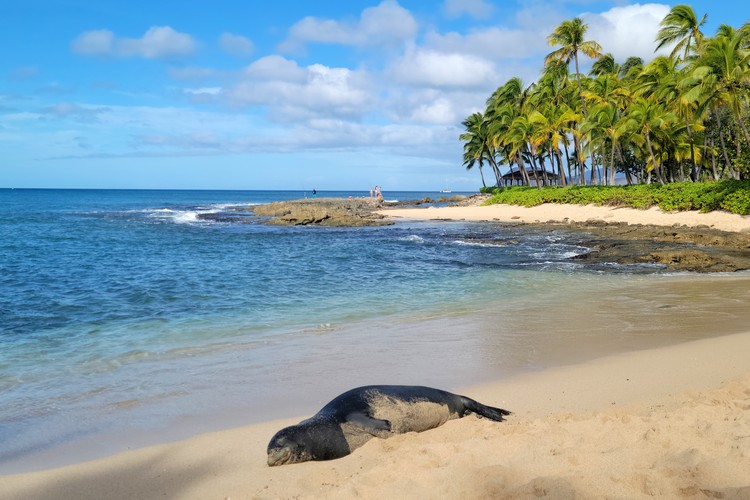 While on my morning walk along the Ko Olina Beach Park Walk, I spotted this huge monk seal taking a nap on the beach. This "Secret Beach" is located just beyond the Four Seasons Resort Oahu.
The Hawaiian monk seal is an endangered species, so they are protected. Later that day, when I returned, the seal was gone but I noticed the beach was roped off to protect the seal from human interaction.
Fun fact – the Hawaiian name for monk seal is 'ilio-holo-i-ka-uaua', which means 'dog running in the rough water'. I wonder if this monk seal would take that as a compliment?
A few more things to know about the Marriott Ko Olina
Marriott Ko Olina Beach Club is a vacation time share property. You don't have to be a member to stay at the property. However, you can sometimes find deals from members selling their time share on VRBO.
Food and drinks at the resort is expensive. If you have a rental car (save 10% here), it's best you stock up at the grocery store. If you don't have a car (we did not), visit the Island Country Markets store near the entrance to Ko Olina and stock up on the basics.
The resort gym is quite nice. It has quality weight-lifting equipment, cardio machines (with 2 new Peloton bikes), sauna and steam room (although, the steam room and sauna are closed during the pandemic).
Check-out time is 10:00 AM. We found this to be quite early, especially given the price point. However, after you check-out of your room, you still have access to pools and amenities until your departure.
Beach umbrellas and cabanas are an additional charge. Daily rate is $60. We found this to be expensive and unnecessary. Unfortunately, there is no shade on the beach, so if you sun burn easily, like we do, you will either need to pay for an umbrella or lounge at the pool instead.
Paradise Cove Luau is a popular seaside luau located near the entrance to Ko Olina, near the retail area. It offers nightly shows. More info here.
To see the layout of beaches and hotels, view the Ko Olina Hawaii Map here.
Hawaiian airlines is now offering deals on winter travel to Hawaii.
Are you planning to visit Marriott Ko Olina Beach Club?
If you have questions, leave us a comment below and we'll get back to you as soon as we can.