A few years ago, we took an unforgettable family road trip around Ireland and Northern Ireland. Shortly after returning, we wrote a blog post that shares the highlights from this road trip. However, I realize that we did not write a detailed blog post about the actual Ireland road trip itinerary.
Let's fix that today, shall we!
Skip ahead using the Table of Contents below.
Ireland Road Trip Itinerary for Families
This post was originally published in 2017. We reviewed and updated this post in May 2023.
Road trips are always a good idea, especially with young kids.
We love the freedom and flexibility you get while being on the open road. The freedom to choose where you want to go, when you want to go, and how fast you want to go. You can slow things down or speed things up – it's entirely up to you!
The first cut of our itinerary was built around visiting the top attractions in Ireland – Dublin, Blarney Castle, Cliffs of Moher and Giant's Causeway in Northern Ireland. This post shares a solid 10 day Ireland itinerary.
Reflecting on previous road trips with our boys, we've added a few more requirements:
Spend no more than 3 hours of drive time each day
Find hotels that have a swimming pool
Try to spend two nights at each hotel to reduce the packing and unpacking
Include one kid-friendly activity each day
Pick-up and drop off the car rental at the Dublin airport
We spent the next few weeks experimenting with different itineraries. Our flights arrived and departed from Dublin, so that was an easy start and finish point. But after spending a few days in Dublin, should we go north, south or west?
This post shares our recommended 2 week Ireland road trip.
Dublin – Nights 1, 2 & 3
We spent our first 3 nights in Dublin. Our first night was spent recovering from jet-lag and getting used to our new environment. It's a 9 hour time difference from Vancouver, so that messed with our boy's internal clocks. Big time. It took a solid 3 days for them to adjust.
We did NOT pick up the rental car when we arrived at the Dublin airport.
We knew we'd be very tired after the 10 hour overnight flight and we didn't want to risk getting lost or in an accident because we weren't thinking straight.
Remember – Ireland drives on the left side of the road.
It wouldn't have been a good idea to drive on the opposite side of the road, in a new city, after 13 hours of travel with two boys under five years old. It sounded like an awful idea, actually.
Fortunately, we had a family member pick us up at the airport and bring us back to her place. Our flight arrived at 8:00 AM but the apartment rental was not available until 4:00 PM. We needed sleep and didn't want to deal with the hassle of picking up the rental car with low energy.
We did not intend to actually start the road trip until Day 4, so it didn't make sense to pay for additional car rental days and expensive city parking (30 Euros per day).
Instead, we picked up the rental car on Day 3 (the day before leaving Dublin).
This gave us plenty of time to explore Dublin, acclimate to the new city and get some experience with left-handed cross walks. We took a taxi to the airport and drove the car back to the apartment.
Day 1 was spent adjusting from the nasty jet-lag, which left us with two full days to explore Dublin. We did a lot of walking along the River Liffey and Temple Bar District and we visited the Guinness Storehouse, which was a lot of fun and worth the visit.
Family travel tip – the pubs in Ireland are very kid friendly. Unlike Canada, this means you can enjoy a pint of Guinness at the pub/bar with your kids in tow. No babysitters, yeah!
Where to stay in Dublin?
We rented an apartment in the Spencer Dock neighborhood. It's located on the east side of Dublin, north of the River Liffey. It's a nice, clean area that is relatively central. From here, you can easily walk to the Temple Bar district in 25 minutes.
We stayed at the IFSC Dublin City Apartments. It's a two bedroom apartment with a full kitchen and separate living space. It's modern, clean and priced well. We would recommend staying here.
Search for more Ireland vacation rentals here.
Blarney & Cobh – Night's 4 & 5

We chose Blarney as our next destination because of it's close proximity to both Cork and Cobh.
Blarney is most famously known as home of the Blarney Castle (and kissing the Blarney Stone).
We decided to spend two nights in Blarney because we wanted one full day to visit the castle and also visit Cobh, an adorable seaside village that was the Titanic's last port of call in 1912.
The drive from Dublin to Blarney
Leaving Dublin, we traveled south on the M50 and connected to the N11. We drove through Bray and continued south to the M11. This was a nice, easy stretch of highway.
We stopped in Enniscorthy for lunch. It took us an hour to drive from Dublin to Enniscorthy. Although, we did get a little lost trying to get out of Dublin. It's a cute town with an old castle in the center. We spent 1.5 hours in Enniscorthy and then continued south on the N30, towards New Ross. Then we travelled south on N25 towards Youghal, passing Waterford and Dungarvan.
We spent about an hour in Youghal. The drive from Enniscorthy to Youghal took us about 1.5 hours. We ran into some construction on the way, so that slowed us down. We continued from Youghal to Blarney, which took about 45 minutes. The full trip took about 6 hours, with two stops that accounted for 2.5 hours.
At most, we spent about 1.5 hours in the car between stops.
If you want to get from Dublin to Blarney or Cork faster, take the M8, which is the main highway. This would take approximately 3.5 hours of straight driving.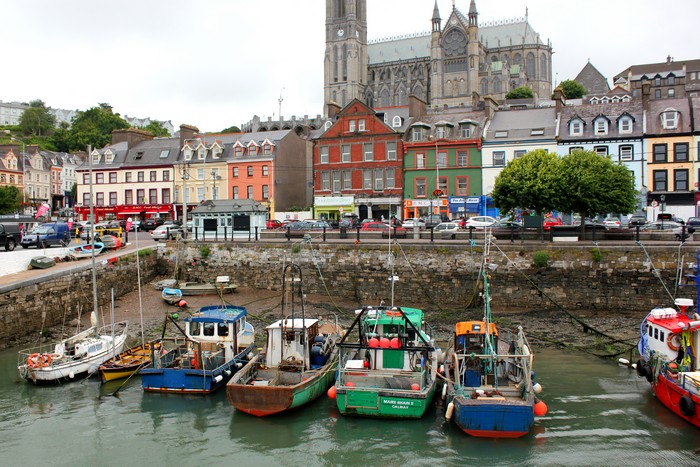 Cobh, County Cork
Although the weather was wet and overcast, we really enjoyed visiting Cobh. It's one of our favourite spots on this Ireland road trip itinerary.
We love the old architecture and colourful buildings in Cobh (see photos above). We hopped on a tourist train that took us around town and showed us the highlights. After a delicious lunch of seafood chowder and warm bread, we strolled along the historic waterfront and snapped a few photos before leaving.
We spent about 3 hours in Cobh. It took us about 45 minutes to drive from Blarney to Cobh.
After Cobh, we visited the iconic Blarney Castle.
When we arrived at the front entrance it was pouring rain. We contemplated skipping the attraction but decided to brave the rain. Good thing we did. By the time we made it to the top of the castle it was sunny and warm (see above photo).
We wrote a blog post about our visit to the Blarney Castle. You can read it here.
Where to stay in Blarney?
We stayed at the Blarney Golf Resort, located just outside the town of Blarney in the countryside. We stayed here because it's located very close to Blarney Castle and, most importantly, it has a swimming pool. Our boys love pool time much more than sightseeing.
We really enjoyed our stay at this hotel. The restaurant is nice and the rooms are spacious. Because the property is in the country, it's quiet and peaceful in the evenings. Our boys had fun running on the grass fields, swimming in the pool and playing in the mini-playground/kids room.
If you're travelling with kids, we would recommend this property.
Ennis or Limerick – Night 6
This is the point in the road trip where you have decisions to make.
If you want to tackle the southern part of the Wild Atlantic Way, you can head south from Cork towards the coast. You can also venture west, towards Killarney. The southwestern coast of Ireland is said to have some of the most beautiful landscapes on the island.
You could dedicate an entire week to this region.
We made the decision to skip this coastal region because it would have meant many hours of driving each day. If we weren't traveling with our boys we probably would have spent more time driving the southern section of the Wild Atlantic Way. However, asking them to spend 6-7 hours per day in the car is too much for them at this age.
Drive from Blarney to Limerick
We traveled from Blarney to Limerick and stayed one night at the Absolute Hotel Limerick. It's a nice boutique hotel with modern decor and spacious rooms. The breakfast buffet is awesome.
However, if we had to do it over, we would probably stay in Ennis instead. Limerick is fine, but there wasn't much to do and the traffic was quite frustrating. The riverfront walk is nice and King John's Castle is quite impressive.
Ennis is a traditional Irish town that's loaded with character. It has narrow streets, historical buildings and it is much smaller than Limerick.
If you decide to stay in Ennis, check out the Treacy's West County Hotel. It has fun bunk beds for kids and a swimming pool. Overall, it looks like a great family hotel. And it's priced well.
The drive from Blarney to Limerick
We left Blarney and drove north on the N20, towards Mallow. The goal for the day was to visit the Rock of Cashel, another top attraction in Ireland. It's not really on the way to Limerick, but it only adds an hour or two to the drive time. At Mallow, we took the N73 east towards the M8.
We stopped in the town of Cahir to have lunch and check out Cahir Castle. We were pleasantly surprised by Cahir Castle and didn't understand why it's not higher on the list of top tourist attractions in Ireland.
After about two hours in Cahir we realized we didn't leave enough time to properly visit the Rock of Cashel. It also started to rain heavily, so we decided to skip it and push on to Limerick.
We arrived in Limerick during rush hour, which was not a good idea.
The traffic congestion and one way streets in Limerick are quite frustrating. You can bypass Limerick and take the N18 to Ennis instead. Add another 30 minutes of drive time.
Cliffs of Moher
The reason we spent a night in Limerick was because we wanted to visit the magnificent Cliffs of Moher (pictured above). Arguably Ireland's most impressive natural attraction, the Cliffs of Moher should be included on every Ireland road trip itinerary.
It took us about 1.5 hours to get from Limerick to the Cliffs of Moher. We passed the charming seaside towns of Lahinch and Liscannor along the way. Both of these towns are also good options for a one night stay, instead of Limerick.
If you have a stroller, bring it with you. It can get quite windy along the cliffs, so jackets and sweaters are recommended (evening if it feels warm outside). We also suggest you bring a blanket for the kids and plenty of snacks. There is a cafeteria at the facility.
We spent about 2 hours at the Cliffs of Moher.
The drive from Limerick to Galway City
After the Cliffs of Moher we drove a section of the Wild Atlantic Way towards the city of Galway. The coastal drive is quite narrow and windy. Although the actual distance is not far (about 75 km), it took us about 3 hours to get from the Cliffs of Moher to Galway. We couldn't drive much faster than 30-40 km/hr.
The views and landscapes on the south side of Galway Bay are spectacular. Rolling green hills, stone-walled twisty roads, dramatic sea cliffs, ancient stone castles. It's exactly what you'd expect when you think of Ireland.
Family travel tip – bring children's Gravol for the drive. When we say the roads are windy, we mean really windy. Our oldest boy is prone to car sickness. He did not enjoy this part of the road trip.
Make sure you spend time at Dunguaire Castle. See below.
Galway – Night's 7 & 8

Next on our Ireland road trip, we spent two nights in Galway. We wanted one full day to explore the city and knew we'd arrive late after our day at the Cliffs of Moher. Galway City is a big, bustling city. It's one of the bigger cities in Ireland.
Unfortunately, our sightseeing plans were dampened by the rain.
We decided to escape the rain by visiting the Galway Atlantaquaria, Ireland's largest Native Aquarium. It's not a big aquarium but it has plenty of exhibits to keep the little ones entertained on a rainy day.
Where to stay in Galway?
We stayed at the Clayton Hotel Galway. The location is ideal for road trippers because it's next to the N6 highway. But there's nothing else around and it's far from the city center. You will need to drive or taxi to the city center from this hotel.
The room we stayed in was quite big and spacious. The hotel has a swimming pool and the onsite pub is quite good. It was a comfortable stay. We would recommend this property for road trippers, but not for people who want to be closer to the action.
Sligo – Night's 9 & 10
After Galway, we drive north to the town of Sligo. A highlight from our time in Sligo was exploring the Sligo Abbey, an old abbey ruin originally built in 1253 and restored several times over the years.
The boys had fun running around the grounds pretending they are brave knights fighting the ghosts that lived in the shadows of the old stone buildings. They make us laugh.
After Sligo Abbey, we visit Strandhill, an Atlantic facing coastal village located 5 miles west of Sligo. We explored the tall grassy sand dunes on the beach and stopped into Mammy Johnston's Ice Cream Parlour for some tasty homemade ice cream and hot cafe lattes.
Where to stay in Sligo?
We stayed at the Radisson Blu Hotel Sligo. The hotel has a great indoor swimming pool and the food at the pub style restaurant is quite good. The breakfast spread is also very good. Our room was clean and modern but it was small and the air conditioner did not work, so it got quite hot at night.
The hotel is located outside the city center but it's still a great location. It's about a 10 minute drive from the hotel to the city center.
The drive from Galway to Sligo
We decided to break up our drive from Galway to Sligo with a visit to the Kiltimagh Pet Farm. It was a good idea to add a kid-friendly activity each day. It gave us negotiating power when they started getting cranky and resistant to the long drive times in the car.
The Kiltimagh farm is not very big, but it has enough animals to keep the kids busy for an hour or two. We had a little trouble finding the place because it's located in the countryside.
The drive took about 4 hours, including the visit to the farm.
Portrush, Northen Ireland – Night's 11 & 12
The next stop on our Ireland road trip is Portrush in Northern Ireland. Our plan is to visit the popular Giant's Causeway, so we need a home base for a few nights.
Portrush is a perfect family destination in Ireland.
It's home to Barry's Amusement Park, the largest theme park in Northern Ireland. It first opened it's doors in 1926 and it still has a 1950's vibe. The town has several other arcades and game rooms, which made our boys quite happy.
The seaside resort town is widely known for its sandy beaches and world class golf courses. We enjoyed wandering the streets and admiring the architecture in the old part of town.
It's not very big, but it's very walkable and stroller friendly (in most places).
Where to stay in Portrush?
We stayed at the Portrush Atlantic Hotel. The location is excellent. It's located in the heart of the old town, a stone's throw from the water. Our room was ocean facing, which was nice. The rooms are small but functional and comfortable.
The restaurant in the hotel is good. We ate dinner there twice and enjoyed the food, service and atmosphere (but that might be the delicious Guinness talking). Breakfast was included. It was a traditional buffet style with the standard British items you'd expect.
We would recommend staying at this hotel.
The drive from Sligo to Portrush
It rained heavily on our drive from Sligo to Portrush, so we decided to skip the sightseeing and drive directly to Portrush. We stopped at a gas station to fuel up and get a snack, but that was it. The whole trip took about 3.5 hours, from door to door.
The Giant's Causeway in Northern Ireland
Similar to the Cliffs of Moher, every Ireland road trip should include the Giant's Causeway. It's no surprise that this mythical place has been recognized as a UNESCO World Heritage Site.
Located on the northeast coast of Northern Ireland, near the town of Bushmills, the Giant's Causeway is an area of over 40,000 interlocking basalt columns, the result of intense volcanic and geological activity.
We visited this popular attraction because it came highly recommended by almost everyone we know that has visited Ireland. It did not disappoint. The massive sea cliffs on the northern coast are truly out of this world.
This was a clear highlight from road trip around Ireland and Northern Ireland.
Belfast – Night 13

After Portrush and the Giant's Causeway we drove directly to Belfast, the capital of Northern Ireland. We had originally planned to visit the Dark Hedges in Ballymoney but our boys fell asleep shortly after we hit the road (we visited the amusement park in Portrush before the drive). We decided it was best to not wake them.
The drive from Portrush to Belfast is actually quite short. It only took us 1.5 hours from hotel to hotel.
We were pleasantly surprised by Belfast.
It's much more modern that we had envisioned. We only dedicated one night in Belfast, but that was an oversight. If we were to do it all over again we would spend at least two nights in Belfast.
The weather wasn't great during our time in Belfast, but we did spend some time walking around the city. We also visited the popular Titanic Museum.
If you plan to visit the Titanic Museum (you should, it's awesome), we suggest you look at when cruise ships are in town – and plan around that. A cruise ship was in port when we visited and it was very busy.
Where to stay in Belfast?
We stayed at The Hilton Belfast. It's located on the banks of the Lagan River, only a two-minute walk to the city center and 15 minute drive to Belfast City Airport. It's also only a 10 minute drive to the Titanic Museum and it's close to the main highway that connects Belfast to Dublin.
We scored big time at this hotel!
We were upgraded to the Executive Suite on the penthouse floor. The luxurious suite we stayed in was incredible. We felt like royalty. Our boys loved watching the trains, planes and boats from the amazing 15th floor views (see above photo). We would recommend this property.
Belfast to Dublin – Night 14
Our final day was spent driving from Belfast to Dublin.
We visited the Titanic Musem in the morning, which is stop 5 on the hop on hop off belfast tour, and hit the road after lunch. The drive is all highway, so it's fast and easy. It took us about 2.5 hours with a roadside bathroom break included.
We stayed at the Crowne Plaza near the Dublin Airport.
We had an early morning departure the following day, so we decided to return the rental car the evening before. One less headache to deal with on a travel day. We spent our final evening at the hotel before our long flight from Dublin to Vancouver.
We had a blast on this Ireland road trip.
Of course, there are still so many Ireland attractions that we missed. I suppose that means we'll just have to come back again!
Read more posts from our trip to Ireland:
Have you visited Ireland? Did you do a road trip?
What did we miss? What would you do differently?
Share your feedback and recommendations in the comments section below. We'd love to read about your adventure and our readers are grateful for the additional information.