Photos of the Giant's Causeway in Northern Ireland
If there's one place you should include on your Ireland and Northern Ireland itinerary, it's the Giant's Causeway. It's no surprise that this mythical place has been recognized as a UNESCO World Heritage Site.
Located on the northeast coast of Northern Ireland, near the town of Bushmills, the Giant's Causeway is an area of over 40,000 interlocking basalt columns, the result of intense volcanic and geological activity.
We're not the best people to educate you about the geology of the Giant's Causeway, so if you're interested in the scientific history about how it came to be, you're better served by visiting this website.
We visited this popular tourist attraction because it came highly recommended by almost everyone we know that has visited Ireland and/or Northern Ireland.
It did not disappoint.
The massive sea cliffs on the northern coast are truly out of this world. It was a clear highlight from our 2 week road trip around Ireland and Northern Ireland.
Here are 20 photos from our visit to the Giant's Causeway.
The Giant's Causeway Visitor's Centre. This is the entry/exit point to the park.
This is the path down to the shore where the infamous basalt columns are located.
The coastline along Northern Ireland is home to endless rocky sea cliffs. Stunning.
Looking back towards the path that takes you back up to the Visitor Centre.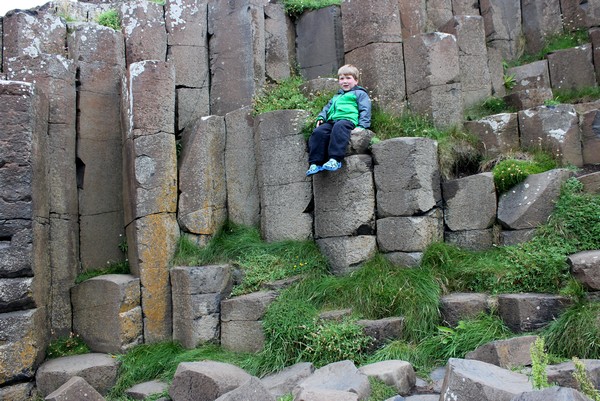 The Myth and Legend of the Giant's Causeway
The Giant's Causeway is full of myth and legend. The most popular story is that the Giant's Causeway was created by a mighty giant named Finn McCool. Finn was fighting with a Scottish giant named Benandonner, who was threatening Ireland.
Finn picks up hundreds of massive rocks from the Antrim coast and throws them into the sea, creating a rock path that stretches across the ocean. Finn attempts to battle Benandonner but he is much bigger and stronger, so Finn retreats back to Ireland.
The story goes on to say that Finn's wife disguises him as a baby when the angry Benandonner tries to find him. Benandonner decides to return home when he sees how big this baby is. He thinks that if the baby is that big, the father must be huge. Seems like a smart move.
The Visitor Centre has several interesting exhibits that share the myths, stories and science behind the Giant's Causeway. Regardless of what you believe, it's a fun place that is definitely worth visiting.
Things to know before you go:
The weather in Northern Ireland is unpredictable. Plan for it to rain, even when it's sunny outside. When we arrived, it was relatively sunny outside (see the first image of the Visitor Centre). After only 45 minutes at the rock formations an intense rain storm landed on us. We had our double stroller with us, so you can imagine the leg burn we had pushing our boys up that long windy hill. We were all drenched by the time we made it to the top (it took about 20 minutes).
There is a bus that transports guests from the Visitor Centre to the rock formations, and vice versa. There is an additional charge for this. It's not a lot, something like 2 or 3 pounds. But it's per person, so it can add up if you're traveling as a family.
Price of general admission is 9 pounds per adult and 4.50 pounds per child. You can get a family package for 22 pounds. Parking and audio guide is included with the price of admission.
We stayed at the Portrush Atlantic Hotel in the town of Portrush. We had a rental car, so we drove to the Visitor's Centre from the hotel. It's took about 20 minutes. The Coastal Causeway is gorgeous and highly recommended.
Drive time from Belfast is 1.5 hours and from Dublin it's 4 hours.
If you don't have a vehicle, you can join a tour or take local transit. Keep in mind, some of the bus services are seasonal.
Read more from our trip to Ireland:
Have you visited the Giant's Causeway? What did you think?
Share your experience in the comments section. We'd love to read about it!