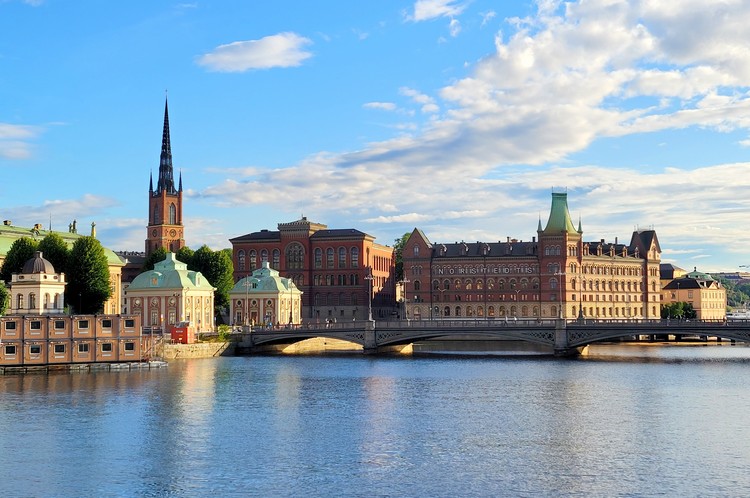 Things to do in Stockholm Sweden
Stockholm, the capital of Sweden, is a beautiful waterfront city with rich history, stunning architecture and friendly, welcoming people. In this post, we share a few of the top things to do in Stockholm for first time visitors.
We spent 4 nights in Stockholm in the month of August. For clarity, when I say "we", I mean the four of us. Two adults and two kids, aged 10 and 8 years old at the time. Therefore, we will also share some family friendly attractions in Stockholm.
Because we visited in the summer, the focus of this Stockholm blog post is on summer activities. However, I'm sure many of these Stockholm attractions can also be visited during the colder winter months, too.
Stockholm Travel tip – consider the Go City All Inclusive pass. It offers entry to 45+ attractions.
Explore Gamla Stan, Stockholm's famous "Old Town"
Gamla Stan, or "Old Town," is one of the most picturesque areas of Stockholm. Its narrow cobblestone streets and colorful old buildings make it the perfect starting point to your Stockholm adventure.
The above photo is Stortorget, the oldest square in Stockholm. This iconic row of colourful buildings is arguably the most notable tourist attraction in Stockholm.
It's virtually impossible to photograph this square during the day without a person in the frame. I captured these photos at 5:00 AM on our first morning in Sweden because I was still battling jet lag. If you find yourself in a similar jet lagged state of mind, I highly recommend you get up early and visit Gamla Stan before the city wakes up.
We returned to Gamla Stan every day during our visit. I've read that it's often described as the "heart of Stockholm", and I can see why. It certainly has a vibe. It's home to many shops, cafes, and restaurants, as well as several museums and historic sites. And it's very walkable, so it's easy to explore on foot.
While wandering the old stone streets, consider visiting Storkyrkan, the city's oldest church, and the Nobel Museum, which tells the story of the Nobel Prize.
Below are a few photos of Gamla Stan in Stockholm
The empty cobblestone streets of Gamla Stan in the early morning hour. The church with the green spire is St. Gertrude's Church, also known as simply The German Church.
An uneven cobblestone road splits through rows of tall yellow buildings in Gamla Stan.
This colourful square is arguably the most popular of Stockholm attractions.
I often find myself taking photos of old doorways and beat-up bicycles when I'm in Europe. The detailed stonework on this entrance is quite grand, don't you think?
There's no shortage of sweet treats in Stockholm's touristy old town. I dare you to walk past this waffle house and not go inside. It's not possible.
Who says you can't have waffles with ice cream and strawberries for dinner?
We returned to Gamla Stan in the afternoon, when the cafes and restaurants are bustling with tourists and day drinkers. It's a fun place to grab a coffee or beer and people watch.
There are several pubs and restaurants in Gamla Stan. It's a fun place hang out for a few hours.
Visit the Royal Palace
The Royal Palace, located in Gamla Stan, is one of the most popular Stockholm attractions. Built in the 18th century, it is the official residence of the Swedish Royal Family.
The palace is open to the public and offers guided tours, allowing visitors to explore its many grand halls and palatial rooms. One of the highlights of the tour is the Royal Armoury (Livrustkammaren), which houses a collection of armor and weapons dating back to the 16th century.
Even if you don't plan to go inside the Royal Palace or its museums, you'll be impressed by the architecture and opulence of this impressive building. It's said to be one of Europe's largest palaces.
Above is the side view of Stockholm Royal Palace from across the river.
A lone guard watches over the entrance to the Royal Palace.
The Royal Guards Wing – Högvaktsflygeln
If possible, time your visit to the Royal Palace when the changing of the guard ceremony happens. It takes place in The Royal Guards Wing, which is at the back of the Royal Palace.
We actually stumbled upon this changing of the guard ceremony. We didn't know about it until we heard the loud shouting and stomping. It caught our attention so we wandered over to see what was going on.
Above is another entrance to the Stockholm Royal Palace. This is where you want to be when the daily ceremony takes place. I'm a big fan of this Baroque-style architecture.
Slottskyrkan – The Royal Chapel
While exploring the grounds and museums at Stockholm Palace, take a moment to visit Slottskyrkan, the Royal Chapel. It dates back to 1754.
Like many of the historical churches in Western Europe, the statues, artwork, design and detail inside the Royal Chapel is remarkable.
Stockholm Parliament house Riksdag buildings
Next to the Royal Palace is the Parliament buildings, pictured above and below.
There are so many interesting buildings in Stockholm's old town. I found myself snapping photos every time we turned a corner.
Above is Norrbro, an arch bridge over Norrström in central Stockholm. It extends north from the northern front of the Royal Palace, passing over Helgeandsholmen in front of the Riksdag building.

Visit the Vasa Museum
The Vasa Museum (Vasamuseet) is one of the most popular museums in Stockholm, and for good reason. It houses the Vasa, a 17th-century warship that sank on its maiden voyage in 1628. It was salvaged in the 1960s, which is over 300 years after it sunk! Learn about the history of this ship here.
This is an interesting museum. It's not a very big facility (see the photo below of the building's exterior). Realistically, you only need about an hour to explore the museum. The museum has a range of interactive exhibits that will keep kids engaged and entertained. Learn about tours here. You can pre-book tickets here.
If the ship in the 80's movie "The Goonies" was actually real, it would look similar to this remarkable ship.
Explore Djurgården Island
Djurgården is an island in central Stockholm that is home to several museums and tourist attractions. If you're traveling to Stockholm with kids, you will want to visit Djurgården. You can easily spend two full days here. Here's a list of Djurgården attractions and museums.
The Vasa Museum, mentioned above, is located on Djurgården island, along with Skansen (see next item below), the ABBA Museum (which celebrates the music of the iconic Swedish band), and the Gröna Lund amusement park.
Even if you don't plan to visit any of the attractions or museums, Djurgården has lots of green space, waterfront paths and great views of the city. It's a great place to spend the day with your kids.
You can visit the island while on a Stockholm Bridges Sightseeing Cruise.
Waterfront views of Stockholm's architecture from Djurgården island.
If you enter Djurgården by bus or vehicle, you will cross Djurgårdsbron bridge, picture above. At the entrance is a small shop where you can rent kayaks and paddleboats by the hour.
This simple, yet elegant, open-face sandwich is delicious. I could have eaten two!
However, this is a tourist restaurant in Stockholm. So you must pace yourself. Otherwise you'll blow the budget before dinner (yes – Stockholm is an expensive city).
The Nordiska museet (Nordic Museum) is one of the most popular things to do in Stockholm. The museum has over 1.5 million objects in its collections.
The back side of the Nordic Museum on Djurgården. It looks more like a gothic cathedral than a museum.
Sjöhistoriska National Maritime Museum
Not to be confused with the original National Maritime Museum, the Sjöhistoriska National Maritime Museum on Djurgården is a small collection of ships that are docked in front of the Vasa Museum.
It's free admission, so why not explore these old ships in between attractions. It's an easy S
The ABBA Museum
The ABBA Museum is a must-visit for fans of the legendary Swedish pop group. The museum is filled with interactive exhibits, music, and memorabilia from the band's heyday. We are not big ABBA fans, so this museum did not interest us. However, we've been informed by many that it's a fun museum.
The Viking Museum
Located directly beside the VRAK Museum of Wrecks, and close to the Vasa Museum, the Viking Museum on Djurgården offers guided tours that transport guests back to the age of the Viking.
The museum's ride, Ragnfrid's Saga, takes your family on an adventure where you follow the Viking Harald on a journey through 10th century Europe.
Hands down the tastiest meatballs I've ever eaten. I don't know how they make such a simple dish taste so good. We got these from the restaurant pictured above.
Note – this plate is not normally separated by small dishes. Our son has a dairy allergy, so we need to make sure the sauce and potatoes don't mix with the other food. Just an FYI in case you're wondering why this looks like a Swedish bento box.
Explore Skansen – Stockholm Open-air Museum and Zoo
Skansen is the world's oldest open-air museum and is a great place for families to learn about Swedish history and culture. The zoo is home to several Scandinavian animals, including elk, lynx, brown bears, moose, wolverines, seals and otters.
Families can easily spend a full day exploring Skansen – it's huge! View the map of Skansen.
The open-air museum has over 150 buildings, including farmhouses, schools, homes and structures that have been moved from all over Sweden to create a living history exhibit.
Learn about Skansen attractions, hours of operation and ticket prices here. You can pre-purchase tickets here.
Inside the Skansen Aquarium is a lemur exhibit with dozens of cute and curious lemurs. There is an additional charge to enter the aquarium, which is an annoying extra fee (we thought the aquarium is included with general admission to the park).
The park has rides for young children, including a vintage carousel (pictured above).
Visitors can also tour Skansen aboard this colourful train. This is a good idea for families with young children. It's a very big park, so you're little ones' legs will get tired (heck, my legs got tired).
Inside the Baltic Sea Science Center. It has interactive exhibits that are fun and educational.
Old traditional farm houses and animals inside the Skansen village.
The red wooden building in the backdrop of the above photo is Seglora Church (Seglora kyrka). It comes from a parish in Västergötland. The old church dates back to 1730.
Gröna Lund amusement park
Also located on Djurgården island, the iconic Gröna Lund is Sweden's oldest amusement park. It was founded in 1883 (it's celebrating 140 years this year!) and now has over 30 rides and attractions, including 8 roller coasters.
We planned to spend one of our days in Stockholm at Gröna Lund. However, we made a rookie mistake and assumed we could walk up to the amusement park and purchase tickets. When we arrived, the park was sold out. We tried getting tickets for the following days but the park was sold out for weeks.
Our boys were very disappointed. We were all disappointed. We hyped up this amusement park for weeks (maybe months) before visiting Stockholm. So, don't make the same mistake – purchase your tickets well in advance of your visit.
Travel tip – You must pre-book your visit online before you arrive at the park!
Visit the Grona Lund website to purchase tickets.
A disappointed young boy watches the rides at Gröna Lund while on the ferry back to Gamla Stan.
Take a Boat Tour around Stockholm
Stockholm is known as the Venice of the North due to its many canals and waterways. The city is built on 14 islands. Taking a boat tour is a great way to explore the city and gain a different perspective of its stunning architecture and beautiful waterfront.
There are many boat tours available, ranging from guided tours to hop-on, hop-off tours.
You can book boat tours here with Get Your Guide, or here with Viator.
Our boys enjoyed sightseeing from the boats. The hop-on, hop-off boats are great for getting around the city and visiting Stockholm's many tourist attractions.
Views of Stockholm's historic buildings and ships from the hop-on, hop-off boat.
View of the Stockholm Royal Palace from the water. It's an impressive building.
The green Hop-on, Hop-off boats are a fast, convenient and inexpensive way to explore the city.
Some of the Stockholm sightseeing boats offer half day boat tours around the city. You can also tour the surrounding islands in the Stockholm archipelago. The archipelago extends from Stockholm roughly 60 kilometres (37 miles) to the east.
You can also explore Stockholm on the Ocean Bus, an amphibious bus that goes on land and water.
Stunning Stockholm architecture on the waterfront. View from a Stockholm boat city tour.
Visit the City Hall
Stockholm City Hall is one of the city's most iconic buildings, known for its impressive tower and beautiful interior. Visitors can take a guided tour of the building, which includes a visit to the Golden Hall, famous for its beautiful mosaics, and the Blue Hall, where the Nobel Prize banquet is held.
Above is the waterfront view from beside Stockholm City Hall.
Visit the Fotografiska Museum
The Fotografiska Museum is a must-visit for photography enthusiasts. The museum showcases a range of exhibitions, from contemporary art photography to vintage prints. There is also a cafe and restaurant with stunning views over Stockholm's harbour.
Stockholm's subway stations
Among its many attractions, one of Stockholm's most notable is the impressive art collection in the city's subway stations. With over 90 of the 100 subway stations showcasing unique artworks, the Stockholm subway system is quite literally an underground art gallery.
Some claim it to be one of the most unique public art installations in the world.
The Stockholm subway art project, known as the Tunnelbana, began in the 1950s. The city decided to incorporate art into the design of the subway system. The aim is to make the daily commute more enjoyable for passengers, and to create an artistic legacy for future generations.
Solna Centrum station, pictured above, is arguably the most famous and most photographed. Other popular subway stations are Kungsträdgården, Stadion, and T-Centralen (see photos below).
Each station has its own unique design, with many featuring murals, sculptures and other artworks that showcase the creativity of the Swedish people.
The colourful rainbows inside Stadion station. This is one of our favourite stations.
Murals inside the T-Centralen, located in the heart of Stockholm city.
Above and below photos are taken inside the Kungsträdgården subway station.
At this point, our boys were getting tired of hearing the words "go stand over there and smile".
Get the Stockholm Go City All-Inclusive Pass
If you plan to visit many of Stockholm's attractions, the Stockholm Pass is a good idea. The pass provides entry to over 45+ attractions and museums, including the Vasa Museum and a cruise around Stockholm's Archipelago.
You can take unlimited tours on the green-colored hop-on hop-off buses and the red-colored City Sightseeing Stockholm buses.
The Stockholm Pass is a great way to save money and time, as you won't have to wait in long lines to purchase tickets at each attraction. You can save up to 50% off compared to buying individual attraction tickets (some conditions apply).
You can purchase the Stockholm pass online here and here.
Stockholm Hop-on, Hop-off Sightseeing tour
An easy way to visit the top attractions in Stockholm is to take the Hop-on, Hop-off bus tour (included if you purchase the Stockholm Pass, more info here). There are designated stops located close to Stockholm's popular tourist attractions, so you can get off and explore at your pace.
We like these buses when sightseeing with kids. Our boys don't like walking long distances – their little legs get tired. These sightseeing buses allow us to cover more ground and see more attractions, while limiting the amount of long distance walking.
Note – there are TWO different Hop-on, Hop-off bus companies in Stockholm. And they both have red double-decker buses, which is not confusing at all! See prices and book online here and here.
Rare family selfie, taken on the upper deck of the Stockholm sightseeing bus.
Notice these two red buses are actually different companies.
Ride around the city on an electric scooter
Stockholm has hundreds – maybe thousands – of electric scooters scattered throughout the city. They offer a fast and convenient option to exploring the city.
The best part about these electric scooters is that you only pay for the time you use. Make sure the battery is charged (green light). When you're finished, simply leave the scooter at your last stop. That said, be respectful and leave the scooter visible for another person (and not in a spot where it can be damaged).
Where to stay in Stockholm
Stockholm is a big city with several neighbourhoods. This means you have plenty of options for accommodations, regardless of your budget.
We decided to stay in central Stockholm, near the Stockholm Central Station and T-Centralen station.
It's only a 5 minute walk from the train station, which is very convenient if you plan to arrive in Stockholm via train. It's centrally located within walking distance to Gamla Stan Old Town (15-20 minutes). And, it has a 7-11 convenience store on the street level, which is ideal when traveling with kids.
We enjoyed our 4-night stay at this hotel. It's an old character building with stylish decor and quirky features (like the tiny elevator). The included breakfast buffet at this hotel is really good. More info about the hotel here.
Arlanda Express
The best way to get to Stockholm city centre from the Stockholm Arlanda Airport is via the Arlanda Express. The trip takes 18 minutes and runs four to six times per hour.
You can purchase tickets from a vending machine using a credit card. See ticket prices here.
The seats on the Arlanda Express train are quite comfortable.
Final thoughts
Stockholm is a fantastic city to visit with kids. There are so many things to do in Stockholm that we recommend a minimum of 2 full days. From its picturesque old town, Gamla Stan, to its world-class museums and amusement parks, there is something for everyone in Stockholm.
It's a very walkable city and you can easily get by with English.
That said, the rumors are true. Stockholm is an expensive city. The most expensive part of the trip was eating at restaurants. There are ways to save money, like getting food at 7-11 convenience stores. Surprisingly, the baked goods at convenience stores are pretty good.
We found accommodations to be priced similar to most major cities. If you're hotel has breakfast included you'll save some money. The hard part is finding rooms that fit our family of four.
Will we return to Stockholm?
Perhaps. We had a great time in Stockholm and we recommend you visit. That said, we feel like we did Stockholm. We visited most of the Stockholm attractions we wanted to visit. Therefore, I'm not sure we'd return, unless there was a specific reason.
But we believe it's a great city to visit with kids. Put it on your list, if it's not on your list already.