DFDS Ferry from Oslo To Copenhagen
After completing our Norway road trip, it was time to make our way from Oslo to Copenhagen. Initially, we thought about taking the train. However, after researching the overnight DFDS ferry from Oslo to Copenhagen we thought this was an interesting option.
At the time of booking, the price was 168 Euros (approx. $250 CAD) for the private sea view cabin with 4 bunk beds. The 4 train tickets cost over $150 CAD per person ($600 CAD total).
Technically, the train is the faster option. However, most of the fast trains travel during the day. As a result, we would arrive in Copenhagen by late afternoon or evening. This means finding a hotel room for the night – which costs at least $200 CAD per night.
For comparison, it costs $250 CAD (168 Euros) for transportation AND accommodation on the overnight ferry. Or, we pay $800+ CAD for the train plus hotel night. The math pointed us towards the ferry option.
After further research, we became more excited about this mode of transportation.
These large ships act more like a cruise ship than a passenger ferry. So, that's what stuck. When we described this part of the journey to our boys, we said we're going on a "mini-cruise through Norway's fjords".
In this post, we share our experience on the overnight DFDS ferry from Oslo, Norway to Copenhagen, Denmark.
Another deciding factor was the reliability of train service at the time. Rail strikes were happening throughout Europe. That, coupled with the chaos of post-pandemic travel, resulted in hundreds of train cancellations.
Earlier in our Scandinavia trip, our train from Stockholm to Oslo was canceled one week before departure with no options to rebook. Our confidence with the rail system was low, which certainly influenced our decision to take the overnight ferry from Oslo to Copenhagen instead.
Getting ready to board the DFDS Crown Seaways ship at the Oslo ferry terminal. This ship can accommodate over 1,700 passengers.
Where is the DFDS ferry terminal in Oslo?
The DFDS terminal is at the tip of Vippetangkaia, just below Akershus fortress. Below is a photo of DFDS Seaways ferry terminal in Oslo (captured as the ship began it's journey).
It's located relatively close to the iconic Oslo Opera House. We purposely booked a hotel within walking distance to the ferry terminal. We stayed at Clarion Collection Hotel Bastion.
Oslo to Copenhagen ferry cabins
First, let's start with the sleeping arrangements on the overnight ferry. There are several options and layouts to choose from. Review cabin options here.
We stayed in a Standard Sea View 4 berth cabin, pictured above. Having a window is important to us. We don't like sleeping in rooms without a window. Especially if the waters are choppy.
Sleeping onboard the ferry is similar to a cruise ship, but the rooms are much smaller (and less luxurious).
Without question, we found the cabins to be great value.
The cabins include a vanity desk and mirror, clothes hooks and hangers, pillows and linen, private bathroom, bedside lights, and a continental plug point to charge devices.
Do DFDS cabins have showers?
Yes! Each cabin comes with a private en suite bathroom with shower, toilet and sink. The shower is small but functional.
This is an important question when researching whether sleeping onboard the ferry is the right option for you. Having a private bathroom with shower sealed the deal for us.
This ship is also used for the ferry from Copenhagen to Oslo.
View of Oslo harbour from our Sea View Cabin window.
The bunk beds are connected to the wall. When it's time for bed, you simply pull down the bed and it's ready to go. Pillows, blankets and linen is included. It's a comfortable way to travel.
Notice the protective bar on the upper bunk bed. This is a nice feature to protect you and your kids from falling off the top bunk.
The interior of the ship is nice. It's much nicer than we expected.
The Sea Shop is a duty-free store onboard the Copenhagen to Oslo ferry. This store is quite big. And it has everything you can think of. Including clothing, souvenirs, chocolate, alcohol and everything in between.
Restaurants onboard the Crown Seaways ship
There are multiple options for eating onboard the Copenhagen to Oslo ferry. See the dining options here.
List of restaurants and bars on Oslo to Copenhagen ferry
7 Seas Buffet – located on Deck 8
Little Italy – view menu
Explore Restaurant – view menu
Blue Riband Restaurant – for conferences and special events only
Coffee Crew café – Deck 7
Bubble zone café – Deck 6
Navigators Bar – Deck 8
Northern Lights Bar – Deck 8
Columbus Club – Deck 8
Sky Club and Sky Bar – Deck 9
We ate dinner at the 7 Seas buffet Restaurant.
We were undecided about where to eat. The buffet is not cheap and we were unsure if the value was there. See buffet price here.
However, after enjoying afternoon drinks at Navigators Bar, our appetites guided us to the buffet. The Little Italy restaurant did not have dairy free options for our youngest boy, so it was decided that we'd splurge on the buffet. It was the right choice.
We enjoyed the buffet and would recommend it. It has a kid's section with food they prefer, like pizza, chicken nuggets, French fries, etc.
Follow our family travels in real time on Instagram and Facebook
Fresh seafood plate from the buffet. We may have over-indulged on the seafood.
Carving station serving roast beef. The buffet has a wide variety of food. The hard part is deciding what to eat. And, to not stuff yourself into a food coma.
Coffee Crew on the Oslo to Copenhagen ferry
Coffee Crew serves a variety of fresh coffee, cold drinks, fresh pastries and snacks. I took a photo of the menu so you can see what's available and the prices.
We grabbed coffee, fresh juice and pastries for breakfast before disembarking the ship.
Freshly prepared pastries, sandwiches, salads, fruit and juice at Coffee Crew.
This is Navigators Bar on Deck 8 (the main deck for entertainment). It is a nice place to enjoy an evening beverage. Behind this view are windows. So you can sit back and watch the moving landscapes as the ship sails through the Oslo fjord and Kattegat Sea.
Lots of areas to lounge. I believe this is the Columbus Club. I took this photo in the morning, when the room was empty. It's much more busy in the evening.
Guests enjoying the Mermaid Sky Bar on the Sundeck level.
This is a great place to enjoy a beverage as the ship sails through Oslofjord from Norway to Denmark.
If you travel the other direction, from Copenhagen to Oslo, you will enjoy views of Kattegat Sea in the afternoon/evening.
The weather was very strange during our sailing. One minute it's pouring rain with thick, heavy clouds. The next minute, the clouds part and the sun comes out.
Dark, ominous clouds blanket the observation deck as the ship departs Oslo.
Shortly after I captured this photo the rain came crashing down with fury. Everyone on the observation deck went running for cover.
Much better weather on the sun deck as the ferry approaches Copenhagen to disembark.
Bubble Zone on DFDS ferry
This is the first passenger ferry we've taken that has multiple swimming pools, a hot tub and sauna. Located on Deck 6, the Bubble Zone area is a nice feature and adds to the "mini-cruise" vibe of this ferry experience.
After we settled into our cabin and dropped off our luggage, our boys wanted to head straight to Bubble Zone for a swim.
The pool is deeper than we expected. Neither boy was able to touch the bottom. Keep this in mind if you're traveling with smaller kids.
There's a small pool for toddlers and young kids, pictured below. The pool room has lounger chairs so you can relax while your kids swim. It also has a large sauna with a window, so you can have a nice sweat and not miss the views.
Note – there is an additional charge to enter Bubble Zone and use the pool facilities. I don't recall the price. You can purchase tickets at the entrance.
Above – Smaller soaker pool for young kids and toddlers.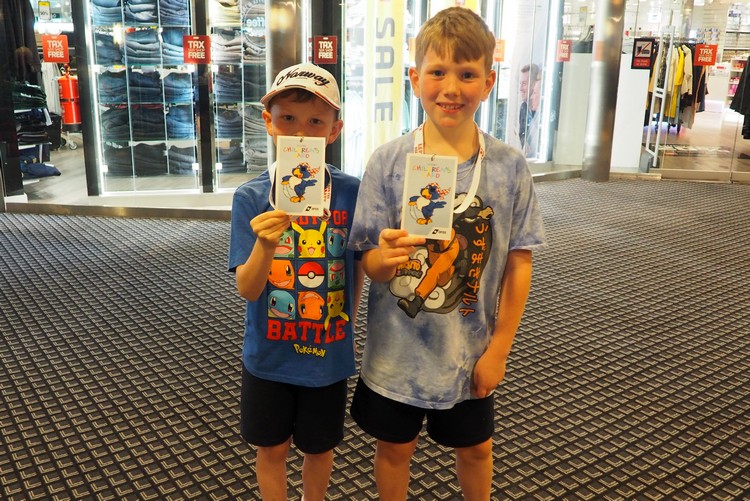 DFDS Children's Card
Families can purchase a children's card that includes a variety of items. The price is 100 DKK, which equals approx. $20 CAD.
The main draw is the entry fee for the pool area and Bubble Zone.
They also receive tokens to play a SEGA game, souvenir drinking bottle and poster, ice cream or treat, and large soft drink. It's good value. It kept our boys busy and happy.
Our boys had fun bouncing in this bouncy castle at the Sky Club.
Treasure Hunt – Sky Club
In the evening, kids are invited to participate in a Treasure Hunt. Our boys had fun running around the ship looking for items – without parents! Additionally, the idea of finding a treasure was a good motivation.
This activity kept them busy for about an hour. It also allowed us to sit in the lounge and enjoy the passing scenery. Everybody wins.
The Café inside Bubble Zone.
The Pirate Club
This family zone is dedicated for younger kids, ages 4 to 8 years old. It has a ball room, games and videos playing on a television. Our boys are too big for this area, but I can see this being a nice spot for families with young kids.
Games room and arcade on the ferry. It's not very big but it has a few classic games.
Is the ferry from Oslo to Copenhagen scenic?
Yes! The sailing from Oslo to Copenhagen passes through beautiful Norwegian landscapes. The first couple hours of the trip passes through Oslofjord.
If you're traveling in Norway during the summer, you will have daylight well into the evening. Therefore, you will have plenty of time on the ship to enjoy the views.
This 'mini-cruise' was actually a highlight from our time in Norway.
Conversely, if you are taking the ferry from Copenhagen to Oslo, the route will pass through Kattegat Sea shortly after departure. I'm not sure what the views are like here. We were sleeping during this part of the trip from Oslo to Copenhagen.
Views of downtown Oslo shortly after the ship departs.
Oslo City Hall (Oslo rådhus) in the distance. It's the brick building with two towers.
Arriving in Copenhagen. Lots of new developments on the waterfront. Interesting architecture. I like it!
Self service check-in kiosks at the DFDS ferry terminal in Oslo.
What time is check in time for DFDS ferry from Oslo to Copenhagen?
DFDS check-in controls open 2 hours prior to departure. You must check-in no later than 45 minutes prior to the scheduled departure.
The ferry departs at 15:00 PM (3:00 PM) from Oslo. It arrives in Copenhagen at 10:00 AM.
When can you board the ferry?
You can board the ship a couple hours before departure time. I believe 1:00 PM for 3:00 PM departures.
We checked out of our Oslo hotel at 11:00 AM and walked to the ferry terminal. We purposely booked a hotel within walking distance.
I don't recall the exact time that we were allowed to board. However, we did wait about an hour at the terminal before boarding.
How long is the DFDS ferry from Oslo to Copenhagen?
Oslo to Copenhagen ferry duration can range between 19 hours and 20 hours depending on weather conditions.
What is the Oslo to Copenhagen ferry timetable?
The Oslo Copenhagen ferry is operated by DFDS Seaways. The crossing operates up to 7 times each week with sailing durations from around 19 hours.
More info about ferries Oslo to Copenhagen here.
What is the DFDS Oslo to Copenhagen price?
Price will depend on the cabin you select. You can also opt for a seat only, which is the cheapest option.
We stayed in the 1 cabin 4-bed cabin with sea view, bunk beds. It cost us 168 Euros for 4 people (total).
If you're traveling with a vehicle, this ship does accommodate vehicles. There are additional fees to bring you vehicle onboard the ferry.
View price and purchase tickets for the DFDS Copenhagen-Oslo Ferry here.
Can you bring food and alcohol on DFDS ferry?
We were advised that alcohol is not allowed. Foot passengers are allowed to bring food and drinks onboard (not alcohol), but food must be consumed in your cabin.
Is the ferry from Copenhagen to Oslo rough?
We experienced very calm waters during our ferry passage from Oslo to Copenhagen. It rained heavily when we departed Oslo. Even with the poor weather, the sailing was smooth.
When we woke up the next morning, the water was like glass as we approached Copenhagen. See photo below.
Final thoughts
This overnight mini-cruise is a fun way to travel from Norway to Denmark (or vice versa). Even splurging on the buffet dinner and having a few drinks at the various bars, this was still a much cheaper option than taking the train.
We enjoyed our time at the pool and sauna. Our boys had fun playing games and doing the treasure hunt. Dinner at the buffet was good. The sleeping quarters were small but comfortable.
Overall, we had a great experience and would recommend it as a relaxing and comfortable way to travel from Oslo to Copenhagen.
Read more blog posts from our trip to Scandinavia:
Planning to take the DFDS ferry from Oslo to Copenhagen?
Leave us a comment below if you have questions about the experience.