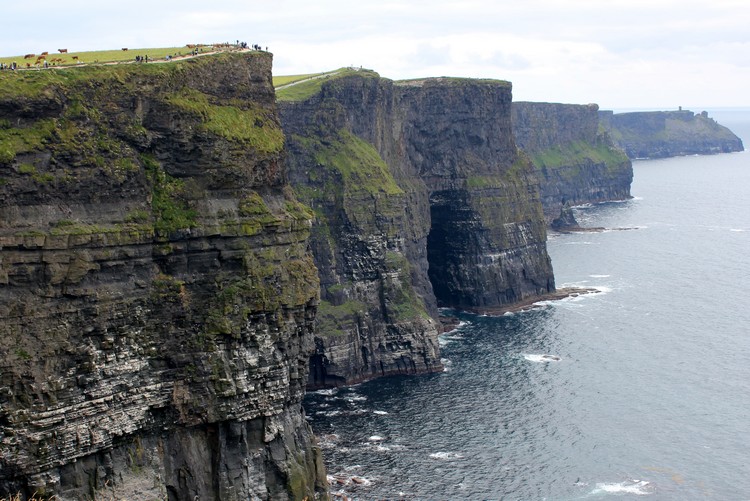 First time visitors to Ireland have a lot of decisions to make. While small in size, this friendly island nation is loaded with awesome things to see and do. It's not an easy task to decide which Ireland attractions should make your shortlist.
In our opinion, Ireland is one of the best travel destinations for families. On our trip to Ireland, we spent 2 weeks driving around the island nation, including a few days in Northern Ireland.
This was our first time visiting Ireland, so we did quite a bit of research before our departure. We put together what we believe to be the best 10 day Ireland road trip itinerary for families.
Top 10 Ireland Attractions
In this post, we share the Top 10 Ireland attractions that first time visitors should include on their Ireland vacation.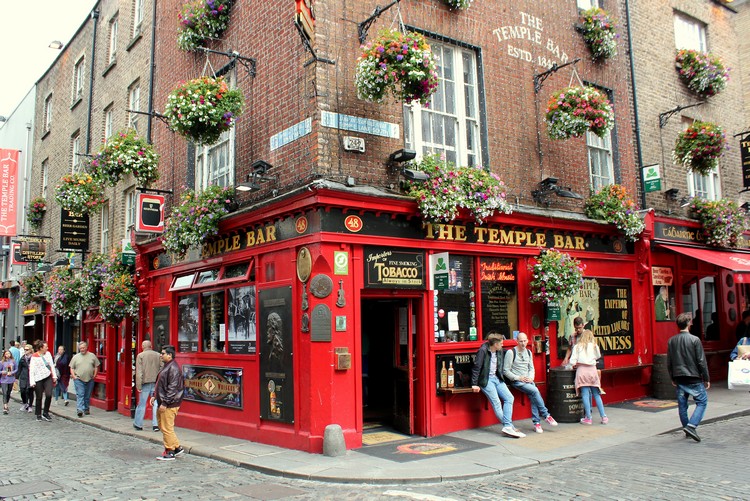 1. Eat and Drink your way around Dublin
Most trips to Ireland will start and finish in its charming capital, Dublin. We really enjoyed our time wandering around the city on foot. It's a walk-able city with plenty of things to see and do.
The top things to do in Dublin are to visit the Temple Bar district (pictured above), Dublin Castle, Trinity College, St. Stephen's Green, Kilmainham Gaol and admiring the city's history and architecture along the River Liffey.
The pub culture in Dublin is so much fun.
And, the best part for families is that kids are allowed in the bars and pubs! We were able to soak up the full Irish pub experience with our boys, which was a lot of fun. Read this blog post about Ireland travel tips for families
There are plenty of things to do in Dublin with kids, including Phoenix Park Visitor Centre, The Ark and Imaginosity (children's museum).
2. Sample Ireland's finest at Guinness Storehouse
While in Dublin, make sure you visit the infamous Guinness Storehouse and sample a pint of its finest brew.
The Guinness Storehouse is located at St. James's Gate Brewery and, according to Wikipedia, it received over four million visitors since opening in 2000. It tells the story of Ireland's celebrated beer through various interactive exhibitions.
It's quite big, spreading over 7 floors of exhibits. You can easily spend a few hours here.
Don't miss the art of the perfect Guinness pour on the 4th floor and make sure you drink in the 360 degree view of Dublin from the 7th floor (see photo below). If you have limited time in Dublin, you can skip the line with this tour. It will give you access to the famous Jameson Distillery on Bow Street.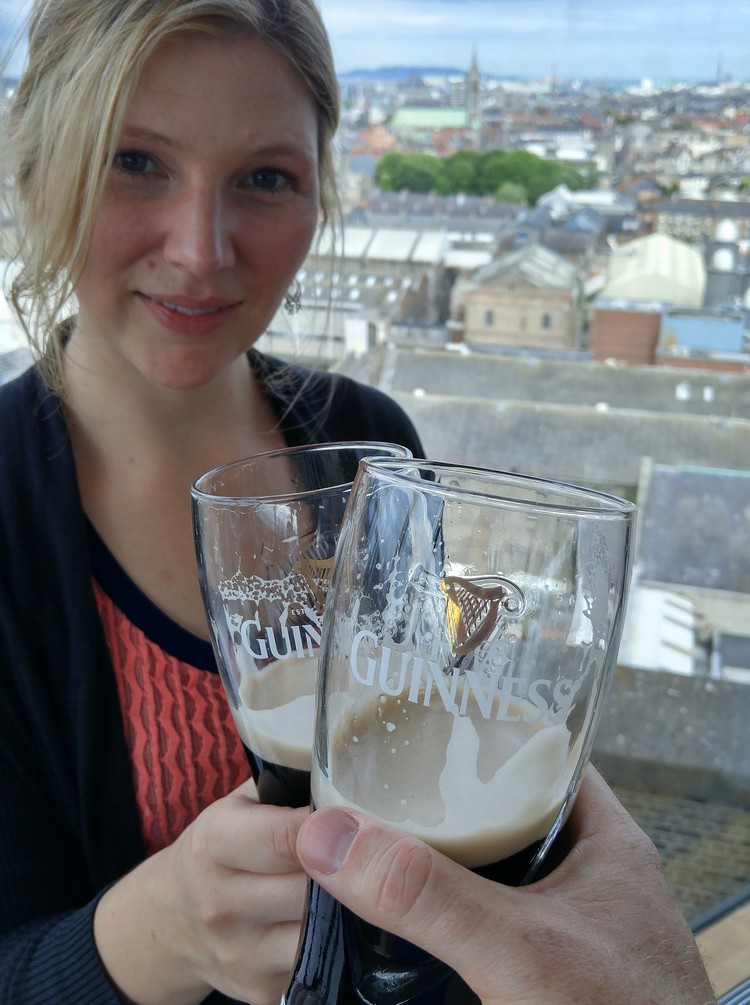 3. Kiss the Blarney Stone at Blarney Castle
Without question, one of Ireland's most popular tourist attractions is Blarney Castle. It's a medieval stronghold in the town of Blarney, located just outside the city of Cork.
Visitors from all over the world come to this old castle to kiss its famous Blarney Stone. The reason people kiss the stone is to 'gain the gift of eloquence'. Although I'm not sure how kissing a stone that millions of others have kissed will make you eloquent?
To kiss the Blarney Stone, you climb up a windy, narrow stairs to the top of the castle. You lean backwards and grab an iron railing to get in the proper kissing position. There is someone there to hold you and keep the line moving. There are also railings under the stone for an additional layer of safety.
While kissing the Blarney Stone is not for everyone, visiting the Blarney Castle and its surroundings gardens is a must for every Ireland itinerary.
Info on Blarney Castle tickets can be found here. You can also book this day trip tour from Dublin, which includes admission to the castle.
Or, you can stay overnight at the Blarney Castle hotel, which is conveniently located within walking distance to Blarney Castle Gardens.
4. Admire the colourful architecture in Cobh
Cobh is home to Ireland's only dedicated cruise terminal. Because if this, it's become a tourist hot spot in recent years. Once known as Queenstown, Cobh is widely known as the final port of call for the RMS Titanic when it set out on its maiden voyage across the Atlantic.
Cobh is not very big. You can see most of it within a couple of hours.
There is a small tourist train (not really a train, more like an open-air bus) that takes you around town and to a few lookout points. Cobh is built on a steep hill, so this train is a good idea if you're not keen to walk up and down hills.
Make sure you take a peek inside the impressive Cobh Cathedral (Cathedral Church of St Colman). This neo-Gothic church dominates Cobh's skyline. While at the cathedral, cross the road and check out the Deck of Cards, a row of colourful homes. See photo below.
Other tourist attractions in Cobh are the Titanic Experience, Fortress Spike on Spike Island, Cobh Heritage Center and Fota Wildlife Park.
The famous Deck of Cards in Cobh is one of Ireland attractions.
The stunning exterior of St. Colman's Cathedral in Cobh. It's so tall I couldn't fit it all in the frame!
5. Find your Castle
Every trip to Ireland must include a visit to one of its castles.
We already mentioned Ireland's most famous castle, Blarney Castle, but there are so many castles to explore in Ireland. Most of the castles in Ireland are worth seeing, so you really can't go wrong.
If you're doing a road trip around Ireland, which we HIGHLY recommend, you will find most castles listed on road maps.
There are literally hundreds to choose from, but the big ones are the Rock of Cashel, Ashford Castle, Bunratty Castle, King John's Castle, Kilkenny Castle, Cahir Castle (above) and Dunguaire Castle.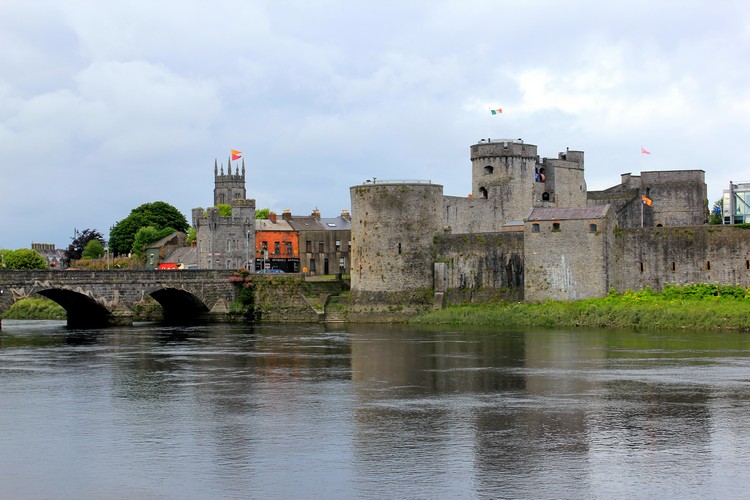 King John's Castle is a 13th-century castle located on King's Island in Limerick.
6. Drive the Wild Atlantic Way
The Wild Atlantic Way is an impressive 2,500 km coastal driving route around Ireland. It was officially launched in 2014 and currently passes through nine counties and three provinces.
The Wild Atlantic Way is broken into 5 sections
:
1 – County Donegal
2 – County Donegal to County Mayo
3 – County Mayo to County Clare
4 – County Clare to County Kerry
5 – County Kerry to County Cork
Along the route there are 150+ discovery points, 1,000+ Ireland attractions and 2,500+ activities. The most popular attractions on the Wild Atlantic Way are the Dingle Peninsula, Loop Head, Ring of Kerry, Cliffs of Moher, The Burren, Killarney National Park, Mizen Head, Killary Harbour and Clifden, no name a few.
And, if you're a Star Wars fan, you will find several Star Wars filming locations in Ireland on the Wild Atlantic Way.
To learn about this epic road trip, get the guide Exploring Ireland's Wild Atlantic Way. If you are looking to rent a car, take a look at Rentalcars for affordable options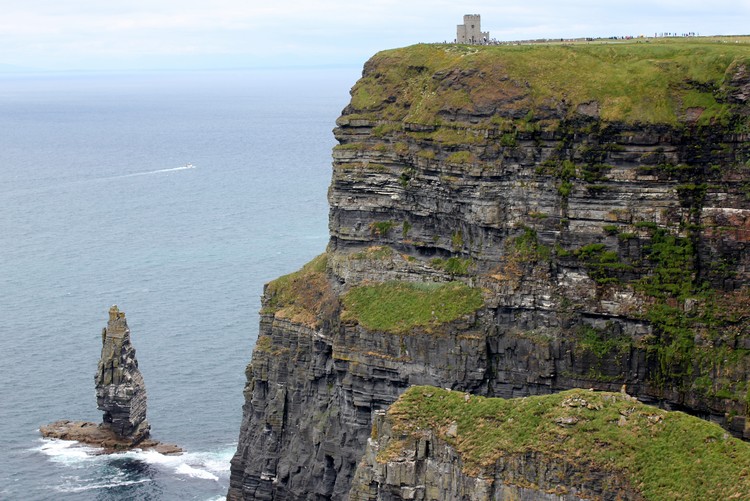 7. Visit the Cliffs of Moher
Arguably Ireland's top tourist attraction, the towering Cliffs of Moher are worth the hype. Located on the west coast of Ireland in County Clare, these rocky sea cliffs, along with the karst limestone hills of the Burren, are recognized at a UNESCO Global Geopark.
In our opinion, the Cliffs of Moher, and the coastal region that surrounds them, is THE reason to travel to Ireland.
Okay, the Guinness might also be the reason.
These spectacular sea cliffs run for 14 kilometres and rise 700 feet above the ocean at the highest point. In 2019, the Cliffs of Moher saw a record 1.6 million visitors.
The drive to the Cliffs of Moher is incredible.
We zigged and zagged along the Atlantic coast, passing through traditional Irish towns and villages that are hundreds of years old. The drive from the Cliffs of Moher to Galway is about 2 hours – with a few stops for photos.
We drove from Limerick to the Cliffs of Moher and then continued on to Galway (read our Ireland road trip itinerary).
Cliffs of Moher weather can be unpredictable, so plan for cold wind and rain (it is Ireland, after all!). Hours of operation change throughout the year. Learn the best time to visit Cliffs of Moher here.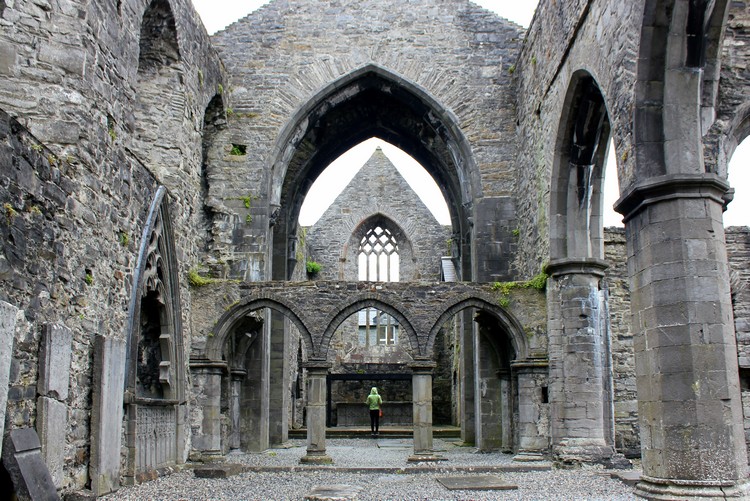 8. Visit Sligo Abbey and Strandhill Beach
Located in the northwest of Ireland, about 50 km's from the border with Northern Ireland, Sligo doesn't always make the list of top Ireland attractions, but we think it's worth mentioning.
Sligo Abbey, pictured above, is a fascinating ruined abbey that dates back to the mid-13th century. This Dominican Friary contains Gothic and Renaissance tomb sculptures and houses the only sculptured 15th century high altar to survive in an Irish monastic church.
While in Sligo, we recommend you visit Strandhill, a charming seaside village and beach town located about 7 miles form Sligo town. The tall grassy sand dunes and rocky beach are quintessential Ireland.
Other Sligo attractions include Benbulbin, Knocknarea, Lissadell House, Parke's Castle and Coney Island.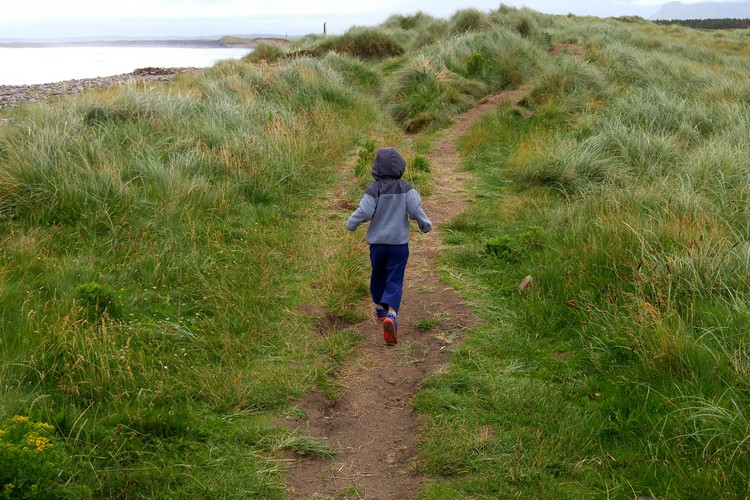 9. Giant's Causeway in Northern Ireland
Located on the northeast coast of Northern Ireland, near the town of Bushmills, the Giant's Causeway is an area of over 40,000 interlocking basalt columns. It is the result of intense volcanic and geological activity.
It's no surprise this mythical place has been recognized as a UNESCO World Heritage Site.
We visited this popular Ireland attraction because it's highly recommended by almost everyone we know who has visited Ireland and/or Northern Ireland.
It did not disappoint. The massive sea cliffs are truly out of this world. It's highlight from our 2 week road trip around Ireland.
While your in County Antrim, be sure to also walk across the famous Carrick-a-Rede Rope Bridge, watch the sunset over Dunluce Castle, taste fine Irish whiskey at the Old Bushmills Distillery and go for a ride at Curry's Fun Park (formerly Barry's Amusements) in Portrush. We recommend staying in this cute seaside town.
10. Titanic Belfast
If you plan to visit Belfast on your trip to Ireland you should consider adding Titanic Belfast to your itinerary. This monument to Belfast's maritime heritage tells the stories of the RMS Titanic through a variety of interactive exhibits and galleries.
The facility has over 130,000 square feet of floor space!
Another option is stay overnight at the Titanic Belfast Hotel, conveniently located beside the museum. You will find Titanic Museum ticket prices and Hours of Operation here.
Travel tip – before you go to Titanic Belfast, we recommend you look at when the cruise ships are in town. Plan around the cruise ship schedule. A cruise ship was in port when we visited and the museum was very busy that day.
More posts from our trip to Ireland:
Have you visited any of these top 10 Ireland attractions?
Share your favourite Ireland attractions in the comments section below. Our readers thank you!