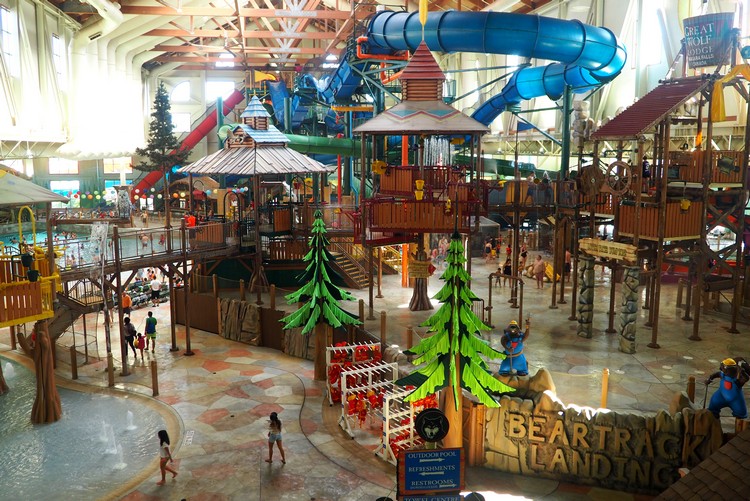 Great Wolf Lodge in Niagara Falls
Picture this – your hotel has a massive water park and wave pool INSIDE the actual hotel. You don't need to walk outside. You literally walk down the hall from your room, go down a flight of stairs and voila – you're inside a 100,000 square foot water park.
The Great Wolf Lodge in Niagara Falls is a destination all on its own. See more photos here.
Now that I'm reflecting on our trip, I realize we did not leave the property once during our stay. There was no reason to. We had everything we needed inside the resort.
In today's blog post, we share our experience at the Great Wolf Lodge in Niagara Falls, Ontario.
If you have children, and you plan to visit Niagara Falls in the near future, we hope this post will answer some of your initial questions about the Great Wolf Lodge in Niagara Falls. You can also read these common FAQ's about the resort.
Readers note – we visited the resort before the COVID-19 pandemic. This blog post was updated in August 2021.
Skip ahead using the Table of Contents
Here's the list of Great Wolf Lodge locations.
Why Great Wolf Lodge in Niagara Falls?
The purpose of our trip to Ontario was to visit family and friends. We're often visiting international destinations, which comes at the expense of seeing loved ones. While in Ontario, we decided to include a visit to Niagara Falls because Nicole had never been there before.
There are a limited number of Great Wolf Lodges in North America. Currently there are 14 properties in operation, with a few more under construction. The Great Wolf Lodge in Niagara Falls is the only property located in Canada.
We put the idea of staying at the Great Wolf Lodge to our good friends who now live in the suburbs of Toronto. They have four kids now, so it's not as easy to see each other. We used to meet them in foreign places, like Chile, Cambodia and Mexico, but times have changed. We now require a table for 10!
The Great Wolf Lodge was the perfect place for our young families to come together. The rooms and facilities are built for families, so it made a lot of sense for us to meet there instead of a standard hotel.
Our pack of wolf cubs!
Parking lot at the Great Wolf Lodge, Niagara Falls.
Great Wolf Lodge Check In and Lobby
The main lobby of the lodge is more than just a place to check-in. It's a themed room with animated characters that talk and sing to guests.
On one wall, there are several wolves perched above a large fire place. When kids howl at the wolves, the wolves actually howl back.
In the center of the lobby is a structure that has a talking moose, bear and tree (photo below).
This is also the location of evening story time and the Forest and Friends Show. If you put your hand in a certain spot (see photo below) the animals will start talking and moving.
Braydon loved visiting this spot and making the friendly bear move.
Everything is THAT way…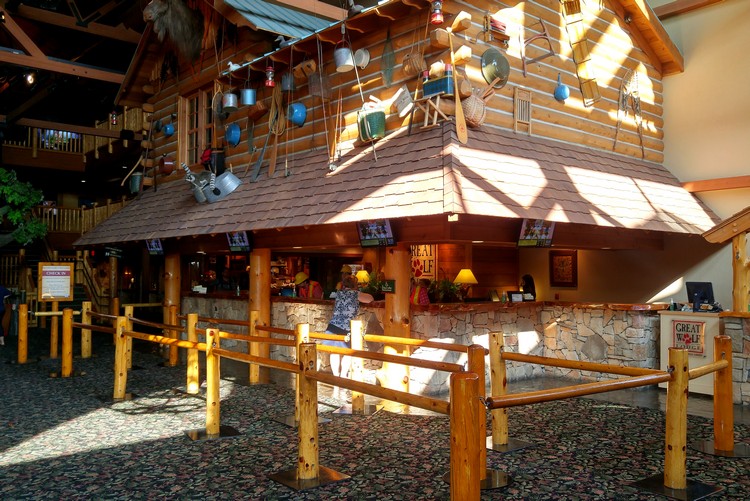 This is reception in the main lobby where you check in and out.
Themed Room – The Wolf Den Suite
We stayed in the spacious Wolf Den Suite, which was a clear highlight for our boys.
The room has a cave-themed sleeping area that is separate from the rest of the room. Inside the 'wolf den' are bunk beds and a TV for them to watch cartoons. This was a big hit.
The room comes with a standard queen size bed and a full size sofa sleeper. It was a large room that could have easily supported a couple more kids. It came with a private balcony, but there isn't much of a view so we didn't spend any time there.
The suite has a small kitchenette with a mini-fridge, microwave and coffee pot. It's not equipped with pots, pans or utensils, but the hotel does allow you to bring in outside food that doesn't require much preparation or cooking.
Check availability at Great Wolf Lodge here.
Great Wolf Lodge Paw Pass for Kids
We were provided a complimentary Paw Pass. At the time of our visit, the Paw Pass package included the following:
20 Paw Points for Northern Lights Arcade
Two games of bowling at Ten Paw Alley
One 5×7 Paw Prints water park action photo or one game at Wacky Wilderness Mini Golf
One MagiQuest game
One MagiQuest classic wand or classic topper
One pair of wolf ears from the Trading Post Gift Shop
One gift at Scooops Kid Spa
One colour-your-own t-shirt or pillowcase in Cub Club
Wiley the Wolf sipper cup from Northwoods Pizza Company
Poutine and fountain Drink from Buckets Incredible Craveables
1/4 lb. of fudge from Bear Claw Cafe
Exclusive collectible Great Wolf Lodge towel
The price for this package is $74.99, which is a 49% savings from the retail price of $147.87. We found that the Paw Pass was a great deal, and it kept us busy with things to do our entire trip.
**Note – pricing and items included in the Paw Pass may change in the future. See current pricing and details here.
Visit our Facebook page for our latest travel content.
MagiQuest Fantasy Game
MagiQuest is one of the signature attractions at the Great Wolf Lodge in Niagara Falls. It's an interactive fantasy adventure that includes a magic wand and lots of treasures scattered throughout the resort. It's similar to a scavenger hunt, but with magic wands. Kids search the hotel lobby and hallways for treasure chests and various items that light up when they zap their wand at it.
First, you choose your magic wand by visiting the Trading Post in the main lobby. There are a variety of options available, so it's best to speak to someone at the MagiQuest counter to make sure you're getting the right wand.
Some of the quests require you to find items in sequence, which was beyond our boys' comprehension. I'm still not entirely sure how the system works – it's somewhat confusing, even with instructions.
It didn't matter though. Our kids didn't care about actually completing the quests. They had fun running around the hotel zapping their wands at anything that seemed out of the ordinary.
It's a fun game that breaks up the day and keeps the little ones entertained.
Learn more about Great Wolf Lodge MagiQuest Here.
All smiles at the Great Wolf Lodge Niagara Falls.
Watch this short video on our Facebook page to see the MagiQuest in action.
Great Wolf Lodge Water Park
The indoor water park is the main reason why you visit a Great Wolf Lodge. The facility at the Niagara Falls location is quite impressive. It's huge! The water park has a variety of water slides and attractions for each age group. There is a wave pool, lazy river, water fort tree house, frog pond and multiple hot tubs.
Here's a list of the indoor water park attractions at Great Wolf Lodge.
Great Wolf Lodge Niagara Falls height rules
When you enter the indoor water park you need to get your kids a wrist band. There are different colours assigned to your height. This helps the lifeguards identify who can and cannot go down certain slides.
In Connor's case, he had to wear an orange wrist band, which meant that he was not allowed to go down the big boy slides.
FYI – the life jacket that Connor is wearing is a complete game changer. If you don't have one for your toddler, you need get one! Here's the link
The indoor wave pool at Great Wolf Lodge Niagara Falls
We spent a lot of time at this wave pool. We had 6 kids with us between our two families, and the oldest kid was only 6 years old. The wave pool allowed us to keep tabs on everyone.
Chipmunk Cove – Indoor Water Park
There is a separate area that is designed for toddlers called Chipmunk Cove. It has a few easy water slides for the little ones. It took Connor a few attempts to finally go down the water slides. Adults are not allowed to go down with their kids, so he needed to find the courage to go down by himself. After he went down the first time he was hooked.
It helped that he was wearing his toddler life jacket. If you don't have your own life jacket or flotation device you can borrow one from the resort. There is no charge for the life jackets, they are included with entry to the water park.
Big moment for Connor – tackling the waterslide all by himself.
We also spent a lot of time floating around the lazy river.
Floating down the Great Wolf Lodge Niagara Falls lazy river.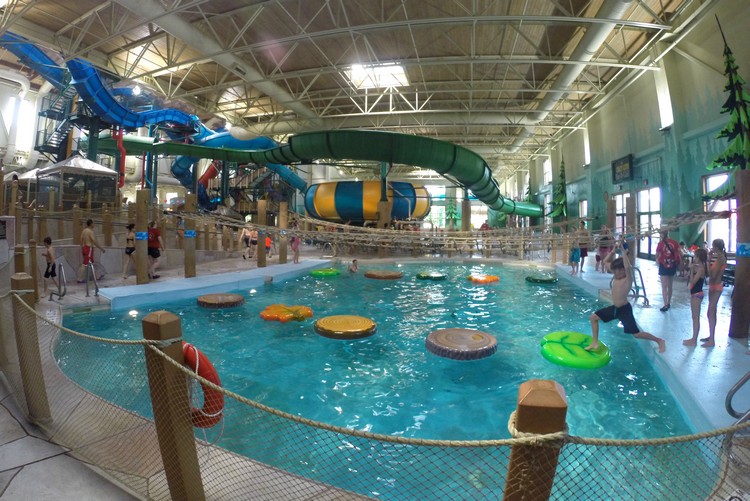 The pool pictured above has a net above it so that kids can swing across the leap pads, kind of like monkey bars that the playground. Braydon gave it a try but he's still a little too short for this one. He made it past two leap pads before his arms gave out and he fell in the water.
Canada Vortex at Great Wolf Lodge Niagara Falls
This is the bottom of Canada Vortex, a 40-foot drop into a water-jet-fueled vortex.
We didn't end up going down the Vortex because both of our boys were too scared. We made it up the stairs to the top of the slide and had to turn around. Maybe next time when they are a little older.
Fort Mackenzie at Great Wolf Lodge
This was Braydon's favourite part of the water park.
There are several water guns and splash toys in this water fort tree house. Bridges connect the tree forts to the windy Beaver and Squirrel water slides. There's also a large water tower that fills up and dumps water on everyone below.
You WILL get wet in this tree fort playground. Make sure you look when walking past this playground – there is a good chance that a kid is filling up a water bucket to dump on your head.
If you look at the top right of the above image you can see the water tower dumping water on top of the tree fort playground. It's a lot of water!
Loon Lagoon – Great Wolf Lodge Canada
The heated outdoor pool is a nice change of pace from the indoor water park, especially on a warm sunny day. There are plenty of lounger chairs outside and there's an outdoor restaurant.
It was quite hot outside when we visited, so we didn't spend a lot of time at this pool. The nice thing about indoor pools is that you don't need to keep applying sun block to your kids.
Note – the outdoor pool is only open in the summer months.
Search for Great Wolf Lodge deals here.
Great Wold Lodge Bowling Alley
The Ten Paw Bowling Alley was another big hit for our boys. It's a small bowling alley with half sized lanes. It's ten pin bowling but the bowling balls are the small 5 pound balls, so it's easy for little ones. You do not need bowling shoes.
It costs $5 per round. You pay for the round of bowling at the Northern Lights Arcade, located right next door to the bowling alley. You put money on a card and swipe the card at the bowling lane of your choice. There are gutter rails to help keep the bowling balls in play (which is a wise move with little ones).
Great Wolf Lodge bowling alley.
Great Wolf Lodge Mini Golf
The Paw Pass gave us an option to play a round of mini golf at the Wacky Wilderness Mini Golf course. It's an 18 hole outdoor course with a lot of fun characters and buildings. It's not super challenging, so our boys were able to play. Though they didn't want to keep score and kept jumping around from one hole to the next.
Careful – this might happen to you, too!
Story Time and Dance Party
In the evenings the main lobby turns into a fun zone for families. Kids are encouraged to put on their pajamas for story time. The story is read by one of the Ambassadors of Fun and there are mascots giving out hugs and high fives.
One of the nights there was a dance party for the kids. It seems there's always something happening in the lobby in the evening.
Northern Lights Arcade
Every evening included time spent at the dizzying Northern Lights Arcade.
There are several games and rides for all sizes and skill levels. Similar to most arcades, you put money on a card and swipe to play. The games are not cheap, so be prepared to spend at least $20 per kid, per evening.
Some games allow you win tickets that are then added to the card account. When it's time to leave, you redeem your tickets for small toys. Our crew of minions had a lot of fun playing with their new parachuting alien toys in the middle of the hallway outside the arcade.
Indoor arcade at Great Wolf Lodge Niagara Falls, Ontario.
Great Wolf Lodge Restaurants
There are several restaurants inside the resort. The breakfast and dinner buffets are found at the Antler Shanty Restaurant. We opted for the Great Wolf Lodge all inclusive meal package, which included the breakfast and dinner buffet and coupons for lunch.
We like buffets because of Connor's dairy allergy, and the GWL made it easy to know what was in the food because above the food are cards telling you if it includes dairy, etc. The buffet food was good and their were plenty of options.
The only downside is that we had to wait at least 20 minutes each evening to get a table. We didn't realize there would be a wait, so our recommendation is to get a reservation or put your name on the list and then do some MagiQuest or play in the arcade.
I'm not sure if the all inclusive package is the best option for young kids. It is convenient and easy to use your coupons at meals, but it really depends on how much your kids eat. If your kids eat a lot, then there's good value in the all inclusive package.
Our friends did not get the all inclusive package because they brought food with them, so it didn't make sense for them. One evening we all went to the dinner buffet together and their boys only ate pizza, so it would have made more sense for them to order a pizza from the Northwoods Pizza Company.
There are several lunch spots inside the hotel, including the Bear Claw Cafe, Grizzly Rob's (see above photo), Buckets Cafeteria, Camp Critter Bar & Grill and Crazy Loon.
Wrist Band system
This is a neat system that I thought is worth mentioning. When you check-in you get a wist band that acts as your room key and credit card. You simply wave the wrist band in front of the scanner on your room door (see photo below). This unlocks your door without needing to carry around a plastic room key with you.
We love this feature. This way you don't have to worry about loosing your room key.
And it's waterproof, so it doesn't matter if it gets wet – which will happen at an indoor water park.
If you attach your credit card to the account you can also use the wrist band to purchase food and drinks at the various restaurants and cafes. This is a super convenient and efficient system.
Above is the door lock with scanner for hotel rooms.
Travel tips for Great Wolf Lodge Niagara Falls
The Paw Pass is a really good value if you plan to spend at least 2-3 nights at the resort.
The MagiQuest is a must. If you're on the fence, just do it. Your kids will love it. If you get the Paw Pass the MagiQuest and wand is included.
To save money, do a grocery shop and stock up on food and drinks. Rooms come with a mini-fridge an microwave. The biggest savings will be your drinks. Bring beer and wine with you.
We found the food/beverage prices to be reasonable. We've been to other resorts that abuse guests by gouging them with steep prices. Beer was $6-7, which is similar to most restaurants in the area.
Pool towels are provided. You do not need to bring towels with you.
Wifi and parking was included.
The resort is located about 10 minutes from the Falls. We did not leave the resort during our stay because we planned to spend two extra days in Niagara Falls after staying at Great Wolf Lodge. If you plan to visit the falls, check with concierge for shuttle services.
The hours of operation at Great Wolf Lodge are easy – it's open 24 hours.
Click here to search for room availability.
Search for Great Wolf Lodge deals here.
Have you visited Great Wolf Lodge Niagara Falls?
Share your tips and experience in the comments below. Our readers thank you!