Should you rent a car in Norway?
Are you planning a trip to Norway and questioning whether it's a good idea to rent a car in Norway? If so, read this post to learn about our experience driving in Norway for the first time. We learned a few things that you might find helpful.
Norway is such a big and beautiful country. However, to get the full Norway experience, you have to get out of the big cities and visit the Norwegian countryside. To do this, it's best to rental a vehicle.
Norway's public transportation system is limited once you get outside the cities. The train system in Norway is good for connecting from one city to another, but not for visiting smaller towns and villages. Bus transportation is available, but also limited. You can join an organized tour, but it's probably more cost effective (and fun) to rent a car, especially if you're traveling with family or friends.
Because of this, we believe renting a car is the best way to see Norway.
If you're curious, this is our 12 day Norway road trip itinerary. The road trip starts and finishes in Oslo. You can shrink the itinerary by flying back to Oslo or Bergen, or where ever you start your Norway road trip.
We visited Norway with our two boys (family of four). Therefore, it's not cost effective to purchase four flights and/or train tickets. While it may be faster to fly or take a train, we enjoy road trips. It's a great way to explore at your own pace.
In this post, we share travel tips for driving in Norway as a tourist.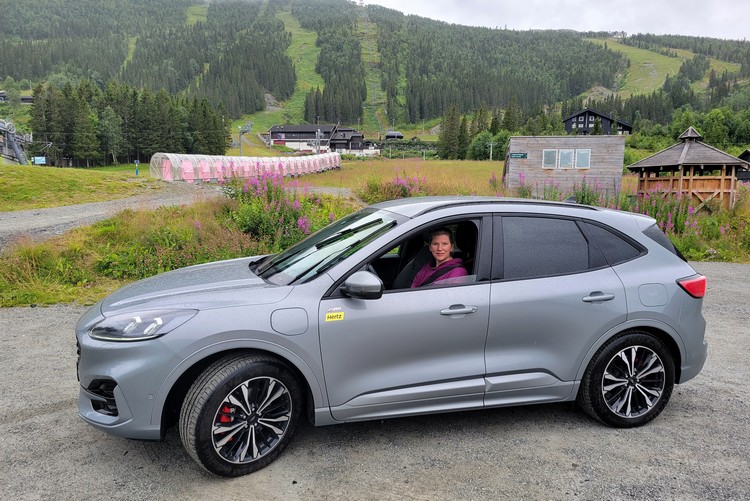 How much does it cost to rent a car in Norway?
Fuel is expensive in Norway. Consider this when selecting your vehicle. What distance will you travel? If you're covering a lot of ground, consider getting the unlimited mileage option.
There are plenty of hybrid and electric car rentals in Norway. The charging infrastructure in Norway is arguably the best in the world. Most fuel stations have several electric car charging stations available. I would not be surprised if Norway has more electric charging stations than traditional gas pumps.
We were given a Ford Kuga Hybrid (pictured above). It's decent on fuel and fits our family perfectly.
Here's a breakdown of our vehicle expenses for 10 days:
Car Rental – 5,131 NOK ($665.00 CAD)
Additional Driver fee – 400 NOK ($52.00 CAD)
Road tax admin fee – 200 NOK ($26.00 CAD)
Toll Road Fees – 850 NOK ($110.00 CAD)
Gas – 270.00 CAD
Looking to rent a vehicle in Europe?
Check out Auto Europe to search for rates and availability from the top car rental companies in Europe. We also like to use Discover Car to search for deals on car rentals. It gives us a baseline on pricing, based on the type of vehicle.
We rented from Hertz with pick-up and drop-off in Oslo city center. It's one of the cheapest car rental options for Norway.
What side of the road do they drive on in Norway?
Before we get started, let's first address the most common question.
Norway drives on the RIGHT side of the road.
And, if you are wondering what side the steering wheel is on, it's on the left side.
Driving in Norway as a tourist
You do not need an international license to drive a rental car in Norway. More info here.
You can use a valid drivers license from your home country, as long as you've had your license for at least one year. The license must have a picture and be written in Roman Alphabet.
Norway car rentals have an age requirement. Typically 19 years old, but sometimes 21 years old. It's best to check with the car rental company if you fall in this age category. Sometimes, if you are under 25 years old, the car rental company may include an additional young driver charge.
If you have multiple drivers, expect to pay an additional fee per driver.
You will need a credit card to rent a car in Norway.
Quick Tips for Driving in Norway
Trams always have the right of way. You pass trams on the right.
Pedestrians have the right of way at marked crossings.
Speed limit signs are in kilometres per hour – NOT miles per hour.
Unless otherwise marked, the speed limit is 50 km/r in developed areas (cities) and 80 km/h in rural areas.
Drivers and cyclists share the road. Both must abide by the same traffic rules.
There is no right-turn-on-red in Norway.
Do not drive in taxi and/or bus lanes.
Should you pick-up & drop-off at same location?
The answer to this question will significantly impact your road trip itinerary. If you are limited on time (7 days or less), you might consider going in one direction. By not backtracking to your departure city, you will save time.
However, it's typically more expensive to drop-off the rental car at a different location. Even if you're in the same city. For example – it's more expensive to pick-up from the airport and drop-off in the city centre. Rental companies prefer to have vehicles returned to the same location.
We found it cheaper to pick up the vehicle in Oslo city centre, instead of the Oslo airport car rental locations. That said, we did find more vehicle options at the Oslo Airport car rental companies.
We planned to spend a few days in Oslo before starting the road trip. It did not make sense to pick up the car at the airport and pay for extra days and parking because we did not need the car in the city. Most hotels charge $30+ CAD per night for parking.
Choose your pick-up time wisely!
Pay attention to this one, because it almost ruined our Norway road trip.
When you choose your pick-up time for the vehicle, you must arrive at that exact time. If you're late, they *may* give your car to someone else. Even if you have a reservation. And even if you paid a deposit or paid in full. At least, that's what the Hertz representative told us.
We've rented dozens of cars, in several countries, and have never come across this before. The Hertz representative said this is a common practice in Norway.
Now, this may not be ALL car rental companies in Oslo. But this is how Hertz operates. I would hope the Oslo Airport rental car companies are more flexible, given that travellers cannot control arrival times of flights. It's best to confirm before making your reservation.
Here's what happened to us.
We chose 9:00 AM pick-up time. The plan is to depart Oslo at 11:00 AM. Our thought process is that if we select an earlier time, we ensure the vehicle is ready for us when we arrive.
We had an early start to the morning, so we decided to pick-up the car before checking out of our Oslo hotel. The original plan was to pick-up the vehicle after checking out of the hotel.
We arrived at Hertz at 9:45 AM. After providing our name, the representative says, "You're late!"
It took us a moment to process her comment. How can we be late to pick-up a rental car?
It was 45 minutes after the time we chose to pick-up the car. She went on to say, "it's like if you have a dentist appointment. If you don't make the appointment time, we give it to someone else". I still struggle with this analogy.
We've never come across this before. I had no idea that the time you select is a firm time. We reviewed the original reservation and it does not mention this strict rule. Nor did we receive any communication about this from Hertz prior to our arrival.
Fortunately, we arrived earlier than our original plan of 11:00 AM. Otherwise, we might have lost the vehicle. This would have had a terrible ripple effect on our hotel reservations.
Keep this in mind when you rent a car in Norway!
A few tips for when you rent a car in Norway:
Select a pick-up time that you are confident you can make. Don't be late.
If you are running late, or your flight is delayed, make sure you call the car rental company. Let them know you're late, but still coming, so they don't give your vehicle to someone else.
When dropping off the vehicle, choose the latest option available. You can always drop-off the car early. But if you're late, you will incur a hefty late fee. Or, you may even be charged an extra full day as penalty.
Pick-up and drop-off at the same location, if possible. It will be much cheaper. Sometimes, the additional fee for the "one way option" is double the price of the full rental cost.
There are limited fuel stations in Oslo city center. Fill up the tank before you enter the city.
Does your credit card provide vehicle insurance? If so, pay for the vehicle with that credit card. It's a good practice to read the fine print and/or speak with someone to understand your coverage and the rules. Do this BEFORE you arrive in Norway.
Norway speed limits and tickets
Norway is strict when it comes to speed limits. It has a zero tolerance policy when it comes to speeding. Driving over the speed limit, even by a little, could cost you an expensive speeding ticket. We've read that it can be as high as $3,000 or 10% of your annual income!
Speed limits in Norway are low in comparison to other parts of the world. In general, we found the speed limit in cities and towns to be 40 km/h. Highway speed limits are between 60 km/h and 80 km/h.
We're used to 90 km/h to 110 km/h for highways in Canada. It was a big adjustment for us. We found it challenging to drive 70 km/h on an open highway. It felt very slow.
Generally, we found that Norwegians follow the rules and speed limits.
There are lots of speed cameras in Norway
Norway monitors your speed with cameras. We passed many of these cameras on our road trip.
Road signs warn drivers about an upcoming camera. It's not a sneaky system that tries to catch people in a speed trap.
Basically, the cameras take a photo of your car at the first measure point. A second camera takes a photo at the next measure point. The system then calculates your speed.
Looking to rent a car in Norway?
Check out Auto Europe to search for rates and availability from the top car rental companies.

Some roads are VERY narrow. Slow down.
Some roads are so narrow that they do not fit two passing vehicles. The expectation is that you pull over and let the oncoming vehicle pass. It can be very sketchy.
Some roads give little or no warning about the upcoming narrow sections. Even on some highways where the speed limit is 80 km/h. We had a close encounter with a much bigger truck. Often times you have to reverse to create a passing lane.
Most of these windy single lane roads are in small villages in the mountains fjords. See photo above as an example.
The best tip we can give you is to drive slow. Follow the speed limits and pull over when oncoming traffic is getting too close for comfort.
Norway road tolls for highways and ferries
All foreign and domestic vehicles must pay road tolls in Norway.
When you rent a car in Norway, most vehicles will come with the AutoPASS. It's best to confirm this when you pick up your vehicle. The AutoPASS will automatically track the tolls, so you don't have to worry about paying for the Norway highway tolls until after you return the vehicle.
If you're driving a personal vehicle from another country, you will need to register the vehicle and get an AutoPASS – more info here.
On our Norway road trip, we paid 900 NOK (approximately $120 CAD or $91 USD) in road tolls. Most of the tolls were on the first invoice we received. However, a few more charges showed up about a week later.
Many of the highways in Norway turn into ferry crossings.
Some highways literally end at a small ferry terminal. Similar to the highway tolls, you don't need to pay for the ferry when you have the AutoPASS. The ferry cost is automatically charged to your account.
We drove the E39 highway from Bergen to Forde, which includes a ferry crossing from Oppedal to Lavik. We just missed the ferry, so we had to park and wait for the next one. There was nobody there to guide us, so we had to guess what lane to use.
We noticed big trucks parking in lane 1, so we went with lane 2. This small terminal has about 8 parking lanes.
There are lots of tunnels in Norway
Norway is known for it's remarkable tunnel infrastructure. Lærdalstunnelen, pictured above, is the longest road tunnel in the world at 24.5 km. Because the tunnel is so long, it has several sections with blue lights and room to pull over. This is designed to keep drivers alert by adding new visuals.
When driving in the fjords, many of the roads will tunnel through the mountains instead of going over the mountain pass. It's an impressive, and expensive, highway network.
Before you enter each tunnel, there is a sign that shows the length of the tunnel.
How is it to drive in Norway?
Driving in Norway is easy. Highways are in good condition. Roads are nicely paved and clearly marked. Most road signs have both Norwegian and English language.
Driving on the right side of the road is similar to North America, making it an easy transition. We found driving in Ireland to be much more challenging because the UK drives on the left side of the road.
Our vehicle has a navigation system, which makes driving in Norway easy. We switched the language to English. It has a very accurate speed limit notification, so when the speed limits change (even if the signs are not visible) the dashboard is updated.
Is it easy to find parking in Norway?
In most of the small towns and villages in Norway we did not pay for parking. However, in the bigger cities, like Oslo and Bergen, pay parking is required.
We had to pay for parking at our hotel in Bergen. It was approx. $30 CAD per night.
When parking inside a parkade, you often pay when you leave. A camera takes a picture of your license when you enter. When you depart, you enter your license and the reader will tell you how much you owe. We like this option because it removes the guesswork about how much time you need. And, if you take longer, you don't need to return to top up your time.
You can pay for parking using the APCOA Parking app. However, we did not use this app because most of the time we had free parking. We also did not use a Norway SIM card on this trip (only wifi when available), you need cellular access to use the app.
A quirky travel tip for families
Parents be warned! Many radio stations that play Top 40 music do not censor bad language. We did not realize how many swear words are in popular songs because in Canada this language is blocked or edited.
If you're traveling with young kids, and you plan to use the radio, consider yourself warned!
Do you plan to rent a car in Norway?
Leave us a comment below if you have questions. We'll do our best to answer.