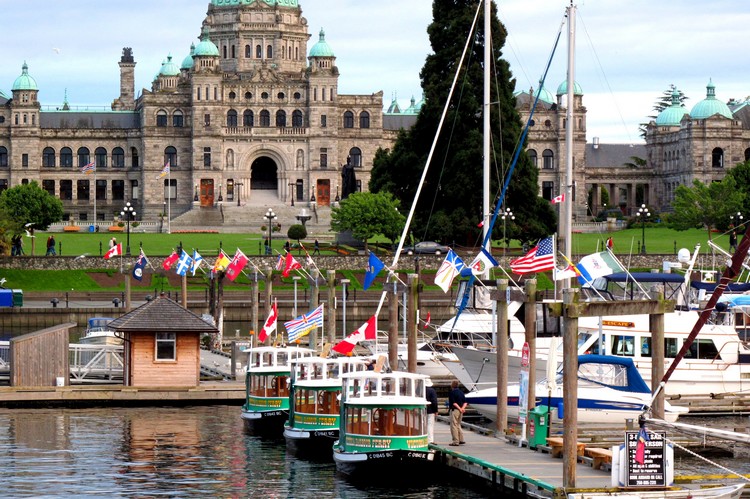 Located on the southern tip of Vancouver Island, the charming city of Victoria is one of the oldest cities in the Pacific Northwest. It's also the city where we met almost 20 years ago during our university days (read about our love affair with Victoria here). Today, we'd like to share some of our favourite things to do in Victoria with you.
It's no surprise we have a soft spot for Victoria. We try to visit at least once a year and we're constantly recommending Victoria to readers of this travel blog.
Victoria is located only 100 kilometres (62 miles) from both Vancouver BC and Seattle WA, making it the perfect weekend getaway for tourists and residents who live on the mainland.
That said, don't make the mistake of thinking you can properly do Victoria in one day (unless you take a float plane from Vancouver to Victoria). We recommend you spend at least two days in Victoria, preferably three days if your itinerary allows it.
With that in mind, we've put together this list of things you should do on your next trip to Victoria.
The Best Things to do in Victoria, BC
Skip ahead using the Table of Contents above.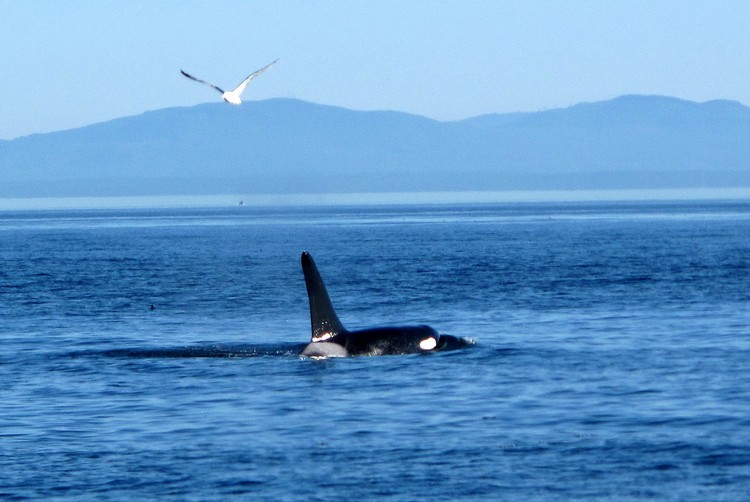 1. See Orca Whales on a Whale Watching Tour
Vancouver Island is home to some of the best whale watching in Canada. The best place to spot orcas in their natural habitat is the Salish Sea and Strait of Juan de Fuca. Whales, sea birds and other marine animals are attracted to the area to feed, resulting in a 95% success rate on whale watching tours.
While it is possible to see whales any time of the year, the peak Victoria whale watching season is in the summer months, from May to October during the salmon migration.
Victoria whale watching tours depart from the Inner Harbour. Tours depart several times per day. We went on a tour with Prince of Whales and would recommend them. You can book whale watching tours online ahead of time or simply show up and jump on the next departing boat.
We hit the jackpot on our tour and spotted over 25 orca whales! We could not have scripted a better whale watching experience. The water was calm, the sun was shining, and we witnessed a super pod.
Read about our Victoria whale watching experience here.
You can book a boat tour here. Or a zodiac tour here.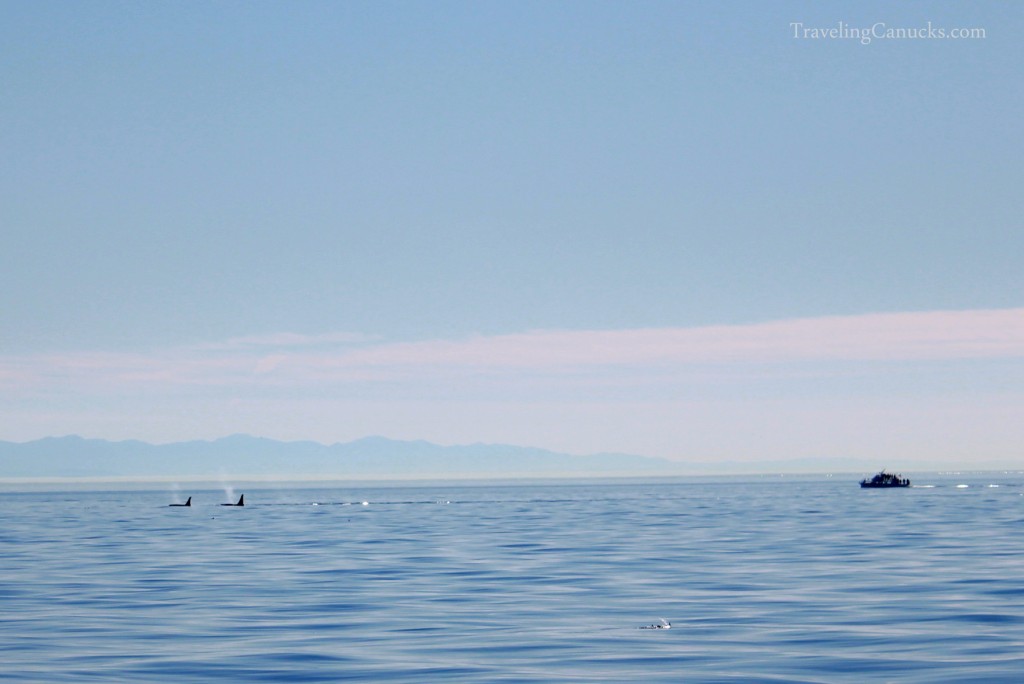 2. Take a Victoria Horse Carriage Tour
A unique way to discover this historical city is by horse-drawn carriage. The relaxing and informative horse-drawn carriage tours allow visitors to see the city's attractions in style, while traveling through old residential neighbourhoods, scenic waterfront roads and the second oldest Chinatown in North America.
If you're in the mood to turn up the romance, most operators allow you to open a bottle of champagne or wine while you tour the city by night.
We recommend using Victoria Carriage Tours. The horse carriage will pick you up directly from your hotel or restaurant. You can also organize your trip directly from the horse carriage operators, located beside the British Columbia Parliament Buildings.
Tours range from 30 minutes to an 1.5 hours.
Book your Victoria horse carriage tour here.
3. Ride a Harbour Ferry around Inner Harbour
A fun way to get around Victoria's Inner Harbour is to take a small Harbour Ferry. The little ferries depart from various points around the harbour, so you can bounce around the harbour and turn this convenient mode of transportation into a mini boat cruise.
You can stop off at Spinnakers Gastro Brewpub and grab a refreshing pint of craft beer. Or visit the Fisherman's Wharf and sample the famous fish and chips at Barb's Fish and Chips.
Tickets for the Victoria Harbour Ferry can be purchased as a Harbour Tour ($30), Gorge Cruise ($30) or one-way fares starting from $7.00 per person.
Look for the 'Ferry Stop' signs at major waterfront locations around the harbour.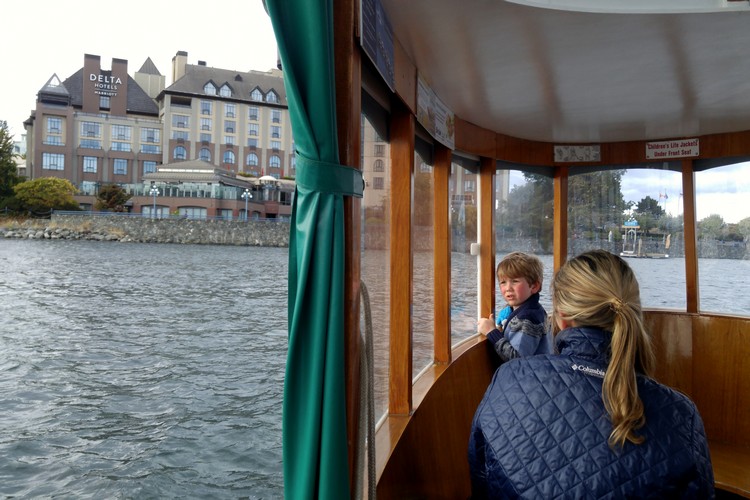 4. British Columbia Parliament Buildings
The iconic British Columbia Parliament Buildings are one of the star attractions in Victoria's Inner Harbour. The architectural style of these buildings has been described as a blend of Neo-baroque and Romanesque.
Construction of the Parliament Buildings began in 1893 and they were officially opened in 1898. Other notable landmarks on the grounds are the Cenotaph (bronze War Memorial to the Unknown Soldier), Queen Victoria Statue, Douglas Obelisk, Knowledge Totem Pole, Speak Chair, Front Fountain and the Premier's Rose Garden.
Visitors have the option to explore the inside of the BC Parliament Buildings. Door are open to the public Monday to Friday, between the hours of 8:30 am to 5:00 pm.
You can join a regularly-scheduled guided tours or explore the buildings on you own. Guided tours are free and last approx. 30 minutes.
The above photo is the fountain at the back of the BC Parliament Buildings.
Search for last minute deals on Victoria hotels using Booking.com or Hotels.com
5. Bike riding along Dallas Road
Visitors to Victoria will find that most of its famous landmarks and tourist attractions are within walking distance to the BC Parliament Buildings and Inner Harbour.
To see what's beyond the downtown core, rent a bike and cruise down Dallas Road to Beacon Hill Park, Clover Point Park and Ross Bay. The ocean views on Dallas Road are incredible, especially at sunset.
Start your bike ride in the residential area of James Bay. It's a quiet area with some of the most beautiful heritage homes on Vancouver Island. James Bay's claim to fame is that it's said to be the oldest neighbourhood on the West coast of North America that's north of San Francisco. Say that ten times fast.
After a brief stop at Fisherman's Wharf, continue riding south on Dallas Road towards Ogden Point (the big pier where the cruise ships dock). Continue along the waterfront road towards Beacon Hill Park. You can ride your bike around the park or continue to Ross Bay and Gonzales Beach.
If bike riding is not your thing, you can also walk on the Dallas Road Waterfront Trail and visit Holland Point Park, Fonyon Beach, Finlayson Point and Spiral Beach.
6. Visit the Royal BC Museum and IMAX
Located between the Empress Hotel and the BC Parliament Buildings, the Royal BC Museum specializes in British Columbia's human and natural history.
The elaborate galleries offer different environments, making it a great museum for all ages and preferences. There is a First Peoples Gallery, Modern History Gallery, Natural History Gallery and different traveling exhibitions. Our favourites are the life size woolly mammoth and the incredible collection of totem poles.
Plan to spend at least 3 hours at the museum, especially if you want to catch an IMAX film.
Royal BC Museum Hours of Operation here.
While you're in the neighbourhood, check out Thunderbird Park, located directly beside the Royal British Columbia Museum. Thunderbird Park is home to many totem poles and First Nation monuments.
Above – the woolly mammoth exhibit at the Victoria museum.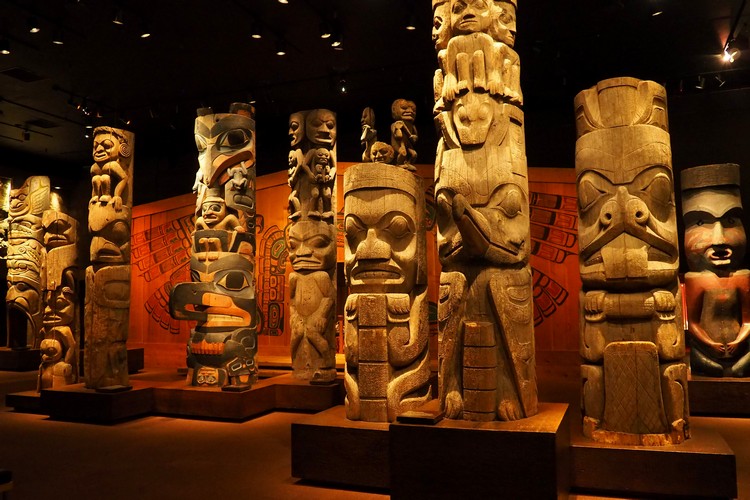 7. Explore Beacon Hill Park in Victoria
Located along the shore of the Juan de Fuca Strait, Beacon Hill Park is the largest and most treasured park in Victoria. The 200 acre park is within walking distance to most downtown Victoria hotels, so it's easily accessed by foot or bike.
There are plenty of things to do in Beacon Hill Park, including a walk through its beautifully manicured gardens and weeping willows at Goodacre Lake, feed the goats at the Beacon Hill Children's Farm, photograph the peculiar Moss Lady sculpture and admire the world's tallest free-standing totem pole.
You can access the Dallas Road Waterfront Trail from Beacon Hill Park. Walk towards Finlayson Point and search for little crabs on the rocky beaches. Have a seat on some driftwood and scan the ocean horizon for breaching whales and marine wildlife.
Take a deep breath and soak up those stunning Pacific Northwest views!
8. Play Beach Volleyball on a Rooftop Bar
Have you played beach volleyball on the rooftop of a restaurant in the city? We're guessing you haven't because the Rooftop Patio at the Strathcona is home to the world's only rooftop beach volleyball courts.
We fondly remember our university days drinking pints with classmates and playing beach volleyball on the Strathcona rooftop. If you've got the time and desire, we recommend you give it a try!
If beach volleyball is not your thing, enjoy a pint at the Sticky Wicket or Big Bad John's, one of Victoria's best dive bars. The Strathcona has been a downtown Victoria landmark with roots dating back to the historic gold rush era in the early 1900's.
With 7 venues, 5 levels, 5 diverse restaurants and 1,200+ seats, it's the perfect place to unwind after a day of sightseeing. It's also a good place or crank it up and paint the town red.
9. Hatley Park National Historic Site
Located in Colwood, about 20 minutes west of Victoria, the Hatley Park Historical Site is home to Hatley Castle (pictured above) and beautiful gardens, including the Japanese Garden and Rose Garden.
Since 1995, the mansion and estate have been used for Royal Roads University, which is where Cameron went to university (more on that story here).
You can take a tour of the castle and gardens, wander around the university grounds, hike through the forest and snap a photo with one of the resident peacocks (just don't get too close, a few of them have tempers).
Hatley Castle has been featured in many blockbuster movies, including X-Men 2, X-Men: Last Stand, Deadpool, and Arrow. See the list of movies filmed at Hatley Castle here.
10. Fort Rodd Hill & Fisgard Lighthouse
After visiting Hatley Park National Historic Site, check out nearby Fort Rodd Hill and Fisgard Lighthouse Historical Site, the first lighthouse on Canada's west coast that is still in operation.
The Fort Rodd Hill National Historic Site allows visitors to see the 100-year-old coastal gun batteries, camouflaged searchlight emplacements, command posts, guardhouses and barracks.
These two national historic sites in Victoria are located on the same site.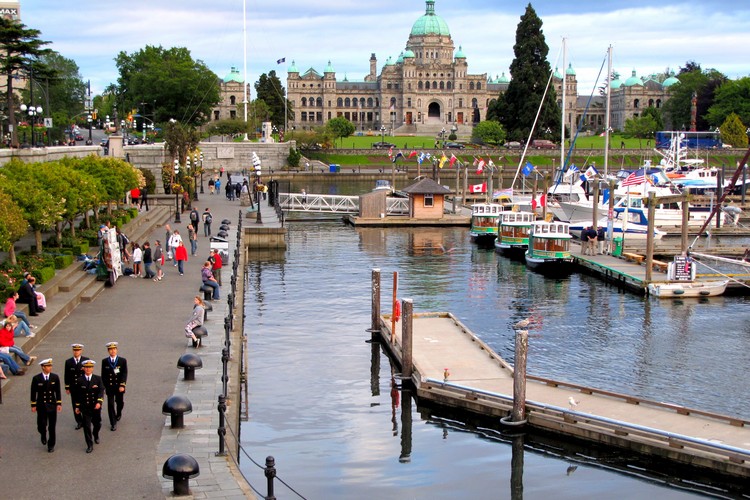 11. Walk the Inner Harbour Pathways
Victoria's picturesque Inner Harbour is one of Victoria's most celebrated landmarks and attractions.
It's often labelled as one of the most beautiful harbours in the world. We agree.
The most popular section of Victoria's Inner Harbour is the marina in front of the Fairmont Empress and British Columbia Parliament Buildings (picture above). In the summer, this esplanade is filled with merchants, artists, street performers and food trucks.
Although the promenade in front of the Empress Hotel is the most popular, there are several pathways around the Inner Harbour, including the David Foster Harbour Pathway and Songhees Walkway. These pathways are the perfect place to watch the float planes take off and land on the bustling harbour.
To get the this waterfront path, cross the new Johnson Street Bridge and pass the Delta Ocean Pointe Resort. The 3 km trail is flat and paved, so it's fine for baby strollers, wheelchairs and bikes.
Views of Victoria Inner Harbour on the waterfront Songhees Walkway.
The old Johnson Street Bridge in the distance. It was replaced in 2015.
12. Go on a Brewery Pub Crawl
Downtown Victoria is the perfect location for a brewery pub crawl. Victoria is very walkable and many of the brewpubs, bars and micro-breweries are located within walking distance to each other.
Our favourite brewpubs and breweries in Victoria
Spinnakers Gastro Brewpub
Swans Brewery and Pub (pictured above)
Irish Times Pub
Bard & Banker
CANOE Brewpub
Driftwood Brewery
Vancouver Island Brewing
Phillips Brewing Tasting Room
Hoyne Brewing Company
If you've got the stamina, you can visit all of the above breweries and brewpubs by foot. They are located within about a 2-3 km radius.
Here's an interactive Victoria map with hotels, restaurants and attractions. If you prefer a guided tour look here or here.
Spinnakers Brewery is a long time favourite of ours. It's located on Songhees Walkway.
Above is a flight of beer at Irish Times pub in Victoria.
13. Craigdarroch Castle
The Victorian-era Craigdarroch Castle is another National Historic Site in Victoria. Built in 1890 by a wealthy coal baron, during the reign of Queen Victoria, this fairy-tale castle has over 20,000 square feet of interior space. Learn more about this history of the castle here.
Ticket price to enter Craigdarroch Castle here.
Craigdarroch Castle hours of operation are from 10:00 AM to 4:30 PM daily.
14. Visit the Victoria Bug Zoo
If you're travelling to Victoria with kids, consider a short visit to the Victoria Bug Zoo, also known as the Bug Museum. It's a two-room mini-zoo located in downtown Victoria, one block north of the Fairmont Empress Hotel.
The zoo creates an opportunity for you to view and experience live tropical bugs from around the world. It has approx. 50 different species, including giant walking sticks, praying mantis, glow-in-the-dark scorpions, hairy tarantulas, and Canada's largest ant colony.
Victoria Bug Zoo hours of operation and rates can be found here.
15. Feel huge at Miniature World Victoria
After you visit the Victoria Bug Zoo, walk one block south and check out Miniature World, one of the most popular tourist attractions in downtown Victoria.
Miniature World is trademarked at "The Greatest Little Show On Earth!" It has over 85 miniature dioramas and displays, including the World's Smallest Operational Sawmill and one of the longest model railways.
Miniature World hours of operation and rates can be found here.
16. The Maritime Museum of British Columbia
After your visit to Miniature World, cross the street and visit the Maritime Museum of British Columbia. Here you will find historical objects, art, photos & models showcasing the maritime history of the Pacific Northwest.
Maritime Museum of British Columbia hours of operation here.
17. Squeeze through Fan Tan Alley in Chinatown
Chinatown Victoria is the oldest Chinatown in Canada and the second oldest in North America, after San Francisco. You'll want to start your visit to Chinatown at the Gate of Harmonious Interest, an ornately decorated arch at the entrance to Chinatown, located on Fisgard Street.
Fan Tan Alley is a popular Chinatown tourist attraction.
Once home to brothels and opium dens, Fan Tan Alley is named after the Chinese gambling game Fan-Tan.
Today, its home to more than a dozen locally owned shops selling everything from vintage records to hand-crafted jewelry to organic treats.
Fan Tan Alley's modern day claim to fame is that it's said to be the narrowest street in Canada. We love the unique architecture and red brick buildings that line this historical alley.
The Gate of Harmonious Interest in Victoria's Chinatown.
18. Fisherman's Wharf
Victoria's Fisherman's Wharf is a fun place to spend an hour or two. Enjoy Barb's famous fish and chips on the pier and watch the playful seals swim around the colourful floating village.
You will find a variety of shops and food kiosks at the pier, including freshly caught seafood, ice cream and milkshakes, sweet mini donuts, pizza and authentic Mexican cuisine.
Fisherman's Wharf is best reached via an Inner Harbour water taxi (see point #3). You can also walk or ride bikes along the the scenic Harbour Pathway. It's an easy 15 minute walk from the BC Parliament Buildings to the Fisherman's Wharf.
While it may be tempting, DO NOT FEED seals or marine wildlife.
Many travel sites will recommend feeding the seals, but it's now banned by the Greater Victoria Harbour Authority. A scary incident happened with a seal that was fed at the Steveston dock in Richmond, BC. Watch the seal attack video here.
Nicole and a very young Braydon watching the seals at Fisherman's Wharf.
Barb's famous fish and chips on the pier at Fisherman's Wharf.
19. Smell the roses at The Butchart Gardens
The Butchart Gardens has become one of Victoria's most visited tourist attractions with over 1 million visitors per year. Once a limestone quarry, these beautiful gardens have now been designated a National Historic Site of Canada.
The Butchart Gardens are located 30 minutes drive north of Downtown Victoria. If you do not have a vehicle you can join an organized tour that runs daily trips from Downtown Victoria to Butchart Gardens. More info on how to get to Butchart Gardens here.
Butchart Gardens hours of operation for the summer are from 8:45 AM to 9:00 PM. Christmas hours of operation are from 9:00 AM to 9:00 PM.
The best time to visit Butchart Gardens is before 10:30 AM or after 3:30 PM. Not only is the natural light better at this time, but you'll avoid the large crowds and bus tours that visit mid-day.
Here's an interactive map of Butchart Gardens.
For updated ticket rates, visit the Butchart Gardens website here.
You can also purchase a tour to Butchart Gardens here or here.
20. Goldstream Provincial Park
Goldstream Provincial Park is located only 16 km north of Victoria yet it feels far removed from the urban sprawl of downtown Victoria. The park is home to several hiking trails for all levels, ranging from an easy forest walk to the more challenging Mount Finlayson trail to the highest point in Greater Victoria .
Goldstream Park is known for the annual chum salmon runs in the Goldstream River that happen in the fall. Hundreds of bald eagles congregate to the park to feed on the dead salmon. Read more about this impressive natural phenomenon here.
The park is also home to Niagara Falls. Not the Niagara Falls in Southern Ontario, a smaller version that flows from Niagara Creek and drops 48 meters. The waterfall can be reached via a short 1.3 km round-trip hike (more info here).
The other waterfall, Goldstream Falls, is located in the southwest corner of the park, near the campground.
Another popular hike is the Goldstream Railway Trestle Bridge. The 3 km hike takes about 2 hours round trip. Although it may be tempting, do NOT walk on the trestle bridge. There are no safety sidings and spacing between beams is inconsistent and can be quite slippery.
Parking at Goldstream Park can be chaotic on the weekends. To avoid the crowds, plan to arrive before 10:00 AM in the morning or after 3:00 in the afternoon.
This Goldstream Park map shows the hiking trails, parking lots and campgrounds. The Goldstream Park campground fill up fast, so you're best to make reservations well in advance.
Where to stay in Victoria?
We've stayed at the Magnolia Hotel, Victoria Ocean Pointe Resort, Fairmont Empress and Best Western Carlton Plaza and we would recommend them all. They are centrally located and family friendly.
Other family friendly hotels in Victoria:
Search for last minute deals on Victoria hotels using Booking.com or Hotels.com
There is an increasing supply of short term apartment rentals in Victoria. Staying in a furnished apartment is convenient and affordable, especially if you're traveling with a large family. Search for Victoria apartment rentals here.
The stunning Fairmont Empress hotel in Victoria is recognized by National Geographic Traveler magazine as one of the most Iconic Hotels in the World.
Where to eat in Victoria?
You will not go hungry in Victoria. There are endless options for every type of cuisine. Being on the west coast, we'd recommend you dine at a seafood restaurant. The west coast is also known for quality sushi and Japanese cuisine.
How to get to Victoria from Vancouver
Most people will catch the ferry that departs from Tsawwassen BC Ferries Terminal (and vice versa). You can also catch a bus from downtown Vancouver that will drop you off in downtown Victoria (ticket includes the ferry crossing).
Plan to arrive at the ferry terminal at least one hour before your departure time. It's wise to book a reservation ahead of time because it can get quite busy over a holiday weekend. If you miss the ferry it will be at least 2 hours before the next one.
The ferry will take about 4 hours, including drive time and waiting to board the ferry. Each ferry crossing from Vancouver to Victoria will take about 1.5 hours. The drive from Vancouver to the Tsawwassen Ferry Terminal takes about 45 minutes, depending on traffic. The drive from the Swartz Bay Ferry Terminal to downtown Victoria takes about 30 minutes.
You can also take a float plane or Helijet from downtown Vancouver, which is a lot of fun. If you've only got one day to spend in Victoria, the float plane or helicopter is the fastest and most convenient option.
Have you visited the city of Victoria?
Share your recommendations for things to do in Victoria in the comments section below.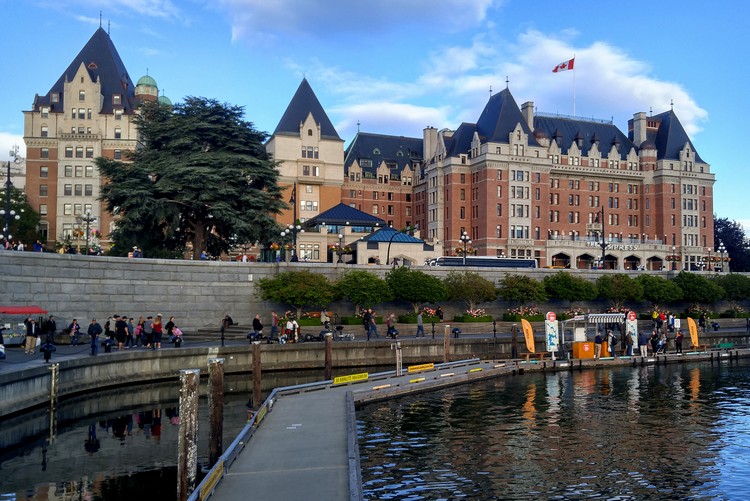 Read more posts from British Columbia:
Some links are affiliate links. There's no extra cost to you. We may receive a small commission if you book.