Things to do Panama City, Panama
Panama City is one of the most cosmopolitan capitals in Central America. There are plenty of fun and interesting things to do in Panama City, so we encourage you to spend a few days here. It's much more than a travel hub for the region.
In this quick Panama City travel guide, we highlight the top attractions we visited during our two week trip to Panama. We also share a few Panama City travel tips, and lessons learned, from our experience.
Let's start planning your Panama City itinerary!
Read more posts from our trip to Panama:
Top Things to do in Panama City, Panama
1. Wander the old streets of Casco Viejo
We believe every first time visitor to Panama City should visit Casco Viejo, also known as Casco Antiguo or San Felipe. This is Panama City's historic old quarter. It's listed as a UNESCO World Heritage site and is arguably the most popular tourist attraction in Panama City.
This trendy neighbourhood has a mix of old Spanish colonial and neoclassical architecture. It's an interesting place, with many layers. Some buildings are completely restored to former glory, while others are left to crumble and fall apart. This is where you will find trendy restaurants and bars, boutique hotels, artsy shops and hipster cafes.
Casco Viejo is a relatively safe part of Panama City, where tourists are able to wander aimlessly. That said, like most big cities in Central America, you should still remain vigilant from pickpockets and scammers.
You can either book an organized sightseeing tour of Casco Viejo or simply show up and let the cobblestone streets guide you.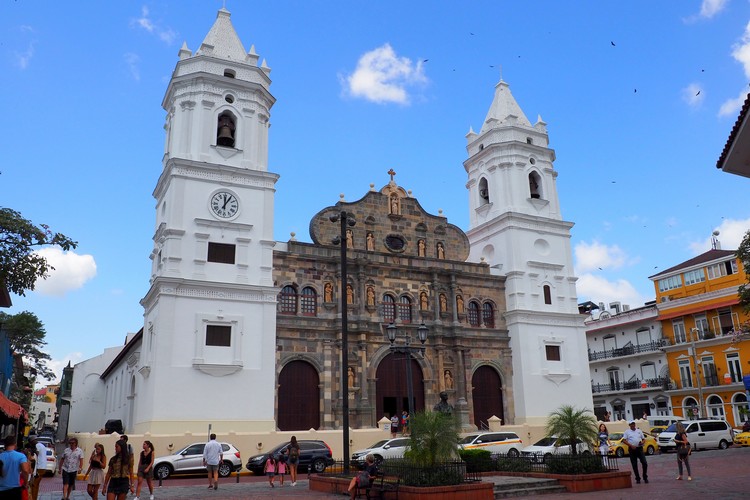 Panama Metropolitan Cathedral
Also known as the Metropolitan Archcathedral Basilica of Santa María la Antigua, this beautiful church is located in the heart of Casco Viejo at Plaza de la Independencia. Try to spend a few moments inside the cathedral to see its beautiful alter and artwork.
Casco Viejo is also a great place to view the Panama City skyline.
Paseo Las Bovedas Shopping
Located in Casco Viejo, this is the place to visit if you're looking for small souvenirs and local crafts. You will find indigenous Guna Yala artwork and fabrics, woven baskets, carved wooden masks, handmade jewelry and inexpensive souvenirs to bring home.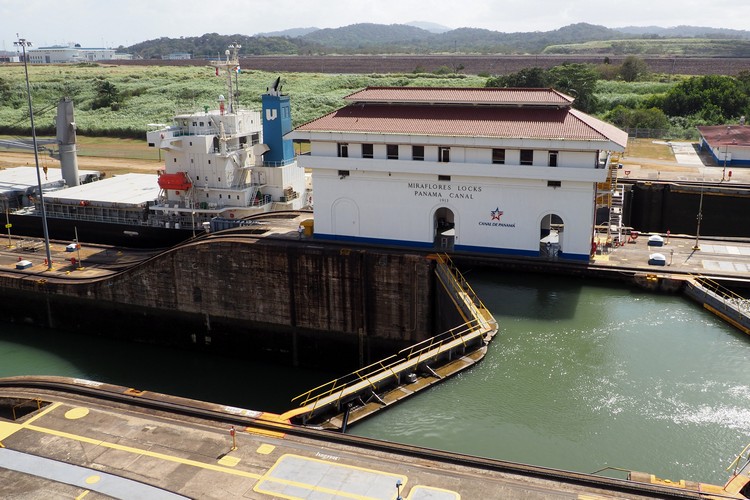 2. Watch ships pass through the Panama Canal
Another must-see Panama City attraction is visiting the world famous Panama Canal. It's said to be one of the largest, and most difficult, engineering projects ever completed. It's considered one of the 7 Wonders of the Modern World, a claim that is hard to dispute after you learn about its remarkable engineering accomplishments.
The Panama Canal is an artificial waterway that connects the Pacific Ocean with the Atlantic Ocean. The canal has a lock system that raise and lower ships to Gatun Lake, a large freshwater artificial lake that sits 85 feet above sea level.
The best place to watch ships pass through the Panama Canal is at the Miraflores Locks Visitor Center in Panama City, picture below. Watch this short video from our visit to the Miraflores Locks.
Visitors fill the observation deck to watch this impressive cruise ship pass through the Panama Canal at the Miraflores Locks in Panama City.
3. Monkey Island Panama
If you're looking for a unique Panama experience, a trip to Monkey Island will do the trick. We joined the Monkey Island Tour from Panama City. It's a 4 hour excursion that includes round-trip transportation with an English speaking guide. The tour includes a boat ride up and down the Panama Canal, so you get the added bonus of speeding past mega-ships as they sail through the canal.
More details about the Monkey Island Panama tour here.
The Lake Gatun region is home to four monkey species – Panamanian white-faced capuchin (picture below), Geoffroy's tamarin (pictured above), lemurine owl monkeys and mantled howler monkey. Monkey Island tours allow visitors the chance to witness these monkeys up close in their natural habitat.
You can also combine the Monkey Island Panama tour with a visit to the Sloth Sanctuary, where you can see rescued three-toed and two-toed sloths. Details about this tour here.
Panamanian white-faced capuchin spotted while on the Monkey Island Panama tour.
Monkey Island is actually not one island. It's a cluster of islands in Gatun Lake. Because the resident monkeys tend to move around, the boats travel to a few different locations.
4. Soberania National Park
Located 25 kilometers from Panama City, near the town of Gamboa, Soberania National Park is the perfect day trip from Panama City for nature lovers who want to experience the Panamanian rainforest. It's a 45 minute drive from downtown Panama City to the park.
Soberania National Park is home to over 500 bird species, making it a birdwatcher's paradise. Walk the popular Pipeline Road and search for toucans, crimson-fronted parakeet, crested owls and other rare birds, like the red-bellied woodpecker and yellow-eared toucanets.
This national park, which is over 55,000 acres, is home to over 100 species of mammals, including the white-faced capuchin monkeys, mantled howler monkey, Geoffroy's tamarins, Tamandua Mexicana (anteater), two-toed and three-toed sloths, white-nosed coatis and agoutis.
While there, plan to visit the Panama Rainforest Discovery Center and climb 174 steps to the top of the Observation Tower. The top platform is 32 meters high and offers incredible views of the forest.
Here's a short video about the Discovery Center.
Gamboa Rainforest Reserve is located on the edge of Soberania National Park. This is the launch point for many outdoor activities and tourist attractions. Take the Aerial Tram tour through the rainforest and visit the Panama Sloth Sanctuary.
Learn about Gamboa Rainforest Tours here.
You can also stay overnight at the Gamboa Rainforest Resort and spend more time in the jungle.
See more Panama blog posts from our trip here.
5. Walk or bike Amador Causeway
Amador Causeway is where you will find many of Panama City's top activities and attractions. The road stretches over 6 km and links the small islands of Naos, Perico and Flamenco.
This is where the southern entrance of the Panama Canal connects with the Pacific Ocean, making it an ideal spot to watch the huge container ships enter and exit Panama's famous canal.
Biomuseo
The star attraction at Amador Causeway is Biomuseo, a museum focused on the natural history of Panama. You won't have trouble finding this unique museum. Just look for the bright and colourful building with futuristic architecture. The museum has eight exhibition halls that display Panama's geology, natural history and diverse cultures.
Things to do at Amador Causeway
Visitors can rent bikes (check out Bicicletas Moses) or walk along the waterfront boardwalk. Make sure you snap a photo in front of the giant Panama sign along the way. If you'd like to test your luck at fishing, there's a fishing platform just before Isla Naos.
Other Amador Causeway attractions include Punta Culebra Nature Center, La Playita pool bar at The Beach House, Omar Torrijos Herrera's Mausoleum, Museo de la Libertad and Flamenco Marina.
Popular Amador Causeway restaurants are Mi Ranchito, Beirut Calzada de Amador, Hapai Tiki Bar and/or Restaurante Bucaneros.
6. Megapolis Hotel Panama Rooftop Bar
The hotel has changed names since we visited. Formally it was the Hard Rock Hotel Megapolis and it's now called Megapolis Hotel Panama. We have read that the rooftop bar is still under construction. So, check back soon to see if it has re-opened.
In the meantime, check out this list of rooftop bars in Panama.
Sunset views of the Pacific Ocean from the 62nd floor of Hard Rock Hotel Panama.
Watch this short video from the rooftop bar at Hard Rock Hotel in Panama City.
Panama City is huge! As you can see, it has a wide range of interesting architecture.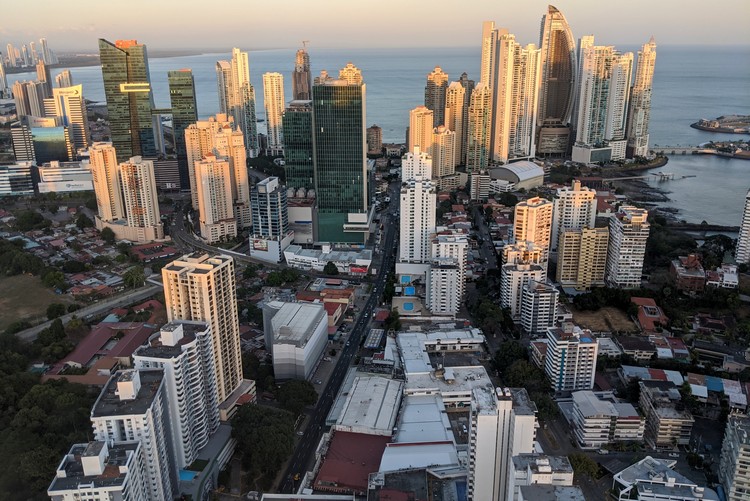 7. Avenida Balboa and Cinta Costera
If you're looking for cheap things to do in Panama City, head to Avenida Balboa and Cinta Costera. This is the perfect place to get outside and enjoy the hot Panama climate.
Cinta Costera is a pedestrian walkway that connects Punta Paitilla (pictured above) to Casco Viejo and Amador Causeway.
You will see a lot of Panama City by walking, running or cycling this waterfront path. There are several parks and grass sections here, so it's an ideal place to let your kids run wild and burn off some energy.
While walking along Cinta Costera, keep an eye out for the big colourful Panama signs. Because every tourist needs a photo with a big sign, right?
Near the entrance to Casco Viejo you will find Mercado De Marisco Cinta Costera, a popular fish and seafood market. This is a fun place to grab lunch. If you like fresh seafood, we recommend you sample some local ceviche here.
Palm trees line the Cinta Costera path that stretches along the Panama City waterfront.
There are several outdoor basketball courts and parks on Avenida Balboa and Cinta Costera.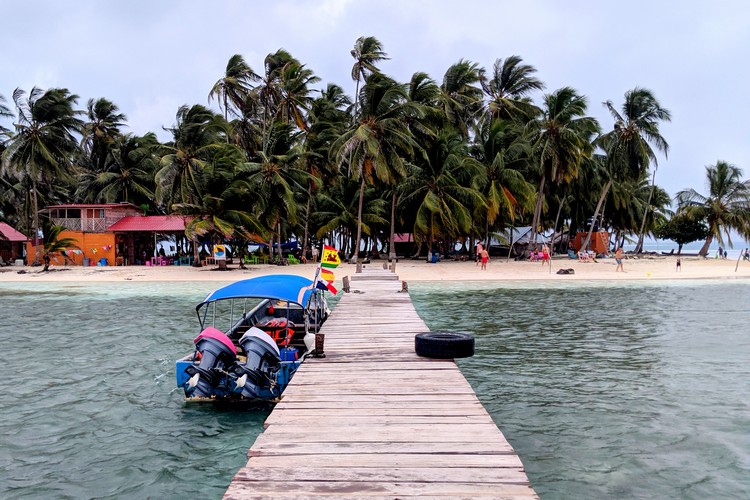 8. Day trip to San Blas Islands
The San Blas Islands are one of Panama's greatest treasures. You won't find all-inclusive resorts with huge swimming pools here. Nor will you find mega cruise ships or mass tourism infrastructure.
And that's precisely what makes these remote palm tree islands so special.
Travel to San Blas Islands is not easy. While you technically can rent a vehicle and drive from Panama City to the coast, it's recommended that you take a San Blas Islands tour. When you factor in the cost of renting a vehicle, insurance, fuel, parking and boat transportation, it makes sense to join an organized tour.
If your plan is to take a day trip to San Blas islands, you will absolutely want to join a tour so you can visit a few different islands. It will be a very long day that starts at 5:00 AM and ends late in the evening. If you have the time, we recommend you stay overnight on one of the islands.
You can book San Blas Islands tours here. There are several options to choose from. We booked with San Blas Dreams.
Our San Blas Islands trip did not exactly go according to plan – find out what happened here.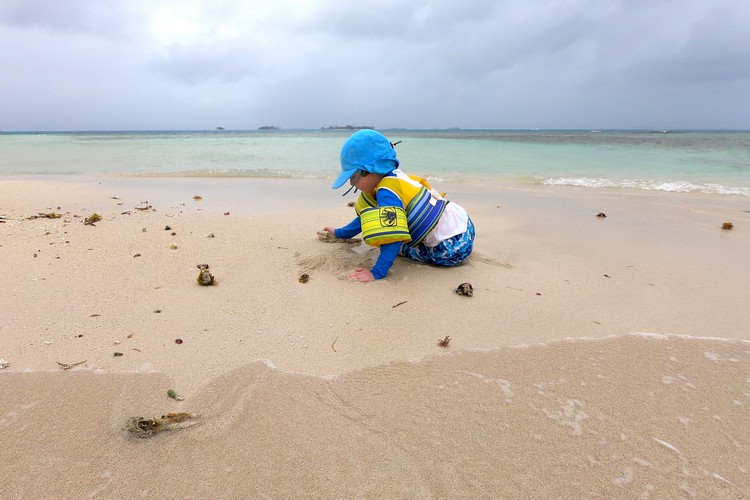 Watch this video to see the smallest island we've visited (also pictured above).
Our water taxi to Yanis Island, one of many remote islands in the San Blas archipelago.
The above photo is a good reason why you want to visit the San Blas Islands.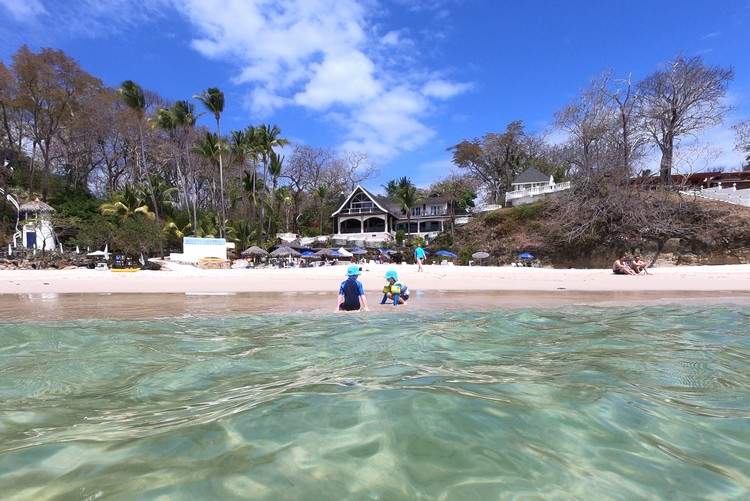 9. Visit Taboga Island or Pearl Islands
A fun day trip from Panama City is visiting Taboga Island or one of the Pearl Islands.
Taboga Island is only 20 km from Panama City. The Taboga Express Fast Ferry takes 30 minutes from Panama City to Taboga. The ferry departs multiple times per day. More info on tickets and schedule here. The ferry terminal is located at Fuerte Amador Mall on Isla Flamenco (Amador Causeway).
Contadora Island is the most popular of the Pearl Islands for tourists.
We spent a few nights on Contadora Island. Read about that experience here.
Similar to the San Blas Islands mentioned above, we recommend you stay overnight on Contadora Island. This will give you time to properly relax on the beach and explore the island. However, if you're tight on time, a day trip to Contadora Island is possible.
The ferry from Panama City to Contadora takes 90 minutes (each way).
Views of Playa Cacique on Contadora Island. It's a tropical paradise.
10. Relax at Rooftop pool
We are guilty of trying to do too much on our family vacations. Yes, we want to have as many travel experiences as possible, but we also want to enjoy some downtime by the pool.
Fortunately, many Panama City hotels have rooftop pools with awesome views.
We spent many hours relaxing by the pool. The climate in Panama is typically hot and sunny, so it's important to slow down and take advantage of this tropical environment.
Try to schedule some time each day to relax by the pool, especially if you're traveling to Panama with kids. When we ask our boys what they remember about our trip to Panama, the rooftop pools always come up.
See below for a few Panama City hotels with rooftop pools.
This is the rooftop pool at Marriott Executive Apartments Finisterre in Panama City.
Where to stay in Panama City Panama
There are many hotels in Panama City, so you have plenty of options at each price point. We typically stay in mid-range hotels when we travel as a family.
Your dollar will go much further in Panama City, when compared to other big cities. Would you believe the hotel pictured above (and below) only cost us $100 CDN per night?
During our time in Panama City, we stayed at 3 different hotels.
Marriott Executive Apartments Finisterre – we like this property because it has 1-bedroom apartment style rooms. It has a restaurant, rooftop pool and it's located within walking distance to Cinta Costera, Iglesia del Carmen Cathedral and plenty of restaurant options.
Residence Inn by Marriott Panama City – this is a new property that is connected to a shopping center. Rooms are modern, spacious and very nice (see photo below). The rooftop pool has incredible views of the ocean and city. It's also priced very well – you get a lot of value at this hotel.
Plaza Paitilla Inn Hotel – this hotel is inexpensive and centrally located on Cinta Costera. It's an older hotel, however we stayed in a newly renovated room. It has an outdoor pool and restaurant with nice views of the city and ocean.
After wandering the old streets of Casco Viejo, we would recommend staying in that neighbourhood. We did not stay at a hotel in Casco Veijo this time, but we will when we return to Panama City in the future.
Above is our room at the Residence Inn by Marriott Panama City.
How to get around Panama City
If you plan to use a taxi, it's safer to hire the taxi from your hotel, instead of flagging a random taxi on the street. Prices will vary depending on where you are staying.
We prefer to use Uber for transportation around Panama City. It works great and removes language barriers.
You don't need to download a different Uber app. The app you use in Canada or the US works fine in Panama City.
By using the Uber app, you avoid giving bad directions or having issues explaining where you want to go. You also don't have to worry about exchanging money, so it removes the fear of getting ripped off by an opportunistic taxi driver.
We felt much safer taking an Uber in Panama City.
Learn about more options for how to get around Panama City here.
Above it the Catholic church Our Lady of Carmen, also known as Iglesias Nuestra Senora del Carmen.
If you like visiting cathedrals, add this one to the list. It's one of the most beautiful churches in Panama City.
This huge 'Big Foot' statue is located in the lobby of the luxurious JW Marriott Panama, near the Trump International Hotel and Tower Panama.
Read more blog posts from our trip to Panama:
Have you visited Panama City Panama?
Share your Panama City travel tips below. Our readers thank you!