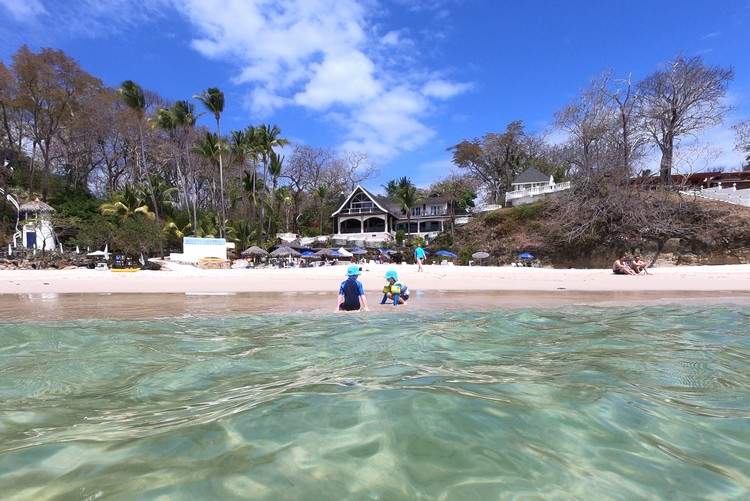 Contadora Island and Hotel Mar y Oro, Panama
When researching where to stay on Contadora Island, we found a limited supply of available accommodations. The island is not very big, so there aren't a lot of hotels on Contadora Island to choose from. Ultimately, we decided to stay at the Hotel Mar y Oro during our time on Isla Contadora.
This Pearl Island in the Gulf of Panama gets mixed reviews from visitors. While it boasts beautiful beaches and tall palm trees, it's also home to many abandoned hotels and unfinished properties. There's not a lot happening on this sleepy tropical island in the Pacific Ocean, which can be pure bliss for some and boredom for others. I suppose it depends on what you're looking for.
Prior to making our decision, we read the hotel reviews. At the time, the hotel listings had old photos that really didn't sell the property. Because of this, we had concerns about the condition of the hotel. Was it old and run down? We had our doubts.
Fortunately, the hotel listings have since been updated with much better photos of the hotel.
We were pleasantly surprised when we arrived at the hotel. It's much nicer than we expected.
Now, that is a good thing – "under promise, over deliver" – however, I remember feeling like the old photos undersold the hotel. So, I thought I'd take some photos of the hotel, our room, and the beach, and share them with you today (because I assume that's why you're here). You can also see our Instagram stories here.
We enjoyed our time at this property and would recommend it.
Below are photos of Hotel Mar y Oro on Contadora Island.
Stunning views of the beach from the hotel restaurant. Hotel Mar y Oro overlooks Cacique Beach. It feels like a private beach, although it's shared with a few other properties.
This is the best spot for enjoying your morning coffee. Waves gently crashing on the beach, birds singing, palm trees blowing in the wind. Perfection.
Guest rooms at Hotel Mar y Oro
There are 17 guestrooms at Hotel Mar y Oro Contadora Island. The guest rooms in the main building have ocean views and are updated with modern fixtures. See more photos here.
We stayed in the family room with one King bed and one Queen bed (our unit is pictured above). It's a clean, spacious guestroom (215 square feet) with a good sized bathroom and air conditioning. We had plenty of room for our family of four.
Check room availability and prices here.
Our room is said to have a patio. However, as you can see above, there really isn't anywhere to sit. We didn't mind because we spent our outdoor time on the beach or at the open-aired restaurant.
That said, if you're wanting a patio or balcony with a view, you should consider the Suite Panama or Cacique Room with Ocean Views.
The property and gardens have character. Although, some areas are a little dated and in need of repair. This property is not a swanky 5-star resort. It has some flaws, which is also what makes it unique.
We enjoyed sitting at this table in the morning, sipping coffee and listening to the waves gently crash on the shore. The flowers were in bloom during our visit, which added to the relaxing atmosphere. It's very peaceful here.
This is the main building at Hotel Mar y Oro. There are guest rooms on three floors. Each room is unique, with a different layout and balcony view.
Restaurant at Mar y Oro Hotel Contadora
The hotel restaurant at Hotel Mar y Oro is called MiraOlas. It's an open-aired restaurant with about 20 tables. It can get busy at peak times but we were always able to get a table.
The restaurant is open for breakfast, lunch and dinner, and it has Happy Hour drink specials. We ate at this restaurant every day during our time on Isla Contadora.
Cacique Beach Bar is located directly on the beach. It serves a similar menu.
This became "our table" during our 3 night stay on Contadora Island.
This was my favourite meal. Seafood pasta. I had it two nights in a row.
The restaurant has a wine list with reasonably priced bottles of wine. Cheers!
Our evening routine – playing Connect Four (aka Four in a Row) in the open aired restaurant while watching the sunset. He beat me too many times.
The restaurant can get busy in the mornings, with guests fueling up before they catch the morning ferry back to the mainland. We typically avoided this rush hour and waited until after 10:00 AM to have breakfast, which meant we often had the restaurant to ourselves.
Cacique Beach on Contadora Island
Playa Cacique is considered to be the most beautiful beach on Contadora island. Although, I'm sure this claim is disputed by competing hotels and properties.
We enjoyed the beach at Hotel Mar y Oro. Without question, Cacique Beach is the star attraction. The beach was never crowded during our visit, which is what we enjoyed most about staying at this property.
We'll let these beach photos do the talking…
Read more post from our trip to Panama here.
Hotel Mar y Oro Beach Restaurant
The Cacique Beach Bar is located directly on the beach in front of MiraOlas restaurant. The actual bar and restaurant is small, with limited seats, however there are plenty of chairs and loungers on the beach in front of the restaurant.
Drinks are reasonably priced here. I don't recall the exact prices, but I do remember feeling like the food and drinks at Hotel Mar y Oro were reasonable, considering the lack of other options available.
This is the beach view from inside Cacique Beach Bar.
Fishing on Contadora Island
While having breakfast one morning, we asked our server if he knew where/how we could book a fishing trip. He made a few phone calls and was able to organize a fishing trip for us.
It was really easy and convenient. The boat picked us up from the beach in front of the hotel. We went out for about two hours, which is typically the limit before our boys start to get cranky.
Follow the pelicans!
The fishing boat is small and basic. There are no trackers or technology on this boat.
I asked the local fisherman, "how do you know where to cast?"
He pointed to the horizon and said, "the pelicans" in broken English.
What do pelicans have to do with fishing? Well, as it turns out, pelicans are fantastic fish detectors.
The fisherman pointed the boat towards a cluster of pelicans and dropped two lines into the water. We slowly puttered around the floating pelicans and waited for some action.
Thankfully, we caught a fish. Our boys were excited to see the process in action. This was the first time they went fishing in the ocean, so it was a big moment for them.
I'm not exactly sure what kind of fish this is. I believe the fisherman said it was a tuna, but his English was not great. As you can tell, we're not a fishing family.
We gave the fisherman the fish because we were leaving the island the following morning.
Braydon was a little disappointed because he wanted to "eat his catch". However, he doesn't actually like eating fish, so it would have been a waste. He got over it quickly.
Contadora beachfront properties with million-dollar views.
Arriving back to Hotel Mar y Oro after the fishing excursion.
Drive a golf cart around Contadora Island
One afternoon, a hotel staff member organized a golf cart rental for us. Driving golf carts around the island is one of the recommend things to do on Contadora Island.
It's a small island, so it's easy to explore. You can circle the island in about 30 minutes. We rented the golf cart for two hours and visited the abandoned Hotel Contadora Resort and Playa Larga.
We spent about an hour at Playa Larga and then stopped for lunch at Hotel Restaurant Geralds.
Playa Larga was once the most popular beach on Contadora Island, when the Contadora Hotel Resort was still in operation. The stretch of beach in front of the Sea Las Perlas Ferry Check In (picture above) is beautiful.
However, there are sections on this beach that have been neglected and need to be cleaned up.
And just like that… our time on Contadora Island came to an end.
A staff member drove us back to Playa Larga in a golf cart, where we caught the Contadora Island ferry back to the mainland. We enjoyed our time at Hotel Mar y Oro. It was just what we needed.
Are you interested in staying at Hotel Mar y Oro? Check room availability and prices here.
Read more posts from our trip to Panama:
Have you visited Panama? If not, is Panama on your travel wish list?
Leave us a comment below.