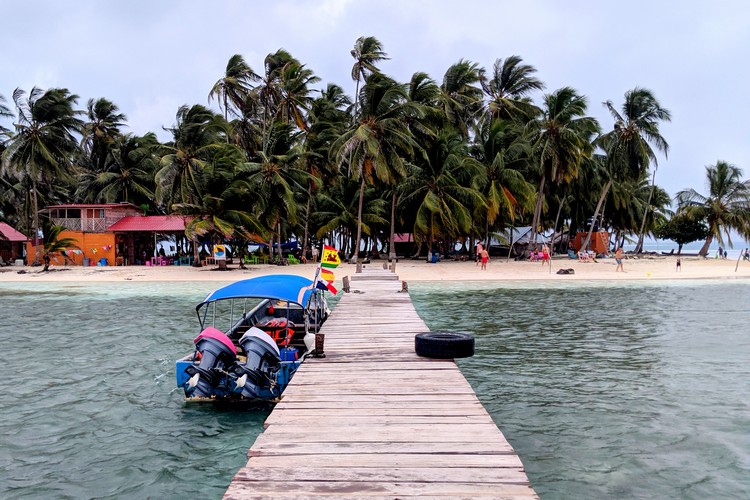 We visited the San Blas Islands in February 2020, one month before the global pandemic was announced. Before you travel to Panama, review safety guidelines here and research your country's travel requirements. This blog post shares travel tips about how to get to San Blas Islands from Panama City, Panama.
How to get to San Blas Islands, Panama
The San Blas Islands are one of Panama's greatest treasures. You will not find all-inclusive resorts with huge swimming pools here. Nor will you find mega cruise ships or mass tourism infrastructure. And that's precisely what makes these palm tree islands so special.
These remote tropical islands, located on Panama's Caribbean coast, are well-protected by the indigenous Kuna people (also spelled Guna). Because of this, travel to San Blas Islands is not easy.
When we made the decision to travel to Panama, we could not find firsthand information about how to get to San Blas Islands from Panama City. Aside from tour operators selling day trips to San Blas Islands, most of the content we found was about San Blas Islands sailing trips or catamaran tours.
The sailing tours look incredible. However, our plan was to spend a few nights on a remote Caribbean island without the luxuries you'd find at a typical hotel or resort. So, we thought we'd share our experience traveling to the San Blas Islands from Panama City.
Our San Blas Islands trip did not go according to plan – find out what happened here.
Should you book a tour to San Blas Islands?
We recommend you join a tour that organizes your transportation from Panama City to San Blas Islands. When you factor in the cost of renting a vehicle, insurance, fuel, overnight parking and boat transportation from Carti to the islands, it makes sense to join an organized tour.
Regardless if you do a San Blas Islands day trip or stay overnight, joining a San Blas tour is so much easier. The convenience is worth the additional expense, especially if you're traveling to Panama with kids.
We booked a 3 day / 2 night tour to San Blas Islands.
The island tours offer small group sizes. We had a total of 6 people in our vehicle, including our party of 4 (there was only one other couple with us). You drive in a private 4×4 Jeep or SUV, not a bus or shuttle.
These 'tours' are really just organized private transportation.
If your plan is to take a day trip to San Blas islands, you will absolutely want to join a tour so you can visit a few different islands. It will be a VERY long day that starts at 5:00 AM and ends late in the evening.
We would not recommend the day trip option if you're traveling with kids. It's too much for one day.
Accommodations on San Blas Islands are limited, so it's best to reserve your dates prior to arriving in Panama.
You can book San Blas Islands tours here.
How to get from Panama City to San Blas Islands
The trip from Panama City to San Blas Islands is pretty straight forward. Basically, a 4×4 vehicle picks you up from your hotel in Panama City and drives to Puerto de Carti. From there, you board a small boat that transports you from the mainland to the islands.
If you're staying overnight, like we did, the boat will take you directly to your island. You may have a couple of stops along the way to drop off other guests at their island.
I suppose you can arrange boat transportation and overnight accommodations at Puerto de Carti. However, I would not recommend that option. It would be unnecessarily stressful.
Early departure from our hotel
Our hotel pick-up was at 5:00 AM. This meant we were awake at 4:00 AM. It was an early departure. Too early, if you ask me. However, apparently, this is to avoid morning traffic and maximize time on the islands, which makes sense.
We left our luggage at the hotel and packed small overnight bags. This is recommended because the boats do not have a lot of room for luggage.
We stayed at the Marriott Executive Apartments in Panama City and would recommend this property. Spacious apartments, central location and rooftop pool.
Our driver picked up another couple shortly afterward we left our hotel. The 4×4 SUV is a 7-seater (pictured above). We had one adult and two kids in the back seat, two adults in the middle, plus driver and passenger. It was tight but it worked fine.
Prior to leaving Panama City, we stopped at a grocery store to pick up supplies.
We purchased water, snacks, pastries, sandwiches and fruit for the trip. The grocery store had 20 similar vehicles in the parking lot; each one filled with sleepy tourists. It appears this is a standard 5:30 AM quick stop for tourists who are about to drive from Panama City to San Blas Islands.
Arriving at Puerto de Carti (Port of Carti)
It takes about 3 hours to drive from Panama City to Carti. We expected to visit a port town on the sea, but instead we ended up at this parking lot. It's in the middle of nowhere, so we were confused. We're told that there are multiple locations where guests board the boats.
This particular location appears to be geared towards tourists who book a tour to the San Blas Islands. Aside from a bathroom and covered waiting area, there's nothing here.
It was a bit chaotic at this point in the journey.
Our driver spoke broken English as he pointed to a row of covered boats that were docked along the river. We gathered our belongings and stood patiently beside the other confused tourists.
Eventually, we were guided to the boat that would transport us to our final destination. It felt disorganized, because of the confused yelling and scrambling, but there is a method to the madness. It all worked out. This is a daily routine, so trust the process.
Ask questions if you feel like something is not right.
The parking lot at Carti in Guna Yala, Panama.
This was a unique travel experience for our boys.
Travel tips for the boat trip to San Blas Islands:
You will get wet. Plan for it.
Your bags will get wet. Plan for it.
Wear a waterproof jacket and waterproof clothing.
If you have snorkeling equipment with you, put on your goggles. Trust me.
Bring a dry sack for your passports, money, phone and electronics. Nobody informed us that the boat ride is a water sport. Our passports got drenched.
When you board the boat, try to sit at the front. We sat at the back of the boat. We got very wet.
The boat ride is quite bumpy. A storm was approaching and the waves were very choppy.
If you have kids, put them in the middle and make sure they're wearing life jackets.
The boats are small. Pack light.
Go to the bathroom before boarding the boat. As you can see in the photos, there are no facilities on the boats.
Bring water and snacks.
Family selfie as the boat departs from the mainland. Here we go!
The small boat putters through a windy river before reaching open water. We couldn't help but feel like a stealthy jaguar was watching us from the jungle on the riverbank.
One boy loved the bumpy boat ride. The other one, not so much.
Success! We made it to the San Blas Islands
We reached our final destination, Yanis Island, about one hour after departing from the mainland. It was a bumpy and wet boat ride that took 30 minutes longer than expected.
It wasn't the best boat experience – our knees bashed on the side of the boat each time it splashed on the waves. There were a few moments when we felt uneasy because the driver was going too fast for the choppy conditions.
When booking your San Blas Island accommodations, keep in mind that the boats are small and it takes about an hour to reach the outer islands.
If you don't like small boat rides, you might want to book something closer to the mainland.
See photos of Yanis Island accommodations here.
Can you drive from Panama City to San Blas Islands?
The short answer is Yes. You are able to self-drive from Panama City to Puerto de Carti, provided you have a 4×4 vehicle and appropriate insurance. However, while self-driving is an option, it's recommended that tourists book a tour from Panama City to San Blas Islands.
The drive from Panama City to San Blas Islands passes through Guna Yala, which is an indigenous province in northeast Panama on the Caribbean coast. Because this province is an autonomous indigenous territory that is regulated by the Kuna people, the rules can change without warning.
The drive from Panama City to Chepo is on a paved highway, which is relatively straight forward (see map above). However, when you turn off the highway at Chepo and drive towards Puerto de Carti, the road gets quite windy and bumpy.
Depending on the time of year, the road may have giant potholes and eroded pavement. This is why you MUST have a 4×4 Jeep or SUV.
The guards at the checkpoint will not let you continue if you are driving in a sedan or anything other than a 4×4 vehicle.
When you reach the Guna Yala checkpoint you are required to show your passport and purchase entrance tickets. I believe it's $21 USD per person for foreigners (as of February 2020).
It takes about 1.5 hours to get from Panama City to the Guna Yala checkpoint. From the checkpoint to Carti takes another 1.5 hours, for a total of 3 hours (with a short break at the checkpoint). This part of the drive is dizzying and bumpy, with several hairpins turns and crater-sized pot holes.
Travel tip – go to the bathroom BEFORE you drive this section of the road. There are no stores or fuels stations here. And, did I mention it's super bumpy? You've been warned.
Here are photos from our trip to San Blas Islands Panama
That crystal clear water and silky soft sand is why you want to visit the San Blas Islands.
We rented this private cabin on Yanis Island. Very simple. No electricity, no bathroom. Just four wooden walls, an aluminum roof, 3 beds and some linen.
Shallow waters surround the islands. You can walk hundreds of feet and still only be waist deep.
While it may look like coral under the water, it's actually seaweed and underwater plants.
You can go snorkeling right off the beach, however we did not see a lot of fish or coral reef. We did see multiple sting rays swimming around the islands.
This is the boat dock on Yanis Island. The weather wasn't great during our visit to San Blas Islands. It was still hot and tropical, minus the sunshine.
This beach is actually a tiny island. I'd guess it's about 100 feet in diameter. The island size shifts with the changing tides.
Returning from San Blas Islands to Panama City
The return trip from San Blas Islands to Panama City was identical, but in reverse. The boats depart from the islands early in the morning, around 8:00 PM.
We arrived back on the mainland around 9:00 AM. Most of the drivers who drop off guests in the morning will wait around to transport guests back to Panama City. It appears to be a daily routine.
Because we left Yanis Island earlier than expected, it was a bit confusing when we arrived back on the mainland. Many vehicles had already left, so we weren't sure if the communication from our guest hours on Yanis Island was relayed to the drivers on the mainland.
We joined another couple and made the dizzying drive back to Panama City. We arrived at our hotel in the early afternoon.
Traffic can get very heavy in Panama City, so keep this in mind when piecing together your itinerary.
Where are the San Blas Islands located?
The San Blas Islands is an archipelago off the northeast coast of Panama (see map above).
There are approximately 365 islands and cays, one for each day of the year! Only 49 of these islands are inhabited. Many of the islands are less than 1 km in diameter.
Sailing from Columbia to San Blas Islands (or vice versa) is another popular way to visit these islands, given the close proximity between Panama and Columbia.
Read more posts from our trip to Panama:
Have you visited the San Blas Islands?
Do you have tips about how to get to San Blas Islands from Panama City?
Share your San Blas Islands travel tips in the comments below. Our readers thank you!