What are the Top Ski Resorts in Canada?
One of the reasons we love living on the west coast of Canada is because it's blessed with phenomenal natural terrain perfect for winter adventure. After posting our photos from the Peak of Whistler Mountain, we received several requests asking us where to find the best mountains in Canada for skiing and snowboarding.
With that in mind, we thought it would be good to share some of the most popular ski resorts in Canada. Because each ski resort offers unique terrain, and winter sports are highly weather dependent, we're not going to rank this list of ski resorts in Canada.
That said, in our opinion, Whistler-Blackcomb is the most complete mountain resort in Canada. Maybe even the world?
Whistler-Blackcomb, Whistler, British Columbia
Consistently voted among the top destinations in North America by major ski magazines since the mid-1990s, attracting over 2 million people annually.
By many measures, Whistler is the largest ski resort in North America with over 200 runs, 39 lifts and well over 8,000 acres of terrain.
Mount Washington, Courtney, British Columbia
Vancouver Island's top ski resort located about 3 hours north of Victoria. At 1,000 metres above sea level it's not as high as some of the mainland mountains, but Mount Washington is known for its 360 degree panoramic views of mountain, ocean, islands and lakes.
In January 2011 it received global attention as having the deepest snow pack in the world!
Revelstoke Mountain Resort, Revelstoke, British Columbia
Revelstoke Mountain Resort is the only resort world-wide to offer lift, cat, heli-skiing and back country skiing from one village base.
Revelstoke boasts North America's highest lift-serviced vertical at 1,713 metres (5,620 ft), 3,121 acres of fall line skiing, high alpine bowls and 13 areas of gladed terrain.
Skiers travel from around the world to sample its perfect powder, varied alpine terrain and quaint mountain community.
Blue Mountain, Collingwood, Ontario
Okay, so we had to send a little love to Ontario. Although it has only 720 feet of vertical, Blue Mountain boasts 34 trails that spread over a two-and-a-half-mile long ridge, making it a snowboarder's delight.
The ski resort is about 90 minutes north of Toronto and sits at the southern end of Georgian Bay, so it benefits from Lake Huron's lake-effect snow.
Banff-Lake Louise, Banff, Alberta
Perfectly situated in the centre of Banff National Park in western Alberta, Banff-Lake Louise Ski Resort serves Canada's most spectacular Rocky Mountain landscapes.
With 4,200 ski-able acres and 139 named runs, Lake Louise is one of the largest ski areas in North America, offering endless terrain for all abilities of skiers and riders.
Mont Tremblant Ski Resort, Montreal, Quebec
Located just over an hour north of Montreal in the beautiful Parc National du Mont-Tremblant, Mont Tremblant Ski Resort is Eastern Canada's best-known ski resort.
With an elevation of 875 metres, 654 acres of skiable terrain and 95 runs serviced by 14 state-of-the-art lifts, it's easy to see why Mont Tremblant is Quebec's top ski resort.
Big White Ski Resort, Kelowna, British Columbia
Big White has positioned itself as a top ski destination in British Columbia, a great accomplishment considering its world class competition.
Located about 45 minutes outside of Kelowna in central BC, Big White Ski Resort is famous for its champagne powder and endless glades. It's become our second favourite ski mountain in British Columbia, next to Whistler-Blackcomb.
Marmot Basin, Jasper, Alberta

Only 20 minutes from the town of Jasper in the Canadian Rocky Mountains, Marmot Basin offers 3,000 vertical feet of superb skiing and snowboarding.
Surrounded by the breathtaking mountainous landscape of Jasper National Park, Marmot Basin has 86 trails, 1,675 acres of park terrain and the highest base elevation of all Canadian ski areas at over 5,570 feet.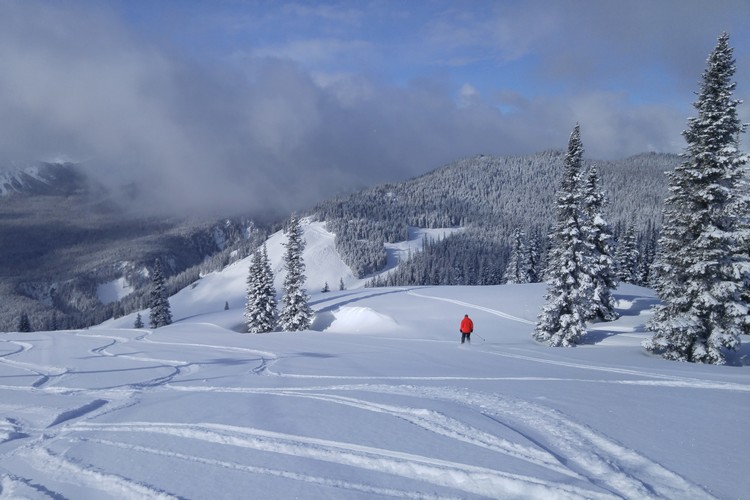 Honorable mentions
Honorable mentions go out to Sun Peaks in Kamloops, (because it's very family friendly), Fernie Ski Resort in Fernie, and Kicking Horse Ski Resort in Golden, British Columbia.
Living in North Vancouver, we feel pretty spoiled to have easy access to 3 great local mountains – Seymour Mountain, Cypress Mountain and Grouse Mountain, all within 20-30 minute drive from downtown Vancouver. And Sasquatch Mountain Resort is only 1.5 hour drive away, too.
What is your favourite Canadian ski resort and why?
Share your secrets in the comments section below.