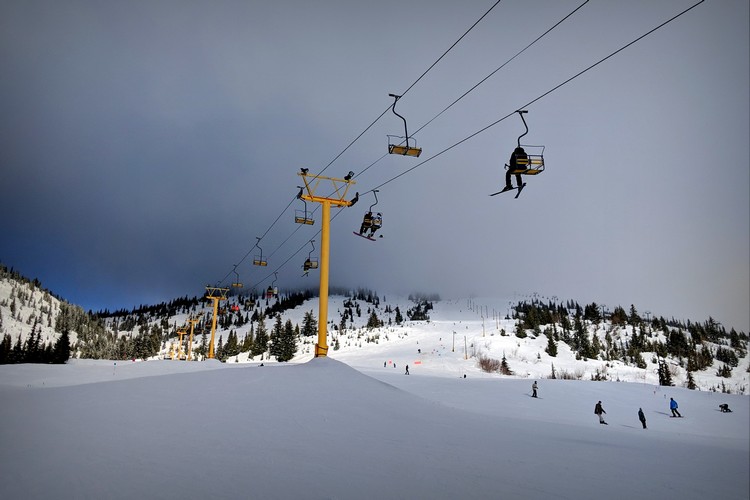 Sasquatch Mountain Resort, British Columbia
As part of our quest to visit every ski resort in British Columbia, our goal is to visit at least one new ski resort each winter. This season, we spent 5 nights at Sasquatch Mountain Resort over the holidays.
If the name of this ski resort is not familiar, that's because it's new. Well, the name is new. The alpine resort has actually been around since the 1970's under the name Hemlock Valley Resort. It re-branded to Sasquatch Mountain Resort in 2017, so it's still a relatively new change.
Why did we choose Sasquatch Mountain Resort?
Aside from the fact that it's a new ski resort for us to explore, we decided to visit Sasquatch Mountain Resort for a few reasons.
The first reason was the price of lift tickets. Day passes range from $48 to $64 for adults, which is reasonable when compared to nearby Whistler Blackcomb, where lift tickets cost $169 per adult! We planned to ski/snowboard for three days, so that starts to add up when you have a family of four.
The second reason was because we wanted reasonably priced accommodations located directly on the mountain (ideally ski-in, ski out). This was our first time spending the Christmas holidays at a ski resort in British Columbia (we spent Christmas in the French Alps long before having kids), so we expected prices to be inflated regardless of the mountain.
The third reason was accommodation availability. We booked our accommodations several months in advance because we knew availability would be an issue over the holidays. Nearby Manning Park Resort, which is also reasonably priced, was sold out for the holidays almost a year in advance. Sasquatch still had options available a few months prior to the holidays.
The fourth reason is its proximity to Vancouver. There are family ski resorts in central British Columbia, like Big White Ski Resort and Sun Peaks Resort, but they're at least 5 hours from Vancouver and you have to drive over the Coquihalla Summit, which can be quite treacherous in the winter.
Sasquatch Mountain Resort is only a 2 hour drive from Vancouver (assuming no traffic).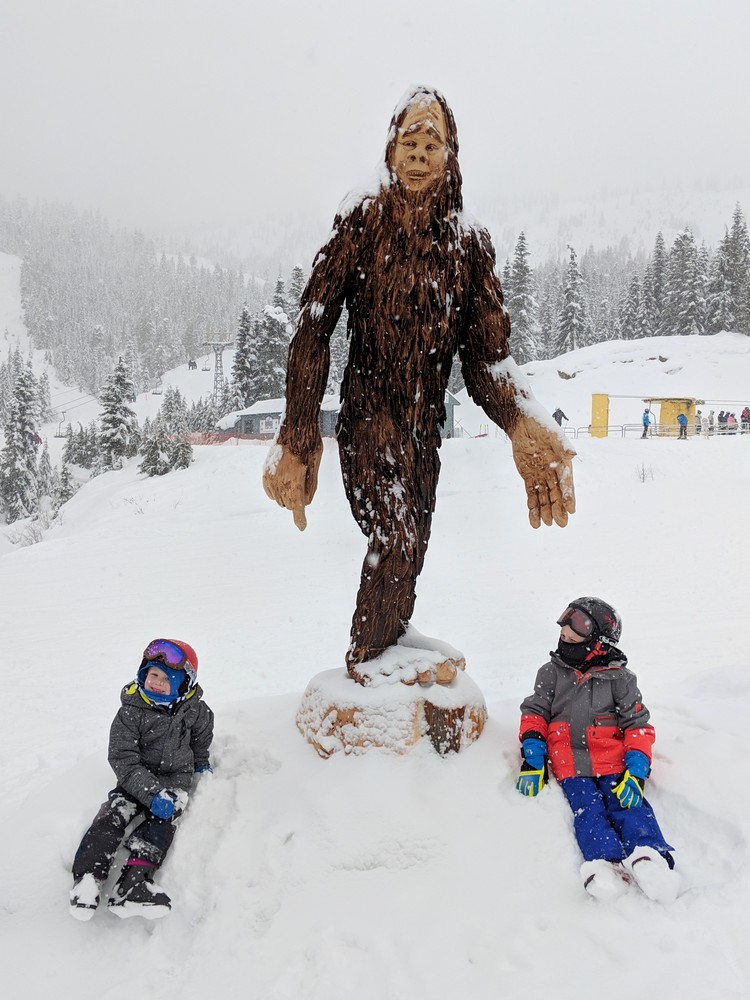 Great start to our trip – fresh snow on our first day at Sasquatch.
The mountain was surprisingly quiet for a snow day during the holidays.
We lucked out with fresh powder on our first day. This section (above) was the highlight of the day.
Skiing with our boys
This was our first time hitting the slopes this season. It was also the first time Braydon (now 7 years old) began the season without ski lessons. He started to get the hang of it near the end of last season (check out this video), so we were hopeful he would not need lessons this season. It was the right call. After a few turns on the beginners hill, he was ready to tackle the chair lift.
By the second day, he wanted to take the big chair lift to the top of the mountain. He was a little nervous but pushed through his fears and did an awesome job. We're super proud of him.
Aside from a brief lesson at the end of last season, Connor had not gone down the hill on skis. This would be his first time, ever. He got new skis and boots for Christmas, so he was eager to give them a try.
Connor (now 5 years old) is the wildcard in our family. We're not quite sure how he's going to adapt to new situations. Putting his new skis on for the first time was one of those "I-hope-he-doesn't-freak-out" moments. It could have gone either way.
Our goal was for him to make it down the magic carpet section without crying. We crossed our fingers and hoped for the best. To our surprise, he loved it! We put him in ski lessons on the second day (more on that below), which really helped his confidence. He quickly became one of those fearless little boys who points his skis forward and bombs straight down the hill without turning. It was an awesome moment.
Braydon at the top of the yellow chair. This section is perfect for families.
Ski school at Sasquatch Mountain Resort
On our first day, Connor spent the morning practicing in the learning/lesson area. It has a magic carpet instead of a rope tow or chair lift, making it an ideal spot to learn.
We decided it was a good idea to put Connor in ski lessons on our second day. We both snowboard, so we're not the best people to be teaching our boys skiing techniques. And, we find our boys learn better when their in a class with peers, as opposed to us trying to teach them (well, that was the path we took with Braydon, and it worked, so we thought we should stick the same plan).
We met his instructor, Cherish, at the base of the magic carpet section and Connor immediately took to her. She had him running up the hill and learning to ski down. His confidence grew each time he went down. Her words of encouragement really landed on him. Near the end of his 45 minute lesson he even wanted to try some tricks. See the photo below.
Putting Connor in a ski lesson was a good idea. Later that evening he wanted to ski down the magic carpet section by himself. I'm not sure he would have been that confident without the lesson.
More info about Ski School at Sasquatch here.
Connor was excited to try some tricks during his ski lesson.
Connor cruising down the hill all by himself. Success!
Night skiing at Sasquatch Mountain Resort
We rarely have the opportunity to go night skiing when we're staying overnight at a mountain. Sometimes we go night skiing on the Vancouver local mountains, but many of the ski resorts we've stayed at recently (Whistler Blackcomb, Manning Park, Mount Baker and Sun Peaks Resort) do not offer night skiing.
We didn't know Sasquatch offered night skiing prior to our visit. It wasn't really on our radar, either. We're often too tired for night skiing anyways. Or, we've already committed to apres ski activities and going back out for a few more runs is not appealing once you've been soaking in a hot tub.
We loved the night skiing at Sasquatch Mountain Resort. It was perfect for Connor's learning. There was only a few other people skiing from the magic carpet, so Connor had the entire area to himself. This meant he could practice his turns without worrying about running into other people. It also meant he could fly down the hill, which was great for his confidence.
We ended up night skiing three consecutive nights. Nicole and Connor would ski from the magic carpet and Cameron and Braydon would ski from the yellow chair. It was great! We had most of the mountain to ourselves each night because there aren't a lot of accommodations and most people left around 4:00 PM.
Night skiing is not always available. To learn about night skiing at Sasquatch Mountain, check the website here.
Connor enjoyed sitting by the fire after his night skiing session.
The green chair is also open for night skiing.
Snow Tubing at Sasquatch Mountain Resort
Braydon needed some down time after a full morning of skiing, so Nicole and Connor checked out the snow tubing park. The park is located behind our accommodations, so it was an easy 10 minute walk.
It was busy when we arrived. We had to wait about 15 minutes until our name was called. We were given 2 hours to play in the tubing park but we only ended up staying about an hour. We managed to go up and down about 8 times during that hour.
A magic carpet transports guests to the top of the tubing park. It's a quick ride that takes about 3 minutes. Once at the top, you pick your lane. The park had 6 lanes open that day.
Guests with kids are required to use separate tubes, so I had to hold on to Connor's tube when we went down. Connor used both hands to grip his tube. If you're a family of four, like us, you'll need to split up. The most that can go down a run at the same time is three people. Each rider must be in their own tube and riders must sit properly with their bum in the middle of the tube.
More info about snow tubing at Sasquatch here.
Big smiles for Connor. He loved the snow tubing at Sasquatch Mountain Resort.
Where to stay on Sasquatch Mountain Resort?
Sasquatch currently has no hotels but we're told plans are in the works to build one soon. To stay overnight at Sasquatch, you will need to book a privately owned cabin or apartment.
You can book Sasquatch Mountain accommodations through a third party website like AirBnb (get a $45 credit for AirBnB here) or Hemlock Hollow Accommodations. You might need to search Hemlock Valley or Hemlock Resort because of the re-branding to Sasquatch Mountain Resort two years ago.
There are a variety of Sasquatch Mountain accommodations available, from large multi-unit cabins to small one bedroom condos. Based on the number of buildings in the village, we'd guess there are over 100 units for rent, give or take.
We stayed in a two-floor condo with two bedrooms and two bathrooms. It's located in the pyramid building near the day lodge (pictured above and below). The condo has a loft in the upstairs bedroom that sleeps 2 or 3 kids. It also has a living space upstairs with a pull-out couch. We stayed with another family (4 adults and 4 kids) and there was plenty of room for everyone.
More info about Sasquatch Mountain accommodations here.
The condo we stayed at was stocked with games, puzzles and videos. It took Nicole a few days but she finally finished this puzzle. Notice the view from the window. The condo has a window that faces the chair lift and day lodge. It was really nice to ski-in and ski-out each day.
View of the living space from the upper loft.
Directly in front of the condo is a fun area for sledding and making snowmen.
Thank you to the building manager who gave Frosty a proper carrot nose!
I thought this was interesting. Every day (and night), people leave their skis and snowboards unlocked in front of the condo building. It's nice to know that people trust their equipment will not get stolen.
New Year's Eve on Sasquatch Mountain Resort
We timed our visit to include New Year's Eve celebrations. We were looking forward to ringing in the New Year on the mountain with friends, but we weren't expecting much from the fireworks show.
The fireworks show began at 9:00 PM. We were so happy the mountain does an early fireworks show, instead of waiting until midnight. This was actually the the first time our boys witnessed New Year's Eve fireworks! We weren't expecting much because there's not a lot of people staying overnight on the mountain. We'd estimate about 250-300 people attended the show.
To our surprise, the fireworks show was really good! The show lasted about 20 minutes and it might just rival the NYE fireworks show in Vancouver. Here's a short video from the finale.
More info about Sasquatch Mountain New Years Eve here.
Travel tips for Sasquatch Mountain Resort:
The drive up the mountain can be difficult if it's snowing. It's a gravel road with a lot of tight switchbacks. You are required to have snow tires and you must carry chains in your vehicle. Make sure you check the weather report before driving up the mountain.
Check the website for lift ticket prices. There are discount days during week. It's cheaper to purchase multi-day passes. More info here.
Book accommodations using a third party website like AirBnb (get a $45 credit for AirBnB here), HomeAway or Hemlock Hollow Accommodations. You may need to search Hemlock Valley or Hemlock Resort because of the re-branding to Sasquatch Mountain Resort.
There's only one pub/restaurant on the mountain – Molly Hogan's Pub. The food is decent and it's reasonably priced. You can view the menu here.
Bring food and supplies with you. There aren't a lot of options on the mountain. The village is basically a cluster of cabins and the main lodge at the base of the ski hill. Don't expect to find a grocery store or liquor store on at the resort. There is a convenience store at Hemlock Hollow.
Most accommodations do not have garbage services. You need to take your household garbage to the local transfer station. It's located by the firehall on Laurel Road. You will pass it when you leave the village on Hemlock Valley Road.
Have you visited Sasquatch Mountain Resort?
Share you tips and tricks in the comments below. Our readers thank you!