One of the reasons we love living in Western Canada is because it's blessed with many world class ski resorts.
Given that a lot of our blog content is winter-related, we're often asked, "what are your favourite ski resorts in Canada?". It's not an easy question to answer. Every ski resort is awesome in its own way.
It also depends on what you're looking for. Do you prefer long windy runs or steep runs? Do you like skiing through glades or doing tricks in the terrain parks? What about night skiing or cross-country skiing? Will you be staying overnight on the mountain or do you plan to visit for the day?
In this post, we share our favourite ski resorts in Canada.
Living in North Vancouver, we are spoiled with easy access to 3 great local mountains: Seymour Mountain, Cypress Mountain and Grouse Mountain. All of these Vancouver ski resorts are within a 20-30 minute drive from downtown Vancouver.
In our opinion, Whistler-Blackcomb is the most complete ski resort in Canada. However, it's also the most expensive and the busiest. So, if you're looking for a small, family friendly ski resort that easy on your wallet, Whistler might not be the best ski resort for your needs. That said, we always have a great time in Whistler.
The Best Ski Resorts in Canada
Skip ahead using the above Table of Contents.
Whistler-Blackcomb, British Columbia
Let's kick things off with the most popular ski resort in Canada – Whistler-Blackcomb.
Whistler-Blackcomb is consistently voted among the top ski resorts in North America by major ski magazines. It is the largest ski resort in North America, by many measures. It attracts over 2 million people annually, making it one of the busiest, too.
Whistler-Blackcomb ski resort boasts over 200 runs, 39 lifts and well over 8,000 acres of terrain. It also has the record-breaking Peak 2 Peak Gondola that transports guests between Whistler Mountain and Blackcomb Mountain. It will take you multiple days to ski every section of this world class ski resort.
Whistler Village is also one of the coolest alpine villages in North America. It's a fun place to hang out after your day on the slopes.
Revelstoke Mountain Resort, British Columbia
Revelstoke Mountain Resort is said to be the only ski resort in Canada to offer lift, cat, heli-skiing and back country skiing from one village base. It boasts North America's highest lift-serviced vertical at 1,713 metres (5,620 feet).
Skiers and snowboarders come from far and wide to sample Revelstoke's deep powder, steep runs and laidback alpine community. The mountain terrain is ideal for intermediate skiers because many of the runs are steep and technical.
While you're in the BC Rockies region of British Columbia, consider also visiting nearby Kicking Horse Ski Resort in Golden, BC.
Mount Washington, Vancouver Island BC
Mount Washington Alpine Resort is Vancouver Island's top ski resort. It's located 3 hours north of Victoria, near the city of Courtney. Mount Washington is known for its 360 degree panoramic views of mountain, ocean, islands and lakes.
At 1,000 metres above sea level, it's not as high as the Vancouver mountains; however, it does see a lot of snowfall each season. In January 2011, Mount Washington received global attention as having the deepest snow pack in the world!
Note – Mount Washington Alpine Resort is located in Canada. It should not to be confused with Mount Washington, located in the White Mountains of New Hampshire in the United States.
Lake Louise Ski Resort, Alberta
Perfectly situated in Banff National Park, Lake Louise Ski Resort serves up Canada's most spectacular Rocky Mountain landscapes. Every turn reveals another masterpiece.
With over 4,200 skiable acres of terrain and 145+ runs, Lake Louise Ski Resort is one of the largest ski resorts in North America. When it comes to slope length, Lake Louise is the 3rd longest in Canada at 139 km. It's also recognized as the #1 Ski Resort in Canada (at the 2019 World Ski Awards).
We love the snow quality in the Canadian Rockies. It's quite different from the heavy and wet snow we typically get in the Coast Mountains. Because it's colder in the Canadian Rockies, the snow tends to be more powdery and light, which is perfect for skiing and snowboarding.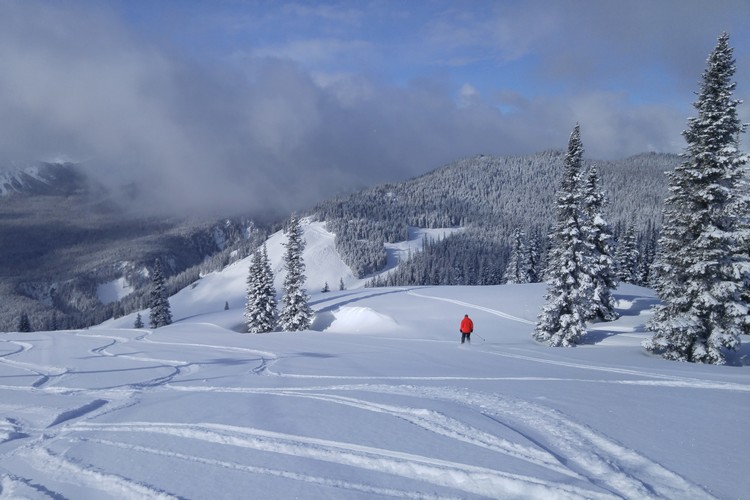 Marmot Basin, Jasper, Alberta

Located 20 minutes from the quaint town of Jasper, Marmot Basin offers 3,000 vertical feet of superb skiing and snowboarding. This high elevation ski resort is surrounded by the breathtaking mountainous landscapes of Jasper National Park in Canada's Rocky Mountains.
Marmot Basin has 86 trails, 1,675 acres of park terrain and the highest base elevation of all Canadian ski areas at over 5,570 feet. The resort has 7 chair lifts, including the Canadian Rockies Express high speed quad chair, which is the longest in the Canadian Rockies.
Banff Sunshine Village, Alberta
Banff Sunshine Village, famous for having Canada's best snow, is located in beautiful Banff National Park. It's all the real stuff, too. No snow-making machines up here.
Sunshine Village is located about a 15 minutes from the town of Banff. It offers more than 3,300 acres of skiable terrain and is said to be the highest ski resort in Canada at 8,954 feet (2,730 meters). It also boasts the longest non-glacial ski season in Canada, beginning in early November and running until late May.
Banff Sunshine Village is located on the continental divide. Because the ski resort is only accessed via gondola, it offers uninterrupted views of the mighty Canadian Rockies. No roads, no industry, no town – just endless snowy mountain landscapes.
Big White Ski Resort, Kelowna BC
Big White Ski Resort is positioned as one of the top family ski resorts in Canada. Located 45 minutes east of Kelowna, Big White Ski Resort is famous for its champagne powder and endless glades.
Big White Ski Resort offers a wide variety of terrain, from deep powder bowls to wide-open glades and long groomed trails. The mountain summit is at 2,319 meters (7,608 feet) with a vertical drop of 777 meters (2,549 ft). It has 2,765 acres of skiable terrain that is serviced by 16 lifts.
The longest run on Big White Ski Resort, appropriately named Around the World Route, is 7.2 km long (4.5 miles). It's a real leg burner!
Sun Peaks Resort, Kamloops BC
Sun Peaks Resort is located 56 km (35 miles) northeast of Kamloops, in the central Okanagan of British Columbia. It has 16 square kilometres (6.2 sq mi) of skiable terrain, making it the second largest in ski resort in Canada. It receives over 2,000 hours of sun each year, so your odds of having a sunny bluebird day on the slopes is high.
We love the alpine village at Sun Peaks Resort. It feels a lot like a European ski resort, with lots of restaurants, shops and accommodations near the slopes. We like that it's a family friendly ski resort with easy runs for the kids. This is the mountain where our son learned to ski for the first time.
Blue Mountain, Collingwood, Ontario
Okay, so we had to send a little love to Ontario. Although it only has 720 feet of vertical drop, Blue Mountain boasts over 365 acres of Skiable Terrain. The ski resort is spread over a 2.5 mile long ridge, with 7 chair lifts and 3 terrain parks.
Blue Mountain is located 90 minutes north of Toronto. It has over 1,000 accommodation units and 50+ restaurants, bars and retail shops, making it an ideal place for your winter vacation.
Let's be clear. Blue Mountain cannot compete with the ski resorts in Alberta and British Columbia. However, it is the best ski resort in Ontario and it has a lot of off-hill winter activities, too.
Mont Tremblant Ski Resort, Montreal, Quebec
Located one hour north of Montreal, in Parc National du Mont-Tremblant, Mont Tremblant Ski Resort is Eastern Canada's best-known ski resort. It has an elevation of 875 metres, 654 acres of skiable terrain and 95 runs serviced by 14 lifts.
We have not visited this Canadian ski resort, yet. So we don't have firsthand experience to share with you. However, based on what we've read and heard from friends, it's easy to see why Mont Tremblant is Quebec's top ski resort.
Sasquatch Mountain Resort
We can't share our picks for best ski resorts in Canada without an honorable mention to Sasquatch Mountain Resort. If you've been following our travel blog, you might have read that we recently purchased a cabin on Sasquatch Mountain. So, we may be slightly biased.
Sasquatch Mountain is located in the Fraser Valley, about 2 hours east of Vancouver. It's a smaller mountain that offers a laidback family vibe, which is perfect for us. Take a look at the trail maps here, to get an idea of the chairlifts and mountain terrain.
What is your favourite ski resort in Canada?
Share your top ski resorts in the comments section below. We'd love to read about your favourite spots.