My quest to visit every ski resort in British Columbia
The ski season has officially begun here in the Pacific Northwest and we're starting to get excited about our upcoming winter adventures. This year, La Niña is expected to dump a lot of snow on British Columbia's coastal mountains, so we're hopeful this is going to be an epic season.
Every year I have a goal to snowboard 5 different mountains.
On the surface, this should be an easy goal to hit, given that Vancouver has 3 local mountains and Whistler-Blackcomb is only a 1.5 hour drive away. But it always seems to come down to the wire.
Vancouver temperatures are unpredictable and we never know how long the season will last. It's also rare that we visit all 3 local mountains in one season.
Last year, we hit our annual goal by snowboarding at Mount Baker in Washington State, Big White Ski Resort in Kelowna, Sun Peaks Resort in Kamloops, Cypress Mountain and Whistler-Blackcomb.
This year, we plan to add a few new mountains to the list.
The purpose of me writing this post is because I'm a big believer in the power of sharing personal goals. The act of writing these goals on paper (or laptop) puts the goal out there for everyone to see. It makes it real. It holds me accountable.
So, here it is…
My goal is to visit every ski resort in British Columbia by 2025.
I chose the year 2025 because a goal without a end date is just a dream. I want to hit this goal, so I need to create the plan today. I have given myself 8 years to complete this goal.
According to my research, there are currently 37 ski resorts in British Columbia. We have already visited 8 of these, leaving 29 mountains to visit in 8 years.
That means we need to visit 3 to 4 NEW ski resorts each year.
Doable. But it will require serious commitment.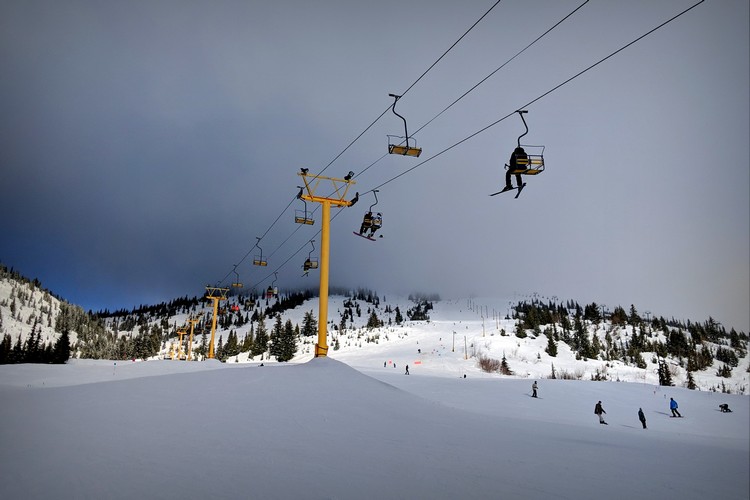 Why do I want to visit every ski resort in BC?
The reason I've chosen this particular goal (aside from the fact that we love playing in the mountains) is because it will take us to every corner of British Columbia.
There are still so many places we have yet to visit in our big beautiful backyard. This goal now gives us a reason to travel to cities like Prince George, Golden and Dawson Creek.
Another big reason is because we love the ski culture and want to share theses experiences with our boys. Achieving this goal will require us to plan multiple ski trips each year.
I want this to be something we look forward to each year, as a family. I want our boys involved in the planning process and I want to teach them to get outside and enjoy the great outdoors.
Hopefully it will inspire them to create big goals for themselves, too.
The list of ski resorts in British Columbia
Apex Mountain Resort, Penticton

Bear Mountain Ski Hill, Dawson Creek

Big Bam Ski Hill, Fort St. John

Big White Ski Resort, Kelowna
Cypress Mountain, West Vancouver

Fairmont Hot Springs Resort, Fairmont Hot Springs

Fernie Alpine Resort, Fernie

Grouse Mountain, North Vancouver

Harper Mountain, Kamloops

Hart Highlands Ski Hill, Prince George

Sasquatch Mountain Resort, Agassiz

Hudson Bay Mountain, Smithers

Kicking Horse Resort, Golden

Kimberley Alpine Resort, Kimberley

Little Mac Ski Hill, Mackenzie

Manning Park (Gibson Pass), Hope-Princeton (See video here)

Mount Baldy Ski Area, Rock Creek

Mount Cain Ski Area, Vancouver Island

Mount Seymour, North Vancouver

Mount Timothy Ski Area, Lac La Hache/100 Mile

Mount Washington Alpine Resort, Vancouver Island

Murray Ridge Ski Area, Fort St. James

Panorama Mountain Resort, Invermere

Phoenix Mountain Ski Resort, Phoenix-Greenwood

Powder King Mountain Resort, Mackenzie/Pine Pass

Purden Ski Village, Prince George

Red Mountain Resort, Rossland

Revelstoke Mountain Resort, Revelstoke

Salmo Ski Area, Salmo

Shames Mountain, Terrace

Silver Star Mountain Resort, Vernon

Summit Lake Ski Area, Nakusp

Sun Peaks Resort, Kamloops

Tabor Mountain Alpine Resort, Prince George

Troll Ski Resort, Quesnel-Wells

Whistler Blackcomb, Whistler

Whitewater Ski Resort, Nelson
I'm excited to visit all of these ski resorts. Hopefully this little ol' travel blog will still be around in 10+ years. Only time will tell!
Read more posts from past snowboarding trips:
Have you visited these ski resorts in British Columbia?
Do you have any tips or recommendations for those that we have not visited?