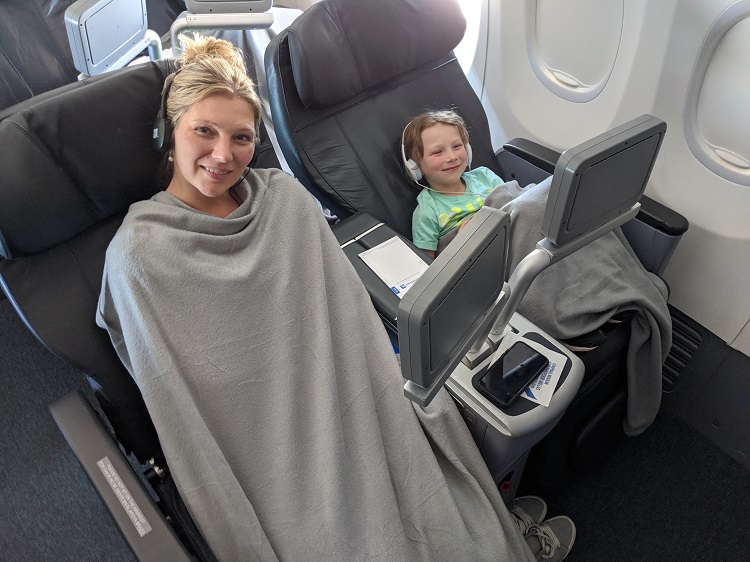 Copa Airlines Business Class Review
In February 2020, right before the global pandemic was announced, we had the opportunity to fly Copa Airlines business class from San Francisco to Panama City. We don't fly Business Class often, especially with our kids. Traveling as a family of four is expensive, so it's hard to justify paying extra money for business class tickets.
A few years ago, we had a great experience flying Lufthansa Business Class from Frankfurt to Vancouver. Since that flight, we now check to see if business class options are feasible before booking flights.
When researching flights to Panama City, we found an interesting deal on the United Airlines website. The search results showed economy seats priced around $600 CAD and business class seats priced at $800 CAD. We were confused. Normally Business Class seats are priced much higher than economy.
Could this be a glitch the online booking system?
Further research gave us our answer.
This particular flight, from Vancouver to Panama, has a layover in San Francisco. It's not a direct flight. The first flight, from Vancouver to San Francisco, only had economy seats available. The second flight, from San Francisco to Panama City, has the business seats. Because this mixed flight itinerary did not offer business class seating for both flights, the total airfare was priced at a reduced rate.
This is the first time we built a flight itinerary by mixing business class seats and economy seats.
Is flying Copa Airlines Business Class worth it?
The tickets are $200 per person more than economy seats (at the time of booking – this may not be the case today). That's $800 for our family of four, which is not insignificant. It's an overnight flight from San Francisco to Panama City, so it's highly likely that our boys will sleep. Would it be worth it to fly Business Class?
We posted this question on our Facebook page and received mixed feedback.
Some people felt it was unnecessary to upgrade because our boys would sleep most of the flight. It's also not a long-haul flight at only 7 hours. And, given that we probably would not eat at that hour (1:00 AM), some people felt the extra $800 was not worth it.
Others, on the other hand, felt like this was too good of a deal to pass on. When are we going to have another opportunity to fly our family of four in Business Class for only $800. Do it, they said!
Decisions, decisions.
As you can tell by the topic of this blog post, we decided to splurge and go for the Copa Airlines Business Class upgrade.
Copa Airlines flight to Panama City
This was our first time travelling to Panama. It was also our first time flying with Copa Airlines, the national flag carrier of Panama. Prior to our flight, we searched for firsthand experiences from guests who had flown with Copa Airlines.
There's not a lot of information about flying business class on Copa Airlines, so we thought we'd share our experience here.
We arrived in San Francisco close to midnight. Our United Airlines flight from Vancouver to San Francisco was delayed, so it was a mad dash through the San Francisco International Airport. The connection was in a different terminal, which made it too close for comfort.
By the time we made it to the gate, the flight was already boarding.
I must say, it was very nice to sit in the spacious business class seats once we boarded the aircraft. The flight from San Francisco to Panama City is 7 hours, so we were thankful for the extra leg room and reclining seats.
Watch the video below to see what Braydon thinks of the Copa Airlines business class seats.
Oh, boy. We may have ruined him for economy travel in the future.
Copa Airlines 737-800 Business Class Seats
Copa Airlines has about 75 aircraft in its fleet. The aircraft on the San Francisco to Panama City route is typically the Boeing 737-800 and Boeing 737 Max 9. At the time of our flight in February 2020, the 737 Max 8 & 9 were still grounded.
I'll admit we were nervous about flying in a 737 Max 9 plane due to its poor safety record. So, when we learned we would be flying in the older 737-800 aircraft, we breathed a sigh of relief.
We've learned that Copa Airlines is adding more 737 Max aircraft to it's fleet in the coming years. Now that the Boeing Max 9 planes are back in the air, it's likely these new planes will be used on this popular route from the United States to Panama.
Copa Airlines business class layout
Copa Airlines Business Class seating on the 737-800 consists of 16 Business Class seats. Two seats on each side of the aisle. Because we travel as a group of four, we selected two seats in front and back (rather than all four in one row).
We each had one kid beside us, which gave us a little more room.
The Copa Airlines Business Class seats are forward-facing and do not recline all the way down to lie flat position. These are not the flat lie down seats like some other airline's business class seats.
While it would be nice to fully recline to a flat position, we found the seats to be very comfortable. They are older, though. So if you're used to flying business or first class, you may find these seats to be a little underwhelming.
Copa Airlines 737 Max business class
The Dream Business Class seats on the 737 Max airplane does have fully reclined lie down seating. If you plan to fly with Copa Airlines, and you want these lie flat seats, check the aircraft and look for the new Max planes before booking. You may want to reach out to the airline directly.
The above photo shows the system to recline business class seats. Pretty simple and basic.
The business class seats have a large a leg rest that pops up when you recline.
Our boys found the Business Class chairs to be very comfortable. They are the biggest airplane seats they've ever experienced. Hopefully we haven't spoiled them for future flights.
Business Class passengers are given little amenity kits with eye covers and socks. We were also provided extra blankets and pillows for additional comfort.
Copa Airlines Business Class Food
A big part of the Business Class experience is the food and drinks. You pay more to have the convenience of being served faster with better quality food. At least, that's the idea. Airplane food rarely lives up to expectations.
We enjoyed the Copa Airlines Business Class food service. We've had better, and the food presentation is not great, but the food tastes fine. However, don't expect lobster tails and champagne on this flight.
The food menu consists of appetizers, main dishes and desserts. The food comes out hot and is served with proper cutlery and dishware (not single use plastics). We were offered a choice of wine, beer, soda, juice or coffee. Nothing special, but it's nice to have multiple "top ups" of beer and wine.
We pre-ordered a special meal for our son who has allergies. He mostly eats a vegan diet due to these allergies. His meals were simple, with fresh fruit and pastries.
Due to the timing of our flights, we were mostly served breakfast, as you will see in the photos below.
Fresh fruit, croissants, yogurt, juice and coffee for breakfast. This was the breakfast after the overnight flight, on the way south from San Francisco to Panama City.
French toast for breakfast on the way home. It was okay. Not my favourite.
Breakfast omelette with bacon and potato hash. It looks suspicious. It was fine, but not very good. That slice of meat was dicey.
This burrito with re-fried beans tastes much better than it looks. I enjoyed this one.
We love the extra service and attention in Business Class. Everything feels easy and less stressful. It makes the flying experience so much more enjoyable.
Our kids don't really eat on planes. They're also picky eaters. Copa Airlines has a decent selection of food options for kids. Our oldest boy enjoyed the pancakes (below) and our youngest loves fresh fruit and juice (above).
We had back-up snacks for our kids but we didn't need them. Our boys were satisfied with the airplane food. It's only a 7 hour flight, so they weren't that hungry.
Copa Airlines Business Class Entertainment
The screen for entertainment is not found on the front of your seat, instead it pulls out from the arm rest. We didn't mind that the screen wasn't on the front seat, and in fact it was better for our kids so they could have the screen a little closer to them.
There was plenty of movies and shows to watch, including kids entertainment. Shows are available in Spanish, English and Portuguese. Here's an example of the entertainment options on Copa Airlines.
Guess that movie? Leave us a comment below if you know the name of the movie playing in the above photo. Bonus points if you can name the actors.
Approaching Panama City, Panama. It's much more developed than we expected.
What would you do in the above situation?
This person is not traveling with the man who is sitting in front.
Share your thoughts in the comments below.
Airport Lounge in Panama City, Panama
We always enjoy finding a quite place to relax before we board our flight. It's nice to have access to the airport lounge when flying Business Class.
Because we flew economy on the United Airlines flight from Vancouver to San Francisco, we did not gain access to the airport lounge in Vancouver. However, on our return trip, we were able to use the business class lounge at Tocumen International Airport in Panama City (Aeropuerto Internacional de Tocumen).
The lounge at Tocumen International Airport is okay, but it's fairly basic (see photo above). The chairs are comfortable and there are power outlets and USB ports to charge your devices before the flight. Small snacks and coffee or tea is available at breakfast (which is when we departed).
We like the big comfy chairs and coffee, but were not sure it's worth the extra money for access to this lounge.

Copa Airlines is a Star Alliance Partner
United Airlines and Copa Airlines are both Star Alliance partners. This meant we could earn Aeroplan Points (our preferred travel rewards program in Canada). Not only did we get a good deal on the price of the flights, we also earned 10,000 Aeroplan Points each (including our kids) because we had Business Class tickets.
Travel tip – when considering business class airfare, consider the impact with your preferred loyalty program. Flying Business Class often earns 3 to 4 times more points. The value of 10,000 Aeroplan Points is worth approximately $300 to $400 CAD. It all adds up.
Is it worth flying Business Class on Copa Airlines?
Yes, we believe it's worth the extra cost (in our case $200 per seat) to fly business class on Copa Airlines.
Even though our kids are not big enough (or long enough) to justify the extra leg room and bigger chairs, we felt like we received good value. Now, it's important to consider all of the variables when making this decision – departure time, overnight vs day flights, length of time in the air, ticket price, etc.
We enjoyed our flight with Copa Airlines and would travel with them again.
However, its important to note that Copa Airlines is considered a low cost airline.
It's aircraft fleet is older, so it's important to have the right expectations. The Copa Airlines business class experience is not luxurious or extravagant. However, it is MUCH better than economy.
So, the big question is whether you see value in paying a little more to get a little more.
Read more posts from our trip to Panama:
Have you been on a Copa Airlines flight?
Share your experience in the comments section below. Our readers thank you!