Monkey Island Tour from Panama City
While on our family vacation to Panama, we decided to visit Monkey Island Panama. Our boys were very excited about the opportunity to see a variety of wild monkeys in their natural habitat.
We joined the Monkey Island Tour from Panama City, which is a 4 hour excursion that includes round-trip transportation with a guide. More details about this Monkey Island Panama tour can be found here.
The Lake Gatun region is home to four monkey species – Panamanian white-faced capuchin, Geoffroy's tamarin, lemurine owl monkeys, and mantled howler monkey. Monkey Island tours allow visitors the chance to witness these monkeys up close in their natural habitat.
You can also combine the Monkey Island Panama tour with a visit to the Sloth Sanctuary, where you can see rescued three-toed and two-toed sloths. Details about this tour here.
Monkey Island Tour from Panama City
We were picked up at the Plaza Plaza Paitilla Inn Hotel at 7:00 AM. It's a centrally located hotel close to Avenida Balboa in Panama City.
Our driver picked up a few more guests from the historical Casco Viejo district, which is on the other side of Panama City. We traveled in an air-conditioned vehicle that seats 15 people.
We arrived at Gamboa Marina at around 8:00 AM. Our group boarded a covered riverboat and began the ride up the Chagres River to Monkey Island. The Chagres River is the largest river in the Panama Canal watershed. It's waters create Gatun Lake, which is where Monkey Island Panama is located.
Book your Monkey Island Tour here.
Panama Canal to Monkey Island
The river boat departs Gamboa Marina and speeds up the Chagres River towards Gatun Lake and Monkey Island. It's about 30 minutes each way.
The boat passes several giant ships along the way. These mega-ships are transporting goods through the Panama Canal to either the Pacific Ocean or Atlantic Ocean.
I should note that Lake Gatun is an artificial freshwater lake, so this part of the Panama Canal is not saltwater. This creates a unique ecosystem for wildlife, birds, flora and fauna.
Fun fact – Gatun Lake was created in 1913 by the building of the Gatun Dam across the Chagres River. At that time, Gatun Lake was the largest man-made lake in the world.
Connor is a happy boy on the water. The faster, the better.
The boat speeds past giant ships in the Panama Canal, an iconic man-made wonder of the world. It's pretty cool to get up close to these ships.
Read about our experience at the Miraflores Locks Panama Canal in Panama City.
Soberania National Park
The boat arrives at Soberania National Park, home to over 100 species of mammals and over 500 bird species. As the boat rests against the island, our guide pulls out a bag of peanuts and starts making monkey calls.
After a few minutes, he points to a cluster of trees with excitement. Success! We have spotted the first monkey of the morning. Shortly after, this monkey brings a couple of his friends to join the party.
Here are some photos from the Monkey Island Panama tour.
The Panamanian white-faced capuchin, or white headed capuchin, is one of several monkeys in Panama. They are social animals that typically live in groups with other monkeys.
Some of these monkeys have no fear. They jump on the covered roof and climb into the boat, searching for the tasty snacks they're conditioned to receive. This little guy loves peanuts.
If you hold your hand open with a few peanuts, the monkey will come up and grab the food right from your hand. However, keep in mind that these are wild animals, so do not touch them and move slowly. You don't want to scare them.
More details about Monkey Island Tour from Panama City here.
This bold white-faced capuchin mistakenly grabbed this steel wool thinking that it is food. He ran away with it in his mouth. Once he reached the top of a tree, he started to eat it and quickly realized his mistake. Silly monkey. And, also a reminder to secure all loose items in the boat. These monkeys are sneaky fast.
Monkey Island is actually not one island. It's a cluster of islands in Gatun Lake. Because the resident monkeys tend to move around, the boats travel to a few different locations.
Geoffroy's tamarin on Monkey Island Panama
The boat moved to a different island, where we spotted this Geoffroy's tamarin, also known as the Panamanian tamarin, red-crested or rufous-naped tamarin. These unique monkeys are native to Panama and Columbia, so it was a treat to see them in the Panama jungle.
The monkey climbed aboard our boat and snacked on dried fruit.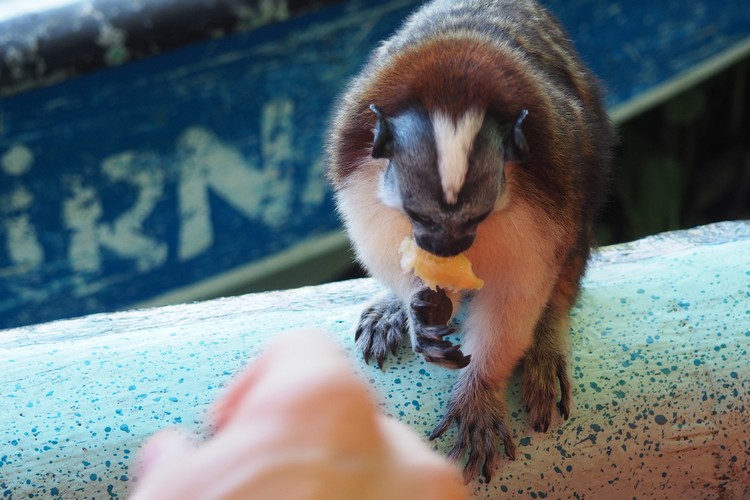 Check our Instagram stories for short videos from our Panama trip.
Look up! Our guide spotted these mantled howler monkeys. As we approached the island, they started howling at us. It's quite the sound!
Notice the lush vegetation and jungle surrounding Gatun Lake and the Panama Canal.
We found this curious white-faced capuchin on a different island. In total, we spotted about 15 monkeys on this Monkey Island tour from Panama City.
Details about Monkey Island Tour from Panama City
Here's what to expect on the Monkey Island tour:
Transport by air-conditioned car or minivan. Pick-up and drop-off at your hotel.
Morning and/or afternoon departure times are available.
Professional local guide who speaks English.
Boat ride from Gamboa Marina to Monkey Island (and back).
You spend about 80 minutes observing the monkeys at multiple locations.
No meals are provided. Brings some snacks and bottled water with you.
Read Frequently Asked Questions here.
You can book Monkey Island Panama tours here.
This is an affiliate marketing link. If you do book this Panama Monkey Island tour, we receive a small commission from the tour company. We appreciate your support.
Read more posts from our trip to Panama:
Have you visited Monkey Island in Panama?
Share your experience in the comments below. Our readers thank you.