Looking back – 30 photos that tell our 2014 story
I love this time of year. The end of one year, the start of another. There's something very cleansing and exciting about the calendar switching over to 01/01.
While it may be cliche or unoriginal to publish yet another "year in review" post, I love the process of reflecting on the year that was. It puts life into perspective and forces me to look at the big picture. To celebrate the wins, shake off the failures. To reset and refocus for the new year.
A lot happens in one year. They say that time flies when you're having fun – which is very true – but what 2014 taught me is that time moves at lightning speed when you have an infant and toddler.
Our big goal for 2014 was to travel at least once a month. Going into the year, we knew this was a bold goal because we have careers, a mortgage and two boys under 3 years old. We came close to reaching this lofty goal, making travel happen in 10 out of the 12 months.
What made 2014 so special wasn't the places we visited, but rather the moments we shared together. We watched Connor take his first steps and we've watched his personality come to life. We listened to Braydon voice his first full sentence and we watched his curiosity and imagination explode. We feel very fortunate to have had these great experiences with our boys during these precious years in their development.
Okay, enough with the rambling. Let's get on with it, shall we?
Our first adventure of 2014 was a ski trip to Sun Peaks Resort, the 2nd largest ski resort in British Columbia and third largest in Canada. We are mountain people, so we love ski resorts and winter vacations. Another goal for the year was to spend more time exploring our home country, so this was a great start the year.
Read more from Sun Peaks Resort:
Big wooden chairs are always fun.
Moonlight snowshoe to a campfire cookout. Mmmm…. S'mores!
Braydon's first attempt at snow tubing. Verdict = nope.
In February, we traveled south to Arizona to see the family friendly side of Tempe and Chandler. We joined our first family-oriented press trip, which was a fun experience.
We visited several locations in a short period of time, ranging from bird watching to cowboy shows to boating around Tempe Town Lake. Our highlights were visits to the Phoenix Zoo, SEA Life Arizona Aquarium and Rawhide Western Town. Ironically, we ended up having more fun at these places than our toddler, reminding us that touristy attractions can be a lot of fun when you give them a chance.
Read more from Arizona:
 Sharks, rays and turtles at the SEA Life Arizona Aquarium
The Phoenix Zoo has an impressive range of wildlife.
After Arizona, Nicole met up with her parents and took the boys on a road trip from Phoenix to Palm Springs. The main reason we stayed in Palm Springs was because Nicole's parents had rented an apartment for the winter and invited us to spend a few weeks with them.
Read more – My trip to Palm Springs with the boys
In April, we traveled south once again to the City of Sin. One of the things we love about Las Vegas is its ability to adapt to one's lifestyle, regardless of what stage of life you are at. The purpose of this visit to Vegas was to attend a friend's wedding. It was an added bonus that Nicole's birthday happened while we were there.
Read more from our trip to Las Vegas:
 Baby Connor loved the singing gondoliers at the Venetian.
In late May, we ventured even further south to Sayulita, a laid-back surf town on the Pacific coast of Mexico, about 45 minutes drive north of Puerto Vallarta. We rented an apartment for a few weeks and spent most of our time swimming in the pool, eating tasty Mexican food, drinking cold cervezas and watching the colorful sunsets.
During this trip, Braydon got comfortable swimming in the pool and Baby Connor began rolling around. It was so great to be with them for these special moments, without the distractions of work and home obligations.
Read more from our trip to Sayulita:
We passed this elementary school every time we ventured into town. I love this shot because of the "no bullying" art that was painted on the concrete wall by the children. The media often portrays Mexico as a dangerous country, but this photo tells a different story.
The real deal.
 Sayulita serves up some wicked sunsets every night.
In June, we revisited Whistler, our favorite weekend getaway destination. Most people think of Whistler as a winter destination, which is understandable given that it has world class skiing terrain and every type of winter sport on offer.
But what many people don't know is that Whistler is equally awesome in the summer. We enjoyed playing with Baby Connor on the grassy fields at Lost Lake, surrounded by mountain peaks and bright sunshine. We might actually prefer Whistler in the summer months. Maybe.
Read more – A pleasant weekend escape to Whistler
In late June/early July, we boarded the overnight train from Vancouver to Jasper and began our road trip through the Canadian Rockies, visiting Jasper National Park, Banff National Park, Kananaskis Country, Calgary and Drumheller.
This road trip ended up being our favorite travel experience of 2014. We're constantly amazed by our big, beautiful country.
Read more from our road trip to the Canadian Rockies:
Aboard the overnight train to the Canadian Rockies.
 Our little man's curiousity was infectious. This is Bow Lake.
 Maligne Lake in Jasper National Park
 Views from the top of Sulphur Mountain in Banff National Park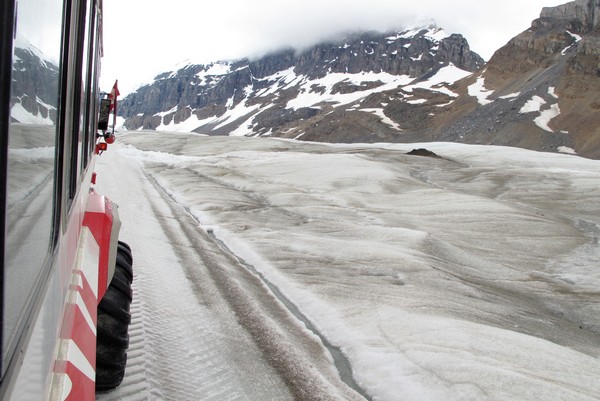 Riding an Ice Explorer on the Athabasca Glacier
 Laughs at Lake Louise on Canada Day
And then, there was that time we explored Jasper National Park on a motorcycle.
In August, we made it a priority to spend more time exploring our home in Vancouver. There are few places I'd rather be than in Vancouver during the summer. The above photo was captured on the Cliffwalk at Capilano Suspension Bridge park.
Read more – Cliffwalk at Capilano Suspension Bridge Park
In October, we rented a cabin at Manning Provincial Park in central British Columbia. It was cold and damp during our autumn visit, but it was fun to be in the mountains when the leaves turned bright orange and yellow.
Read more – Road trips are always a good idea, especially in British Columbia
Make time to travel – it's important.
In November, I returned to the Windy City, one of my favorite US cities. Although the purpose of my visit was to attend a conference, I did manage to sneak in some sightseeing and a Chicago Bears game.
Read more – Photos from downtown Chicago, one of my fave US cities
Daaaaa Bears! They actually won the game.
In late November, we returned to Whistler. There's never a bad time to visit.
A rare snowfall in Vancouver early December.
I love looking back at these "year in review" posts and seeing how much we've grown and accomplished over the year. Maybe that's why I'm such a sucker for television programs that focus on the "best sports plays of the year" or "top news stories of the year".
Even if you don't have a blog or you don't like to post content or photos on your social channels, it's important to take the time to capture your experiences and achievements. If you don't, who will? Email yourself a personal "year in review", it doesn't have to be for anyone else to see. And, while you're at it, make sure you spend some time creating your goals for 2015 – what are the top 10 things you'd like to do this year?
It's been fun looking back at 2014, but we're super excited about what's to come in 2015!
Before we officially say goodbye to 2014, we want to take a moment to thank you for joining us on our journey. We're so happy you're here and we want to wish you and yours a very successful 2015!
Happy new year!
Cam, Nicole, Braydon and Connor
Here are year end wrap-up posts from previous year: