Top Family travel destinations for 2020
Are you in need of a little travel inspiration? If so, this post is written with you in mind.
This blog post highlights a few of our favourite family travel destinations. Our hope is that we plant the seed for you to visit one or two of these destinations in 2020 and beyond.
Let's be clear – we're fully aware that every travel blog, travel magazine and online search engine has its own top travel destinations list. While they may not be the most original blog posts, they do serve a purpose. They're quick and easy to digest and meant to highlight a place you may not have considered.
So, what makes this list different from others?
To provide clarity on how we came up with this list of family travel destinations, we first determined a criteria set. To make this list, the destination had to meet the following:
The destination must have a few bucket-list worthy attractions
We write about family travel, so the destination must have fun things to do with kids
The destination must have a solid infrastructure to travel around easily
Ideally it has direct flights from one of Canada's major airports, either Vancouver, Calgary, Toronto and/or Montreal (and, ideally, major USA airports, too)
Ideally, you will be able to survive speaking English at the destination
Finally, we have personally visited the destination and we recommend it
While this list is subjective in nature, we did not pick at random.
1. Yucatan Peninsula, Mexico
We have a soft spot for the Yucatan Peninsula, particularly the Riviera Maya.
We were married on the beach in the Riviera Maya and have returned several times since. In fact, last year we re-visited the same beach resort for our 10 year wedding anniversary and renewed our wedding vows on the beach with our boys.
You're probably aware that Cancun is one of the most popular family travel destinations on the planet. However, there's much more to Mexico's Yucatan Peninsula, including Isla Holbox, Isla Cozumel, Rio Lagartos, Isla Mujeres, Playa del Carmen, Tulum, Valladolid and Mérida.
Cancun is built for tourism and it checks all the boxes listed above.
There are endless family friendly attractions in Cancun and Riviera Maya.
The most popular being Xel-Ha Park, Xcaret Park (Get up to 25% discount at Xcaret Park), Xplor Park, Sian Ka'an Biosphere, Cancun Aquarium and Ventura Park.
The Yucatan is home to several archaeological sites, including Chichen Itza, Uxmal, Tulum and Coba. It's known for white sand beaches, incredible cenotes, lush jungles, snorkeling and scuba diving.
There are several direct flights to Cancun from Canada's major airports and the infrastructure around Cancun and the Riviera Maya is very good. English is widely spoken and most hotels and tourist attractions have English signage.
Bucket-list worthy attractions in the Yucatan:
Chichen Itza – home of El Castillo pyramid, voted a New 7 Wonders of the World.
Isla Holbox – labeled as Mexico's best barefoot beach and the place to swim with whale sharks.
Isla Mujeres – island in the Caribbean Sea, located 13 km off the coast of Cancun.
Riviera Maya – stretch of beautiful beaches and coastline, between Cancun and Tulum.
Read more posts from the Yucatan, Mexico:
The picturesque Tulum archaeological site in the Riviera Maya, Mexico.
2. ABC Islands in the Southern Caribbean
The ABC Islands are the three western-most islands of the Leeward Antilles in the Southern Caribbean, located just north of Venezuela on coast of South America.
The three islands are Aruba, Bonaire and Curacao, hence the ABC.
They are actually part of the Kingdom of the Netherlands, although they remain outside the European Union.
Unlike the rest of the Caribbean, the ABC islands are located outside the hurricane belt, so it's rare that a hurricane will hit the islands. This means you can visit these tropical islands any time of year.
It's said that Aruba has the most sunny days of any Caribbean island. If sunny days are what you're after, your odds are very good here.
Don't feel the need to squeeze all three islands on one trip.
However, if you have 10 days or more, we recommend you visit all three islands because they're quite different. You will find daily flights between the ABC islands on Insel Air, the largest local airline. It's a short flight on a small propeller plane. Flights are around $150 per flight.
There are no direct flights from Western Canada, so you're best option is to hub through Toronto. You will find frequent direct flights from Toronto to Aruba. Boston and New York also offer direct flights to Aruba.
Bucket-list worthy attractions in the ABC Islands:
Eagle Beach – Aruba's most popular beach, considered one of the best beaches in the Caribbean.
Old Town Willemstad, Curacao – this historical area is recognized as a World Heritage Site.
Bonaire Marine Park – oldest marine reserve in the world and widely considered to be the best Caribbean scuba dive destination.
Read more posts from Aruba and Curacao:
Eagle Beach in Aruba, picture above, has the softest sand and bluest water.
3. Road trip around Ireland
In our opinion, Ireland is one of the best travel destinations for families.
First time visitors to Ireland have a lot of decisions to make. While small in size, this friendly island nation is big on awesome things to see and do. From the jaw-dropping Cliffs of Moher (pictured below) to the scenic Wild Atlantic Way to its endless supply of stone castles, there's no shortage of things to do in Ireland.
We recommend you rent a car and take an Ireland Road trip.
It's an easy country to navigate and the countryside is where you get the true Ireland experience, which is why we recommend you explore at your own pace.
Travelling with young kids is challenging at the best of times, so we like that communication barriers are mostly removed by being an English speaking country.
The best time to travel to Ireland is in the summer.
That said, plan for rain regardless of when you visit. We did our Ireland road trip in late June/early July and we only received a few days of sunshine. There's a reason why Ireland is so lush and green.
Most international flights to Ireland will arrive in Dublin, so this iconic city is the perfect starting point to your adventure (we found direct flights from Vancouver to Dublin on Skyscanner).
We recommend you spend time exploring Northern Ireland, specifically the Causeway Coastal Route. It's worth the hype. Consider spending a night in Portrush.
Bucket-list worthy attractions in Ireland:
Cliffs of Moher – spectacular sea cliffs recognized at a UNESCO Global Geopark.
Giants Causeway – located in Northern Ireland, also recognized as a World Heritage Site.
Wild Atlantic Way – impressive 2,500 km coastal driving route around Ireland.
Dublin and Belfast – two of the world's most iconic capital cities. It's true, Guinness tastes much better in Dublin at a traditional Irish pub.
Read more posts from Ireland and Northern Ireland:
4. Mosel Valley, Germany
Germany is one of our favourite countries to visit. Specifically, the Mosel Valley in south-western Germany, located near the borders of north-eastern France and Luxembourg.
We love the Mosel River region, but we're conflicted.
Like a surfer protecting his secret surf spot, we want to keep the Mosel Valley all to ourselves. However, the travel bloggers in us feel obligated to share one of our favourite destinations in Europe.
The Mosel Valley is easy to reach and easy to navigate. Germany's transportation infrastructure is arguably the best in the world. English is widely spoken, although it can be challenging in smaller villages.
The closest international airport is Frankfurt, which is about 1.5 hours from the the city of Koblenz. Most major airports in Canada have direct flights to Frankfurt and Munich.
Bucket-list worthy attractions in the Mosel Valley:
Fairy tale castles – the most popular castles in the Mosel Valley are Reichsburg Cochem (above) and Burg Eltz (an Instagram sensation).
Terraced vineyards – this popular wine region is known for its steep, terraced vineyards that stretch for miles on both sides of the windy Mosel river.
Medieval villages – you must visit the town of Bernkastel-Kues and admire its 17th century timber-frame buildings in the village square.
Mosel River cruises – there are several river locks on the Mosel River, which is fun experience for first timers. Mosel River tours depart from Koblenz, Cochem and Trier.
Read more posts from Germany:
5. Kyoto, Japan
Japan is one of the best family travel destinations. It's also the perfect introduction to Asia for first timers because it's safe, modern and its infrastructure is world class.
Kyoto is known for its spectacular temples and shrines.
One could easily spend a week visiting Kyoto's temples and still only see a fraction of them – it's said that Kyoto has 1,600 temples and shrines within the city!
Hundreds of thousands of people are expected to attend the upcoming 2020 Tokyo Olympics, so it's going to be a busy year for Japan tourism. If you plan to attend the Summer Olympics in Tokyo, we highly recommend you make the trip to Kyoto. It's one of our favourite places in Japan.
English is becoming more widely spoken in Japan, especially in the big cities, because the country has hosted several world events in the past few years, including the 2019 Rugby World Cup. Nowadays, most train stations have English signs and many restaurants have English menus.
Flights from Tokyo to Vancouver are not as long as you'd expect. Our direct flight only took 8 hours from gate to gate. It's about 9.5 hours going the other way, from Vancouver to Tokyo.
Bucket-list worthy attractions in Kyoto:
Gion District – Kyoto's most famous geisha district (see the above photo).
Fushimi Inari – famous for its thousands of bright orange torii gates located on a sacred mountain trail that leads to several shrines.
Kinkaku-ji – the iconic 'Golden Pavilion', one of Japan's best-known sights.
Spectacular Shrines – must see Heian Shrine, Yasaka Shrine and Kiyomizu-dera
Kyoto Imperial Palace – explore the former ruling palace of the Emperor of Japan.
Read more blog posts from Japan: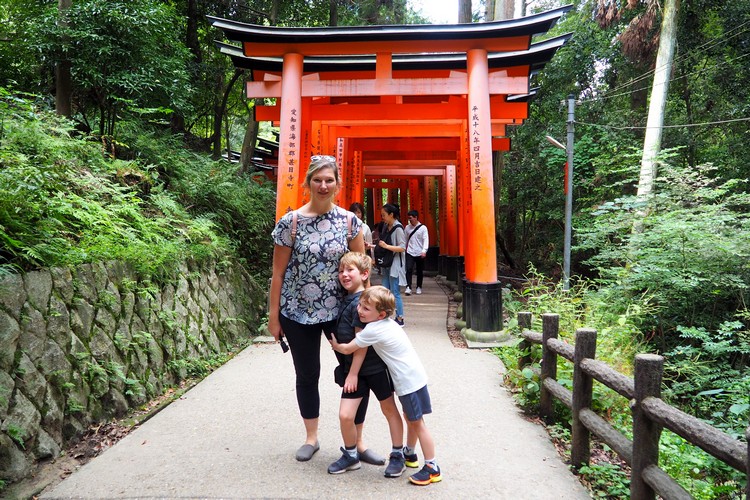 What are your favourite family travel destinations?
Leave us a comment below and tell us where we should travel next.
6. Palm Springs, California
If sunshine is on your family vacation wish-list, Palm Springs is a very safe bet.
Palm Springs is almost guaranteed to be sunny, warm and dry, regardless of when you visit. The region typically sees 350+ days of sunshine each year, so your odds are as good as it gets.
Although widely known for its luxurious resorts, spas, golf courses and snowbird migration, there are plenty of things to do in Palm Springs with kids.
The best time to visit Palm Springs is in the winter or spring, as it can get very hot in the summer months.
There are daily direct flights from both Calgary and Vancouver to Palm Springs International Airport. The flight time is only 3 hours from both cities.
It's also only 1.5 hours to drive from Anaheim to Palm Springs, so you can include a visit to Disneyland or other Los Angeles tourist attractions.
Bucket-list worthy attractions in Palm Springs California:
Joshua Tree National Park – day trip to one of the most unique ecosystems in North America.
Palm Springs Aerial Tramway – ride the world's largest rotating tram car.
Mount San Jacinto State Park – hike to incredible viewpoints of the Coachella Valley.
Santa Rosa and San Jacinto Mountains National Monument
Read more posts from California:
Search for the best flights, hotels and car rentals with Skyscanner.
Views of Coachella Valley from the Mountain Station at Palm Springs Aerial Tramway.
7. Canadian Rockies in Alberta
The Canadian Rockies in Alberta are truly spectacular.
You can visit the Rockies any time of the year, however the summer months are the most popular for family road trips. The Canadian Rocky Mountain Parks are listed as a UNESCO World Heritage Site.
The easiest way to reach the Canadian Rockies is to fly to Calgary or Edmonton and drive to the mountains (search for discounts on car rentals).
A popular Alberta route is to arrive in Edmonton and drive to Jasper (about 4 hours). After spending a few days exploring Jasper, drive south along the Icefields Parkway towards Lake Louise (about 3 hours). Stop at Peyto Lake viewpoint, Athabasca Glacier, Bow Lake and the dizzying Columbia Icefield Skywalk.
After you visit Lake Louise and Moraine Lake, drive south to Banff Town (1 hour) and spend a few days there. Then, drive east to Calgary (1.5 hours). Spend a few nights in Calgary before for your flight home.
You can also do this route backwards, arriving in Calgary and departing from Edmonton.
If you plan to visit in the winter, the Canadian Rockies are home to several world class ski resorts, including Lake Louise Ski Resort, Sunshine Village (Banff) and Marmot Basin (Jasper).
Another fun winter activity is dog sledding in Banff National Park.
Bucket-list worthy attractions in the Canadian Rockies:
Read more posts from the Canadian Rockies:
Morning reflections on Bow Lake in Banff National Park, Alberta.
Lake Louise is just as fantastic in the winter under a blanket of snow.
8. Hawaiian Islands
Hawaii is another one of our favourite family travel destinations.
Located in the South Pacific, about 2,200 miles from Mainland United States, Hawaii has is made up of 8 main tropical islands – Hawaii (the Big Island), Maui, Oahu, Kahoolawe, Lanai, Molokai, Kauai and Niihau).
There are so many things to do in Hawaii, regardless of what island you visit.
You name, Hawaii's got it! Each Hawaiian island is unique but they all share a few commonalities. Lush mountains, stunning sea cliffs, endless stretches of beach, volcanoes, waterfalls, welcoming Polynesian culture.
Most first time visitors to Hawaii will visit Maui or Oahu, the most developed Hawaiian islands. However, if you're looking for a more relaxed island, we recommend Molokai and Lanai.
There are direct flights from Vancouver to Honolulu (Oahu), Kahului (Maui), Kauai and Kailua-Kona (Big Island). You will also find direct flights to Hawaii from Seattle, Los Angeles and San Francisco.
Bucket-list worthy attractions in Hawaii:
Haleakala National Park, Maui – watch the sunrise over the massive shield volcano that forms more than 75% of the Maui. Learn how here.
Na Pali Coast State Wilderness Park, Kauai – hike the Kalalau Trail and witness the vibrant sea cliffs that inspired the filming of Jurassic Park.
Kalaupapa National Historical Park, Molokai – the haunting Kalaupapa Peninsula was once an isolated prison for those afflicted with leprosy. It's now a refuge and heritage site.
Hawaii Volcanoes National Park, Hawaii Island (The Big Island) – home to two volcanoes including Kilauea, one of the most active volcanoes on earth.
Hanauma Bay Nature Preserve, Oahu – famous for snorkeling because of it's high fish population, calm shallow water, and white sandy beach.
Sanctuary of Molokini – world class snorkeling and scuba diving spot at an ancient volcanic cinder cone that can only be reached by boat. This is what it looks like from above.
Read more posts from Hawaii:
Get your $45 credit for AirBnB accommodations here.
9. Belize
Sticking with the tropical theme, Belize is a great introduction to Central America for first time visitors. It acts like a Caribbean island destination, with it's perfect white sandy beaches and clear turquoise water, yet it has a very different vibe.
The main attraction is the Belize Barrier Reef, the second largest coral reef system in the world and designated as a World Heritage Site.
It's said that Belize has approximately 450 islands and islets, also known as cayes, located off its mainland. A caye (or key) is a small, low-elevation, sandy island on the surface of a coral reef.
The most popular Belize cayes are Ambergris Caye and Caye Caulker.
The other side of Belize is its jungle and Mayan history. San Ignacio, the second largest city in Belize, is the gateway to the ancient Maya ruins of Caracol, Xunantunich, Cahal Pech, and El Pilar. You can also organize tours to Tikal National Park, one of the major sites of Mayan civilization.
English is actually the official language of Belize. It was once a British colony, known as British Honduras, up until it was granted full independence in 1981. Belizean Creole and Spanish is widely spoken by residents.
The Belize dollar is locked at $2 Belize = $1 USD. This makes it very easy to understand exchange rates. US Dollars are widely accepted at most hotels, restaurants and tour operators.
There are direct flights from Toronto to Belize City. Flight time is approximately 5 hours. The main flight hub in the United States is Atlanta (Hartsfield–Jackson Atlanta International Airport).
Bucket-list worthy attractions in Belize:
Read more posts from Belize:
Above – relaxing at The Split on Caye Caulker, Belize.
10. Vancouver Island, British Columbia
We can't forget about our beautiful backyard in the Pacific Northwest! We are fortunate to live in one of the best family travel destinations in the world.
Located on the west coast of British Columbia, Vancouver Island is recognized by CNN Travel as one of the best places to visit in 2020. Not to be confused with the city of Vancouver on British Columbia's Mainland.
You'll likely start your adventure in Victoria, if you arrive by plane, or Nanaimo, if you take the BC Ferry from Vancouver. Read our recommended Vancouver Island road trip itinerary.
Bucket-list worthy attractions on Vancouver Island:
Tofino – known for its cold water surfing, long sandy beaches, sea kayaking, whale watching, temperate rainforest and the magnificent Pacific Rim National Park.
Victoria – the charming capital city of British Columbia, internationally known as the City of Gardens. Read the top things to do in Victoria.
Rathtrevor Beach Provincial Park in Parksville – at low tide, the beach stretches over one kilometer out into the Strait of Georgia.
MacMillan Provincial Park – home to the ancient Douglas fir in Cathedral Grove. Some trees are more than 800 years old!
Float plane tour – take flight over the picturesque Southern Gulf Islands or fly up to Tofino for the day (assuming your starting point is Victoria).
Read more posts from Vancouver Island, British Columbia:
Above – the iconic Fairmont Empress in Victoria's Inner Harbour.
Honorable mentions
It's hard to narrow this family travel destinations list to only ten. Below are a few more places you should add to your travels in 2020 and beyond.
Portugal – including Lisbon, Porto (pictured above), Douro Valley and the Algarve
Canadian Maritimes – family road trip around Nova Scotia, New Brunswick and PEI
Greece – explore Athens before island hopping to Santorini, Mykonos and Crete
American Southwest – road trip to iconic National Parks and Forests (ie. Grand Canyon)
Niagara Falls – always a good option for family travel. Read why here.
What are your favourite family travel destinations?
Leave us a comment below and share your top travel destinations.